Courtney Nelson-Benton is the owner of Elle James Decor // Follow Elle James Decor on Instagram & Facebook
Elle James Decor, located at 1856 Hertel Ave in Buffalo, is a local boutique that sells home decor items hand-crafted by owner Courtney Nelson-Benton (Courtney Elle) or sourced from small business, artisans, and craftsmen & women locally and across the world. Launched in 2018, Elle James Decor began when Courtney had started making custom wreaths and creative decor pieces for friends and family and eventually participating in local artisan festivals and events around WNY. But being a "girl boss", running her own business, and creating success on her own terms was always something Courtney knew she wanted.
As a free spirit and a creative person, I love doing so many different things, so choosing a business took some time. I remember sitting at the desk of my first full time corporate position after undergrad and creating a vision/inspiration notebook in my spare time filled with beautiful home decor and fashion but really just things I was drawn to. Owning a boutique as a 22 year old in Chicago (where I moved after graduating from Howard) was a pretty far-fetched idea at the time …but here I am, 10+ years later with a home decor boutique in my beloved hometown!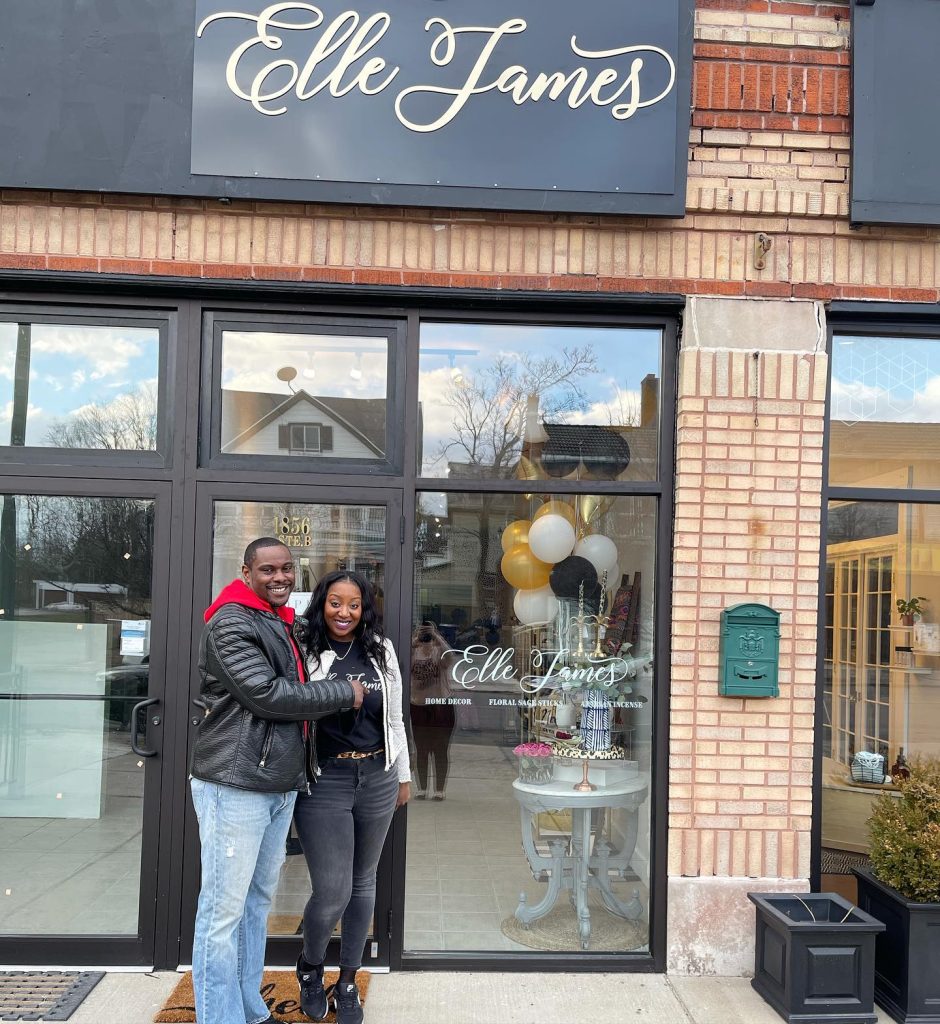 Before Courtney began Elle James Decor, her background and experiences ranged from high-end retail positions at stores like Barneys and BCBG in Washington, DC to corporate America positions in sales and diversity inclusion in Chicago, to eventually what she described as one of her favorite roles in higher education at Buffalo State with a position as Coordinator of a pre collegiate program. "[Buffalo State is] where I was able to embrace my passion for helping others, counseling students and encouraging them through programs and activities to pursue higher education or a career in their chosen field that really made them happy", Courtney says. "Counseling people in need of guidance and inspiration has always been a passion of mine."
In addition to her professional experiences with people of all sorts, Courtney studied psychology at Howard University where she received her Bachelors degree in 2005 and earned a masters in school counseling from Canisius College in 2012 – all of which she says have helped her with running Elle James Decor today.
All of these experiences tie into what I'm currently doing. My sales experience has helped me understand the importance of customer service and even merchandising my shop. My psychology and counseling experience has helped me build meaningful relationships with my customers and in so many ways contributes to my desire to really understand their needs and genuinely help them through issues they may be dealing with in whatever way I can.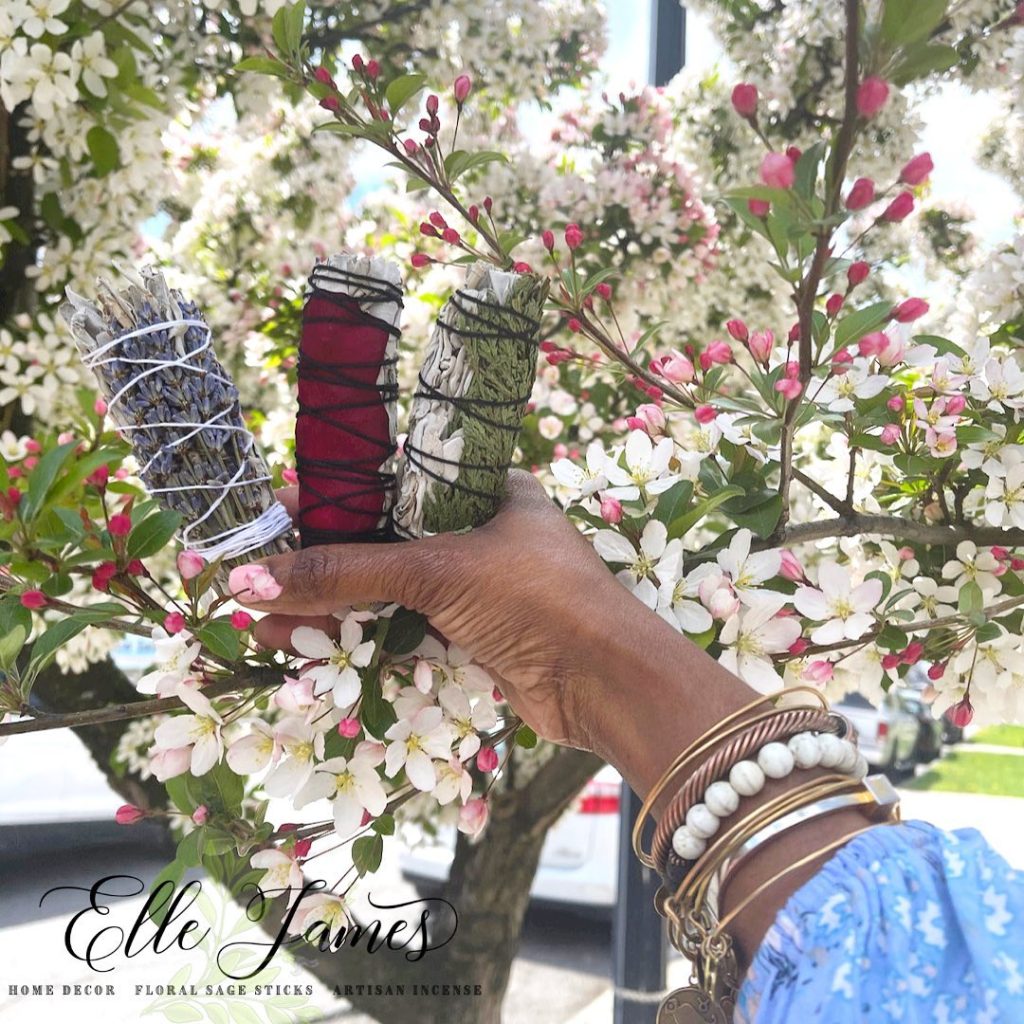 Once Courtney started following her passion and participating in more and more local festivals, she quickly realized that if she was going to grow her budding business and eventually leave her full time job, she needed a smaller more shoppable item at events other than the homemade door wreaths she was making. The solution? She decided to share her love of saging with her customers, and as soon as she introduced sage bundles in the mix Elle James really began to grow.
I know wreaths and sage bundles are a little random, but they were both my passions and I knew if I focused on what I really cared about and believed in people would either feel my vibe or they wouldn't! But no matter what I knew I couldn't sell anything I didn't love and that's really one of my mottos I always try and stick to, especially as I bring different things into my shop on Hertel. If I don't love it, or wouldn't put it in my own home, it's not something I'm willing to bring into my boutique.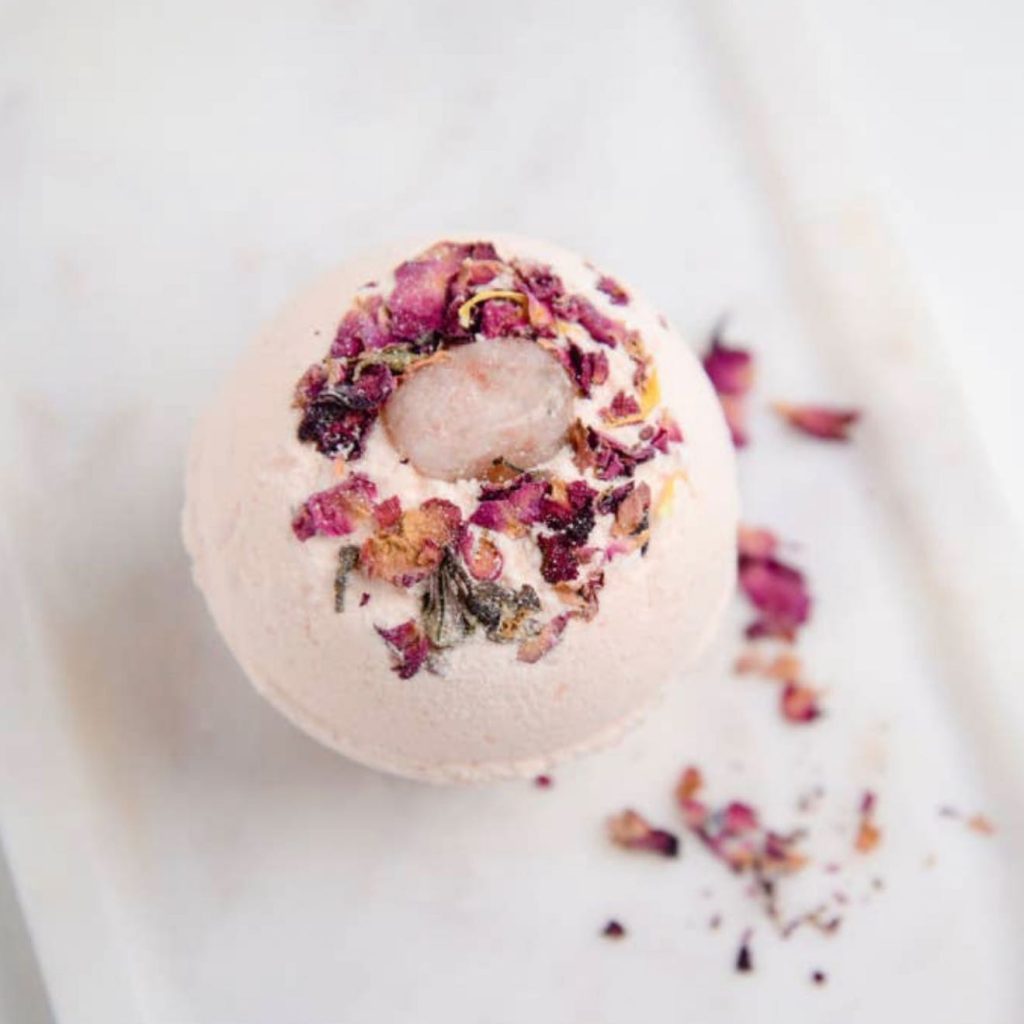 Her favorite business milestone came soon after when she was participating at one of her first big events, The Shea's Shopping Soiree during the holidays. "I remember doing really well and being busy at my table the entire event, I couldn't believe people were so excited about my hand wrapped floral sage bundles! I was probably smiling from ear to ear the entire time, because I was sharing something I loved with others and it made me feel so good to help people learn about a different form of wellness they may not have tried before!"
It was at this moment Courtney says she knew her business could succeed. "I had so many ideas and became so motivated to really build my business and I knew if I just stayed focused and didn't give up, it would all work out! I never take vending events for granted because without them I wouldn't have the opportunity to interact with my customers, build relationships with fellow entrepreneurs, and really begin to understand what works and what doesn't work for me and my business. It's a constant learning process and I'm very grateful for the journey."
We asked Courtney to share some of her biggest business tips for other local business owners and entrepreneurs that she's learned throughout her journey, here's what she had to say:
Business Tips from Courtney Nelson-Benton:
---
1) What advice would you give a local business that's just starting out? Or is there something you wish you knew along your journey?
"There are so many amazing local businesses in our city, building from the ground up…brick by brick, one sage bundle or tie dye shirt at a time lol. They are all going through some of the same things, difficult decisions, managing time, building websites, which event to participate in, and the list goes on. Reaching out to these businesses, collaborating, and building relationships is such a huge part of growing a local business and trying to do it alone – or with just Google as a resource – is in my opinion the wrong way to start, and you're definitely making it harder on yourself. Be a resource to others and allow them to be a resource to you. We truly are stronger together!"
2) Where do you find motivation? ie. specific podcasts, books, blogs, events, social media accounts, etc.
"When I really started getting serious about growing my business, I began listening to the podcast "Side Hustle Pro" hosted by Nicaila Matthews Okome on Apple Podcasts. It has been so empowering and inspirational as well as informative! Listening to this podcast on my way to and from my "9-5" kept me motivated and focused on growing my business so I could one day be a full time entrepreneur. Even today, I still keep up with the podcast as I'm wrapping sage bundles and love to have it as a resource!"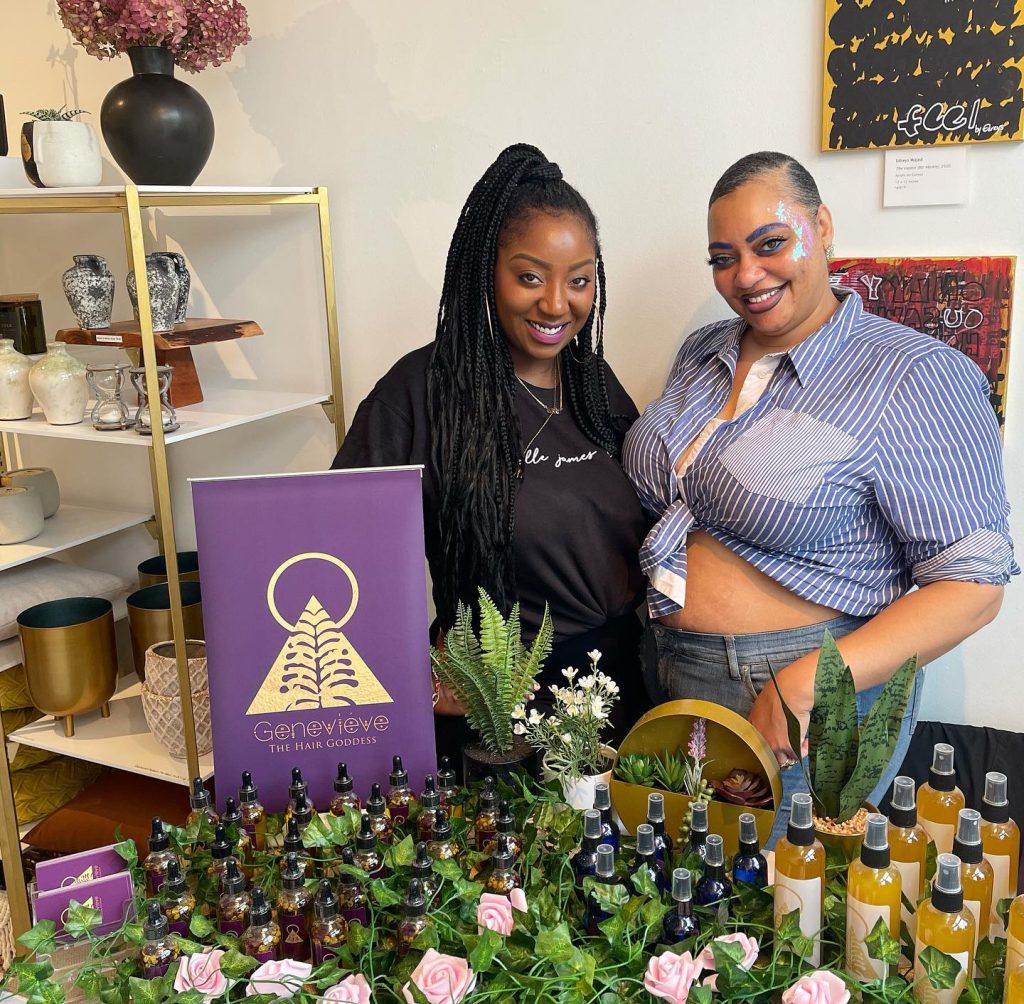 3) What's your sales motto?
"I'm not sure if this is a motto but customer service is very important to me and I always want people to feel welcomed and appreciated when they come into my shop, stop by my table at a vending event, or even just interact with me on social media. Your experience with me is important and I value every person that shops with me. I'm also a really positive and personable individual in general, so it's something that I enjoy and not really a task or a sales tactic so to speak."
4) What's the most beneficial form of advertising in your opinion?
"In my opinion, email marketing and social media are two of the best forms of advertising. As a one woman show it can be challenging to keep it all going daily and weekly, but it's really important to stay connected to your customers and also meet new customers as you grow. People always say, 'one day social media may not be here or may change', so taking time to build a solid email list is very valuable to any business these days."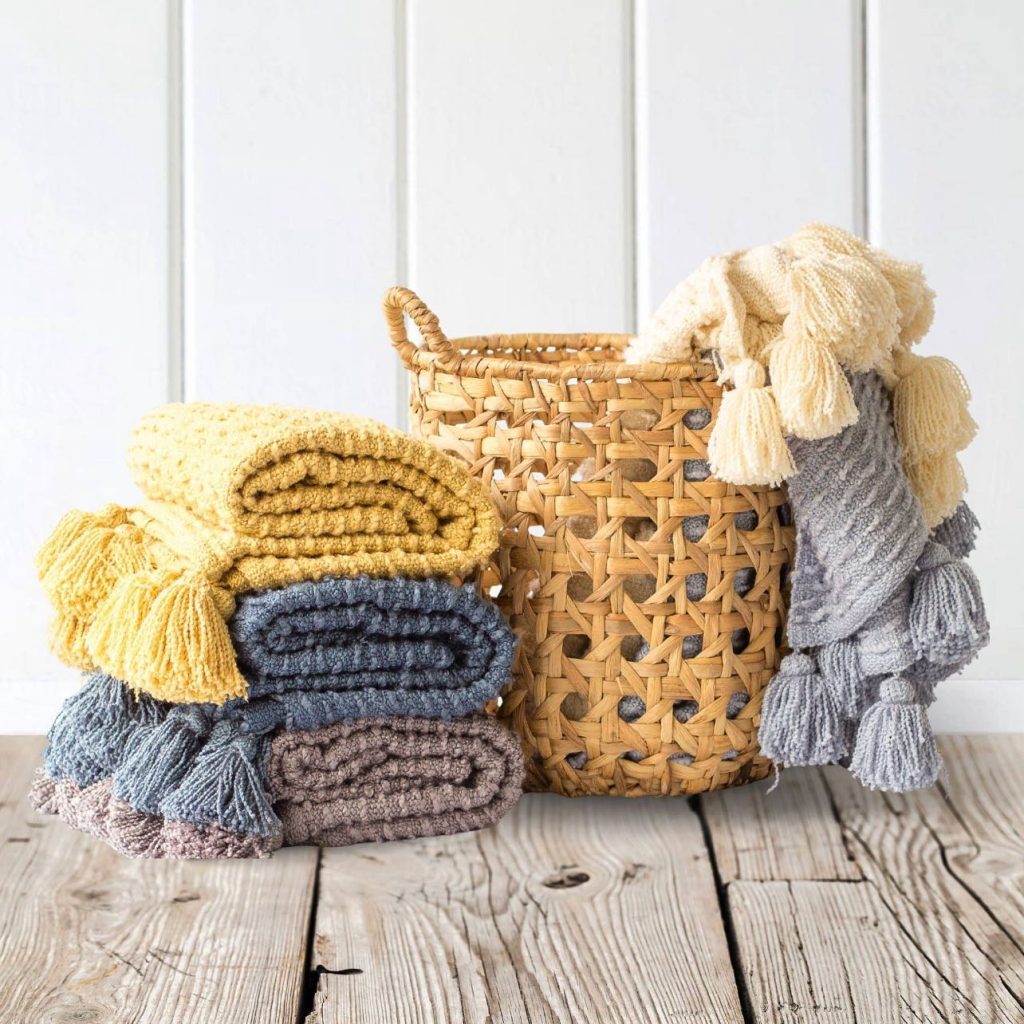 5) Give us a business tip – any tip!
"A business tip…hmmm… the first thing that comes to mind is to be yourself always, the people that feel your vibe will find you, believe in what you're doing, and support you! Those that don't aren't meant to be your customers and that's ok!!"