Updated February 2023
Step Out Buffalo is the place to find out what's happening in Buffalo, but it wasn't always.
Back in 2013, a father and daughter duo had an idea. Being Buffalovers themselves, as the region's renaissance continued to boom Chuck Kluckhohn and Emily (Kluckhohn) Morrow saw a need for a resource on everything fun happening in WNY. This need created an ample opportunity for a brand new business, and soon Step Out Buffalo was born.
Fast forward to today: Step Out Buffalo has evolved and changed over the years (read all about The Evolution of Step Out Buffalo: Introducing Our New Brand Image here) and is now millions of people's go-to resource for everything fun and delicious. But during this evolution SOB has become a full-fledged media company offering much more than just food and fun. From events to a podcast and everything in between, SOB is growing in every direction. Step Out Buffalo for Business aka the website you're reading right now was creating after SOB had implemented a successful advertising aspect on StepOutBuffalo.com and saw that there was a lot of helpful insight they had witnessed over the years that was worth sharing. Now businesses can look to Step Out for expert marketing advice via Instagram, Facebook, and this very website to get tips and tricks on everything from social media and photography to marketing events and branding.
So what tips would the co-founder of one of WNY's most successful media companies give to other local businesses?
Here's The inside scoop from Emily Morrow herself – practical and personal.
1. Zoho is always the answer
"If you are starting a business of any kind and/or bootstrapping in any way, you will probably find this tip useful. Zoho is a software company that offers products for almost anything you can think of – including CRM, accounting, HR, subscriptions, building forms – the list goes on and on. Plus, they are super affordable and usually keep it at a monthly pay-as-you-go price which is honestly so nice of them.
When we first started out selling advertising, we were looking for ways to upgrade our order management system from Google Docs (yes, it was as painful as it sounds), and we came across Zoho Creator (which is like a super flexible, 100% customizable, access-like cloud-based software). And it was $9/month or something *stupid* like that. We're still using it and are able to adjust it to meet our needs as we grow. They're the kind of company that is legit always getting better too. Oh and they have killer customer service. Consider this a love letter to Zoho."
2. Canva saves lives
"Me: A picky control freak who likes to do/design things herself
Also me: Not actually educated in design or design software one iota and can't actually design things to save her life
Enter canva.com. Another link that was truly life changing for me. It was dumb luck that Canva launched around the same time as Step Out Buffalo, and I often wonder if Step Out Buffalo would exist today without it. For anyone that falls in the spectrum between completely useless to not completely useless when it comes to design (of literally anything you can imagine), check out this design-for-dummies internet based software."
Check out more of our favorite free tools in our article '8 Free Tools That Will Help Your Business Every Single Day' here!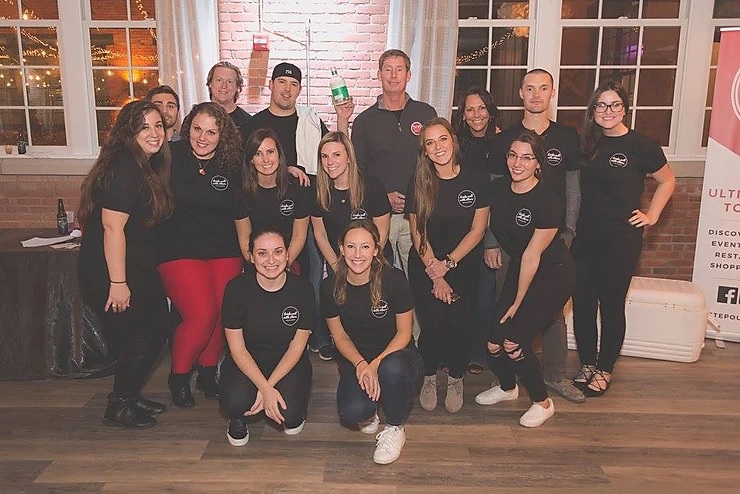 3. Follow everything Gary Vaynerchuk says/does/publishes/creates
"Literally anything this man says I take as gospel. And I hope that sounds as extreme as I mean it. We built Step Out Buffalo on the back of his theories and I would do it again. He has written books – all worth reading, kills it on every social platform, and has an epic podcast which he calls an "audio experience" since it's mostly documenting his meetings, keynote speeches, and "shows" – it's very much all over the place. Half the time you're learning new stuff, half the time you're relearning stuff you already heard from him but needed a reminder of anyways. He has fantastic insights about business and marketing and he walks the walk."
4. True Life: Podcasts are my best friend
"I can't pick just one, sorry. Here are some of my business-focused favorites right now. What do I use them for? Learning things, re-learning things, and feeling not alone in this entrepreneur life."
How I Built This
Masters of Scale
Without Fail
A16z Podcast
Simplify
No Ego
Raising the Bar
5. Be a friggin human when it comes to business
"Is it just me, or is it a huge bummer when brands don't just act real. Like, we know you're not a robot, and I'm not a robot, so can we just act like humans here? Incorporate human elements into your voice on social media and in your marketing. Think about actual humans (your sister, your best friend from college, your neighbor you try to avoid, IDK) when you're creating something for your customers or marketing to your audience. This one little (very easy) strategy will make your brand resonate with your customers on another level. I honestly think it's that simple."
See more Step Out Buffalo:
________________________________________________________________________________________________________________________________
Want to know more about promoting your business on StepOutBuffalo.com? Contact us!
At Step Out Buffalo, we help businesses promote themselves and their events on our website, email, and social media channels. Our team is comprised of experts who know exactly how to make your business or event stand out, and we'll put you in all the right places so you get noticed by all the right people. Hit us up if you'd like to learn more about our business and/or events-based promotions – there's a reason 94% of our readers go places they've seen on StepOutBuffalo.com