Over 10 years after its original launch, it's safe to say that Instagram isn't just a photo-sharing app anymore.
With over one billion active monthly users, an algorithm focused on visual discovery and engagement, and in-app tools to track analytics, Instagram has evolved into a complete marketing channel all on its own— one that holds a lot of potential for brands and companies.
This obviously isn't news to business owners and marketers around the world. In fact, 80% of businesses consider Instagram engagement to be their most important marketing metric, and given the fact that about 92% of Instagram users say they've followed an account, clicked on their website, or made a purchase after seeing a product/service on the platform, that's definitely understandable.
So how, as a local business, do you tap into all of this potential? What's the best way to make sure that your business stands out on what feels like such a saturated platform?
There are tons of creative ways to answer these questions (check out our recent articles on 8 Local Service-Based Business Who are Really, Really Good at Social Media and 7 Creative Buffalo Instagram Accounts to Copy & What They're Doing Well for more on that), but one of the easiest, cheapest, and most straightforward methods is to simply optimize your Instagram posts and profile for basic SEO (search engine optimization).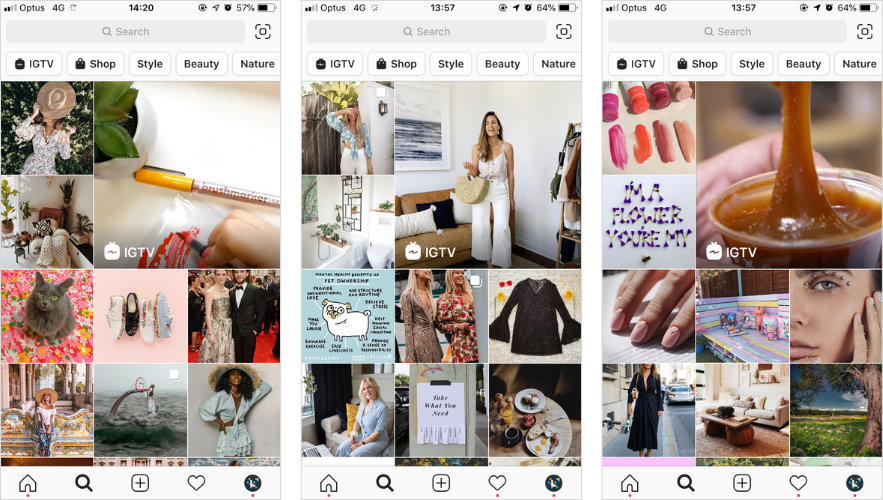 Instagram users all over the world are using the platform like a search engine now more than ever before— whether it be for planning vacation itineraries, browsing for home decor inspo, or even just to look up whether or not the coffee shop around the corner is open for curbside pickup right now. Setting up your profile for success and creating your posts with this in mind is not only key to providing a positive user experience for customers on the app, but to increasing your overall reach and growing your following organically.
Ready to get started? Whether you're brand new to the platform or a seasoned pro, here are 5 Instagram SEO tips that you can easily put into practice right now:
Lay the Groundwork
Before jumping into the world of Instagram SEO, we recommend taking the time to audit your current Instagram profile for anything that might be missing. Whether you set up your profile a week ago or three years ago, you're going to want to look for the following:
Is your profile public?
Are you registered for an Instagram Business account?
Do you have a clear profile image that customers can recognize?
Do you have a trackable link in your bio?
These might seem like no-brainers, and if you've had your Instagram profile set up for a while now, you might just assume you're good to go. But don't gloss over this step— driving traffic to your Instagram won't do your business any good in the long run if you aren't set up for success from the get go.
Don't Skip the Keyword Research
Now that you've covered the basics, it's time to talk keywords.
Keyword research might seem daunting if you're brand new to the world of SEO, but it's really just the process of figuring out what words, phrases, or questions people are physically typing in when they search for your business (or your products/services) online. Keywords are super useful because if you can figure out what exactly people are searching for, you can make sure that you strategically tailor your efforts to those specific phrases.
When it comes to keyword research for Instagram, you don't need to reinvent the wheel. People are more likely to search for shorter, broader terms like "bakery" or "brewery" on Instagram, and save the longer, question-focused searches for Google. For Instagram, we recommend honing in on 1-3 primary keywords that describe what you do and where you do it.
For example: By looking at The Buffalo Creative's Instagram bio, you can tell that they've landed on a few key phrases: 1) Social Media Marketing, 2) Instagram Management/Instagram Consulting, and 3) Buffalo, New York.
These are all relatively simple, but effective terms that people looking for these types of services might type into the search bar if they were scoping out a business like TBC in the Buffalo area. 
Need some help narrowing down your keywords? Google Trends is a great tool for getting a birds-eye view of what people are searching for all over the web. Just brainstorm a few keywords, plug them in, and see how they've performed over the past 12 months: 
Of course, this tool only shows how keywords perform on Google, not Instagram, but it's still a useful way to gauge if you're at least on the right track with the keywords you came up with.
For more information on keyword research, check out Wordstream's Guide to Social Media Keyword Research and The Beginner's Guide to Keyword Research by Moz.
Optimize Your Bio & Handle
Once you've got your keywords nailed down, you'll want to focus on placing them strategically where it matters— in your Instagram bio and handle. When local businesses have at least one of their core keywords in their display name and/or @username, they're way more likely to show up in the search results for suggested accounts.
For example, here's what I get if I search "bakery" on Instagram:
All of the top results are local bakeries because 1) the app takes the user's physical location into account at the time of their search, and 2) all six of these businesses literally put the term "bakery" in their handle and/or display name. A change as simple as "@fivepoints" to "@fivepointsbakery," for example, could make the world of a difference in new customers discovering your page on Instagram.
Use caution when adding keywords to your handle, though, or it might start to come across as spammy. For a business's Instagram handle, we recommend focusing on your business name + one core keyword, as long as it makes sense to your audience.
Find the Hashtag Sweet Spot
Aside from attractive visuals, the top-performing posts on Instagram tend to have one thing in common: hashtags. And fun fact: Instagram posts with at least one hashtag receive an average of 12.6% more engagement than posts with no hashtags— so yes, they definitely do make a difference!
Step Out Buffalo's Creative Marketing Director Lauren Spoth recently talked about hashtags on our Marketing Tip Tuesday Instagram stories, but to sum it up:
Hashtags help Instagram users find and follow the types of content that interests them. You can elect to "follow" certain hashtags so they show up right in your feed, or just search for hashtags that interest you whenever you're looking for inspiration, like #healthymealprep or #hashtagstepoutbuffalo, for example.
Hashtags also signal to the algorithm what type of content a user is interested in so it can continue curating content similar to that on the user's Explore page. (Instagram recently noted that the Explore page is really big with Gen Z users, so if you're looking to get your content in front of younger eyes, hashtags can certainly help with that.)
Businesses can (and should) use hashtags in their Instagram posts, stories, and reels to ensure that their content is picked up by the algorithm and pushed out to the Explore page. If your content lands on the Explore page, you'll have the opportunity to reach new users who you may not have been able to reach otherwise.
Even knowing all of that, there's still a right vs. wrong way to do hashtags. We recommend keeping it simple, specific, and relevant to what you're posting about— spamming your posts with irrelevant or overly broad hashtags might leave you with a wave of bots flocking to your posts instead of genuine engagement from real people.
Check out The Ultimate Guide to Hashtags in 2020 for further information on different types of hashtags, how to organize your hashtags, and more.
Utilize Geo Locations
Similar to hashtags, geotags are another factor that Instagram's algorithm takes into account when determining what content to push out to users' Explore pages. If someone engages with a lot of content tagged with Buffalo, New York geotags, for example, that user is much more likely to discover your content organically through their Explore page if you also tag your content with a Buffalo, New York geotag— even if that user doesn't follow you.
And what's even better? Instagram posts that feature location tags receive an average of 79% more engagement than posts that don't. TL;DR: geotags can, quite literally, help put your business on the map.
Keep in mind that geotags aren't just relevant to local customers— they're also super helpful for out-of-towners who might be looking for an awesome restaurant to eat at, a fun place to shop, or just something generally interesting to do while they're in town. In fact, one third of travelers reported that they use social media to plan future vacations, find travel tips, and look at photos of places they hope to visit during their trip. (I know I've certainly done my fair share of scoping out murals and Instagram-worthy spots through geotags before heading out on a road trip!)
For local businesses, developing a geotagging strategy on Instagram is pretty simple: just tag your posts (and stories!) with geotags that feature either your business's specific location or a general location like Buffalo, Williamsville, Orchard Park, etc. Alternating between both specific and general locations is totally fine, just make sure it's relevant to whatever you're posting!
For more information on geotagging, check out Sprout Social's comprehensive guide on How to Use Geotags to Engage with Local Followers.