Updated May 2023
Social media is one of the most important aspects of any business
In the modern world it is THE go-to source for consumers when they want to know more about a business. We've talked a lot about the do's and don'ts (check out our articles on building a solid social media brand presence, mastering Instagram's algorithms, doing Snap + Insta Stories people will watch, and the fundamental rules of FB, TW, or Insta), but sometimes it's hard to visualize what those translate to.
Another hurdle: running out of ideas. Creative block happens to everyone, but luckily a little inspiration (aka people to copy) goes a long way. Think of the posts you like and engage with in your personal time. Are they funny? Pretty? Places you want to visit? Things you want to buy? These are the types of posts you should be creating on your business account because they're going to elicit the same reactions and responses, which are exactly what you want your social media to do.
Ok you get it, social media is important. But where do you start?
Start by following these 7 Buffalo Instagram accounts and copying what they do, because these local businesses are slaying the social media game. #InstaInspo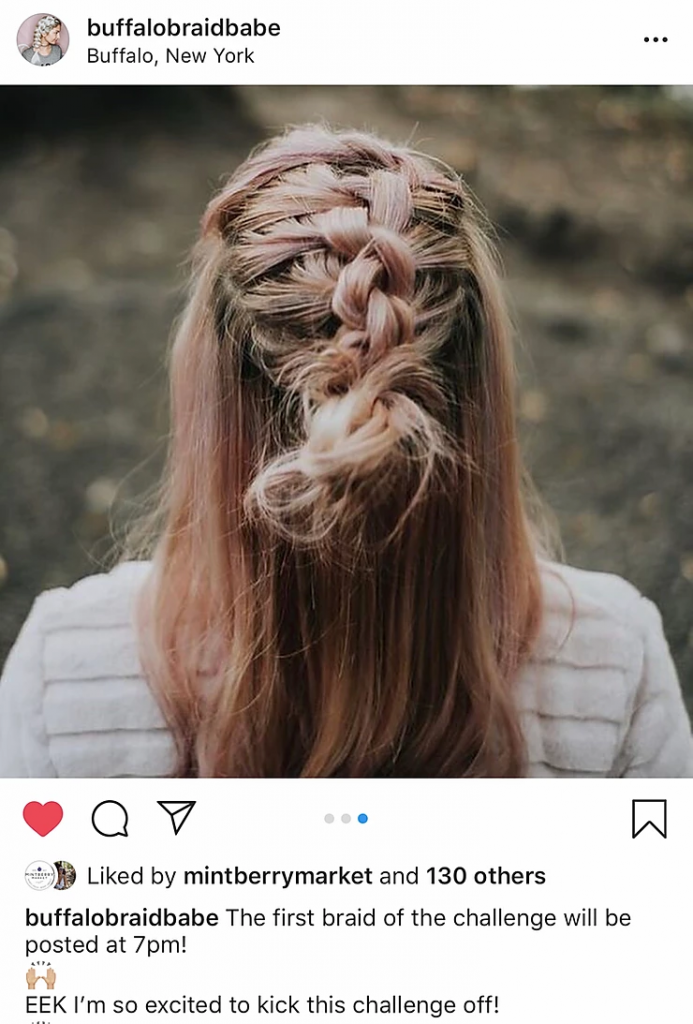 @buffalobraidbabe
This babe loves to braid. Like, really loves it. She successfully completed a #21daybraidchallenge and every braid was double-tappable. And now she's teaming up with lots of brands to host giveaways for followers who participate. So if you're one of her followers who's down-to-braid (duh of course you are, that's why you're following her), you could win free stuff. Super cute free stuff.
Inspo Factor: Beauty inspo is a given. The bigger takeaway here is influencer inspo. This girl knows how to collab with local brands and grow her following in the same swoop. When she wears an outfit from Blush, she tags them and promotes her challenge.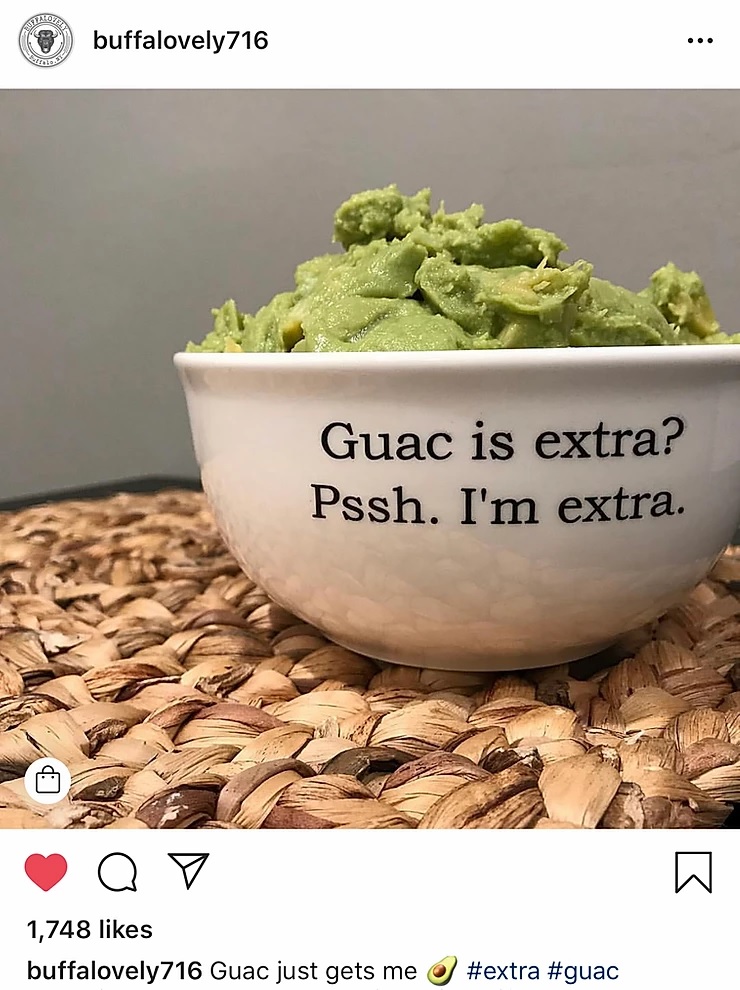 @buffalovely716
If you prefer your home decor with a side of sass, you'll appreciate this account. Her products are a little extra, but that's kinda the whole point. More importantly her posts are relateable – personality earns you points with followers. Her 57K seem to agree.
Inspo Factor: Be yourself. If you're snarky and sarcastic, embrace it. Let your sense of humor inspire your posts. Followers will appreciate your authentic side.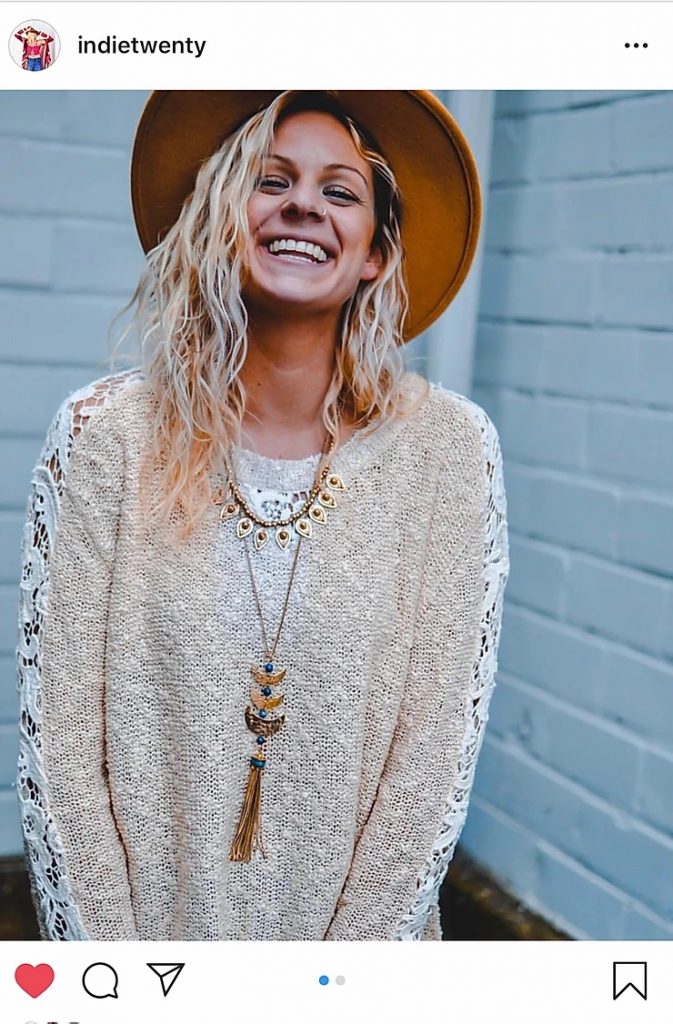 @indietwenty
This boss babe radiates happiness. Her posts are upbeat, colorful, and personable – AND she's all about the collab life. She makes gorgeous jewelry that she sells without overselling…kinda like how you would sell to your BFF. PS: THIS IS THE GOAL!!
Inspo Factor: Take a page from her book. Do a collab. Be a friendly, relatable human first. Because news flash the in-your-face sales approach is out and subtle selling is in.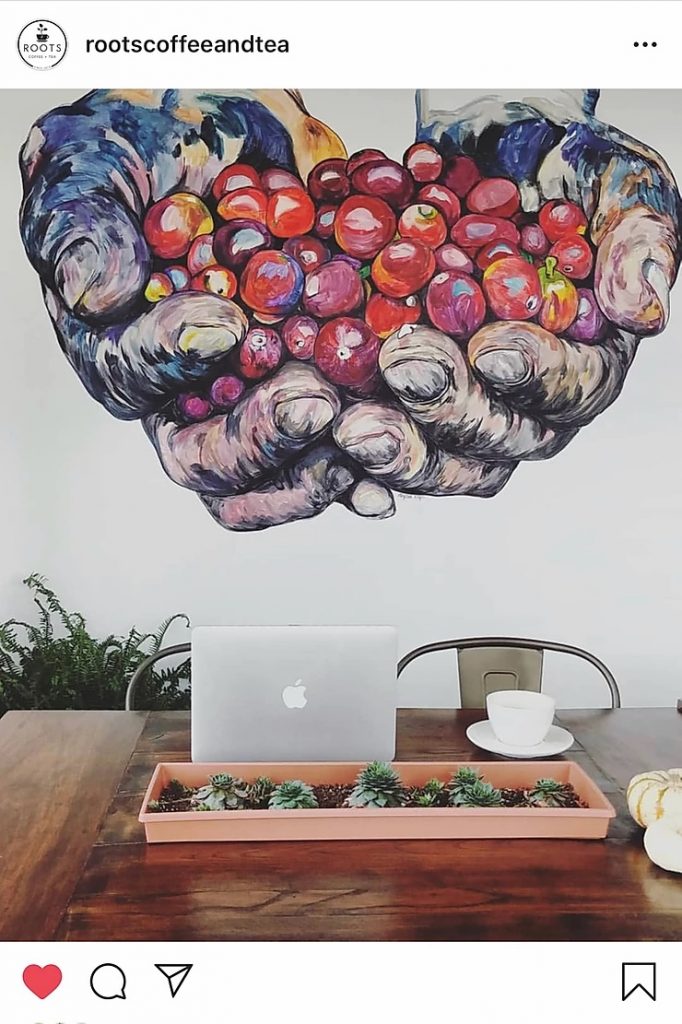 @rootscoffeeandtea
Cozy and cute for days, this place is embracing the season. By setting the scene with your posts you can create a place where followers want to go to get warm and toasty during the colder months ahead. Personally, we need this study station in our lives – and you should try to make everyone who follows you *need* what you have.
Inspo Factor: Think seasonally. What's relevant right now? What types of places are people looking for? When your posts start answering these questions, you'll start seeing a boost in engagement.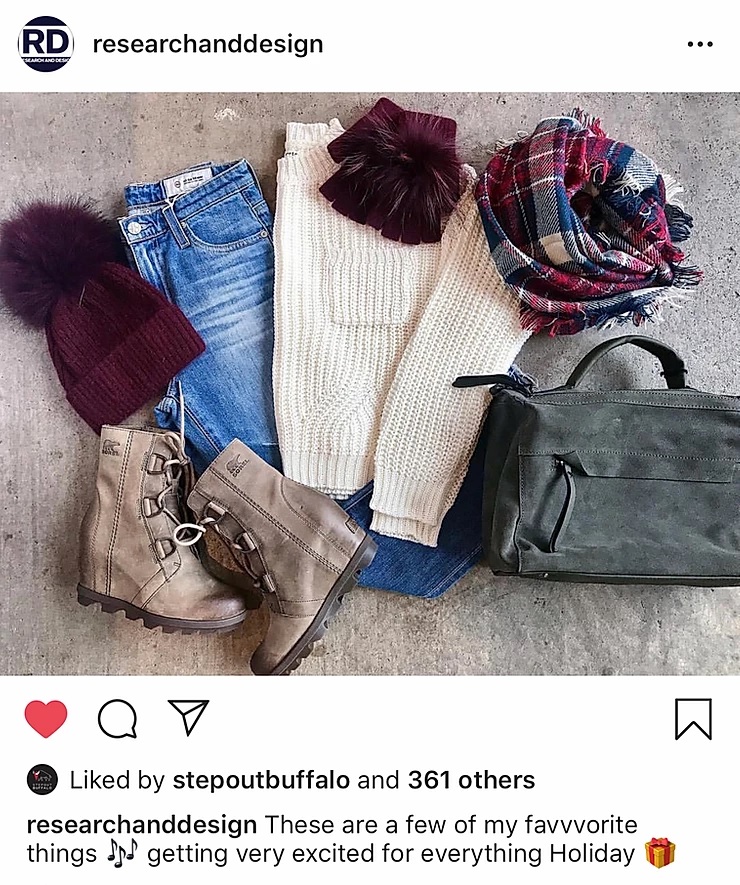 @researchanddesign
Putting together an outfit is easier when Insta does it for you. When this local shop lays out a look, it's suddenly a must-have-in-my-closet look. If your followers can picture themselves wearing your look, you're in business.
Inspo Factor: These looks don't just happen. You'll have to mix and match until it's just right. Before you start, look to shops you love for outfit inspo. Keep track of the types of that get the most double taps, and adjust your strategy accordingly.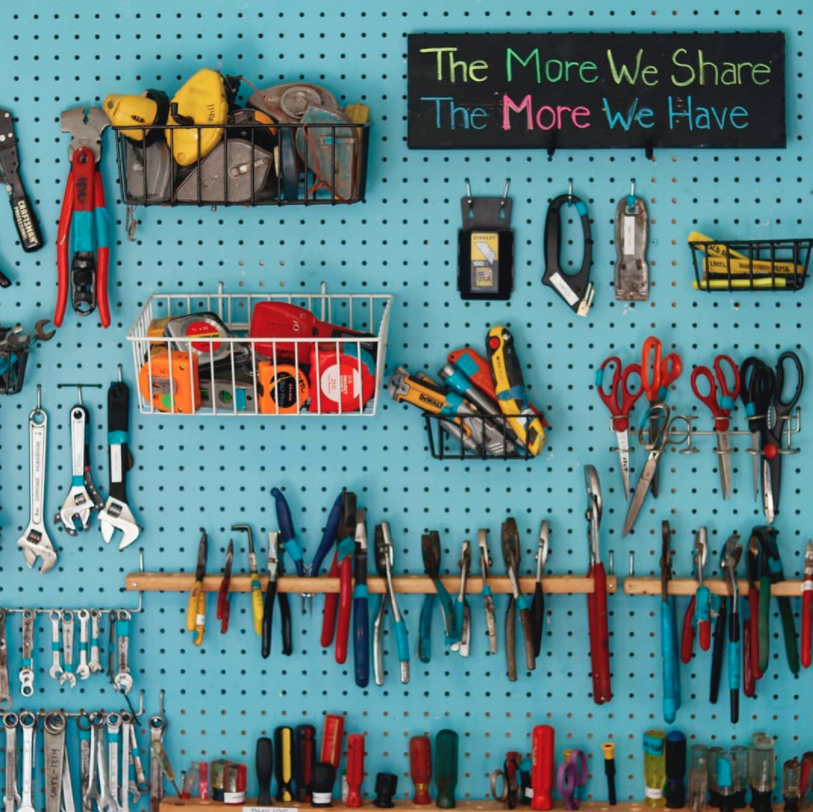 @thetoollibrary
Creating a recognizable brand on Insta is challenging, but possible. Choose a style and stick to it. Your posts complement one another. The Tool Library's bright-blue look is distinctively theirs. If your followers can recognize your posts before seeing your handle, you're doing it right.
Inspo Factor: A set color scheme and preferred filter creates a more cohesive look. Make yours uniquely yours. And remember, the right filter makes a real difference.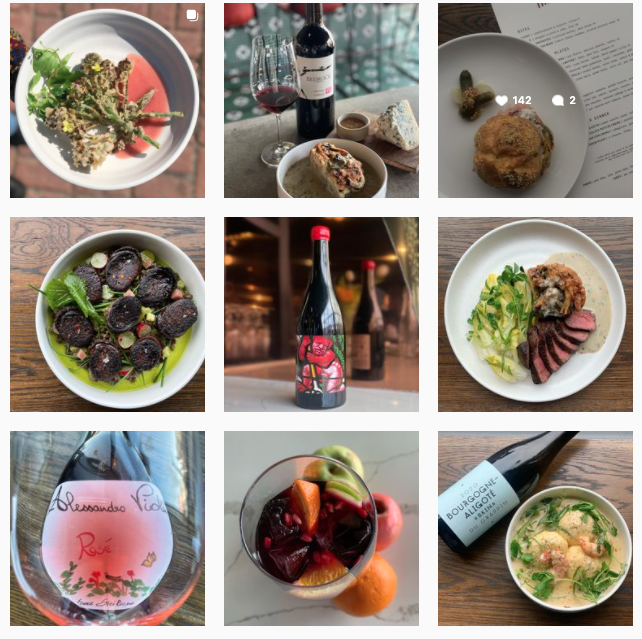 @thelittleclubbuffalo
Restaurant feeds should make followers hungry and thirsty. Mission most definitely accomplished here. Your feed should tell your followers a little bit about who you are and what you have to offer. Mission also accomplished. The Little Club's fresh focus is apparent, intriguing, and delicious.
Inspo Factor: Create your own weekly series. Having a cocktail of the week gives followers a reason to check back next week. And soon enough, they'll have to taste to confirm.
The takeaway
Get your social media game together ASAP. And if it is together, fine tune it. Consumers are resorting to social media to learn about businesses – both in terms of what they have to offer and to understand them. If your social media looks sloppy, you look sloppy.
Follow these Instagram accounts and accounts that you follow personally and/or who are similar to your business. Take note of the posts you like – and dislike – and take 3 seconds to think about why the posts make you feel that way. Trust us, your business will thank you for it.
Pro-tip: Did you know you can save posts on Instagram? And, you can create collections to keep these posts organized. Pro Tip: Create an Insta Inspo folder. You'll be v. grateful for this the next time you need a creative boost.
____________________________________________________________________________________________________________________________
Want to know more about promoting your business on StepOutBuffalo.com? Contact us!
At Step Out Buffalo, we help businesses promote themselves and their events on our website, email, and social media channels. Our team is comprised of experts who know exactly how to make your business or event stand out, and we'll put you in all the right places so you get noticed by all the right people. Hit us up if you'd like to learn more about our business and/or events-based promotions – there's a reason 94% of our readers go places they've seen on StepOutBuffalo.com