Photo courtesy of The Sheraton-Niagara Falls
The Sheraton Hotel in Niagara Falls is owned by the Dicienzo family, who has been in the hospitality industry for over 30 years. The business, which originally started out on the Canadian side of the border, later expanded to the American side where they now own 3 hotels and 3 restaurants.
The hotel, which is centrally located near the thunderous falls, the Niagara Gorge and Devils Hole, Niagara Falls State Park, the aquarium, and the Seneca Niagara Resort and Casino, has always been interested in attracting more customers from the Buffalo area.
In an effort to attract more locals they host several events and specials aimed at drawing in both adults and those with children. The hotel is open year-round – not just during the height of tourist season, aka summertime – and has several amenities including a Hydro Spa, Arcade, food options, and a Reef Beach Club primarily geared towards families.
When the Sheraton-Niagara Falls wanted to put their business in front of a new audience, they turned to Step Out Buffalo to help them achieve their goals. They purchased a Shop Local Package from our advertising options, which helped them increase their foot-traffic with an entirely new, younger demographic across all corners of Western New York.
Q&A with The Sheraton-Niagara Falls' General Manager, Daniel Tighe
---
What is the most important marketing tip you would give to someone just starting a business?
"The most important tip I can give is to know your target customer. Find out what's important to the consumer and how your product can help make their life better."
What was your goal in working with Step Out Buffalo?
"Our goals were to let the Western New York area know what we have to offer here at the Sheraton, increase followers to
our social media pages, and drive room bookings for our special packages."
What did you like most in working with Step Out Buffalo?
"Honestly the whole process. From the beginning meeting with Maria and her explaining the options and which package
best fits our company to immediate follow up with any questions along the way , the whole process was easy as well as
informative."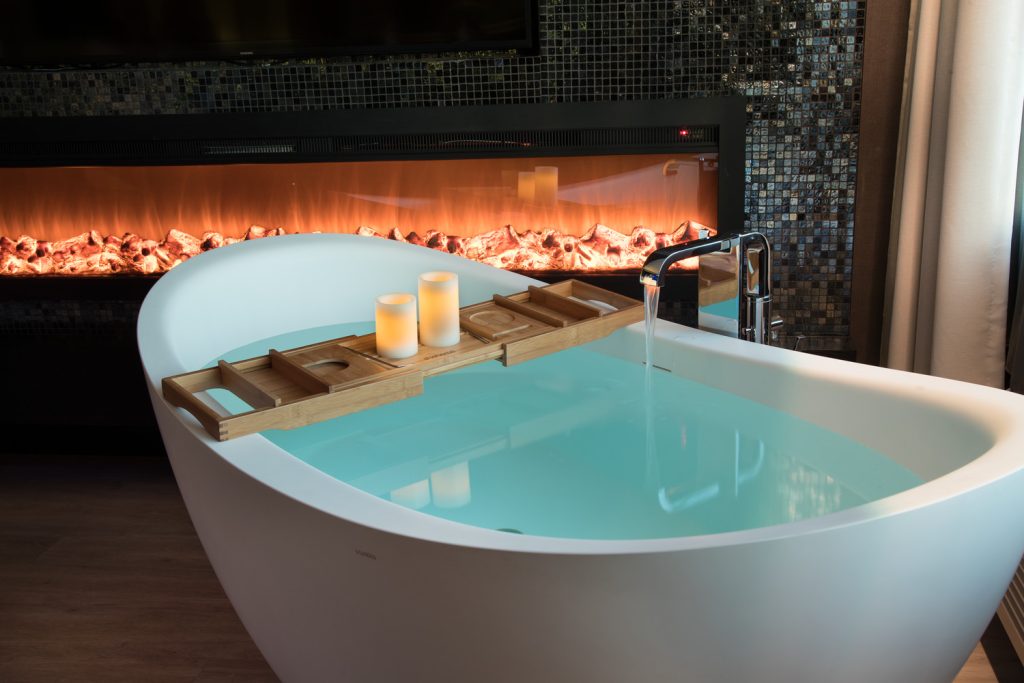 Campaign Insights
---
What They Got:
Step Out Buffalo Shop Local Package| Step Out Buffalo Shop Local Packages are discounted advertising bundles comprising of our most popular promotional items at a discounted price.
Here's How It Works:
Our Shop Local packages include constant visibility on the Step Out Buffalo website through a featured business listing that will appear in your relevant category. For example if you have a restaurant your listing will appear in our Food & Drink section of the website.
Then throughout the campaign we will publish bigger, more creative promotions throughout our different marketing channels such as the website, SOB email newsletter, our Facebook page and on our Instagram and Tik Tok.
Items are delivered over a six month period or the schedule can be customized to accommodate seasonal businesses or different campaign objectives. The goal is to put your brand in front of our readers in creative, engaging through multiple touch points across the campaign.
The Sheraton-Niagara Falls's Campaign Included:
Premium Event Listing
Premium Deal Listing
Live Social Story & Instagram Reel
Featured Business Listing
Email Promotions
Clicks & Reach:
$0.43 CPC
118,575 Banner Ad Impressions
99,970 Email Opens
92,106 Reached On Facebook
TBD, Campaign is still ongoing Reached On Instagram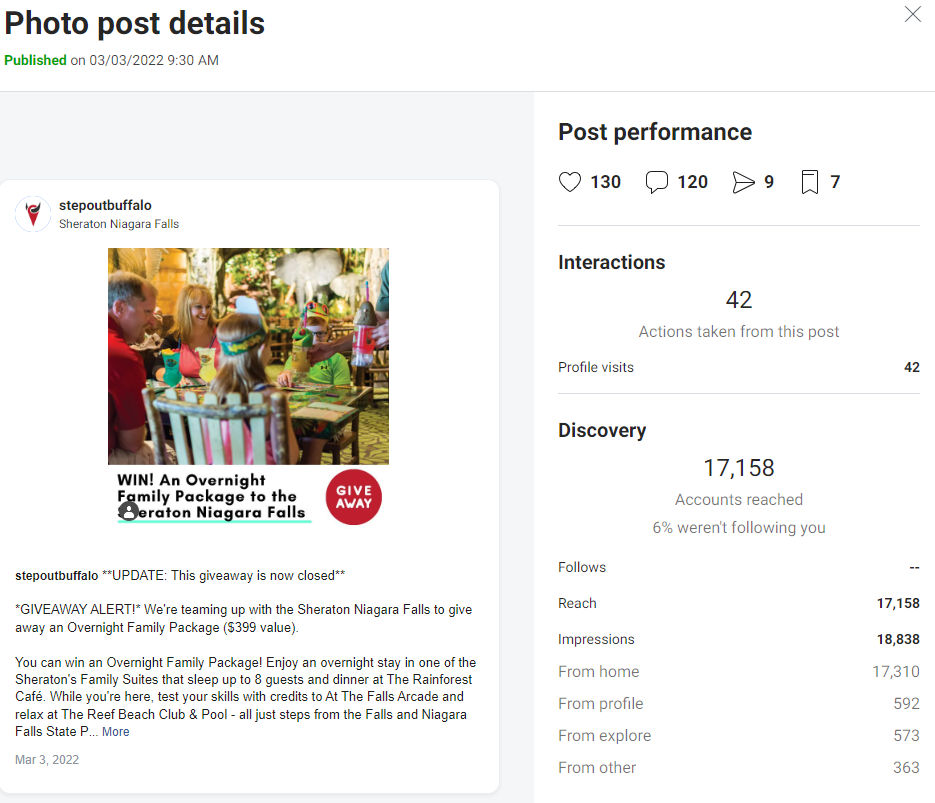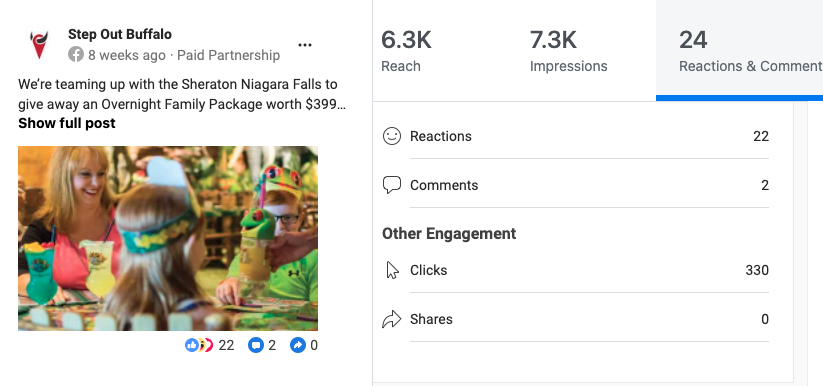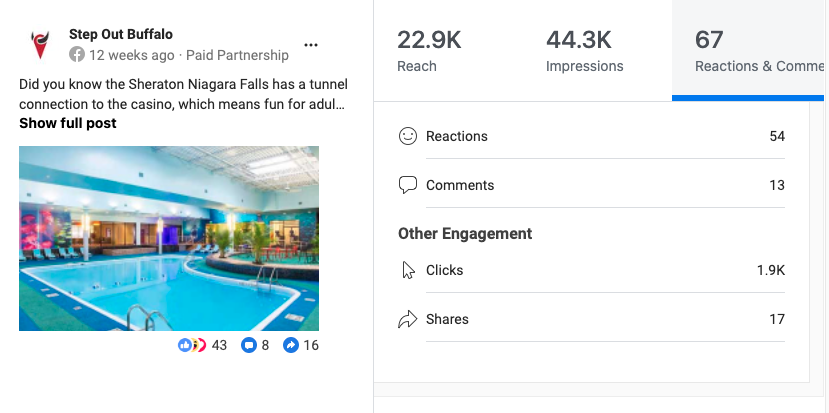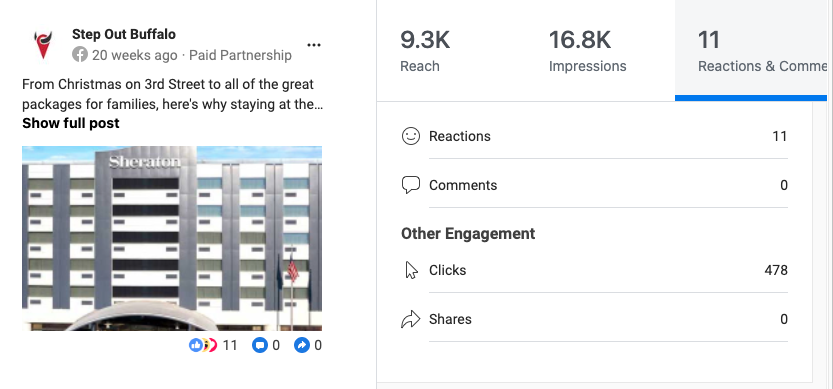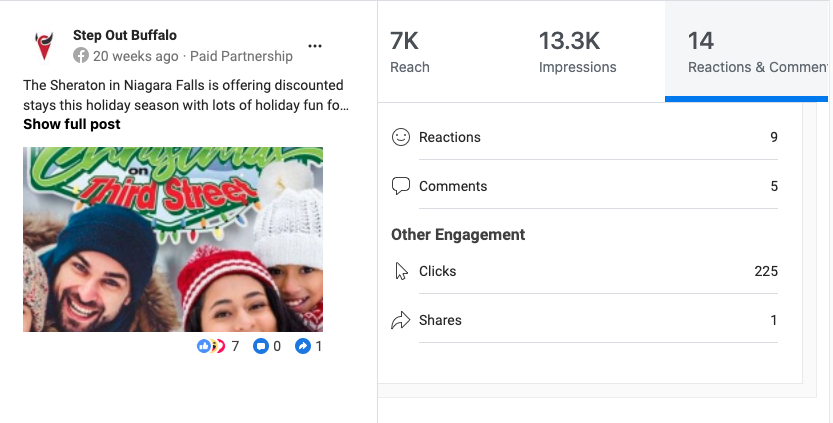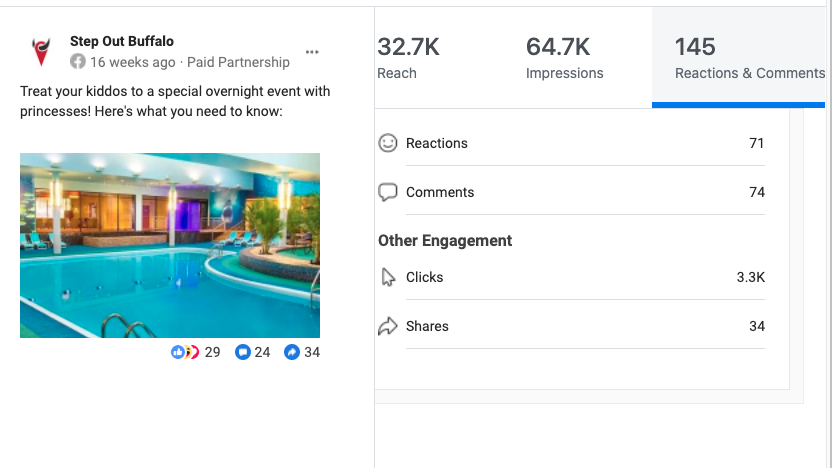 Sheraton-Niagara Falls
---
Website: www.marriott.com/en-us/hotels/iagaf-sheraton-niagara-falls
Instagram: @sheratonniagarafallsusa
Facebook: facebook.com/SheratonNiagaraFalls
Contact Us
---
Step Out Buffalo offers advertising options for local businesses throughout WNY. If you're looking for a creative and effective way to reach your target audience, let's chat. Contact us for more information on our advertising packages.