Updated: September 2022
When giveaways are done right they can increase reach, build relationships with consumers, boost brand awareness, promote your products, grow your following, and bring in extra revenue.
*BUT* just because you host a giveaway doesn't necessarily mean it'll necessarily go viral. Some giveaways are super successful, some are not-so-successful, and others go completely viral.
The key ingredient to a successful – and potentially viral – giveaway is engagement. Remember, Instagram has the highest engagement rates across all social media platforms – by far. If your giveaway gets people interested and commenting, you're doing it right.
Bonus: When done right, Insta giveaways can seriously help you with that tricky algorithm. And if you're thinking… "wait, how the $&!# does the IG algorithm work," read this first.
Here at Step Out Buffalo, one of the advertising products we offer are Giveaways, which we run both on our Instagram and website (the latter is featured on our homepage + shared to Facebook and Twitter, and is used to collect emails for clients' email-marketing efforts. Read more about that here!). The viral giveaway was done with one of our clients, the Elmwood Strip, a group of small local business in the Elmwood Village, and generated nearly 7,000 comments on Instagram.
But how? Let's break it down:
#1: The grand prize was… grand!
For their giveaway prize The Elmwood Strip banded together and had each business within their group donate a prize. Taking our advice of 'the bigger the better' to heart, the Best of Elmwood Village Prize Package ended up the biggest prize we have ever given away – with a total value of more than $2,600. Go big or go home! But really, the grandness of the prize organically evoked excitement – which resulted in engagement – and the viral buzz took care of the rest.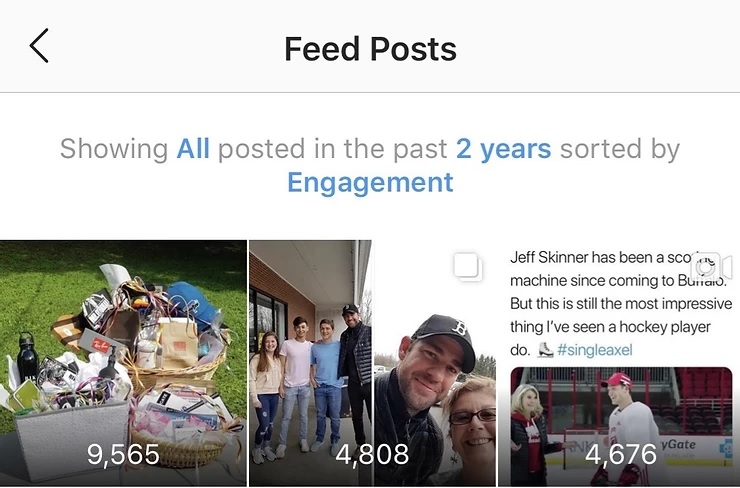 Note the engagement on the giveaway post is double our previous record-holding post over the past 2 years
#2: The reach was major.
This giveaway included 30+ prizes from 30 participating local businesses, and a majority of these businesses shared the giveaway on their pages too. When you maximize your reach, it really makes a difference. The more eyes on your brand, the better. If you're thinking about doing a giveaway, consider a collab like Elmwood Strip did.
#3: Entering was simple.
Simplicity is key for giveaways. When contest rules are confusing or complicated, people are less likely to enter. To enter this giveaway, you simply had to follow the giveaway sponsor (@elmwoodstrip) and tag at least 3 friends in the comments. Easy enough, right?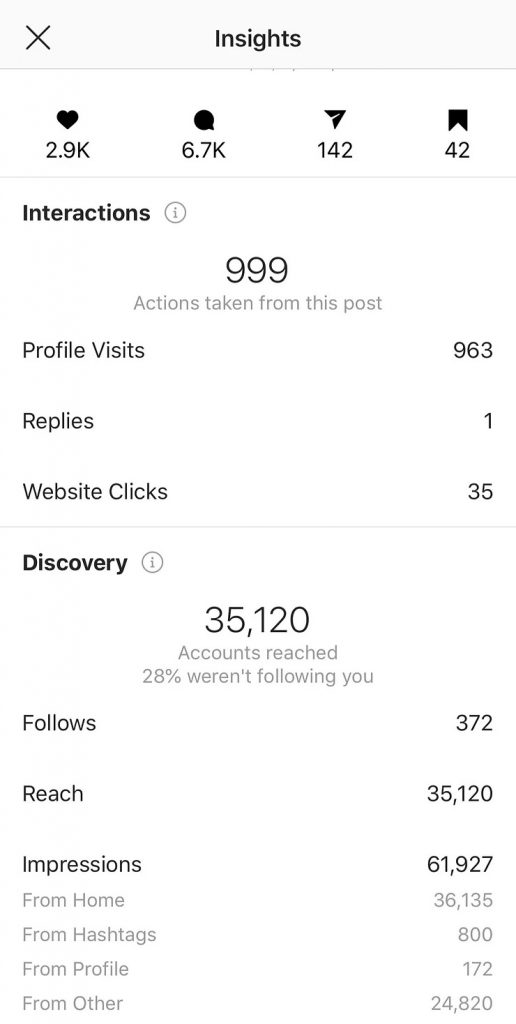 According to the post's Insights, it reached 35,120 people and generated 372 new followers
#4: The photo was solid.
Remember, Instagram is a visual platform. The photo we posted showcased the prize which provided a sneak peek at the potential winnings and thus created excitement. When hosting a giveaway, show off the prize with a high-quality photo, not a flyer. We repeat DO NOT post a flyer.
#5: The wording was strategic.
Captions need to capture attention, *especially* giveaway captions. Our advice? Make yours informative yet concise and don't forget about formatting. Spaces are your friend (hellooooo visual line breaks!). You want people to tap on "read more" instead of scrolling past. For our giveaways, we follow a strict caption writing formula that's focused on creating excitement while stating all the important facts that people need to know. Make every character count.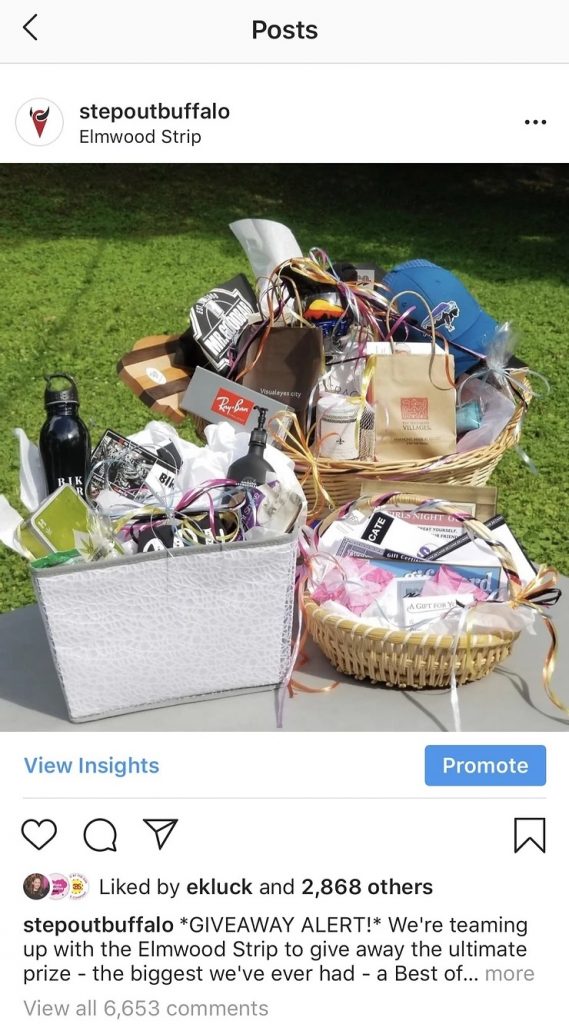 The bottom line
No matter the size of your following, all businesses can benefit from hosting giveaways as long as they do them right. By keeping these 5 elements in mind you can create a viral giveaway that not only gets you some new followers but that also strengthens your brand-consumer relationships. And remember, don't be afraid to collaborate!
PS: If you're completely lost, message us. After all hosting successful giveaways is a specialty of ours 😉
Looking for more helpful content about marketing? Check out our other articles here for free tips & tricks!
______________________________________________________________________________________________________________________________
Want to know more about promoting your business on StepOutBuffalo.com?
At Step Out Buffalo, we help businesses promote themselves and their events on our website, email, and social media channels. Our team is comprised of experts who know exactly how to make your business or event stand out, and we'll put you in all the right places so you get noticed by all the right people. Hit us up if you'd like to learn more about our business and/or events-based promotions – there's a reason 94% of our readers go places they've seen on StepOutBuffalo.com