Photo courtesy of Ristorante Lombardo
With apologies to ILOVEMAKONNEN — the words "weeknight nightlife" don't exactly conjure up memories of booming clubs, clowning in the backs of barrooms, or late-night hookups.
But going out on a weeknight is part of most people's routine, and if you go out on weeknights, you've probably come across DJ Trivia.
For the past 14 years, DJ Trivia has been hosting two-hour trivia games in Western New York, starting in Buffalo and expanding to Rochester (fun fact: in fall of 2022 they hosted their 20,000 trivia night!). What started as part of a regular DJ gig at Kahunaville in the Walden Galleria mall has become a way to make a living for business owner Bill Shaflucas.
"Any time we would do any type of trivia at Kahunaville, I would get demand for more of it," he says. "I also worked at a few other bars and suggested we try it there too. "It was easy to get people to play: Everyone seems to enjoy trivia."
At first, Shaflucas did everything himself. He booked the trivia nights, wrote the questions and hosted the gigs. After a while, he found it hard to keep writing all of his own questions. Ultimately, he decided to reach out to DJ Trivia, an established bar trivia company. Shaflucas says his DJ Trivia WNY was the company's first of its current 75 franchises. Over the years, it became a full-time job for Shaflucas and it's mostly how he pays the bills.
"Right now, I'm sitting here organizing trivia playoffs," he laughs. "It's definitely an interesting job and not what I had planned on doing for a living."
He says the secret behind the success of DJ Trivia is its ability to both entertain people and exist in the background for people who don't want to participate.
"It doesn't interfere with people just trying to enjoy the restaurant or bar," he says. "We use video so we don't have to talk. We play music so we keep the atmosphere going. If you don't want to play, you can ignore it."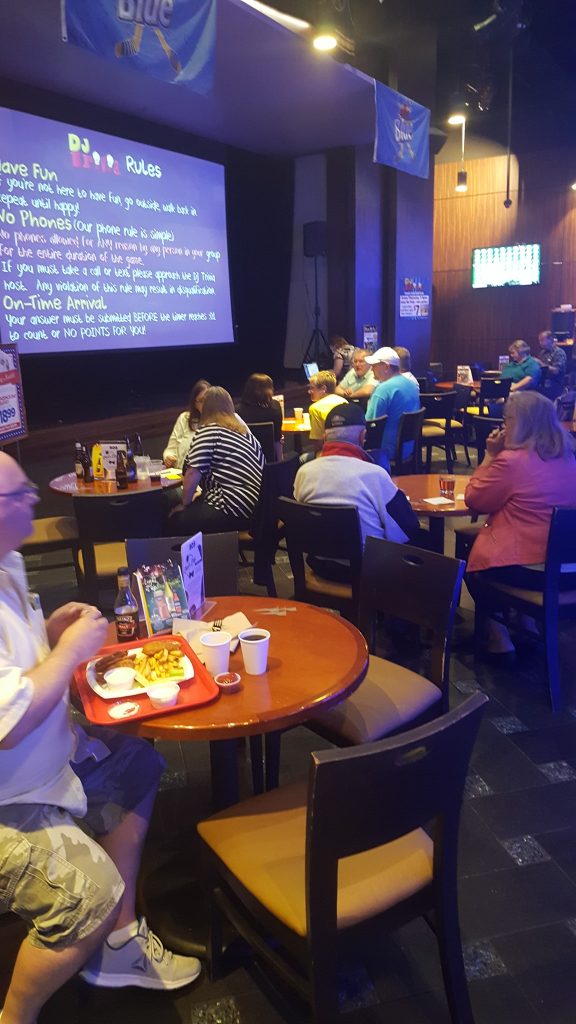 Bars + Trivia: The Perfect Match
Bars and restaurants are looking for entertainment that is going to bring people in, without pushing anyone away, and trivia is a perfect activity for that. That's very different from live music or even karaoke.
"If you make plans to meet people at a bar, walk in, see karaoke, and you're not in the mood for karaoke — you're not going to stay," Shaflucas says, adding that the game has changed of the years to become even more optional for customers. "We've been able to minimize talking from the hosts. We also change the music to fit whatever bar or restaurant we're in. We even play requests. So people can still hear the music they want to hear."
The Recipe For Success
While the appeal of a weekly trivia night to a bar or restaurant might seem pretty obvious, the appeal to players is probably less so. Even though it's a trivia night and the company is called DJ Trivia, Shaflucas says playing trivia is actually beside the point.
"That's something serious trivia players don't understand about it," he says. "We're not trying to see who's the smartest in the room.
"The game isn't designed to be about the trivia, the host, or even the music. It's designed to get people together in a group to do something fun. That's why each game only has 20 questions. Because each game is about people talking and connecting over a drink and having food."
Shaflucas says DJ Trivia pretty much sells itself. But over the years, and to this day, he still has to pound the pavement and sell it to bar owners. He's also got to make sure the games are well attended, and for that to happen, the bars and restaurant owners have to hold up their end of the bargain.
"I can't just walk into a place, start a weekly trivia night, and bring in 60 people week after week," Shaflucas says. "Management has to promote it. They have to put up posters and share it on social media. I can give them the tools to make it work, but if they don't cooperate, it's not going to work. For anyone looking to start a weekly night: I suggest picking your clients as much as they pick you."
"I tell new clients: I'm not looking to make you quick money for 8 weeks with a trivia show. I'm here to do this for 8 years. This is a relationship, not just, let's make a quick buck and move on to something else."