We're here to help.
The past few months have been tough for everyone, especially local businesses. With the country beginning to see businesses opening their doors once more Step Out Buffalo is here to help do what we do best: promote WNY businesses to the WNY community.
Step Out Buffalo has hundreds of thousands of local readers, email recipients, and social media followers who love supporting local and are always looking for the best things to do, places to go, and businesses to support.
We've created three special offers specifically designed to help local businesses get in front of the right people during this unique time.
For a limited time we'll be offering the following to businesses advertising on Step Out Buffalo:
Free Community Updates about when your business will reopen – a listing about your business that will get added to our Step Out Buffalo website including a community update ie. special product offering, timeline for reopening, takeout etc.
Free SOB Deals (up to $50 value) – Step Out can add up to two special offers, discounts, or coupons that your business would like to offer. These will get published on our SOB Deals page for 30 days.
20% off all new advertising orders now through June 20, 2020 – Good on all advertising packages and custom orders.
We want to help the WNY community get back on its feet and let our community know where they can find everything and anything they need while supporting local businesses.
Contact us to learn more and see how your business can work with Step Out Buffalo here!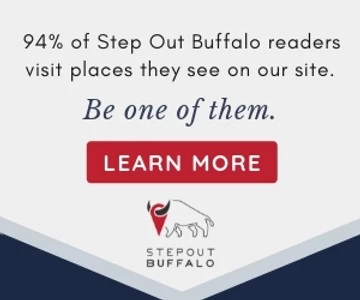 Contact Us
Step Out Buffalo offers advertising options for local businesses throughout WNY. If you're looking for a creative and effective way to reach your target audience, let's chat. Contact us for more information on our advertising packages.
______________________________________________________________________________________________________________________________
Want to know more about promoting your business on StepOutBuffalo.com?
At Step Out Buffalo, we help businesses promote themselves and their events on our website, email, and social media channels. Our team is comprised of experts who know exactly how to make your business or event stand out, and we'll put you in all the right places so you get noticed by all the right people. Hit us up if you'd like to learn more about our business and/or events-based promotions – there's a reason 94% of our readers go places they've seen on StepOutBuffalo.com