Photo c/o Step Out Buffalo client, Buffalo Place
At Step Out Buffalo our mission is to help people love where they live by showcasing local businesses across Buffalo and Western New York.
One of the ways we do this is through our Deal Listings. Step Out Buffalo Deal Listings are listings submitted by businesses to provide information for our readers about any special deal the business currently has, including discounts, happy hours, coupons, sales, and specials.
Step Out Buffalo Deal Listings are a great way to drive traffic to your business's physical location and/or website by offering new customers an exciting event or actionable deal to take advantage of. Submitted Deal Listings are featured on our website across a multitude of pages and based on the categories they fall into, including our Shop page, Lifestyle page, Beauty & Spa page, Fitness page, and Health & Wellness page.
Step Out Buffalo Deal Listings are free to list once you create an account and log onto our website.
How To Create A Step Out Buffalo Deal Listing
The first step in creating a Deal Listing is to set up a free account on StepOutBuffalo.com. To set up an account you'll be asked to input your name and email address and create a password.
Once your account is set up you will be able to create or claim Business, Event, Deal, and Community Update Listings. To do so, simply scroll to the bottom of the website when you are logged in. There you'll find the options to List an Event, List a Business, List a Deal, and List a Community Update.
When you click on any of these options, you'll be shown a list of fields to input information into. The more fields you fill out, the more helpful your listing will be. Adding as many applicable categories and tags as possible will help your listings be more discoverable and may get them placed on more articles and pages.
For businesses looking to promote their deals further, we offer promotions of Deal Listings through our advertising packages. These promotions include boosted shares on our Facebook page, features in our email newsletter, and spotlighted homepage and category features on our website. Interested in learning more about Step Out Buffalo advertising? Tap here!
How To
How Promoted Step Out Buffalo Deal Listings Work
Your listing will be visible on our SOB Deals landing page once published. Deals will appear in order of when they were added and generally will expire in 30 days.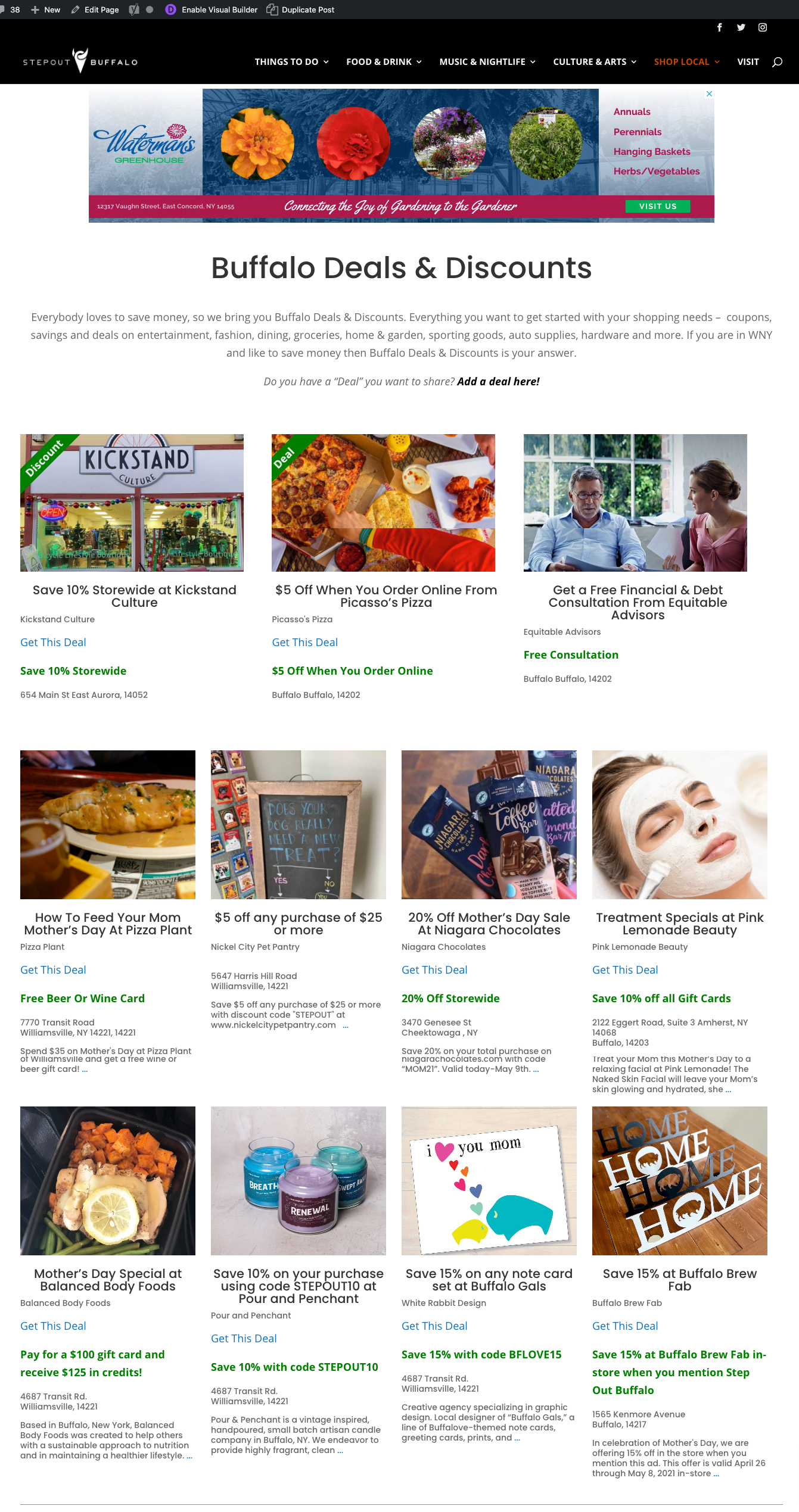 If your campaign includes additional Deal promotions (like in our most popular Shop Local package) we will share your listing on Facebook and include a $5 Boost.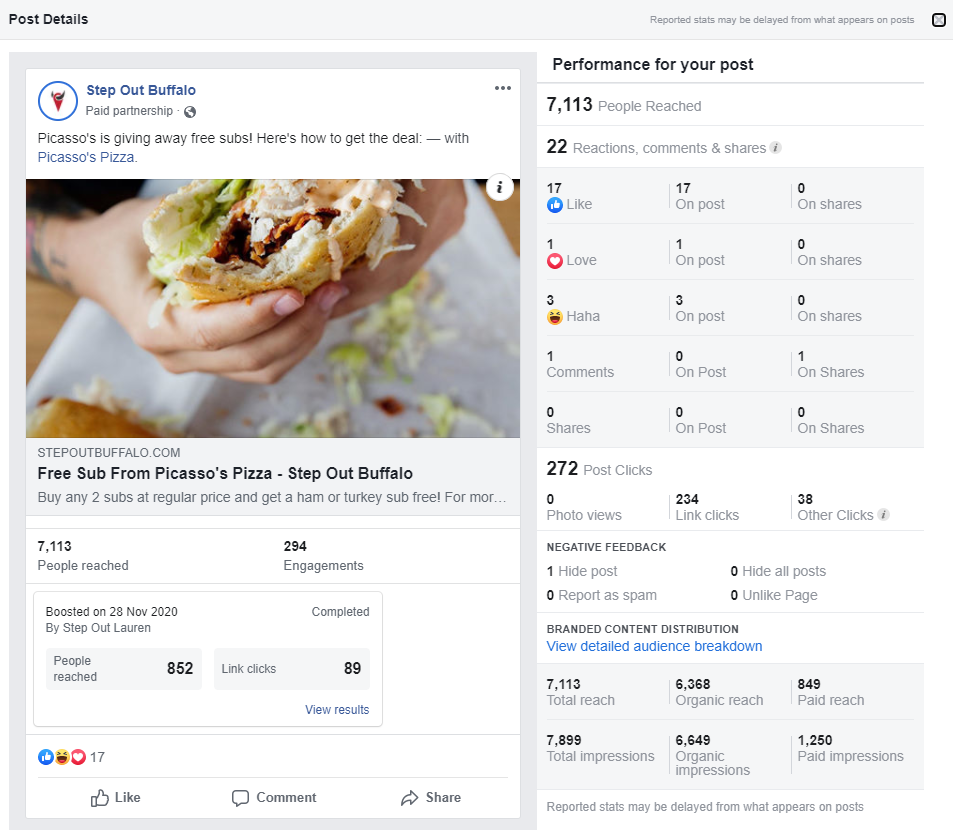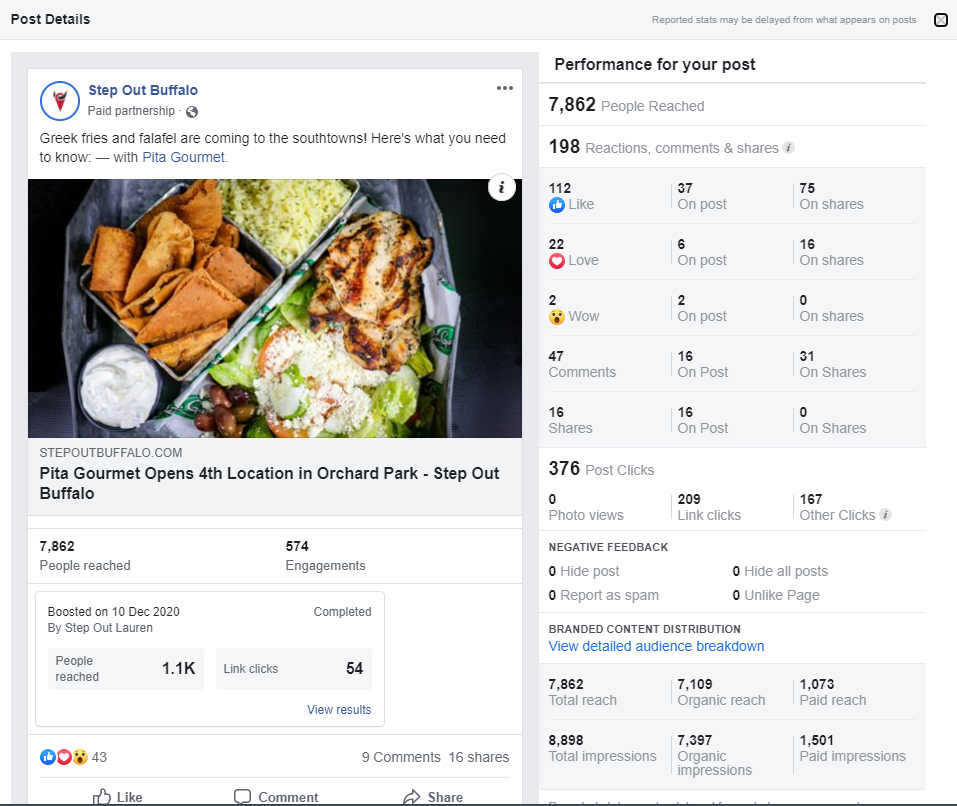 We will also share your Deal Listing in our email newsletter on either Monday, Wednesday, or Friday.


What To Expect
While results can vary, Deals will generally reach between 4,000 and 8,000 people on Facebook. The Deal will also be sent out to our email subscriber list which generally will get 7,000-10,000 opens. Total pageviews on a Deal Listing can range from 100 to 1,000, largely based on how good of an offer it is.



Fulfillment
Your SOB coordinator will contact you for an image and a description of what you'd like to offer as your Deal. A promo code on your website, free item with purchase, and BOGO's are all examples of Deals. On the listing you can specify how readers can redeem the deal, discount, or special (ie mention Step Out or use promo code SOB10) along with any terms and conditions. A Deal does not have to be unique to Step Out, it can be something you are already offering. Your listing will be sent to you before we publish and you will be able to edit the Deal at anytime by emailing your coordinator.
Images | Client is responsible for providing images for their post – all advertisers must have rights to the images provided. Title image can't have text overlays (like a flyer) and "organic" images will get the most reach. Good images include product shots, customers enjoying themselves, the venue or space of the business, or images from a previous year event. Low quality, blurry images will not perform well so the higher the resolution the better. If you have any questions as to which images would be best your campaign coordinator can advise.
---
Contact Us
Step Out Buffalo offers advertising options for local businesses throughout WNY. If you're looking for a creative and effective way to reach your target audience, let's chat. Contact us for more information on our advertising packages.