A Step Out Buffalo Shop Local Package is a discounted advertising bundle comprising of our most popular promotional items.
This package is built with small businesses in mind, specifically for local brands, retailers, restaurants, fitness studios, and businesses who want to reach a hyper-local targeted audience in Western New York.

Our Shop Local package Includes constant visibility on the Step Out Buffalo website along with a mix of our most popular advertising items. Items are delivered over a six month period or the schedule can be customized to accommodate seasonal businesses or different campaign objectives.

How It Works
First, we will create banner ads that will run continuously throughout your whole campaign, this will ensure you have constant visibility on Step Out Buffalo. The package includes 60,000 impressions.
To learn more about Banner Ads check out our Product Guide about them here.

We'll also create a business listing which will be labeled as "featured". This listing will appear throughout our website and throughout the various sections of www.StepOutBuffalo.com. These will rotate randomly along with other sponsored listings.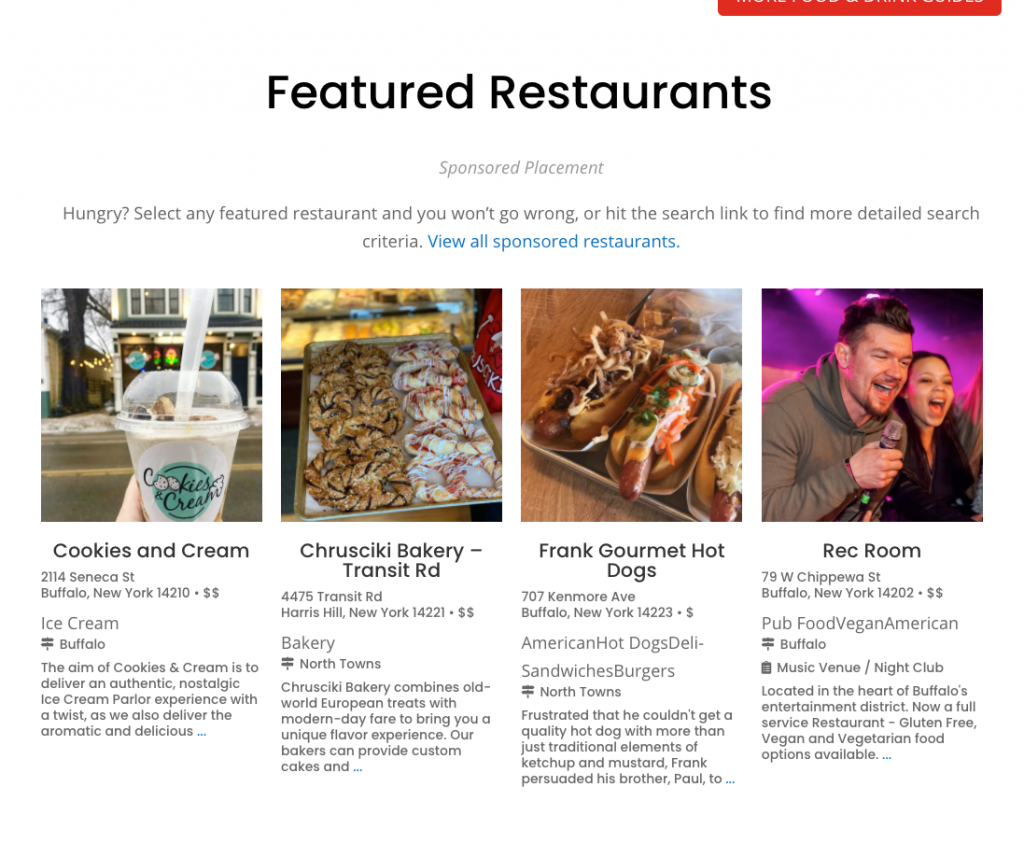 Throughout your campaign, we will also schedule different sponsored items throughout our social media, website, and email newsletter. Package includes:
1.) Giveaway Hosting: A Step Out Buffalo Giveaway Hosting is a week-long promotion on our Instagram, homepage, and Facebook page. Readers will enter to win by following your Instagram page & tagging friends or by opting into your email newsletter.
To learn more about Giveaway Hostings check out our full product guide here.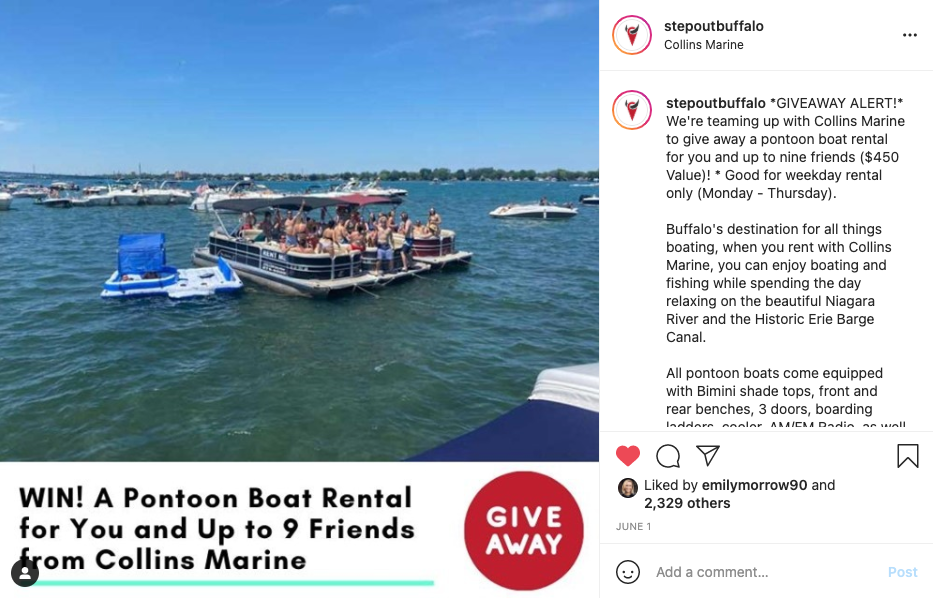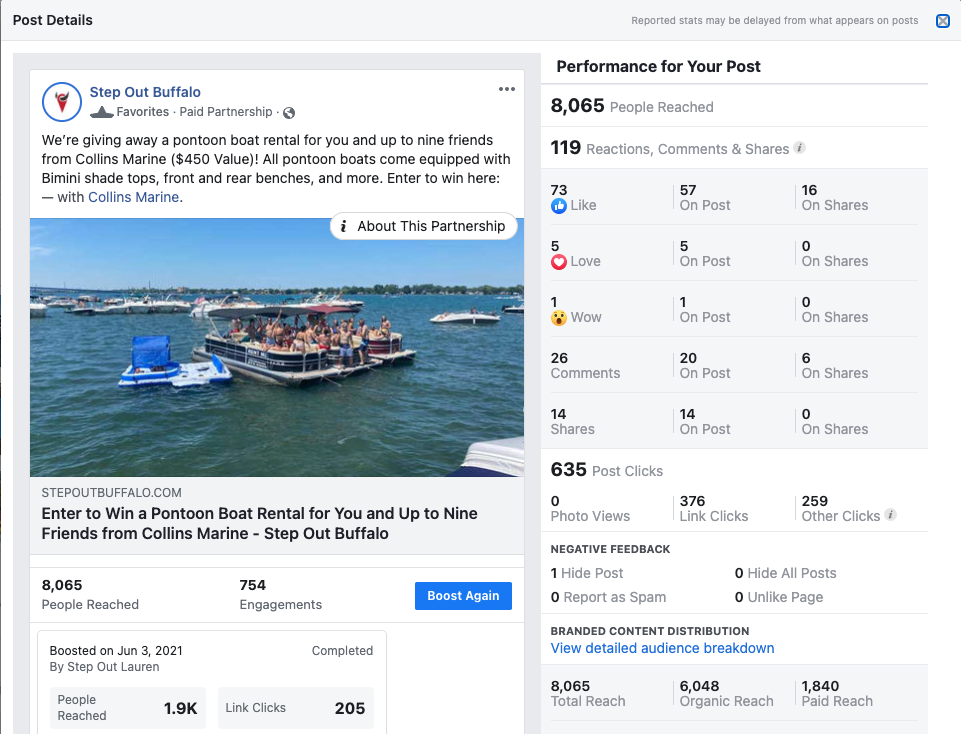 2.) Two SOB Spotlight Articles: A Step Out Buffalo Spotlight Article is a 200-300 word post completed by one of our writers about your business or services. A total of two Spotlight posts are included in the package. The subject of your post can be about any product, service, or news you would like to promote and topics can range from new releases to grand openings to product and event roundups. This is a creative and engaging way to connect with our audience and create "organic buzz" around the Western New York area. Once approved, your post will be published on our homepage, in our email newsletter, and on Facebook where we will boost it for $25.
To learn more about SOB Spotlights check out our full product guide here.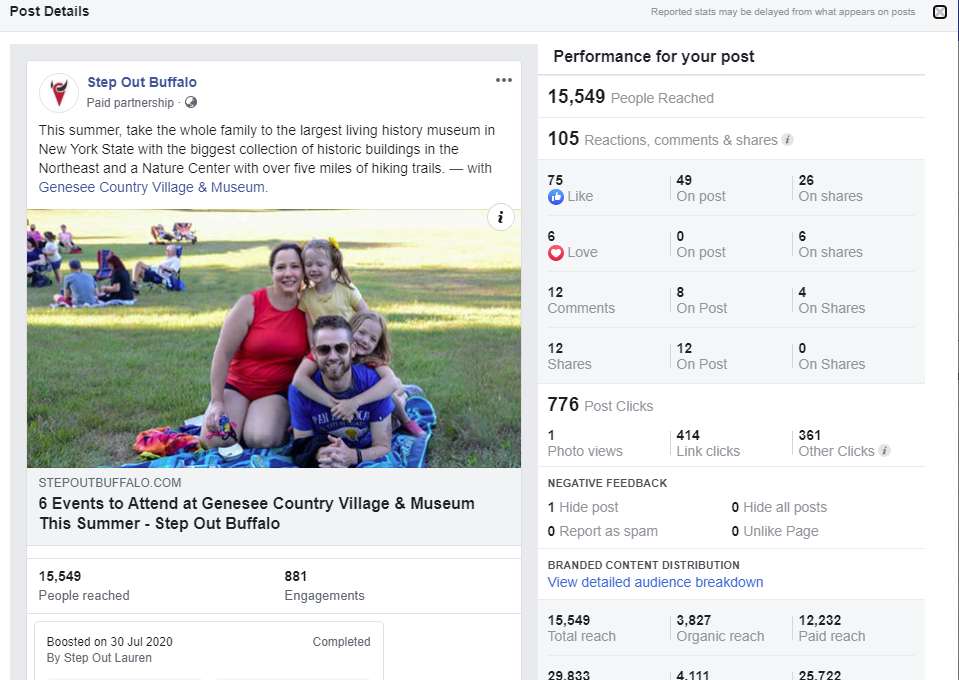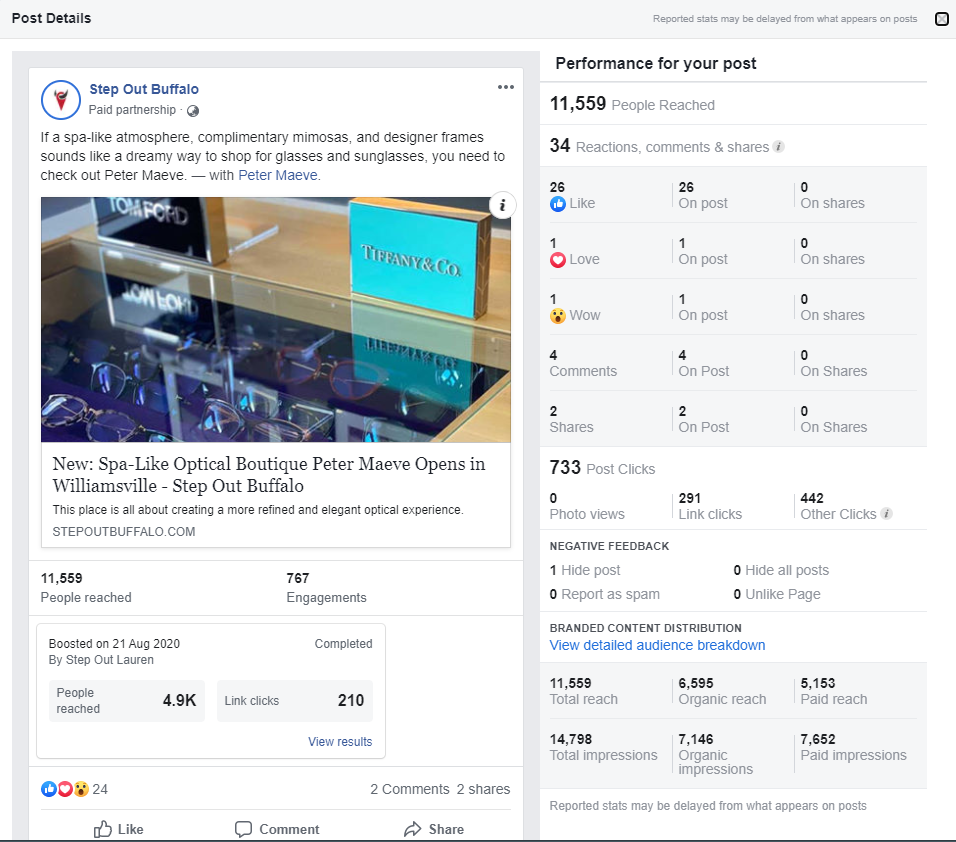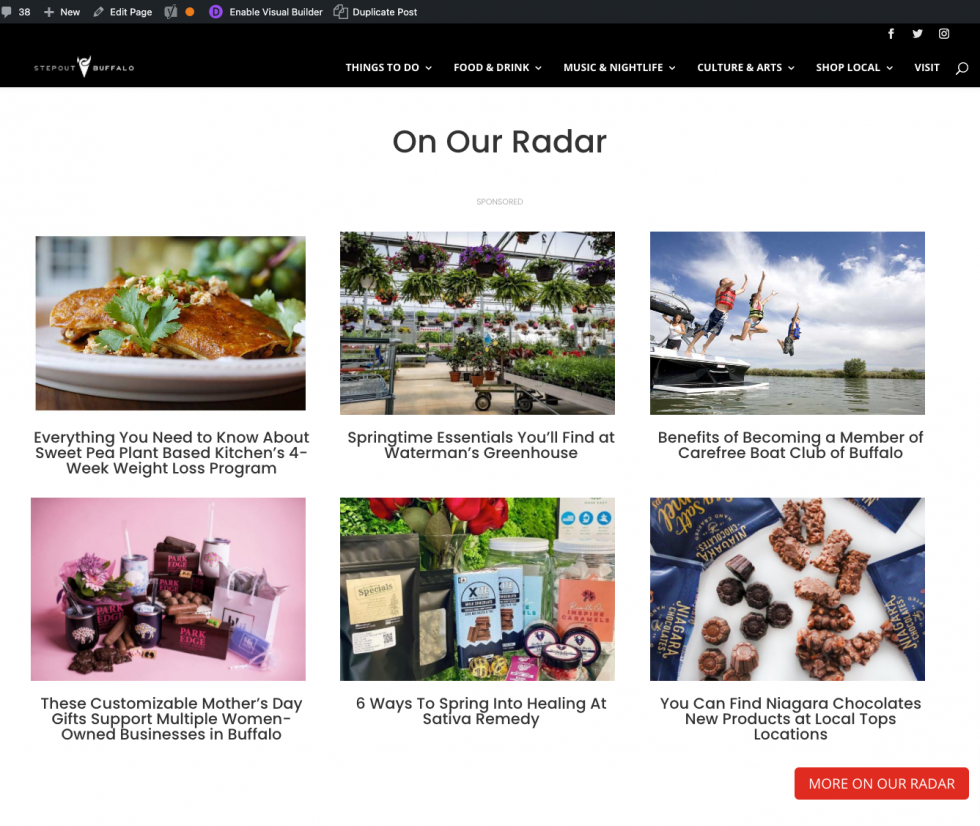 3.) SOB Deal Promotions: A Step Out Buffalo Spotlight Deal Listing is a listing on our website which includes a special offer, coupon, promo code, or discount that you would like to promote to readers.
To learn more about SOB Deals check out our full product guide here.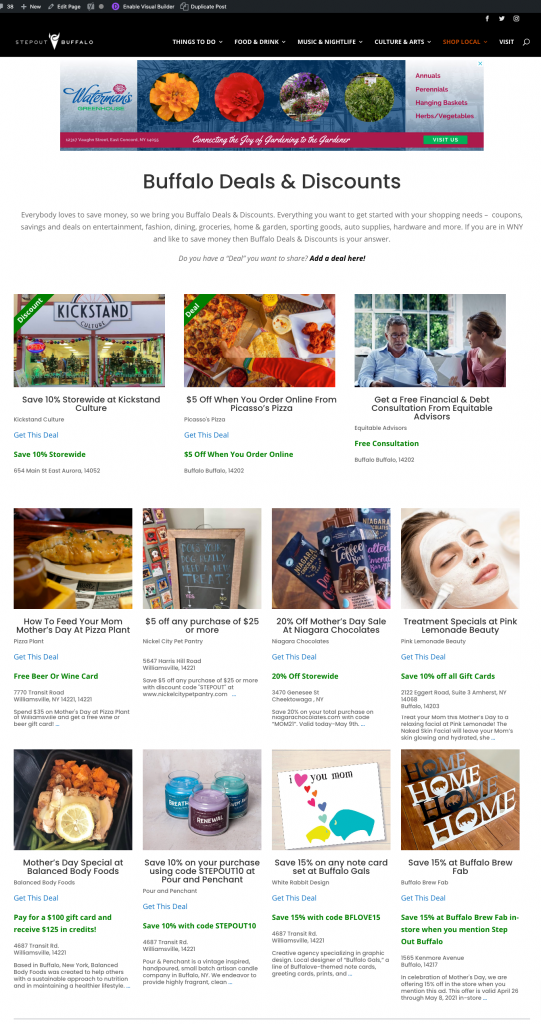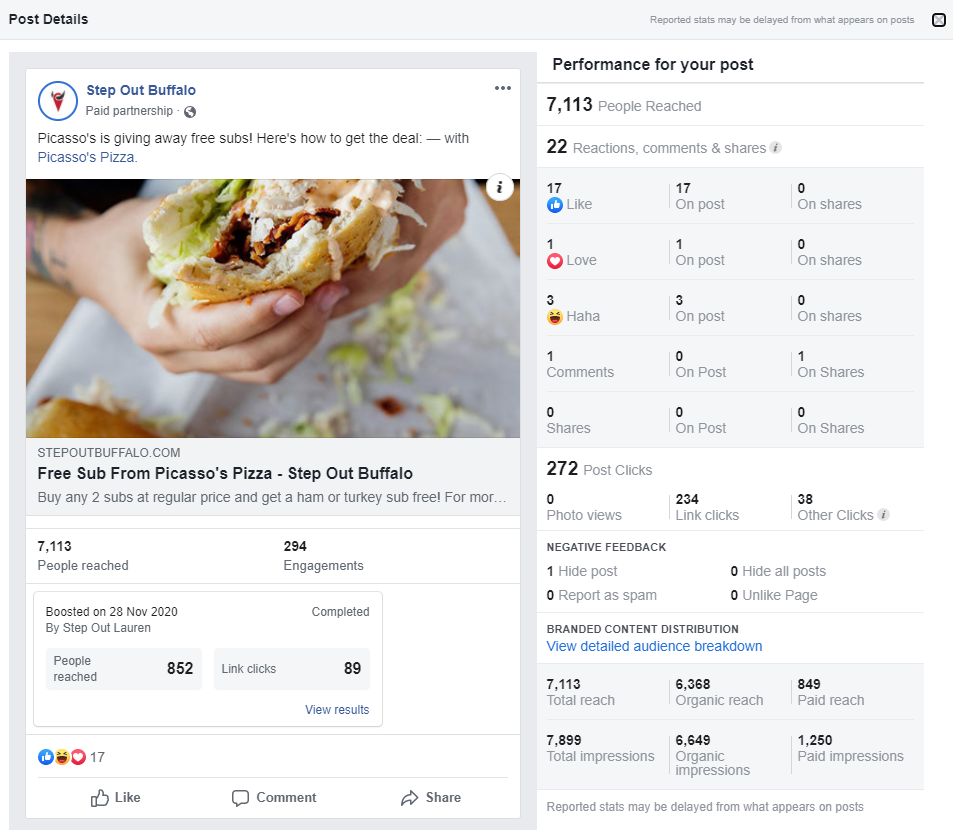 4.) Social Media Story: A Step Out Buffalo Social Media Story is a series of video clips captured on-site by one of our team members that get published on our Facebook and Instagram Stories, Instagram Reels, and Facebook feed.
To learn more about our Social Media Story check out our full product guide here.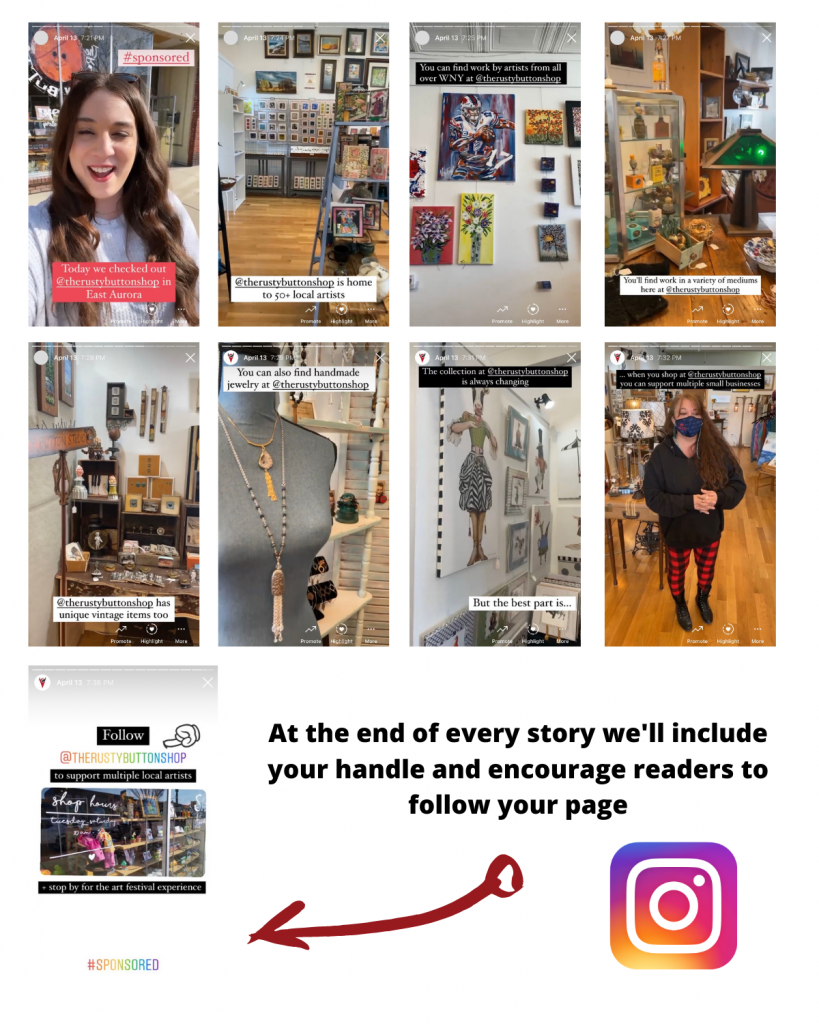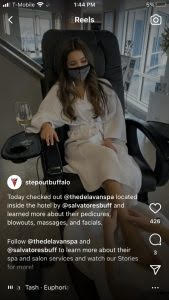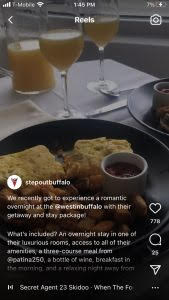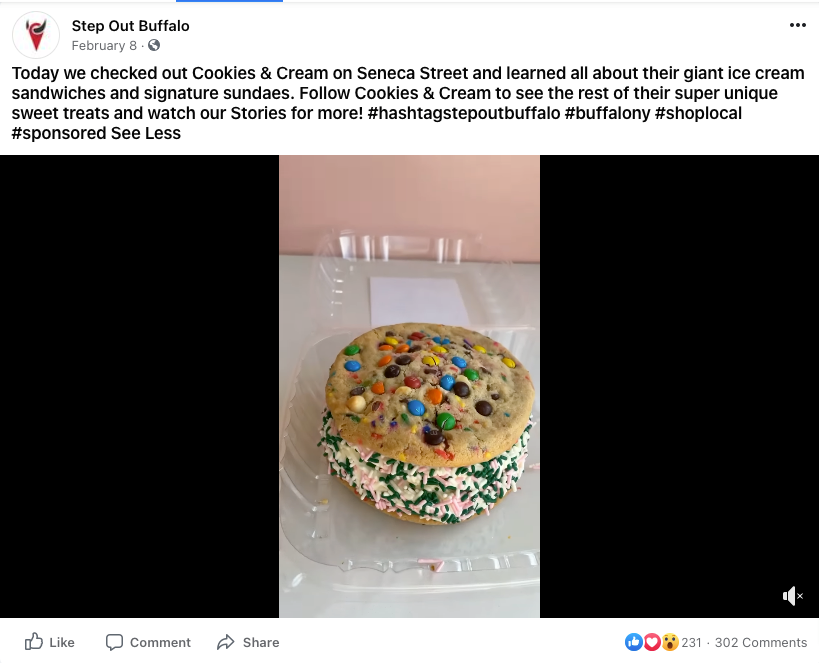 What To Expect
This package is geared at promoting your business in a fun and creative way to our readers. While reach can vary across campaigns and industries generally the different items will receive a reach in the following ranges:
Giveaway Hosting: 200-600 new followers and emails yielded
SOB Spotlights: Will generally reach between 10,000-20,000 people on Facebook and are included in our email which is sent to 46,000+ subscribers
Social Media Story: This promotion will generally yield new Instagram followers and get between 10,000-30,000 views
60,000 Banner Ads are guaranteed.
SOB Deals: Will reach between 5,000 and 10,000 people on Facebook and are included in our email which is sent to 46,000+ subscribers
A full analytics report is provided at the end of the campaign including total reach, clicks, and cost per click. Campaign results are available at any time by emailing your SOB coordinator.
Fulfillment
Before your campaign begins, your SOB campaign coordinator will send you a publishing schedule outlining all of the items and when we plan on publishing them. They will then contact you roughly once a month to get items approved and collect information for any upcoming promotions. Typically a "Submission Form" will be sent where you can upload images and any talking points for our creative team to reference when creating your proofs.
---
Contact Us
Step Out Buffalo offers advertising options for local businesses throughout WNY. If you're looking for a creative and effective way to reach your target audience, let's chat. Contact us for more information on our advertising packages.