Updated: May 2023
You love your brand.
And you love promoting your brand. This is completely normal…it's called marketing. But you can't be the ONLY ONE promoting your brand because after a while if no one else is talking about you it can start to make your business look lame and sad. Sorry not sorry. Don't look lame and sad.
When influencers and media outlets talk about your business, it usually means you're doing something right. Be it a cool mural you're having commissioned on the side of your building, your new seasonal menu, your new collaboration, etc – when other people talk about your business it creates the appearance that since you're worth talking about, you must be worth visiting.
Thus, when you promote yourself 24/7 consumers will eventually wonder why you're the only one doing the talking. Of course you love your products, but what about everyone else? If no one else is talking about your business *but* your own business, consumers might get bored and move on to the other businesses people are talking about.
So, who do you want talking about your business and how do you get them to start talking?
Basically you want anyone with a large (and relevant!) following. The media, influencers, and other businesses related to yours are all good places to start. What's the difference? Say you're a matcha business from Amherst. A traditional media company (i.e. The Buffalo News, Channel 7) could cover you if you opened a brick and mortar location. A new media company (i.e. Step Out Buffalo), which is a blend between a media outlet and an influencer, and could spotlight cool aspects about your business, highlight your patio, and include you in any relevant guides on our website. An influencer (i.e.. Buffalovebirds) could receive your tea as a gift how generous of you and post it on their blog. A popular local coffee shop (i.e. Tipico) who you partnered with to carry your tea could share photos of your tea on their social media to encourage people to come in.
See what we mean? When other people start sharing why they love your brand and encouraging other people to try it, that's when the magic happens.
Here's some tips on how to impress the right people and move the needle:
Influencer Marketing
Let's talk influencers. Who are they? Basically, they're local people who have built large social media followings and have built a trusting relationship with said followers. Trusted source + large following = influential people who you want talking about your brand. Think about the last product you purchased or place you went to – chances are someone that you know or trust recommended it to you. There are different levels of influencers, from smaller accounts with under 5,000 followers to larger accounts with 15k+ followers to media company-influencer hybrids like Step Out Buffalo with 105k+ followers. Word-of-mouth is one of the most important ways to drive major attention and sales to your business. After all, most consumers say they trust recommendations from friends and family when it comes to making important decisions.
PS: Keep in mind that influencer marketing is still marketing, and no one works for free. Smaller influencers will typically accept free products and services in exchange for promotions, while larger influencers and companies will charge a fee. Incorporating this into your marketing budget should be something you try at least once, so go ahead and live a little! If it's successful make a routine, if not see what you can change and try again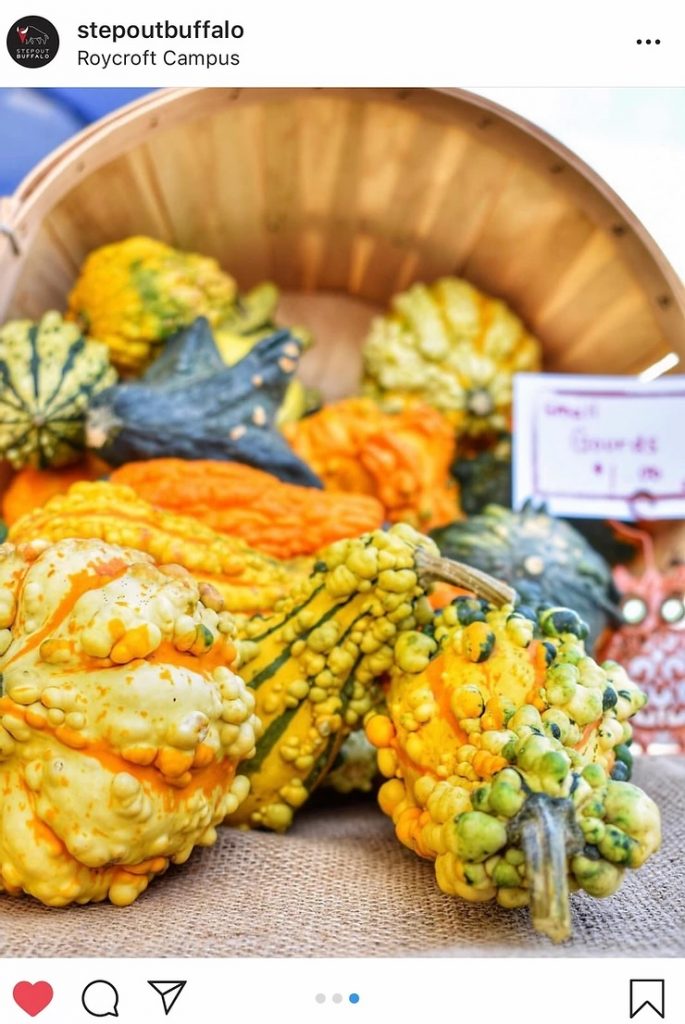 The great things about influencers is that they can feel like friends. Yes they're technically strangers you follow on social media, but the way they talk to their followings creates the sense of genuine friendship and most importantly TRUST. Ultimately they influence their followers buying decisions and that's what counts here.
Take Nickel City Pretty for example. This girl is living her very best life here in Buffalo and sharing her experiences on social media. Certain brands want her endorsement on social media because of her influencer power and they know that a partnership with someone like her can lead to awareness, traffic, and sales for them. This girl has style, so it makes sense for a trendy boutique like Village Designs to team up with her to promote their new clothing.
In the below example, Nickel City Pretty is sharing her take on fall fashion trends in an organic influencer-way and kindly recommending a brand she likes, rather than the post sponsor Village Designs telling people directly that they should shop at their store. Why does this work? Because of course Village Designs thinks people should shop at Village Designs. Duh. But when someone else – in this case Nickel City Pretty – says people should shop at Village Designs, her followers take the recommendation way more seriously. Consumers trust other consumers, especially if they're "friends".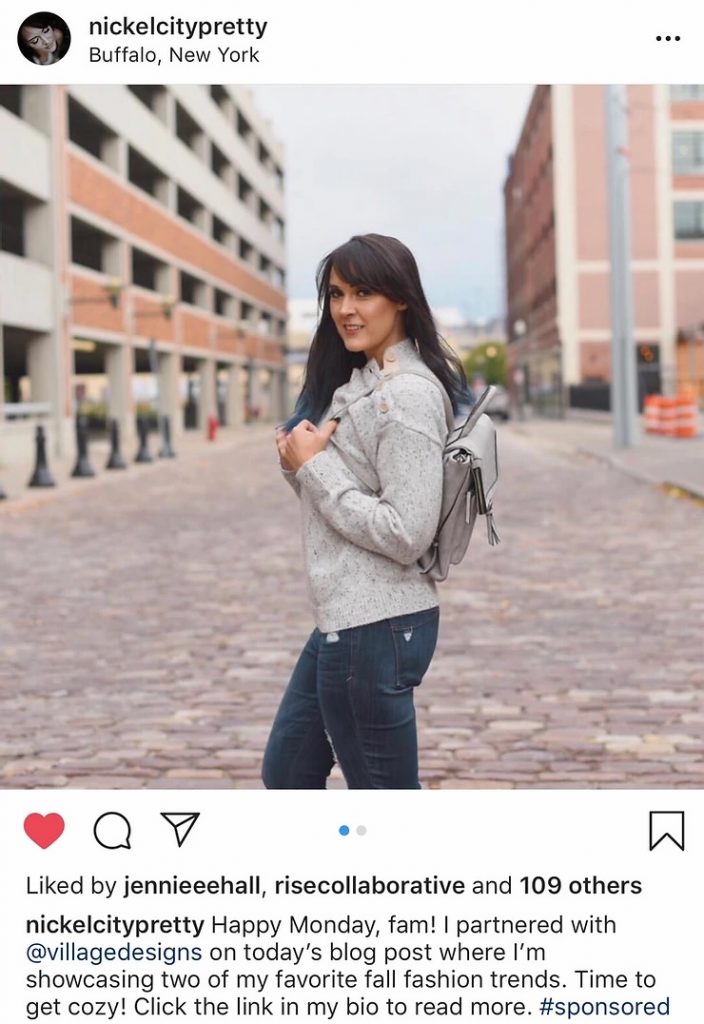 Buffalovebirds is another great example. This family is Instagram perfection: they love each other, they love Buffalo, and they love talking about local Buffalo businesses that they enjoy.
So when an account like this endorses your brand, it leaves an impact. Their following is family and couple centric, so brands with similar values will benefit the most in partnering with them. Perry's Ice Cream invited them and a bunch of other influencers out for a fun ice cream social and made sure to make the event something worth talking about. Ice cream, photo props, backdrops, and tons of Instagrammable assets helped the Buffalovebirds create organic, cute photos that they're following would enjoy and that promoted Perry's. Having the Buffalovebirds show off your brand and talk about why people should check you out is more effective than if Perry's would have just thrown this party for itself because, well, that's sad. By throwing a party, inviting influencers, and giving them free stuff, Perry's gave Buffalovebirds a reason to talk about Perry's that felt authentic and not like an advertisement.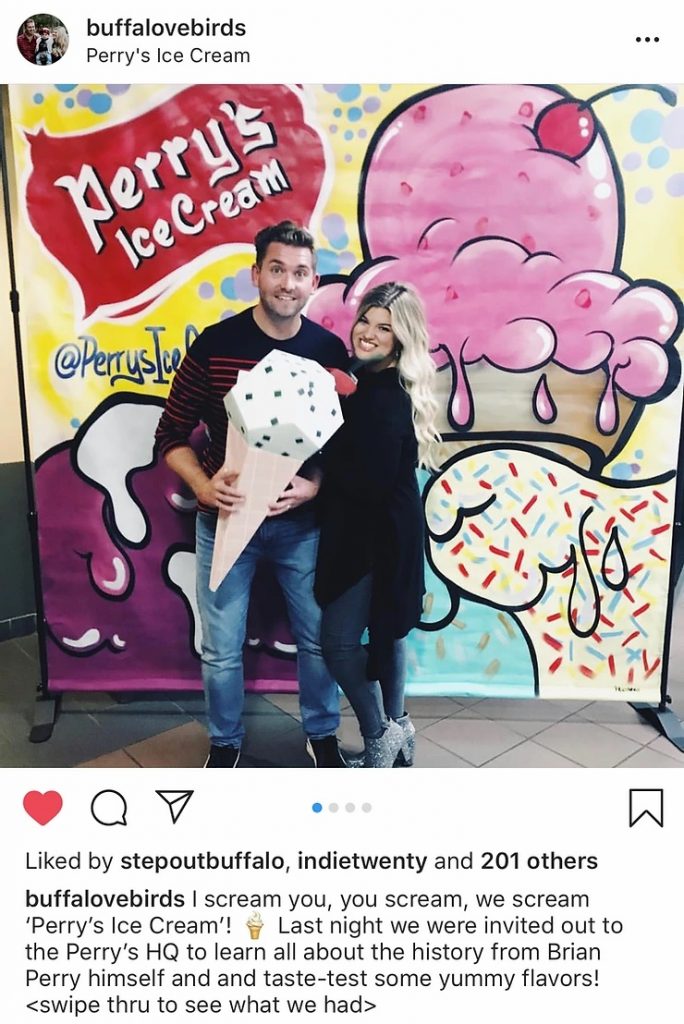 New Media Marketing
Media-based marketing is the largest distribution channel you can land. Media companies have multiple channels (TV, radio, websites, social media, podcasts, etc) with hundreds of thousands of followers, readers, listeners, and watchers. They've established themselves as resources for information and have built strong reputations in their fields. Reputation is everything, and as we all know you can't buy and sell a reputation, you must earn it. Thanks to their widespread marketing channels, large followings, and solid reputations, partnering with media companies is a game changer. The foundation of trust + the marketing channels to distribute lots of content to lots of loyal readers = $$$$$ 4 u.
Depending on what your business goals are, you'll either want to work with traditional media or new media. Traditional media consists of TV stations, newspapers, radio, and billboards. The pros to these are that most of them have been around for a long time, so they have established large followings and brand awareness. The cons are that these mediums are dying out and not receiving as much engagement as new media, and they don't attract a younger audience. New media consists of websites, podcasts, and social media. New media companies can reach more people at faster rates thanks to their digital nature, they're malleable and can quickly adjust to changing trends, and their audience engagement is nearly quadruple that of traditional media.
Step Out Buffalo has earned a reputation in WNY for being a trusted new media company that serves as a resource for all things fun in our region. Our readers know that the content we share is good stuff, and 94% of them visit businesses that we feature on our website, email, and social media channels. We've learned exactly what our readers want and how to promote businesses based on this expertise, which gives both readers and advertisers a win-win.
New media companies are able to talk about your business in a modern way on modern platforms. Step Out Buffalo, for example, differs from traditional media in not only their distribution channels but in the way we talk to and interact with our audience. You can reach people via our website, social media, emails, or all 3. The beauty of new media companies is that they have the reach of media outlets and the trust of influencers. You would (probably) not consider The Buffalo News your friend, but you would consider Step Out Buffalo your friend. By partnering with a trusted new media company like Step Out Buffalo, you by proxy earn the same level of respect and reputability from our followers and readers. Plus, you reach a brand-new, larger audience of people who are potential customers.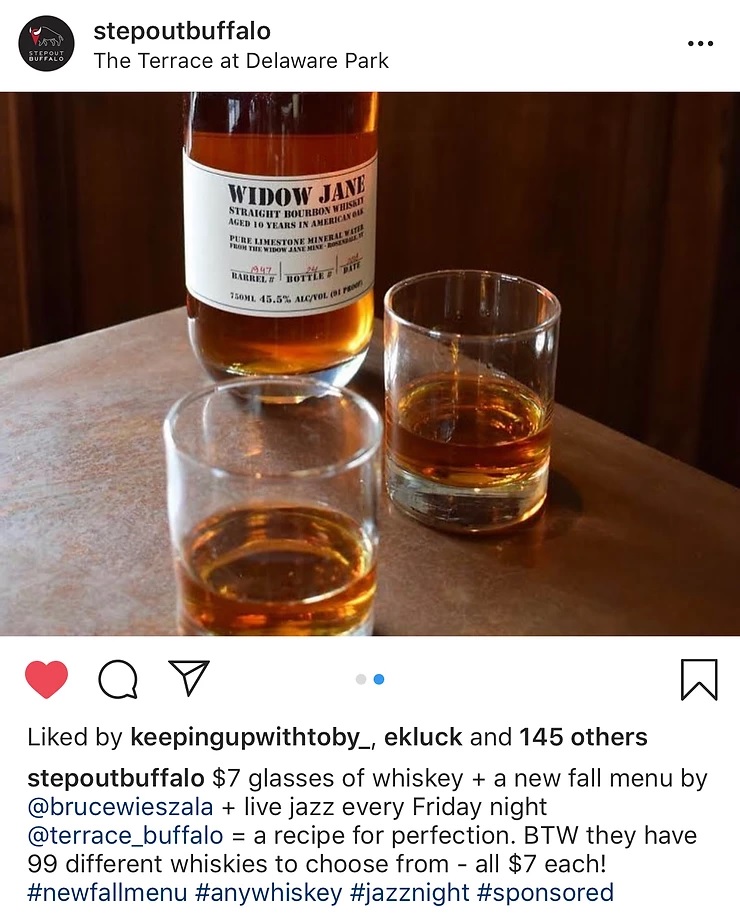 Consumer Endorsements
Ah, the coveted consumer endorsement. These may be by far the most tricky to attain – but they're also incredibly powerful. Say you see a restaurant on the 6 o'clock news that peaks your interest. You tell your best friend and they tell you they had a horrible experience there. Guess where you're never going? Hearing recommendations directly from other real life, regular ol' consumers is extremely influential. Just look at Yelp, Trip Advisor, or any product review section on any website ever. Real life declarations can completely change the way people view your business – for better or for worse.
How can one get consumer endorsements? By bribing people with Insta-fame. By being v strategic. Come Local Restaurant Week, local foodies are ready to eat and drink local all week long. And what do people going out to eat love to do in this day and age? Instagram their food. Local Restaurant Week understands this and leverages it to their advantage. From their displays inside restaurants to their social media posts, everything directs eaters to photograph, post, and hashtag so that Local Restaurant Week can share your posts. And not just reshare them on their Instagram…they have a billboard just to feature these images. Talk about an ego boost for consumers. The giant Local Restaurant Week billboard literally shows thousands of passersby declarations from regular consumers about how much they're enjoying Local Restaurant Week…which makes people hungry and reminds them that there's cheap food all over town so they're more likely to visit a participating restaurant.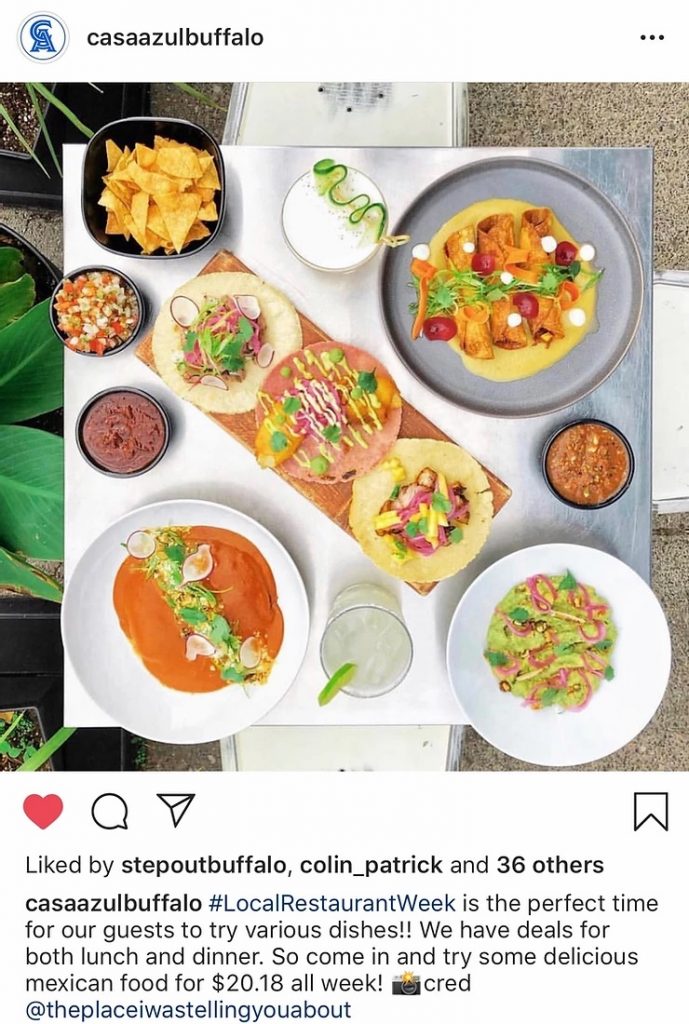 A billboard for resharing Instagram photos is a bit extreme, so how can you make this strategy low key work for your business? Well, take Casa Azul for example. Local Restaurant Week is naturally a traffic-driving event, so they leveraged their participation in it AND reshared a consumer photo to raise awareness of the promotion. Encourage people who are visiting your establishment to share their photos with you. People love to talk about their own experiences, and getting Insta-famous these days via your reposting of their photos is a good enough reason for many people to snap that pic and post on their feeds. Use this to get more and more consumers talking about your brand. Actively encourage people to snap and share. Post about it on your own social media, maybe run a contest where the best photo wins something from your biz. Not only does encouraging patrons to post photos of your business or event give you exposure to their friends, but you can also reshare their content for your own promotions. And you're technically not talking about yourself! #win-win.
ALSO: Don't be afraid to ask for feedback from your customers. If you have a loyal customer, encourage them to write a review on Facebook, Yelp, or Google. Positive words from someone else's point of view earn you major cred in the world of marketing, and a good review on the internet is 100.
Moral of the Story
There's many different ways to get other people talking about you. Regardless of the approach you take, having other people love on your brand is insanely powerful. Trust us. Once you've established your marketing goals, you can determine what level of outside influence you need to reach those goals. Be it an influencer, traditional media outlet, new media company (aka a combination of both), or a grass-roots consumer approach, make sure you have a solid, attainable gameplan in place. Remember, an influencer will not be able to achieve what a TV station can and vice versa. And if you're totally lost send us a message. We work with local businesses like yours all day every day and we'd love to work with you 😉
_______________________________________________________________________________________________________________________________
Want to know more about promoting your business on StepOutBuffalo.com? Contact us!
At Step Out Buffalo, we help businesses promote themselves and their events on our website, email, and social media channels. Our team is comprised of experts who know exactly how to make your business or event stand out, and we'll put you in all the right places so you get noticed by all the right people. Hit us up if you'd like to learn more about our business and/or events-based promotions – there's a reason 94% of our readers go places they've seen on StepOutBuffalo.com