Updated: Dec 20, 2019
In 2013, two people had an idea…
It was 2013 and Buffalo was beginning to pop – Canalside had just started to attract crowds, the HarborCenter complex was beginning construction, and Food Truck Tuesdays were a small affair with just a handful of trucks, quickly gaining popularity as word spread. The Buffalo renaissance was officially in its early stages, and one large void was a go-to resource for Western New Yorkers to find information about everything fun happening around the region.
Enter StepOutBuffalo.com, co-founded by father-daughter team Chuck Kluckhohn and Emily (Kluckhohn) Morrow. Chuck and Emily, life-long Buffalovers and avid hidden gem detectives, decided it was time for a new kind of website to emerge in WNY. "Step Out Buffalo" was to be an online resource that would focus on all the great dining and entertainment happening in WNY; new restaurants, awesome events, places to visit, things to do – and act as the perfect platform to brag about Buffalo's rebirth. Once the concept was finalized, the website developed, and the social media pages created – Western New Yorkers were quickly drawn in.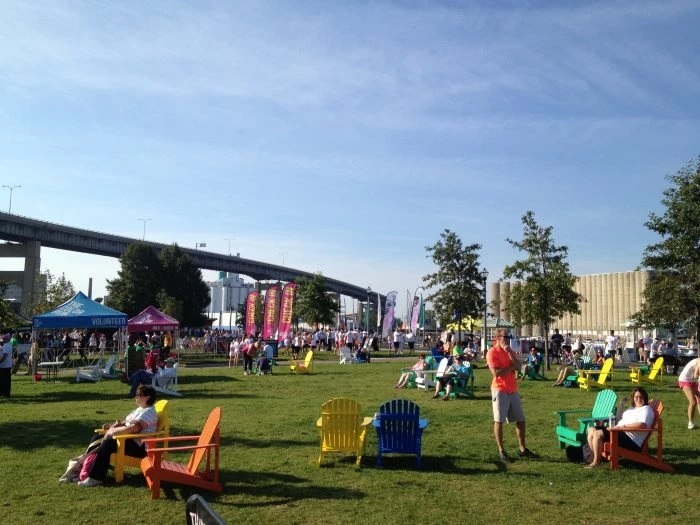 Canalside in 2013 / Step Out Buffalo
Today Step Out Buffalo is a modern media company built for the 21st century with five full-time employees and 10+ freelancers. The website has roughly 200,000 monthly users & 9.3 million annual page views, the Step Out Buffalo social media pages have amassed over 105k followers, and Step Out Buffalo produces 10+ annual events – with more in the works. In addition to StepOutBuffalo.com, Step Out Buffalo has launched two spinoff platforms – Step Out Buffalo for Business, a free online marketing blog with tips for local businesses; and StepOutBuffaloShop.com, an online store with Buffalo-themed clothing and accessories for every holiday and major Buffalo event. And all of this has happened in just five short years.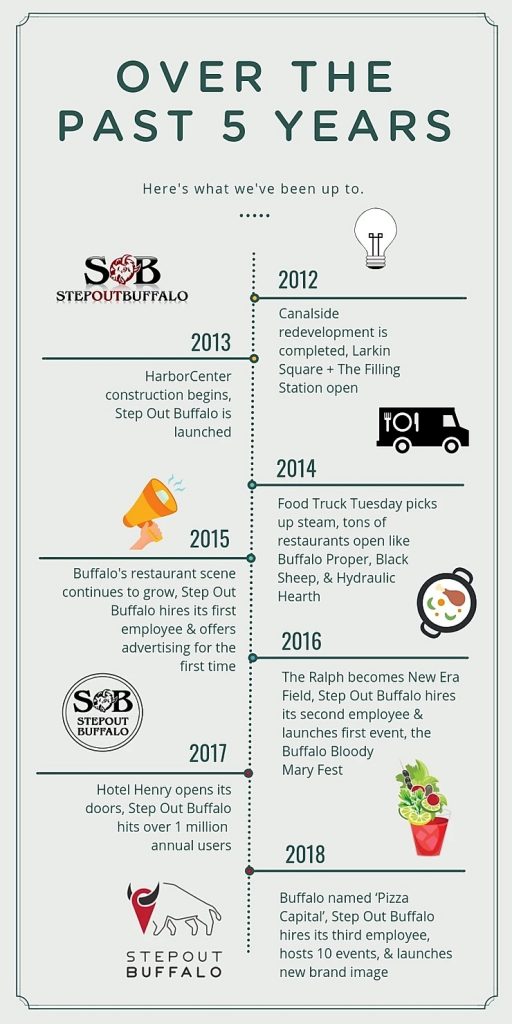 The transition from "blog" to media company was a five-year-long process
What is a media company? Good question.
Answer: Content creation, cross-media distribution, event production, and everything in between. We create and distribute content through a variety of channels including our websites, social media, email newsletters, podcast, events, and whatever new channel pops up tomorrow or next week. "Step Out Buffalo is kind of a hybrid of magazine and online resource," says co-founder Chuck Kluckhohn.
Step Out Buffalo draws a lot of its inspiration from global companies by observing what attracts our team personally from a consumer point of view, then figuring out ways to implement that to a local audience. "Our team enjoys the challenge of discovering new ways to create and deliver content to our readers and followers in this super dynamic climate," says co-founder and Director of Storytelling Emily Morrow. "We go to where our audience is versus waiting around for them to come to us." This creative approach to content creation and the Step Out Buffalo business model have been a huge part of Step Out Buffalo's evolution from a website that 99% of people once viewed as a "blog" to a full-on multi-media content producer that is able to expertly tailor and distribute its content across multiple platforms. And Step Out Buffalo is just getting started.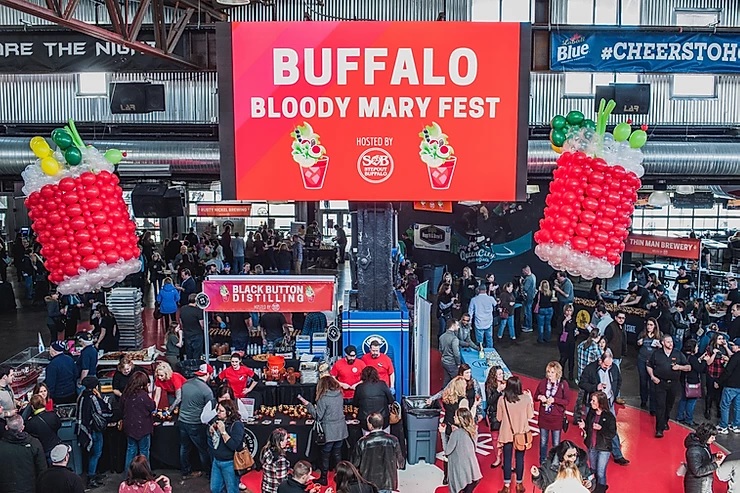 2018 Buffalo Bloody Mary Fest hosted by Step Out Buffalo
Part of Step Out Buffalo's success has been due to our team taking a very strong "consumer first" approach. Team Step Out Buffalo is full of people who like to "step out" themselves. We are our own target audience of people ages 25 – 65 who are always looking for the newest restaurant to check out, the best events to attend, and the hidden gem activity just waiting to be discovered.
Step Out Buffalo's rare dynamic of enthusiastic young men and women has led to Step Out Buffalo's quick growth and loyal following. With a unique approach to business, marketing, and sales, the Step Out Buffalo team has been able to give a new voice to information people want to read – both in terms of organically produced content and paid promotions.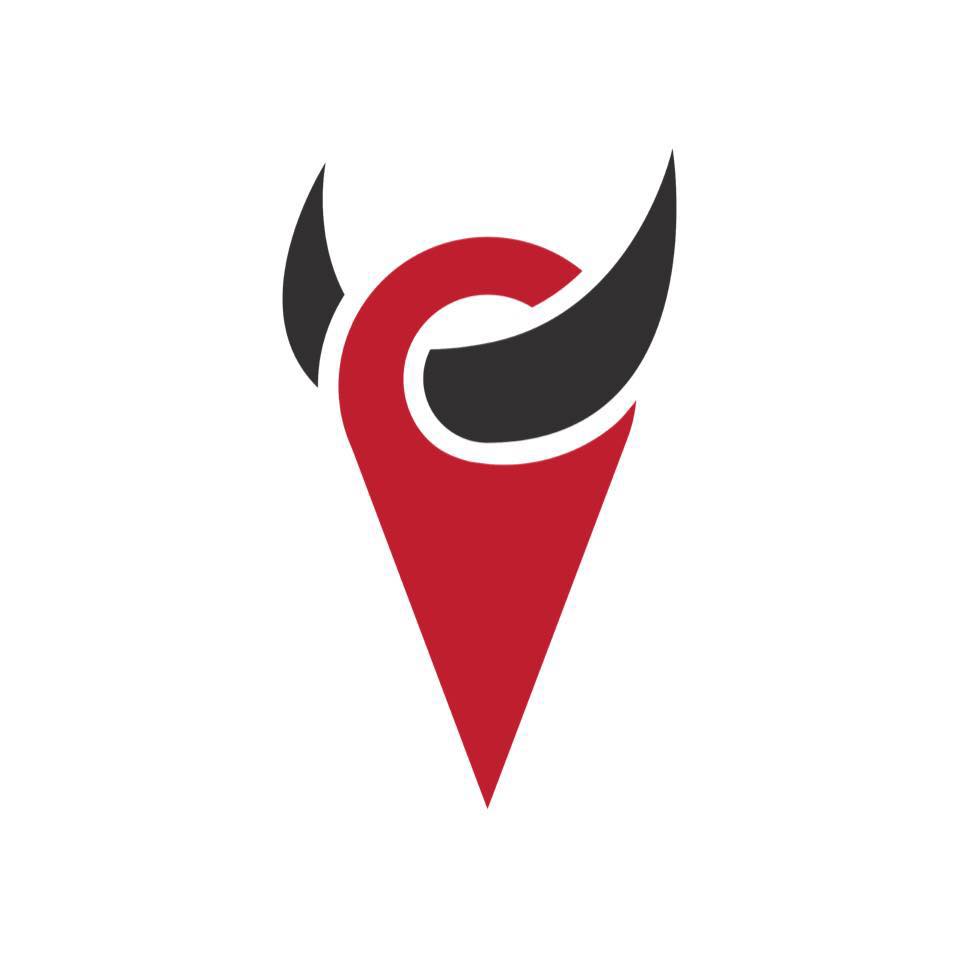 Step Out Buffalo 2.0: The next generation of media in Buffalo & WNY
Over the past five years, Step Out Buffalo has become one of the fastest growing media companies in the region. Our team's ability to quickly adapt to new trends and audience direction keeps Step Out Buffalo vibrant and connected to our readers.
We're proud to have worked with Mirror Matter on our exclusive brand development partnership which created the new Step Out Buffalo brand image. The refreshed Step Out Buffalo mark is indicative of Step Out Buffalo's mission, and it better reflects the brand as the go-to destination before the destination—the ultimate guide for anything worth doing, seeing, dining or enjoying. The mark instills a modern sense of community pride and marks the spots for all well-loved – and hidden – gems throughout Western New York.
As the region and Step Out Buffalo have grown together, it only made sense that Step Out Buffalo's new look reflected that evolution. Our new image positions Step Out Buffalo as the ultimate guide to dining and entertainment in Western New York. If there's anything worth doing, seeing, eating, or enjoying, Step Out lets you know. The new logo is indicative of this mission: there's no mistaking the full mark as distinctly 'Buffalo' with the full body outline. The buffalo's head is the location marker able to stand on its own as a branded map pin. Step Out now —quite literally— marks the spot.
Moving forward, Step Out Buffalo will partner with Mirror Matter to brand future events like the Bloody Mary Fest, The Crawling Dead: Halloween Bar Crawl, and Makers + Shakers: Boozy Artisan Market among others. Look for the brand new marker incorporated in the logos to find out if its a Step Out Buffalo hosted event.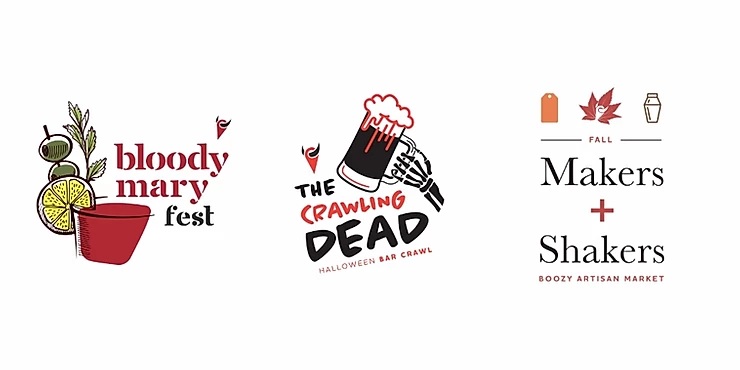 Our mission
Step Out Buffalo's mission has always been – and will always be – to be a pro-Buffalo media resource that promotes local business and inspires people to explore and enjoy Buffalo & Western New York. We allow locals and visitors to immerse themselves in the exciting boom of our hometown and are proud to be a leading destination for the "New Buffalo" movement. Our small team is dedicated to helping our city grow by showcasing everything the Queen city has to offer via our website, social media platforms, and informative emails. We're excited to begin this next chapter and can't wait to see what the next five years bring.

About Step Out Buffalo's branding partner, Mirror Matter
As you rely on Step Out Buffalo to point you in the right direction and uncover hidden gems, you can also rely on Mirror Matter to reflect your advertising and marketing success. In less than one year, the team at Mirror Matter (led by Director of Accounts James Millard and Creative Directors Jeremy Banas and Dan Stout) have built, solidified and elevated a number of brands locally and nationally in a variety of industries. From consumer packaged goods to higher education, Mirror Matter focuses on the creation of original content that places clients in the right light.
For more info on Mirror Matter and how they might be able to assist your advertising and marketing needs, reach out to James Millard via email at james@mirrormatter.agency or phone at (716) 462-3256.