Updated February 2023
You've planned the perfect event, now what? It's time to let the people know! It might seem obvious, but just putting on a great event isn't enough – you need to get people to your event. Spreading the word about your event is key to making sure it's successful because that means people will go. Duh. And how do you spread the word? ~*~Marketing~*~
Having a marketing budget is essential for having a successful event. Nowadays people have more distractions than ever, and if your event isn't top of mind you're not in mind at all. Marketing budgets allow you to pre-plan for advertising and ensure that people can learn about your event and buy tickets. Basically, your event needs to be everywhere your target audience is. Because why would you want to waste your money where your audience isn't?
According to recent polls, internet marketing is the top advertising channel in the world. Why's that? Think about how often you check your phone each day. Whether you're on Instagram, checking Facebook, surfing the web, or reading a magazine – chances are you're doing it on your phone. AKA you're using the internet.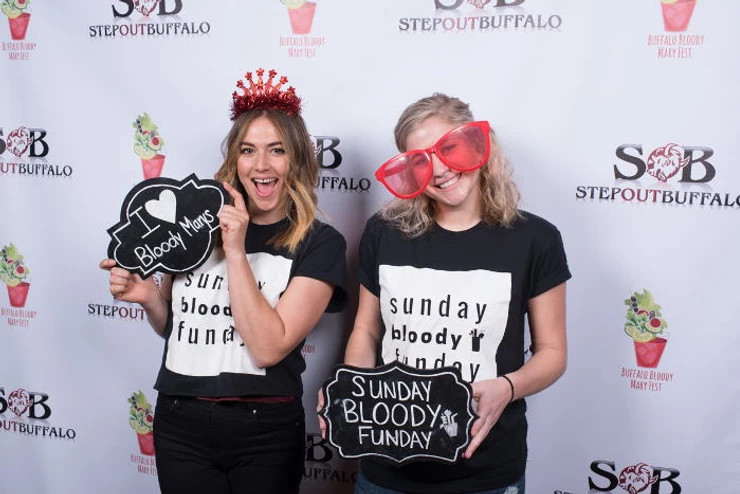 There are a ton of options for marketing your events, but how do you choose? Here are the top 5 websites to allocate your marketing budget:
Step Out Buffalo
Promoting your event with Step Out Buffalo is the best of the best. Forgive us for being 100% biased. But in all seriousness SOB offers businesses looking to get in touch with Western New Yorkers a bunch of awesome options as well as an audience that's actively looking for cool stuff to do in Buffalo. Our main target demographic is Buffalovers who love attending events and supporting local businesses, which are *exact* people you want reading about your events.
It's totally **free** to submit your events to StepOutBuffalo.com, and once submitted your event will be placed in various places around the website. If you want a little extra – SOB's advertising rates are the lowest you'll find anywhere in the region. Event promotions such as sponsored placements on StepOutBuffalo.com (1.2 million readers), our social media channels (combined 100k followers), and our email newsletter (35k subscribers) ensure that you get the exposure you're looking for in front of a high quality audience. Plus everything we write is in our fun/unique voice, so readers actually respond better to our sponsor's content versus that boring stuffy stuff.
And as an added bonus: Thanks to the fact that we execute a bunch of highly successful events throughout the year (Buffalo Bloody Mary Fest, Pints & Pierogi Fest, Crawling Dead Bar Crawl, etc), we're pretty much experts when it comes to promoting events. So working with us means you're in really, really good hands.
Why it's important: Step Out Buffalo lets you get your event on people's radar. Teaming up with SOB means teaming up with people who love events, plan events, and know how to market events. Also when you work with SOB to promote your events you're helping to support a small local business and contributing to Buffalo's continuing growth, which is a win-win-win for everyone.
Facebook
Did you know 41% of users engage with public events every month? Facebook makes discovering events ridiculously easy. You can search events near you on a certain day in specific categories, and Facebook also recommends events you may like and ones that are popular with your friends.
Building pre-event hype is hella important. When friends see that their friends are interested in a super cool event they also become interested #thecircleoflife. And when users click attending or interested, your event starts showing up on more and more news feeds thus growing your brand awareness. Facebook has made creating paid promotions super easy (you can literally do it from your phone) and paid promotoins significantly outperform free Facebook event listings since FB now puts a significant emphasis on paid promotions over organic ones. And if you want your FB promos to go even further, there's a whole underworld of alogrithms, tricks, and audience demos to delve into. Familiarize yourself with Facebook's algorithms and audience targeting tools then use them to your advantage and your event will be all over social media!
Why it's important: Assuming you are checking all the right FB boxes when creating and sharing your event, awareness on Facebook can spread very quickly. And as interest in your event grows you end up with a highly targeted pool of consumers who are able to receive notifications from you regarding event updates and other fun stuff. Promoting your event on FB is super user-friendly, just make sure you have an understanding of how event ads work and leverage them to get you those event responses and ticket sales.

Yelp
Yelp's mission is to connect people and local businesses, which is why so many people turn to Yelp when they need help picking out a Thai restaurant or finding a good dry cleaner. Businesses can also spread the word about their events by creating free business page listings and associated events. Once your event is live you can purchase targeted ads on Yelp which will put your event on the radar of consumers nearby, and if your event is popular enough on the platform it may get featured in the local Yelp e-newsletter or in specific spots around the site.
Why it's important: Yelp builds exposure in a community that's interested in local events and places to go. Events happening in Buffalo automatically show up on the Events tab, and searching events is easy peasy with users being able to search by day, category, and popularity.
The Buffalo News/Gusto
The Buffalo News is the primary newspaper of the Buffalo-Niagara region, and they've been a trusted news source since 1880. Talk about prestige.
In addition to their well-established physical newspaper, the Buffalo News/Gusto has recently shifted part of their efforts to accommodate their growing digital audience. The Gusto, aka the BN's weekly guide to all things entertainment, is one of the News' more popular sections and is printed every Thursday with online articles being updated around the clock. Submitting event listings to the News is free, but it also means you're at the mercy of the editor's likes and dislikes. If they like your event enough it will be featured both in the print and online versions of the Gusto. and if you decide to purchase ads you'll get the same double dip. When marketing an event, this type of dual-headed brand exposure can make all the difference depending on the audience you're looking to reach.
Why it's important: Buffalonians have been reading The Buffalo News forEVER, and their reputation combined with their up-and-coming digital presence can give your events the added visibility they need to get noticed by the right people.
Buffalo Spree
The Buffalo Spree has been around for 50+ years and is living proof of the power of print in a digital age. With 21,000 copies in circulation per issue, this is a magazine locals are picking up and reading. They've also adapted to the ways of digital in recent years and have racked up 10,000 digital edition subscribers who read the Spree each month on their desktops, laptops, and cell phones.
According to the Buffalo Spree, last year 71% of readers went to a food/drink event, 45% went to a charity event, and 55% attended a live music event in the last year. In addition to free event submissions, they also offer paid advertising for both their print and digital editions in the form of print ads and web banner ads (respectively). Keep in mind that events need to be submitted at least 2 months in advance to make their print deadlines!
Why it's important: Submitting and/or advertising your event in the Buffalo Spree makes your event visible to both print and digital consumers. But more importantly, you are advertising to a population that attends events. This audience wants to know about your event, so tell 'em!
The takeaway
Submitting your event to local media publications is a necessity when it comes to hosting a successful event. Make sure your information gets in the right hands of the right people, and don't be afraid to set aside some money for a marketing budget to increase your reach (and ticket sales!). After all, ya gotta spend money to make money $$$
Want to know more about promoting your business on StepOutBuffalo.com? Contact us!
At Step Out Buffalo, we help businesses promote themselves and their events on our website, email, and social media channels. Our team is comprised of experts who know exactly how to make your business or event stand out, and we'll put you in all the right places so you get noticed by all the right people. Hit us up if you'd like to learn more about our business and/or events-based promotions – there's a reason 94% of our readers go places they've seen on StepOutBuffalo.com