With more than 250 million daily active users, Instagram matters for businesses…especially local ones. Driving engagement starts with compelling and engaging images, relevant hashtags, and post frequency. Here are 10 local businesses that are bringing their A-game to the Buffalo Instaworld.
Churn @churnsoftserve
When your feed is full of ice cream cones, it's a great day. The bright red and yellow walls double as the perfect photo background. Red and yellow may be a bold choice, but it's totally working for them. Churn's posts are simple, but effective.
Why it works: The bottom line is these guys and girls have a legit BALL on social media, and it shows big time. Not only does it make their fans want to continue following their account(s) for more funny stuff ahead (they once took over our Insta Stories @stepoutbuffalo and face planted into an ice cream cone on loop. It was amazing.), but it makes them want to come into the shop and let the good times roll themselves. Being kind-of ridiculous works for them and it could work for you too.
Deep South Taco @deepsouthtaco
Photos of tacos and margaritas on the patio, what's not to like? Deep South Taco gets a top pick for sharing content that makes us smile and laugh and totally ready for drinks. They share the love too by re-gramming pretty pics by other users quite often.
Why it works: The best part of the photos on @deepsouthtaco are the bright colors, clean crisp quality, and Insta-worthy compositions. AKA they share photos that are well thought out and almost insta-styled. Ain't no shame in that game.
Nigh Road @nighroad
Nowadays, finding gift-inspiration just involves a little scrolling. Nigh Road has mastered the art of less is more on Instagram. They give away just enough to peak interest and get those followers in their shop to check out what's new.
Why it works: Nigh Road is presenting valuable info to readers, telling them stuff they want and need to know like new products now available on the shop. And of course every pic is fire, which always helps.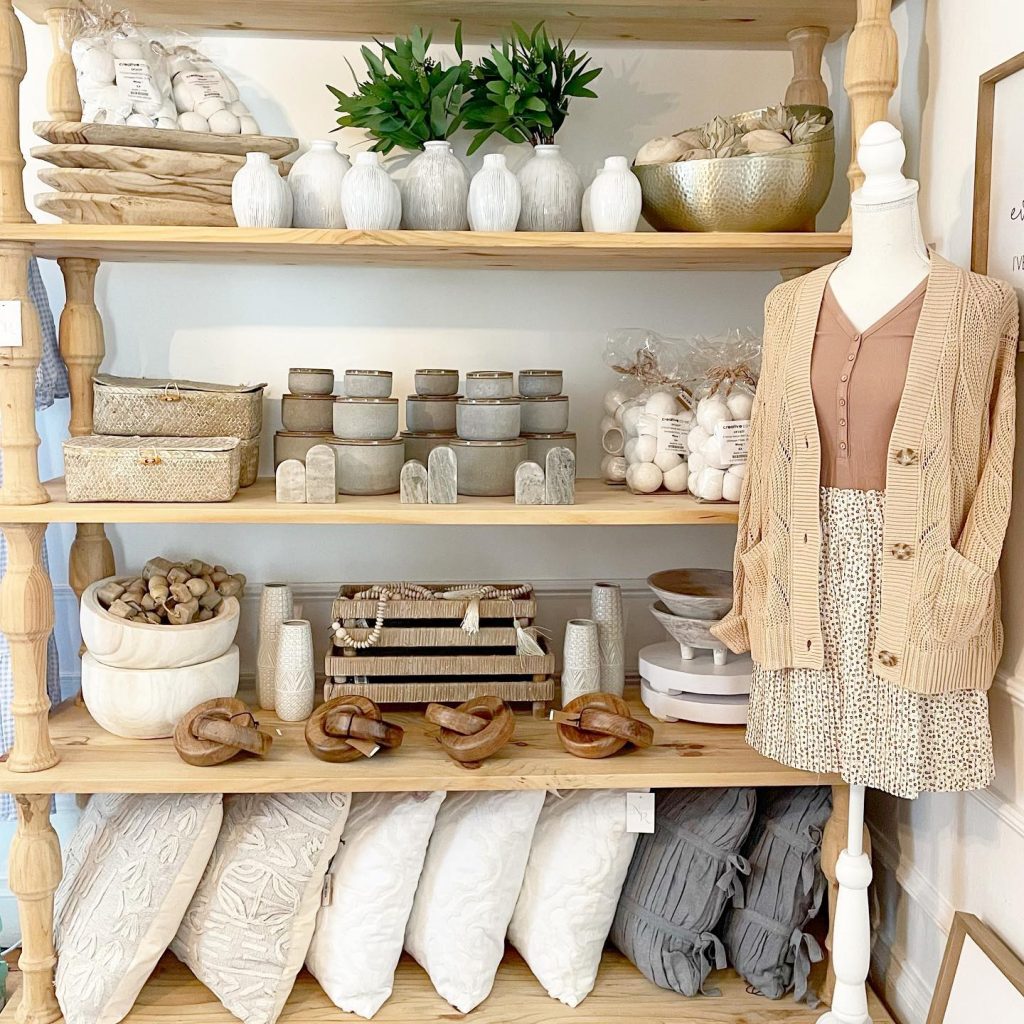 Curtiss Hotel @curtisshotel
If looking at photos of Curtiss Hotel all day was a paid gig, we'd sign up in a heartbeat. Their Instagram gives followers an inside look at the hotel, deats on upcoming events, and a look at drool-worthy food from their bars and restaurants. In other words, their Insta is pure gold.
Why it works: Timing is everything on IG! Take a tip from this brand on sharing a variety of photos related to the end product you're selling. No one wants to follow a brand that's pushing a product down the throats of their customers all day, every day. Give them value, entertainment, and most importantly context!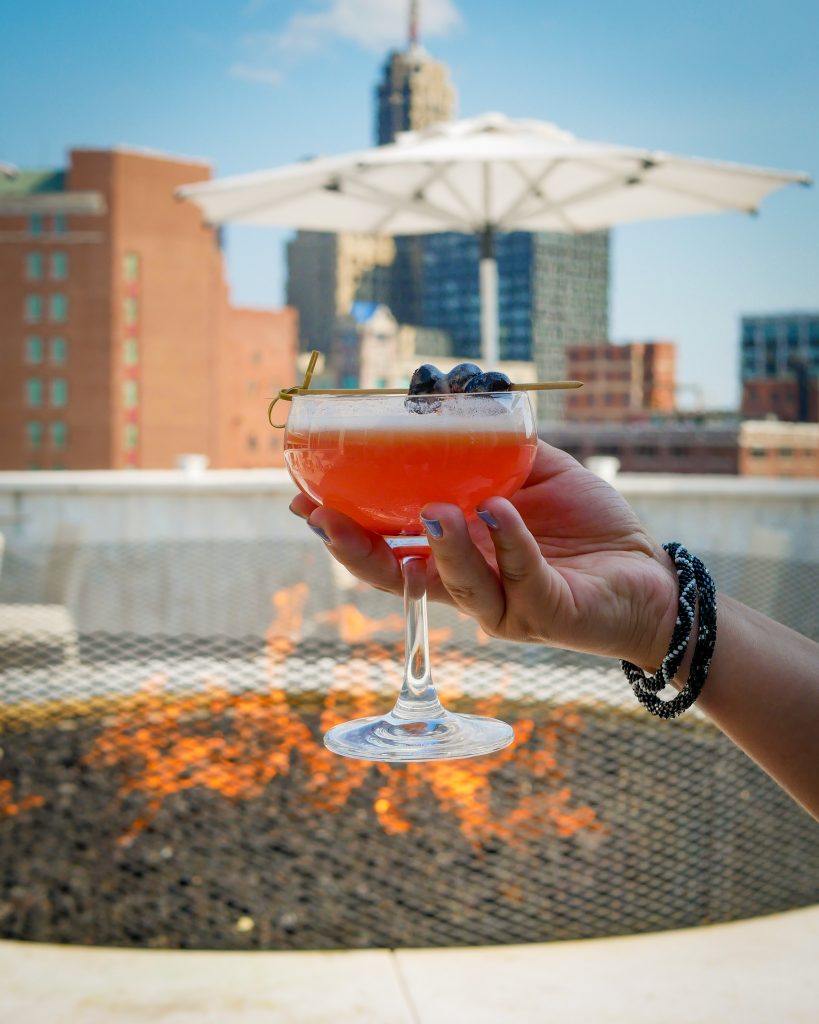 Marble + Rye @marbleandrye
As if crafting heavenly cocktails wasn't enough, Marble + Rye is dominating in the beauty department. Are you thirsty? You will be. Their feed is perfection, and the drinks and food look almost too pretty to drink and eat. Keyword being almost.
Why it works: The images on the M+R account are 100% on-brand from the colors and filters to subjects. We love that everything they share is about their food and drink. It sends the message of focus and passion for their craft. And if that doesn't make you want to eat there, nothing will.
Public Espresso @publicespresso
Coffee humor is kind of our favorite, and Public Espresso gets major props in this category. Their Insta is the ideal balance of showcasing their coffee and posts that make us giggle. Congrats on a job well done.
Why it works: This account is a great example of a small business doing it all and bringing their Insta-followers along for the ride. If this is more your style, take a page from Public Espresso's photo book and make it fun, helpful, and local.
Step Out Buffalo @stepoutbuffalo
Step Out Buffalo is all about helping Western New Yorkers "love where you live", whether that's through promoting local businesses, things to do, places to go, or just making people laugh through hilarious memes.
Why it works: Step Out Buffalo puts out so much different content that there's always something for everyone. From videos to brunch inspo to gorgeous shots of the 716 – variety is truly the name of the game. If you love all things Buffalo, this is the account for you!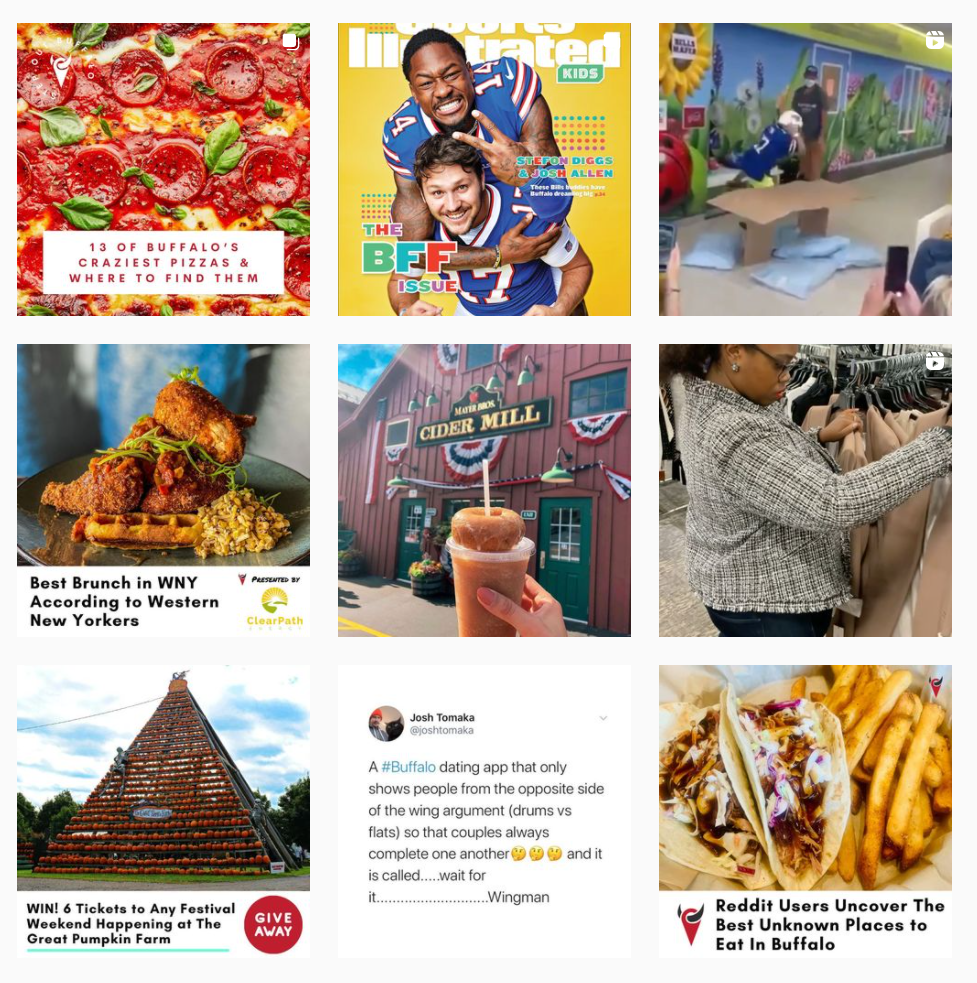 ShopCraft @buffaloshopcraft
When an account is all about sharing the Buffalove we support it. That's part of what makes ShopCraft's Insta awesome. They are featuring different local artisans with each post, and that's a major plus in our books.
Why it works: When you're a shop with tons of different brands to showcase your job really isn't that hard – just do it! Take it to the next level like @buffaloshopcraft (completely necessary) by making sure every. single. photo. is adorable, clean, sharp, and provides good info about the product it's showcasing. Bonus points for sprinkling in inspirational content about your fellow businesses, neighbors, city, and cause.
Thin Man Brewery @thinmanbrewery
When your favorite keg is kicked, it's a major bummer. Good news beer lovers– Thin Man is on top of their Instagram game, and this means you'll know immediately when your drink of choice is back and ready for pouring.
Why it works: Actionable info that suits your target audience is always a win – just make sure your followers actually want to see the info you're sharing. How? Ask 'em every once in awhile!
Village Designs @villagedesigns
Fashion photos on Insta can be seriously tricky. Camera angles, strategic staging, and choosing a background all matter. Props to Village Designs for earning gold stars in all of these categories. Now onto their caption game: short, sweet, and speak our millennial language. And that's why we're obsessed.
Why it works: They use a tone that their customers dig and they give them legit styling inspo while they're at it. These strategies make them relevant to the right audience.
~The moral of the story~
Your social media account is a reflection of your brand, so make it count. Take the extra time to stage your photos, utilize the natural light from that huge bright window, make the most of your unique business attributes (i.e. humor, cool walls, gorgeous hardwood floors).
Do what they do. Do some research. Think like a consumer, and then be the awesomeness you wish to see on IG.
________________________________________________________________________________________________________________
Want to know more about promoting your business on StepOutBuffalo.com? Contact us!
At Step Out Buffalo, we help businesses promote themselves and their events on our website, email, and social media channels. Our team is comprised of experts who know exactly how to make your business or event stand out, and we'll put you in all the right places so you get noticed by all the right people. Hit us up if you'd like to learn more about our business and/or events-based promotions – there's a reason 94% of our readers go places they've seen on StepOutBuffalo.com