Photo courtesy of Cobblestone Live
Cobblestone Live Music & Arts Festival takes place in the historic Cobblestone District in downtown Buffalo. The event began in 2017 when Buffalo Iron Works Owner Josh Holtzman and former co-owner of Lockhouse Distillery & Bar, Cory Muscato, had an idea to bring the Historic Cobblestone District alive with a two-day music festival to promote and curate the culture of live entertainment happening in the district.
Over the last decade, the Cobblestone District has become a breeding ground for live music and entertainment. Now filled with bars, restaurants, and venues, it seemed like the perfect time for the neighborhood to come together and put on an event that would highlight both the area and great music from the area and beyond.
Once the idea was born, and Josh and Cory then built a team of department heads to bring it to life. "Four festivals later, it has blossomed into a festival that we will be able to bring to life for WNY for years to come, and that we hope will be noticed on a national level", says Adrianne Salmon the event's Marketing Director.
In order to grow the event and reach new audiences, Cobblestone Live turned to Step Out Buffalo to help them achieve their goals. They purchased a Premium Event Package from our advertising options, which helped them spread the word about the event, reach 200,000+ people across social media, email, and the web -all of which ultimately led to an increase in awareness and tickets sold.
Q&A with Marketing Director, Adrianne Salmon
---
What is the most important marketing tip you would give to someone just starting a business?
"Be ready to evolve – annually, monthly, weekly, daily. Marketing your business – especially in the live music industry – is constantly changing. Make sure you've locked in a brand that you're in love with, and then be ready to adapt when something out of your control (like the Instagram algorithm) changes overnight."
What was your goal in working with Step Out Buffalo?
"Our goal was to reach an audience beyond that of which our own ads/efforts could reach, and to show that we are a powerful force within the local and regional music scene that can partner with an influential media company."
What did you like most in working with Step Out Buffalo?
"Everyone that works for Step Out Buffalo is a master of their craft, and there's an ease that comes along with that. When Step Out Buffalo staff members are faced with a task, they tackle it in a speedy, thorough manner."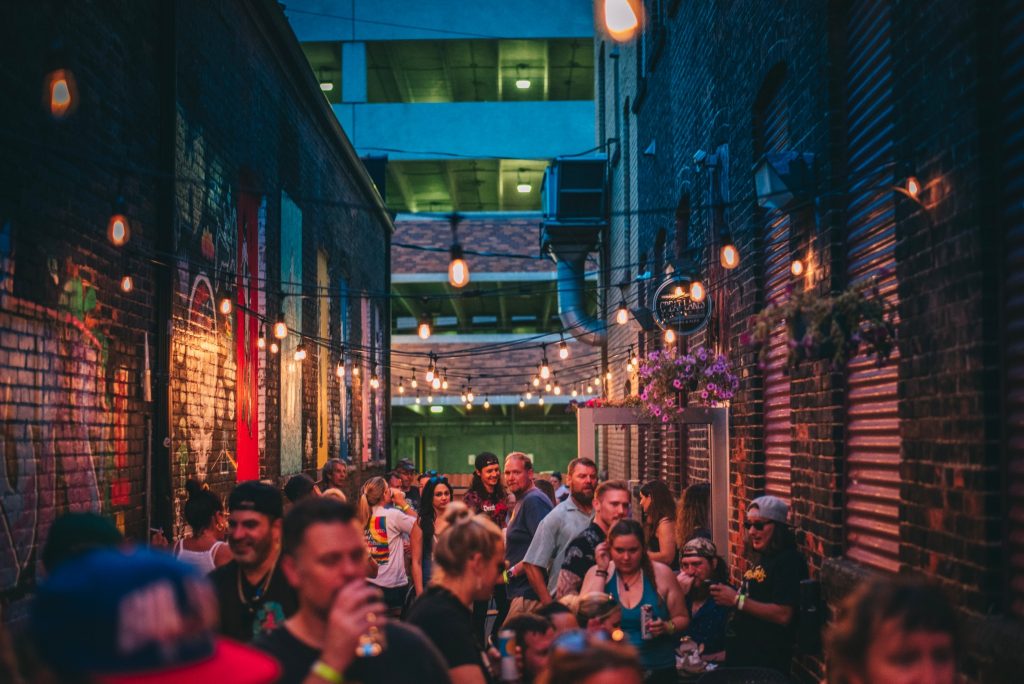 Campaign InsightS
---
What They Got
Premium Event Package
This package provides the best of everything we offer from creative features to event promotion items, all geared towards boosting an event's visibility across Step Out Buffalo and our platforms and at a discounted rate.
Best of Week Sponsored Listing
Social Event Listing
Email Event Listing
Homepage Event Listing
Sponsored Wednesday Newsletter Listing
Event Instagram + Facebook Feed Post
Sponsored Monthly Event Roundup Post
Micro Instagram Story
Add On Items:
Campaign Results & Performance
$0.51 Total Cost Per Click (CPC)
104,004 Banner Ad Impressions
60,808 Email Opens
48,793 Reached On Facebook
51,144 Reached On Instagram
Deliverables
Giveaway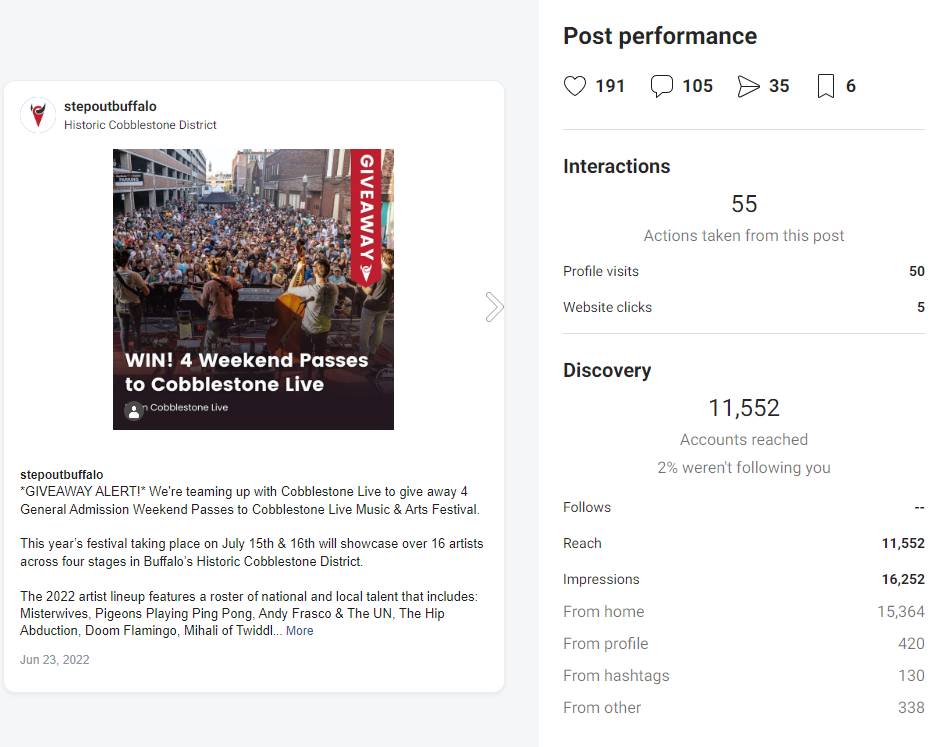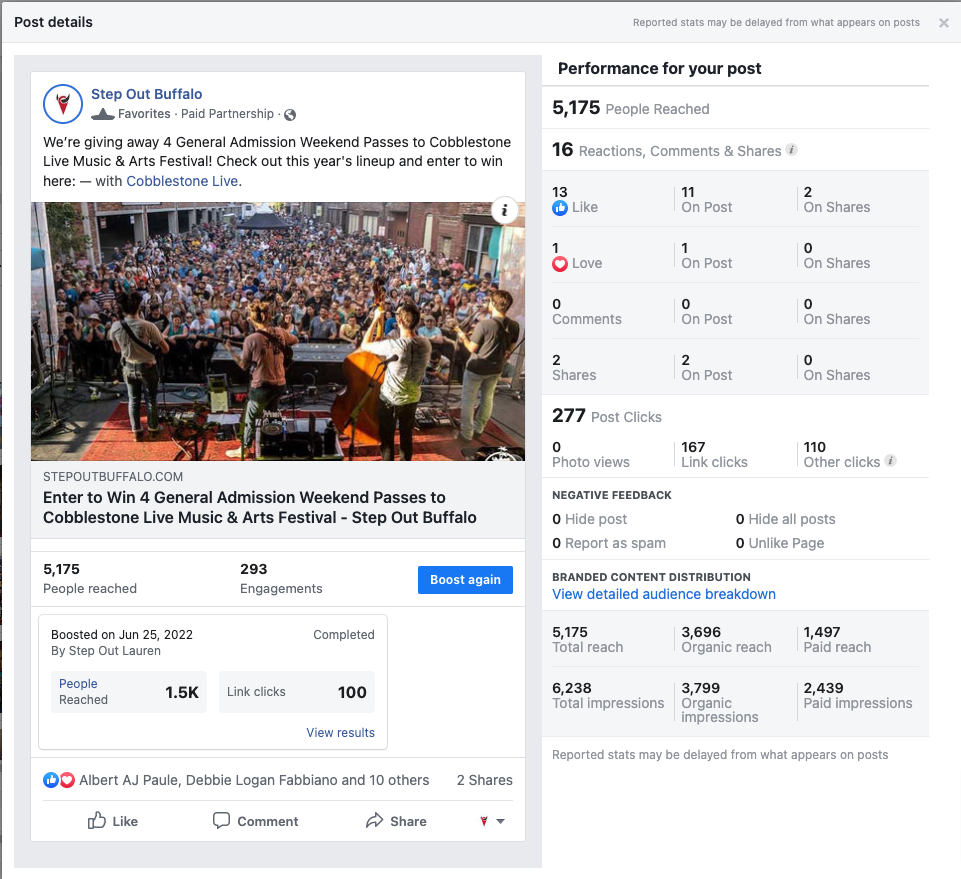 SOB Spotlight Article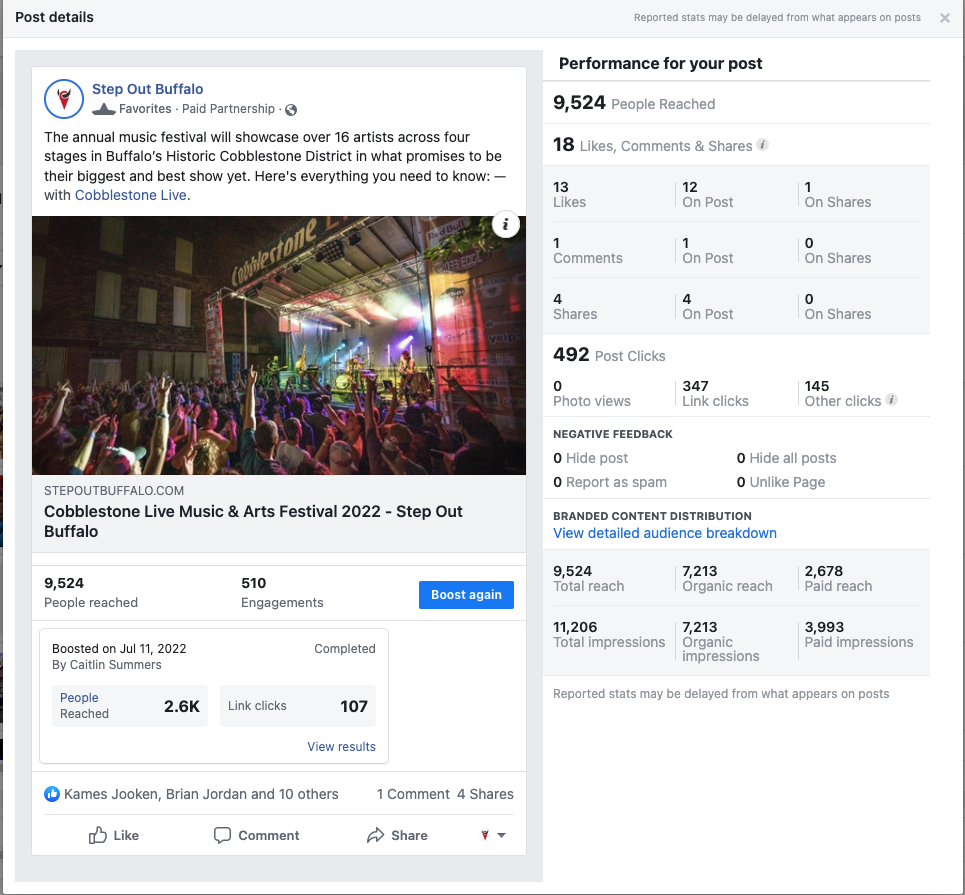 Event Instagram/Facebook Feed Post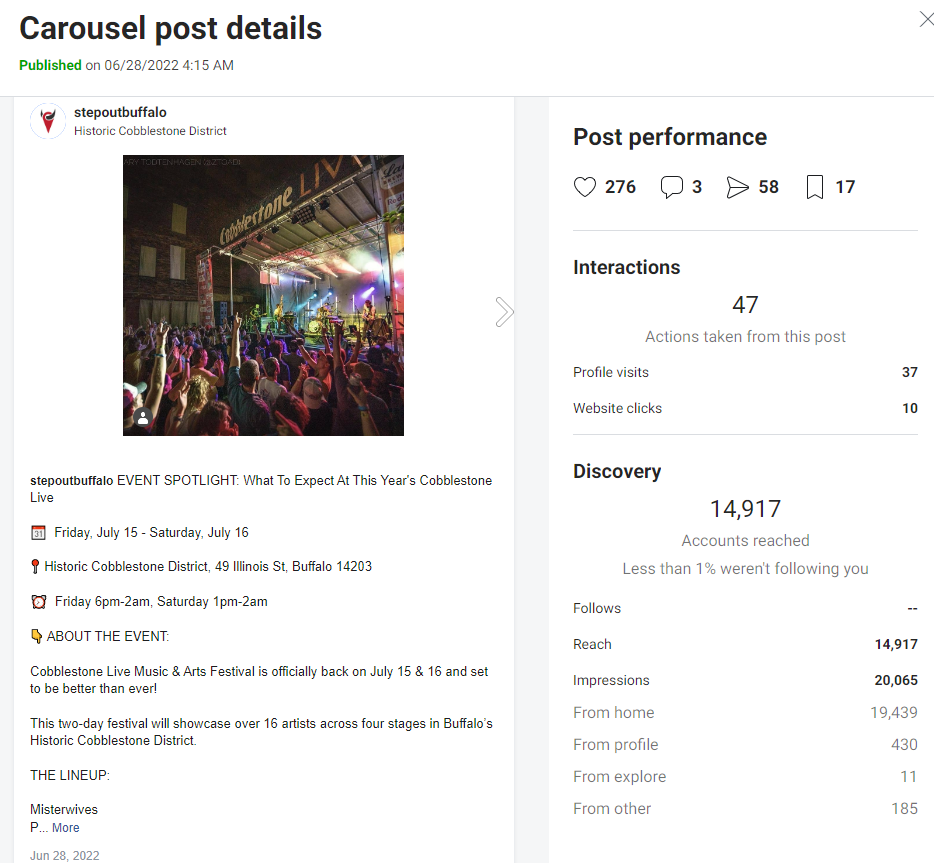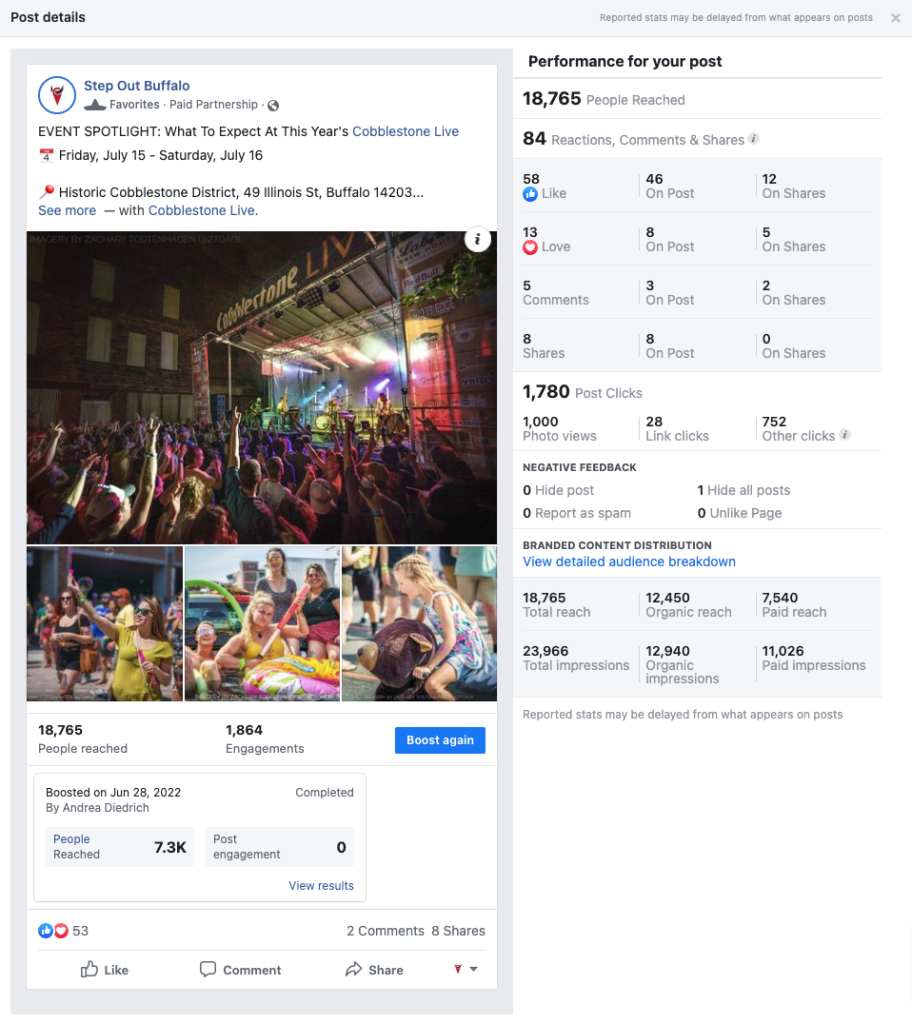 Instagram Reel & TikTok