At Step Out Buffalo our mission is to help people love where they live by showcasing local businesses across Buffalo and Western New York.
One of the ways we do this is through our Giveaways. Step Out Buffalo Giveaways are promotions geared at created brand awareness and generating viral attention for your business or event through positive engagement. They are shared on our website, in our email newsletter, and on our Facebook and Instagram pages.
Giveaways are a great way to grow your Instagram following and email subscriber list while promoting your business or event, as these reach a large number of people via social media.
Giveaways: What They Are
A Step Out Buffalo Giveaway is a creative promotion that allows you to promote your business or event and generate positive business-to-consumer relationships with Step Out Buffalo readers and followers. Giveaways are included in select advertising packages or may be purchased a la carte.
The goal of Giveaways is to encourage our readers and followers to subscribe to your email and/or follow your Instagram page in exchange for a chance to win a prize from your business.
For the Giveaway prize you will select something from or related to your business or event that you would like to offer Step Out Buffalo readers and followers as a prize. If you do not have something from or related to your business or event to give away, your campaign coordinator can help suggest an alternative. Your campaign coordinator will work with you to come up with a prize that will yield the most results. Typically the larger to prize, the more followers and subscribers you will receive.
Giveaways: How They Work
Once you select your Giveaway prize, the Giveaway will be scheduled to be published on the agreed upon date. When published, the Giveaway will be posted on the 'Giveaway' section of our website homepage as well as our 'Giveaway' website page; featured in the Friday edition of our email newsletter, shared via a link to our website on Facebook, and shared as a second entry option on Instagram.
There are two ways readers and followers can enter your Giveaway. The first is by submitting their name and email address, which is obtained via the Giveaway post on our website. This post is what is shared across our website, in our Friday email, and on Facebook. On Facebook the Giveaway post will receive a $10 boost to help it reach more people. The goal of this half of the Giveaway is to help your business grow its email subscriber list.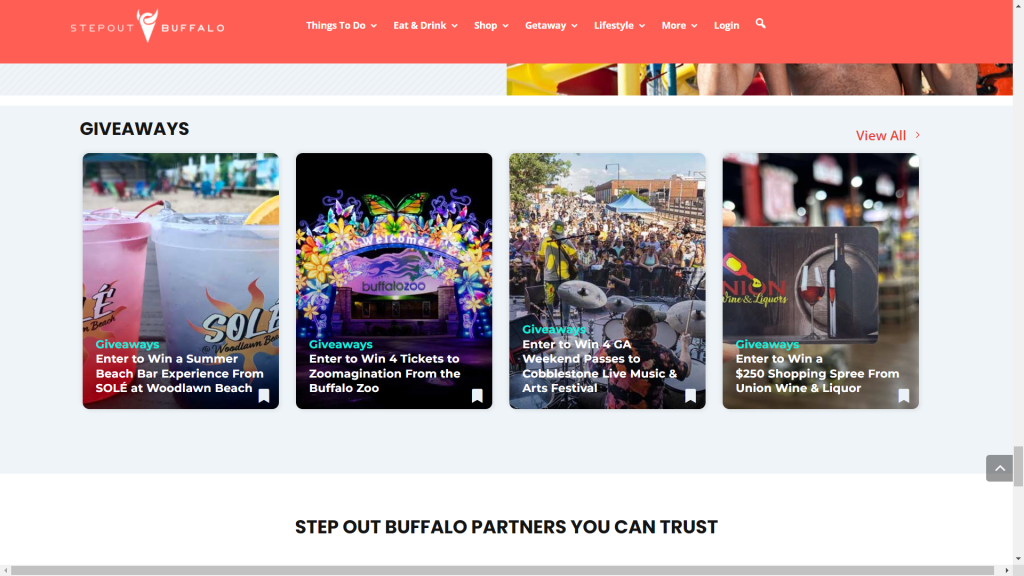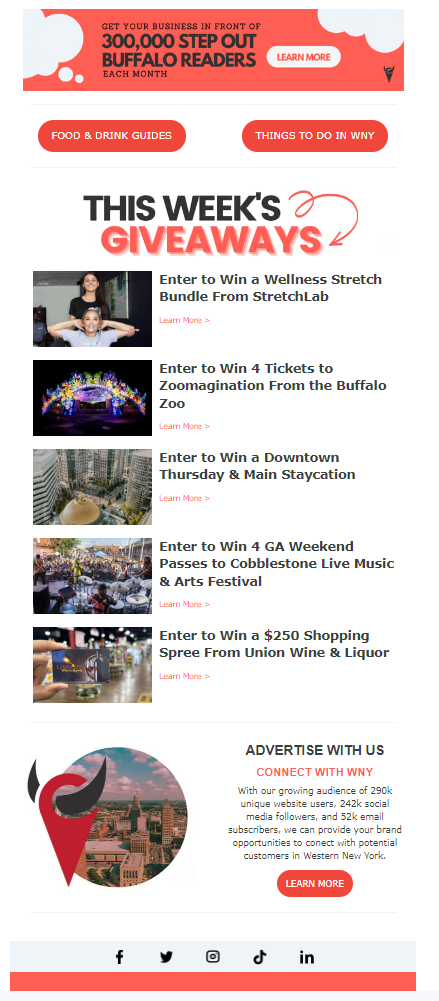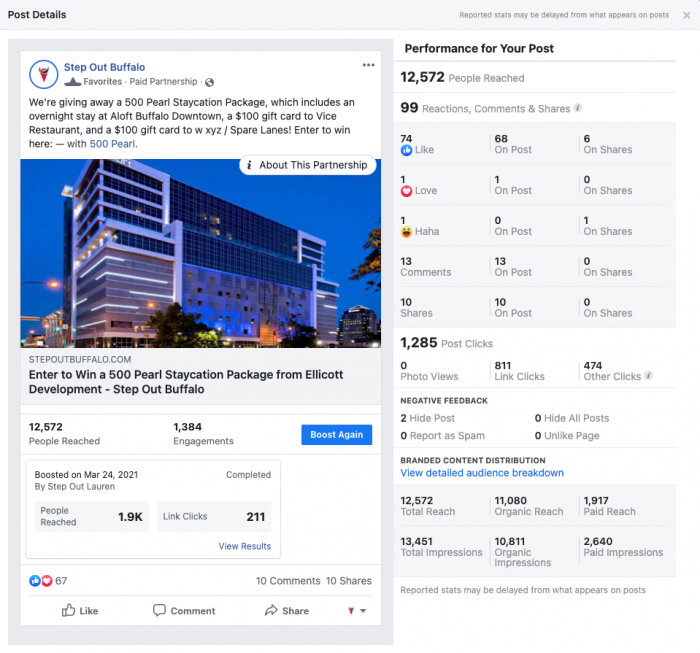 The second half of the Giveaway is conducted on Instagram. This is the same Giveaway that is featured on the website, except the goal of this half of the Giveaway is to help your business grow it's Instagram page following.
In order to enter the Giveaway on Instagram, people need to follow your Instagram page and tag others in the Giveaway post comments. This method helps bring attention to your business's Instagram page, grow your following, and create positive brand association for your business or event.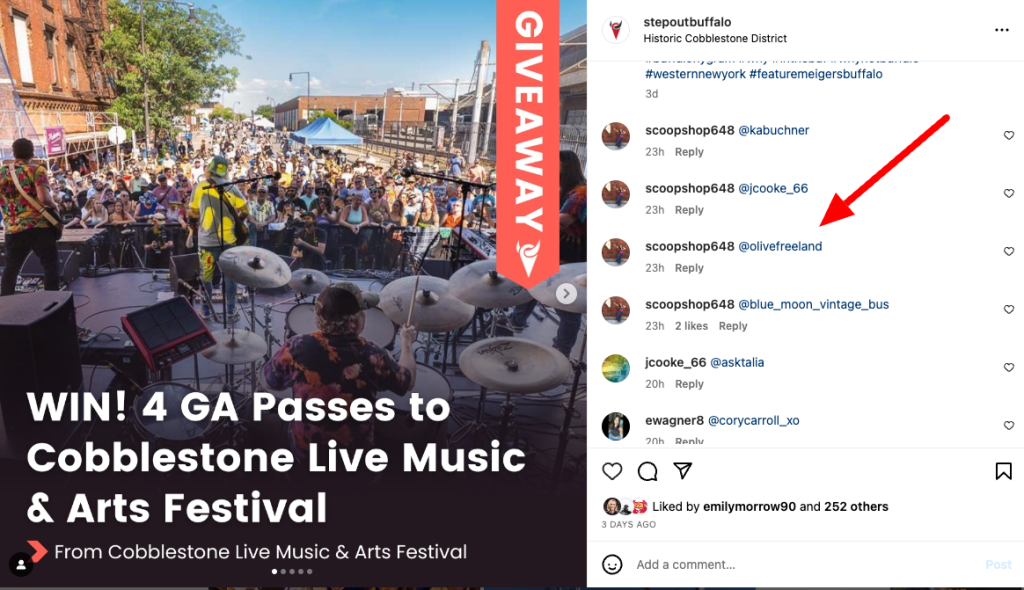 Giveaways: Results & What To Expect
Giveaways are active for one week. After your Giveaway is complete, we will select a winner from either the valid entries on Instagram or the list of emails which have entered on the website.
Once a winner is chosen and has confirmed their information with our team, we will send you the winners email address. It is the responsibility of the advertiser to contact that winner with the best way to claim their prize within one week's time.
Step Out Buffalo will provide an excel file with all of opted-in email addresses, which can then be added to your email newsletter subscriber list for future marketing.
While results will vary, generally Giveaways will yield 250-500 new followers and email subscribers.
Giveaways: Fulfillment
The advertiser will provide their campaign coordinator with an organic image (no text) along with the prize information and value for their Giveaway. For best results we suggest a value of at least $100.
Pro-tip: Historically, the bigger the prize the more entries the giveaway will generally yield!
The client is responsible for providing any and all images for their Giveaway, and all advertisers must have the rights to the images provided.
In order to remain as organic as possible, images on Giveaways cannot have text overlays (like a flyer). Typically, these "organic" images will yield the best results across all platforms. Images we've seen preform well include product shots, customers enjoying themselves, the venue/space of the business, or images from a previous year's event. Low quality or blurry images will not perform well, so the higher the resolution the better. If you have any questions as to which images would be best your campaign coordinator can advise you.
After receiving all of the information for your Giveaway, your campaign coordinator will send you a proof for review. You will be able to request any edits before the post is published.
To see examples of past Step Out Buffalo Giveaways, visit stepoutbuffalo.com/category/giveaways