A Step Out Buffalo Standard Event Package is a discounted advertising bundle comprised of our most popular promotional items.
This advertising package is ideal for selling tickets or boosting attendance to any exhibit, festival, event, fundraiser, or concert as it puts your event front and center to SOB readers who are actively looking for fun things to do in the Western New York area.
How It Works
First we'll create a SOB Event Listing which includes up to 4 images, a description, address, a Get Tickets button, and all your social and website links.
Your listing can be updated in real time by emailing your campaign coordinator so things like additional vendors or event changes can be made even after your advertising starts.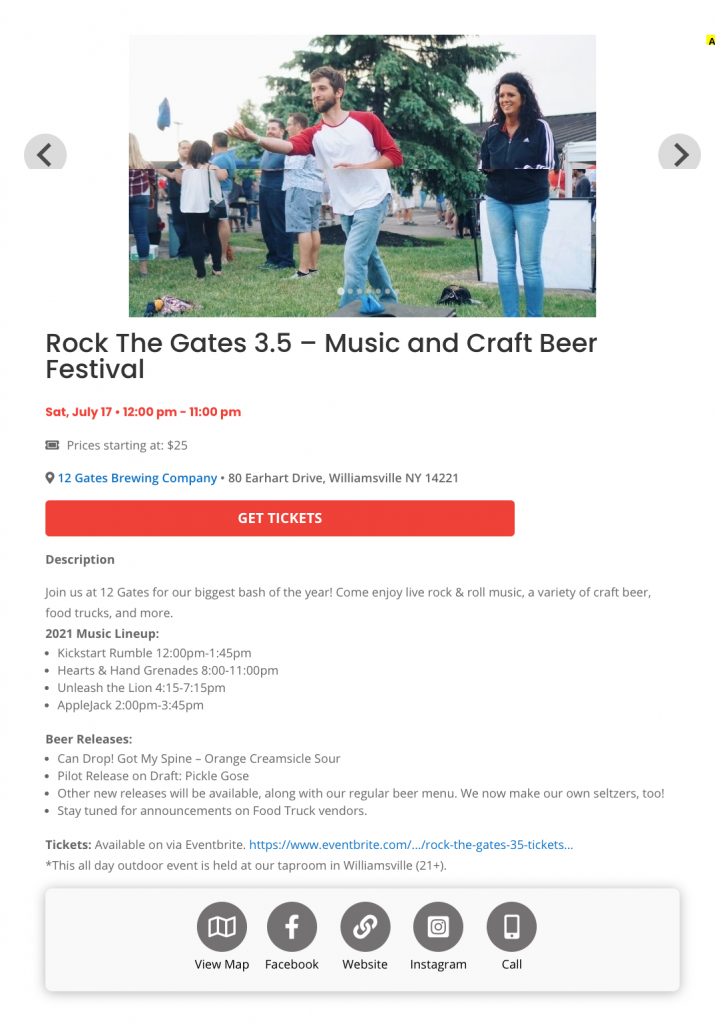 After your listing is created we will promote the listing throughout our various marketing channels.
These promotions include:

1.) Sponsored Listing in Our Best Things To Do Guides | Your event will be listed at the top of our best things to do calendar guides in the sponsored section. This guide is the most trafficked section of the SOB website and your listing will be sponsored for 1 week.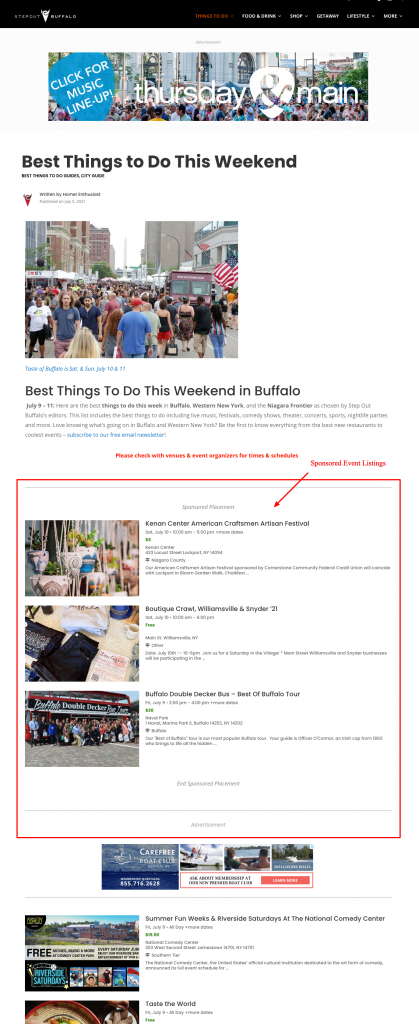 2.) Sponsored Listing in Our Best Things To Do Email Blast | Your event will be included in our Best Things To Do email blast which is sent to our subscriber list every Wednesday.

3.) Email Event Listing | Your event will be included for a second time in our Monday or Friday email blast in the "More Fun Stuff" section of the email.

4.) Homepage | Your event will be included on our homepage under the "Featured Events" section for 1 week.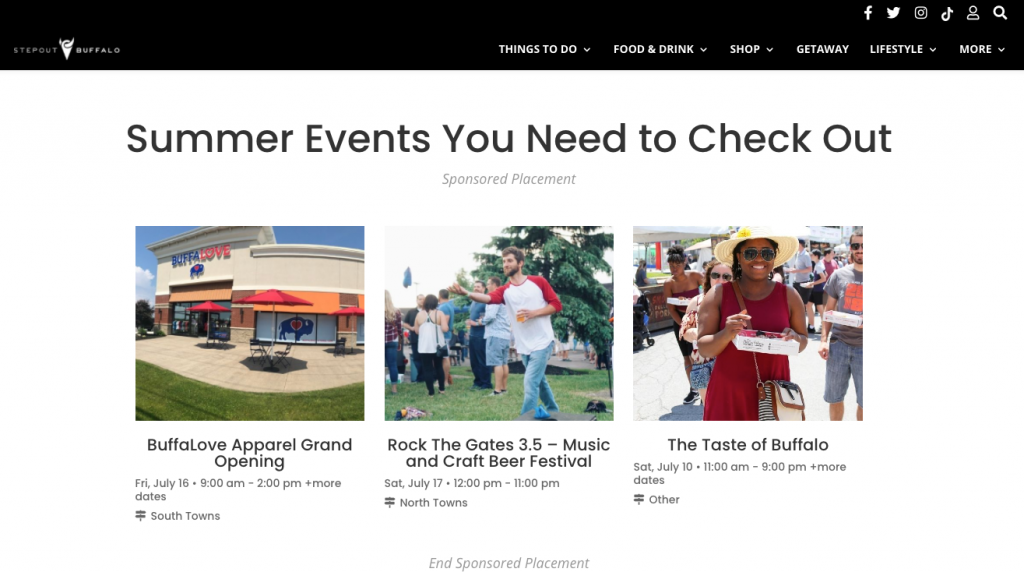 5.) Social Share on SOB Facebook | Your event listing will be shared on our Step Out Buffalo Facebook page and boosted for $5. We will also tag the advertiser as a branded parter so they can boost for an additional amount through their Facebook collabs manager.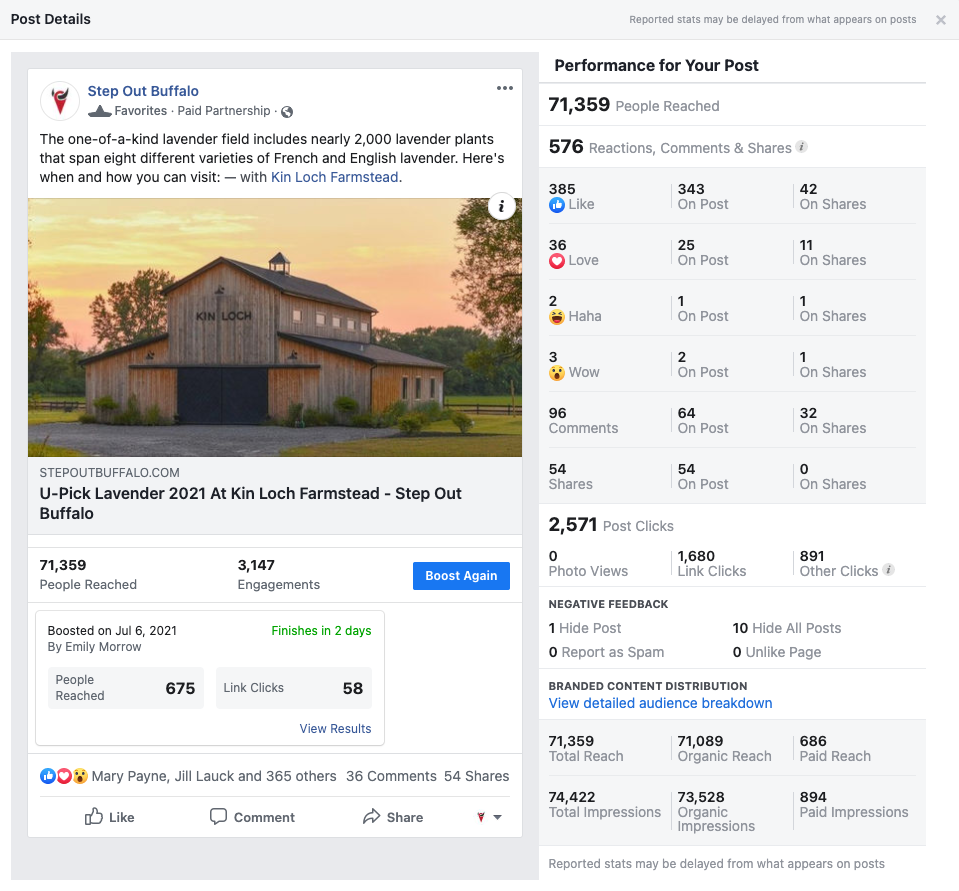 What To Expect
This package is geared at selling event tickets or getting new visitors to your event. While reach can vary across campaigns and industries generally the different items will receive a reach in the following ranges:
Sponsored Listing in Best Things To Do: Our best things to do guides will generally get between 15,000-25,000 weekly visitors.
Email Blasts: Your two emails will be sent to our 46,000+ subscribers which generally gets between a 16%-18% open rate.
Homepage Event Listing: Our homepage will generally get between 8,000-15,000 weekly visitors.
Social Share: Your event will be shared on our Facebook page of 95,000+ followers. Reach can vary significantly but generally between 5,000-20,000+ accounts reached is common, with higher performing events reaching 50,000+.
A full analytics report is provided at the end of the campaign including total reach, clicks, and cost per click. Campaign results are available at anytime by emailing your SOB coordinator.
Fulfillment
Before your campaign begins your SOB campaign coordinator will send you a publishing schedule outlining all of the items and when we plan on publishing them. The timing of your 5 different items is totally customizable, however most common is to begin promotions roughly three weeks out from the event. Advertisers are responsible for providing images, event description, and any applicable links for the event listing.
---
Contact Us
Step Out Buffalo offers advertising options for local businesses throughout WNY. If you're looking for a creative and effective way to reach your target audience, let's chat. Contact us for more information on our advertising packages.