At Step Out Buffalo our mission is to help people love where they live by showcasing local businesses across Buffalo and Western New York.
One of the ways we do this is through our Spotlight Article. Step Out Buffalo Spotlight Articles are articles written about your business or event that are published on our website, StepOutBuffalo.com. These articles are also shared on our Facebook and email newsletter.
Spotlight Articles are a creative and engaging way to tell your story and connect with our audience while creating "organic buzz" amongst our readers and within the Western New York area.
Spotlight Articles: What They Are
A Step Out Buffalo Spotlight Article is a 200-300 word article about your business or event. The article is written by one of our writers based on the topic of your choosing. The subject of your article can be about any product, service, or news you would like to promote including new releases, grand openings, product and event roundups, general brand awareness, and more.
Once published, your Spotlight Article will be featured on our website homepage and any relevant category pages based on the categories they fall into, including our Shop page, Lifestyle page, Beauty & Spa page, Fitness page, and Health & Wellness page. Your article is also featured in our email newsletter, on Twitter, and on our Facebook page.
Spotlight Articles: How They Work
Spotlight Articles are including in many of our advertising packages or may be purchased a la carte. Once you confirm the topic with your campaign coordinator they will submit the information to one of our team Step Out Buffalo writers. The article will be sent back to your for review, and upon approval will be scheduled for publishing based on the date you and your campaign coordinated have planned.
When your Spotlight Article is published it will appear across our website in all applicable locations including the On Our Radar section of our homepage.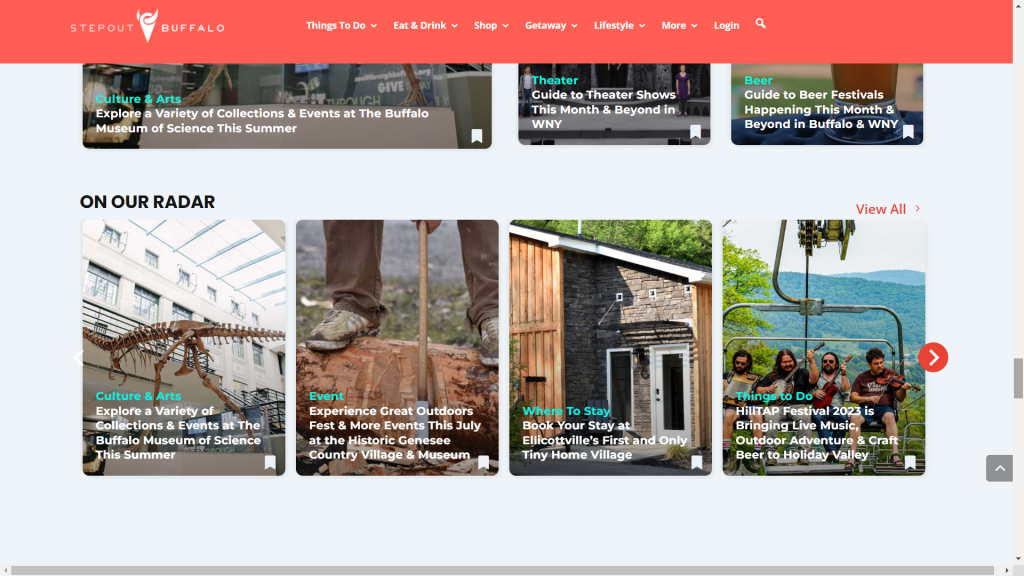 On social media your Spotlight Article will be shared on our Facebook page where it will be boosted for $25 over 10 days* (*length and budget can be adjusted upon request). Your Facebook business page will be tagged on the post to help drive traffic to your Facebook page.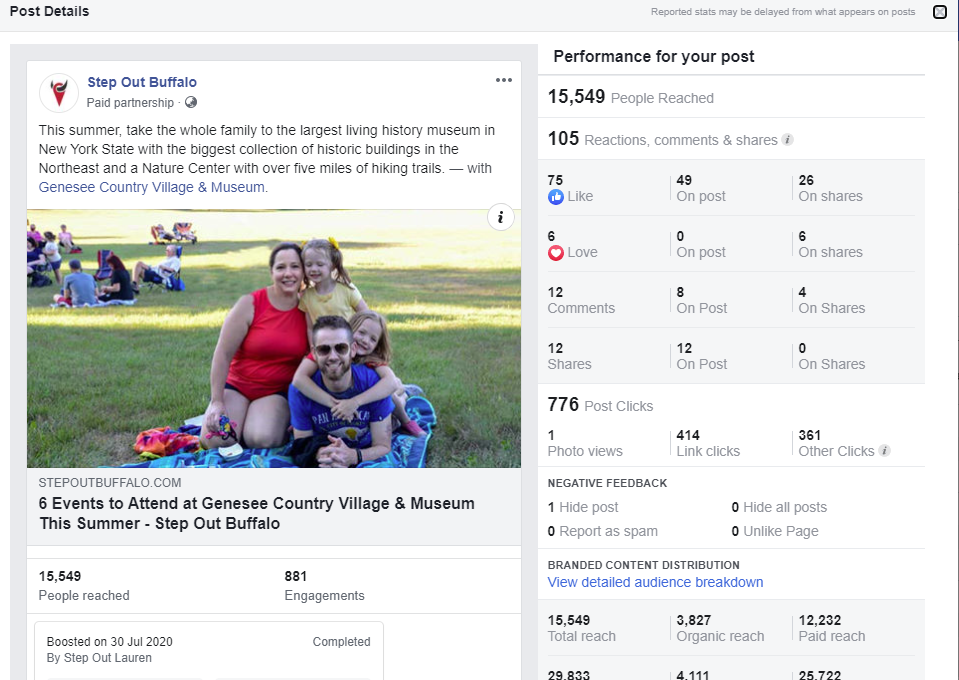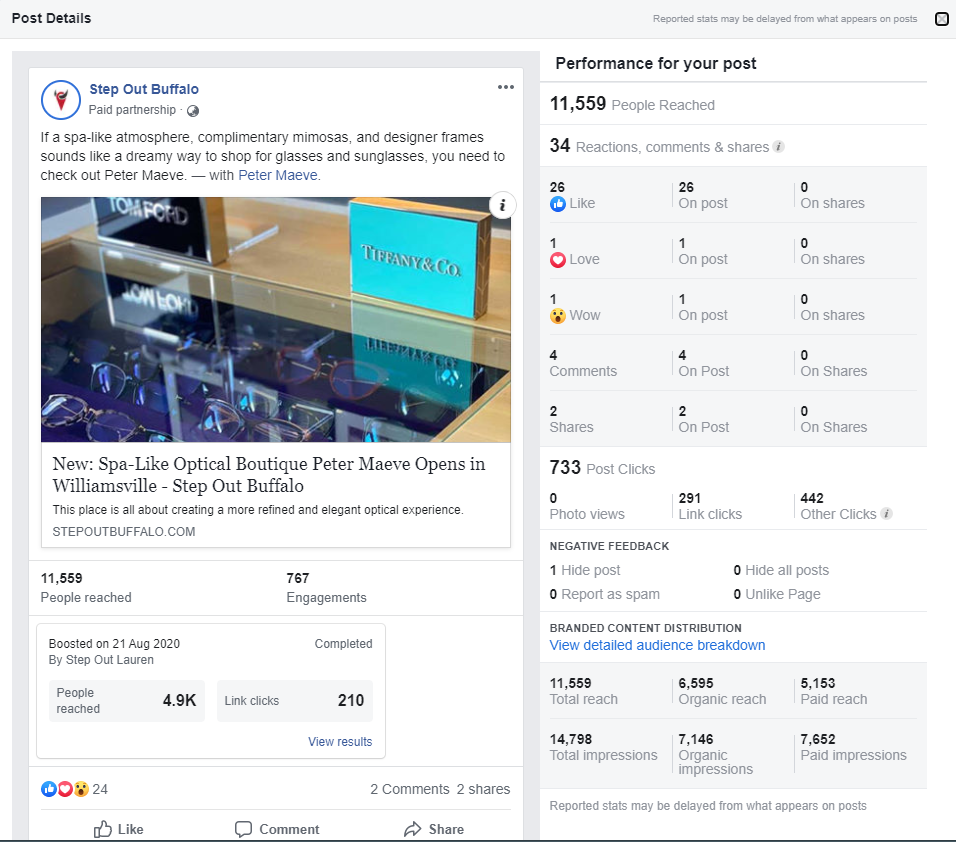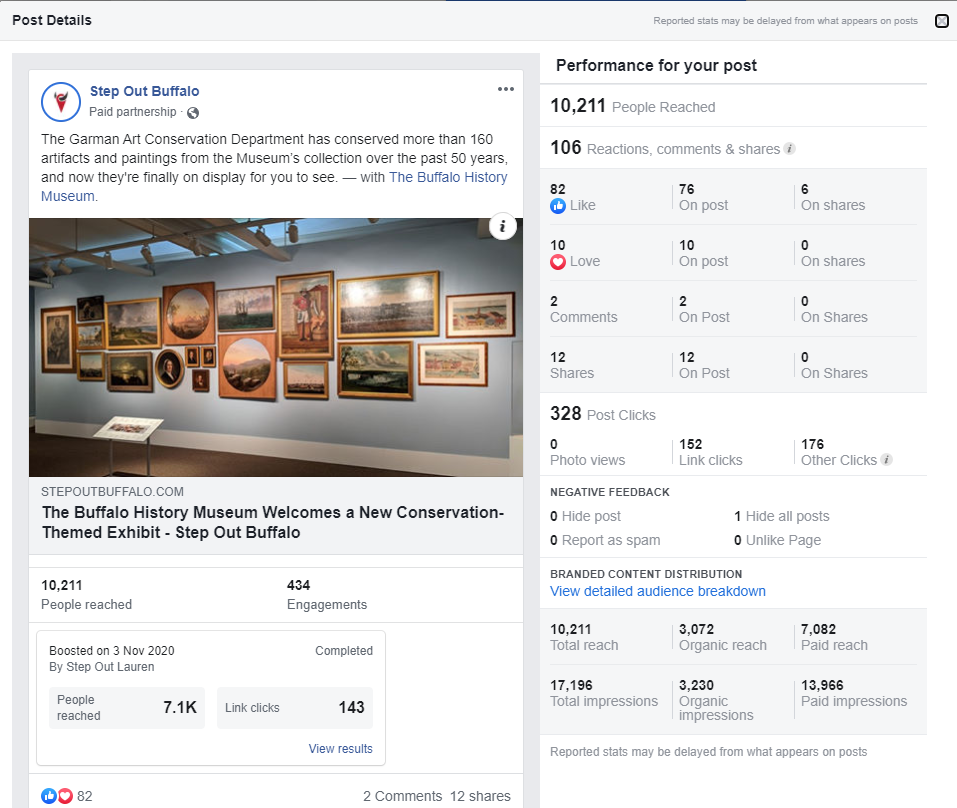 Lastly, your Spotlight Article will be featured in our Step Out Buffalo email newsletter during the same week your post is published. The Spotlight Article will be included amongst a small handful of other editorial articles and Spotlight Articles.

Spotlight Articles: Results & What To Expect
While reach and engagement for Spotlight Articles can vary, a buzzworthy topic will generally receive around 10,000 clicks on our website, reach between 8,000-15,000 people on Facebook, and receive between 7,000-10,000 opens via our email newsletter.
Pro-tip: We recommend sharing the article on your own social media platforms so your followers can also enjoy it!
Spotlight Articles: Fulfillment
Prior to your publish date, your Step Out Buffalo campaign coordinator will contact you requesting information and images related to your business or event and what you would like to focus on for your Spotlight Article. At this time you will also be able to send talking points for your Spotlight Article via email or through a submission form.
A Step Out Buffalo writer will compose your Spotlight Article, so you will not need to worry about formatting or making things 'perfect'.
Pro-tip: The more information you are able to provide for our writer, the more engaging your post will be for our readers!
The client is responsible for providing any and all images for their Spotlight Article, and all advertisers must have the rights to the images provided.
In order to remain as organic as possible, main images on Spotlight Articles cannot have text overlays (like a flyer). Typically, these "organic" images will yield the best results on both our website and Facebook. Images we've seen preform well include product shots, customers enjoying themselves, the venue/space of the business, or images from a previous year's event. Low quality or blurry images will not perform well, so the higher the resolution the better. If you have any questions as to which images would be best your campaign coordinator can advise you.
After receiving all of the information for your Spotlight Article, your campaign coordinator will send you a proof in approximately two weeks time. You will be able to request any edits before the post is published.