Photo courtesy of Step Out Buffalo client, Shoot Your Shot
A Step Out Buffalo Facebook + Instagram share is a 100-200 word dedicated post completed by one of our writers about your business.
How It Works
The subject of your post can be about any product, service, or news you would like to promote. Topics can range from new releases and grand openings to product and event roundups. This is a creative and engaging way to connect with our audience and create "organic buzz" around the Western New York area. All copy will be included on the post along with an outbound link on Facebook and your handle on Instagram.
Your campaign coordinator will contact you to collect information for the topic of your post, and then will send a proof for you to review. Once approved we will publish your post and boost it on Facebook a $25 boost. Your post will be shared on Facebook and Instagram the same week. Included is one title image on Instagram and up to 4 images on Facebook.
Example of Shoot Your Shot's Dedicated Instagram Post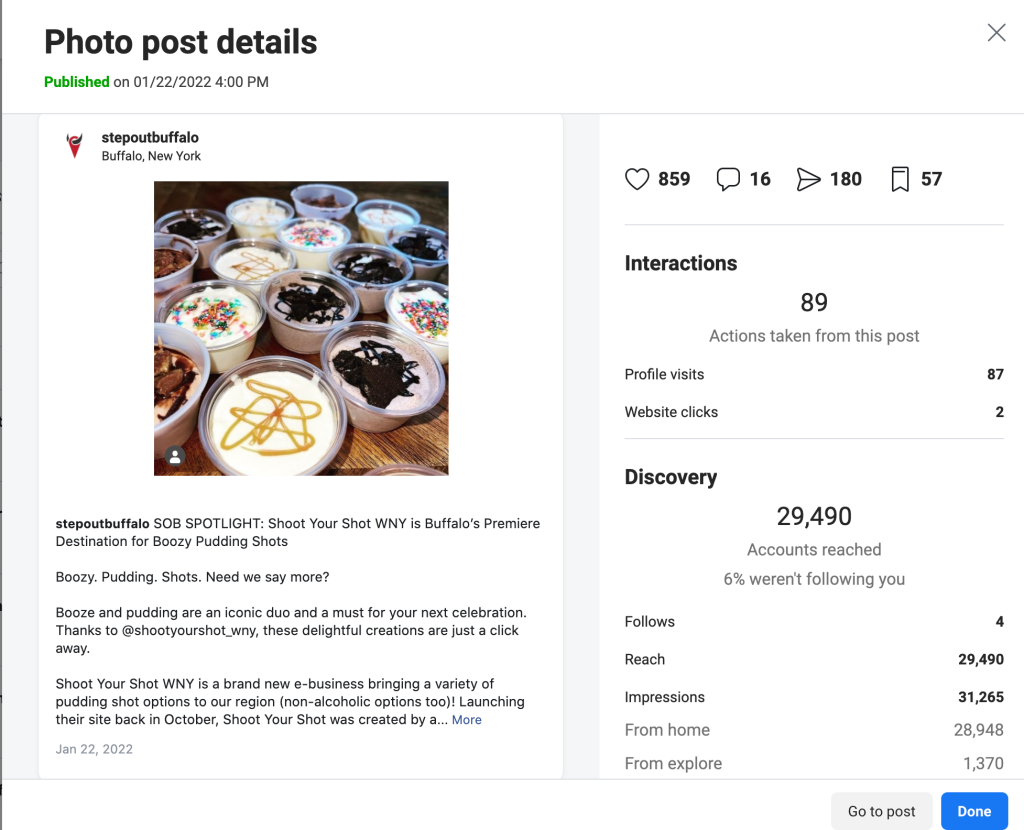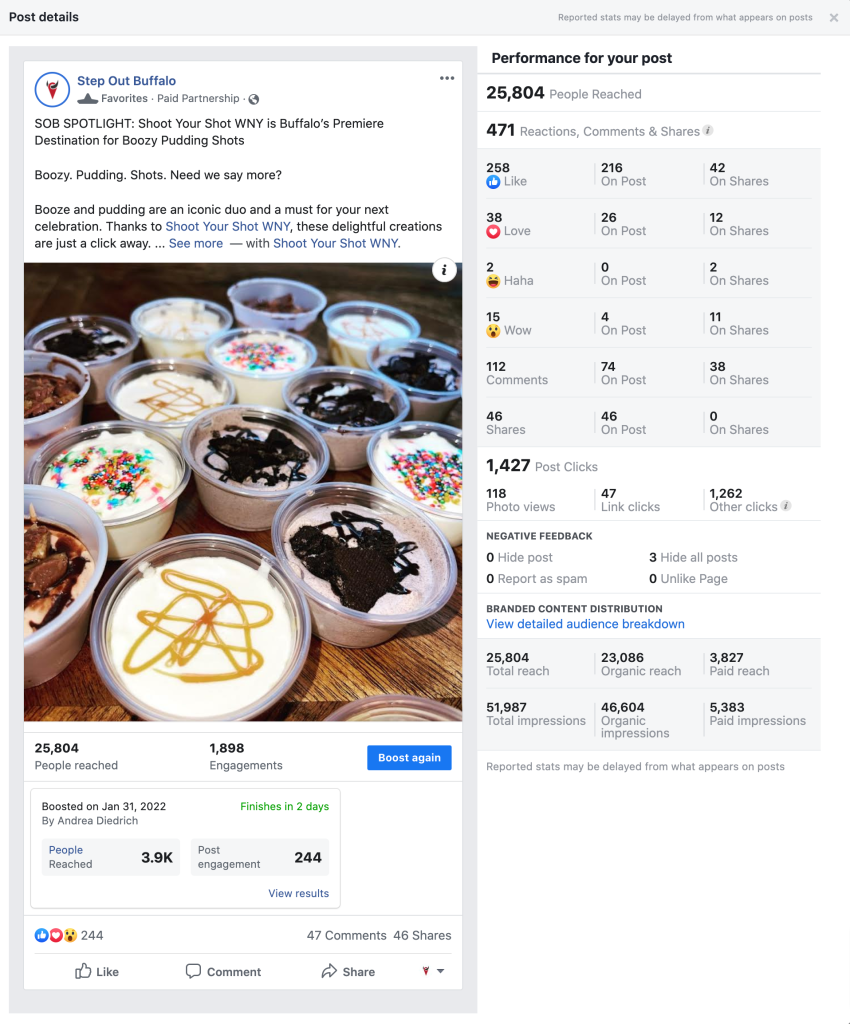 What To Expect
While reach and engagement can vary, a buzz-worthy topic will generally reach between 6,000 – 20,000 people combined between Facebook and Instagram. All analytics from the Dedicated Facebook + Instagram Post will be sent to you after your campaign.
Fulfillment
Prior to your publish date, your Step Out Buffalo coordinator will contact you requesting information and images about what you would like to focus on for your post. When your coordinator contacts you about your post you will be able to send talking points in an email or through a submission form.
Remember that one of our writers will put together the post so you do not need to worry about formatting, however the more information you provide for our writer the more engaging your post will be to our readers. Upon receiving the information for your post your coordinator will send you a proof in approximately two weeks time. You will be able to make any edits before we publish the post.
Images | Client is responsible for providing images for their post – all advertisers must have rights to the images provided. Title image can't have text overlays (like a flyer) and "organic"  images will get the most reach. Good images include product shots, customers enjoying themselves, the venue or space of the business, or images from a previous year event.  Low quality, blurry images will not perform well so the higher the resolution the better. If you have any questions as to which images would be best your campaign coordinator can advise.  
More Examples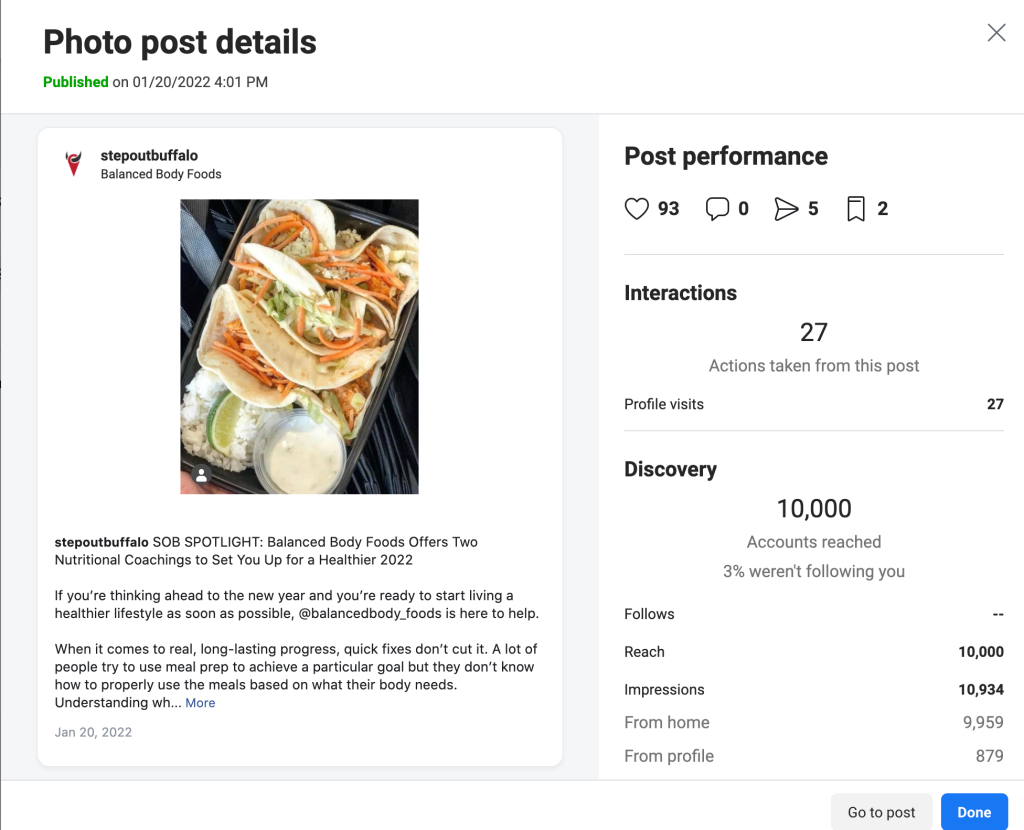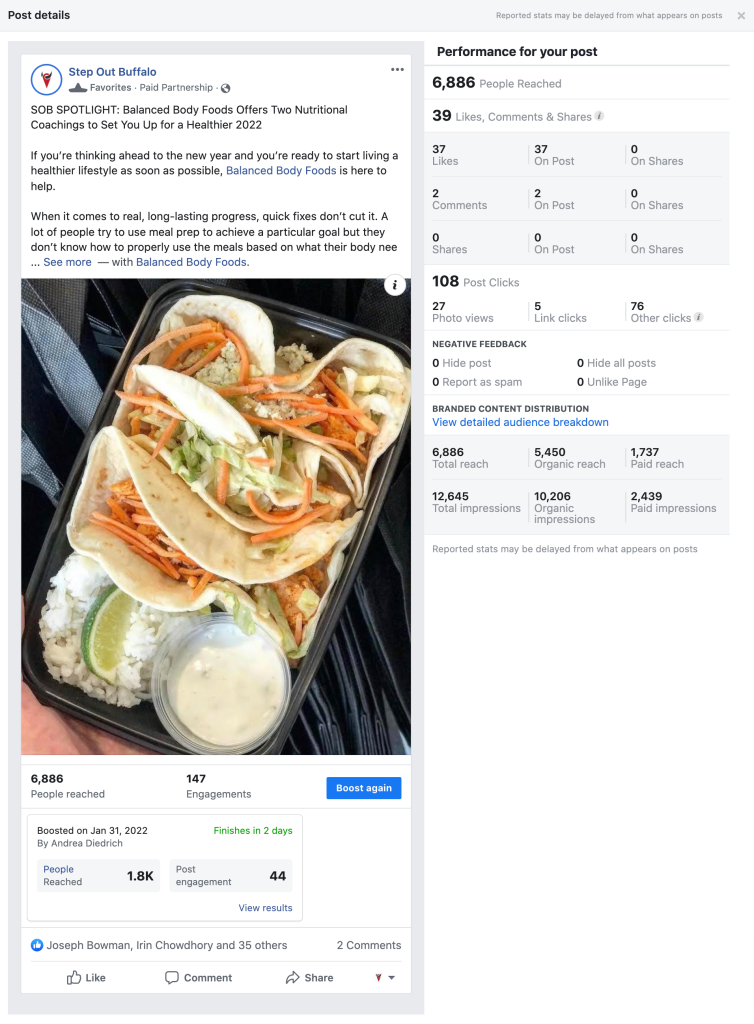 ---
Contact Us
Step Out Buffalo offers advertising options for local businesses throughout WNY. If you're looking for a creative and effective way to reach your target audience, let's chat. Contact us for more information on our advertising packages.