At Step Out Buffalo our mission is to help people love where they live by showcasing local businesses across Buffalo and Western New York.
One of the ways we do this is through our Digital Ads. Step Out Buffalo Digital Ads are impression-based display ads that appear on StepOutBuffalo.com and link back to your website or preferred landing page. These ads can showcase your business in general, a specific event or deal you're hosting, or anything else you would like our readers to know about.
Step Out Buffalo Digital Ads are a great way to create brand awareness about your business, products, or events as well as drive click-through traffic to any landing page you'd like, including your website, product-pages, ticket page, etc. Digital Ads are displayed throughout our website across our various pages and articles.
Digital Ads: What They Are & How They Work
Digital Ads are impression-based, meaning you select your quantity and the timeline of when you would like your ads to run. They will then be delivered randomly across our website throughout the window of time you request.
Digital Ads are included in most of our advertising packages, as they're an effective supplemental tool within our 360 degree campaigns. For example, included in our most popular Shop Local package are 60,000 Banner Ads that run over the course of 6 months. This means that over the span of 6 months your ad will appear 60,000 times on StepOutBuffalo.com. Digital Ads can also be purchased a la carte in quantities of 10K.
Digital Ads: Sizes & Where They're Featured
Step Out Buffalo Digital Ads come in three sizes: Big Guy, In-Post, and Mobile.
Big Guy Digital Ads
Big Guy Digital Ads are sized at 1050px x 225px and will appear at the top of Step Out Buffalo posts.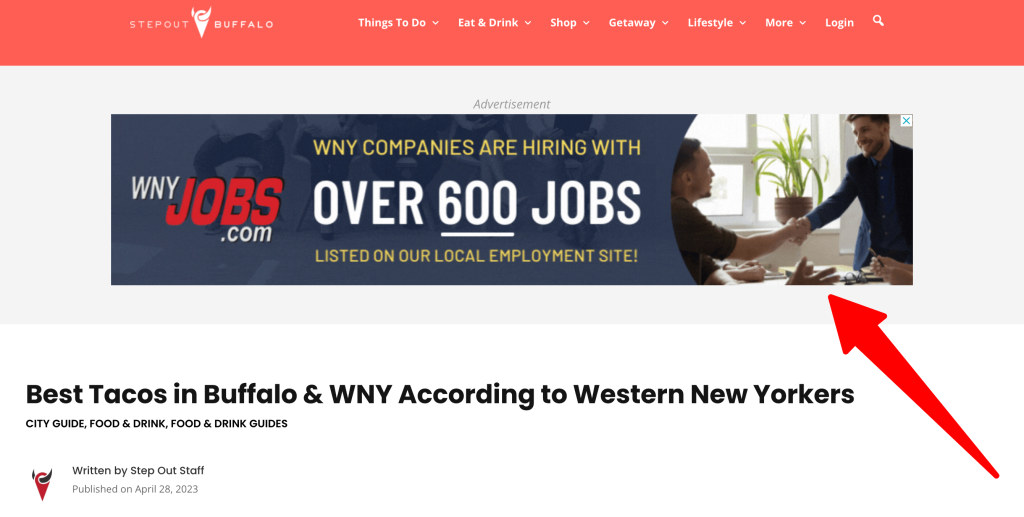 In-Post Digital Ads
In-Post Digital Ads are sized at 700px x 150px and will appear in the body of Step Out Buffalo posts.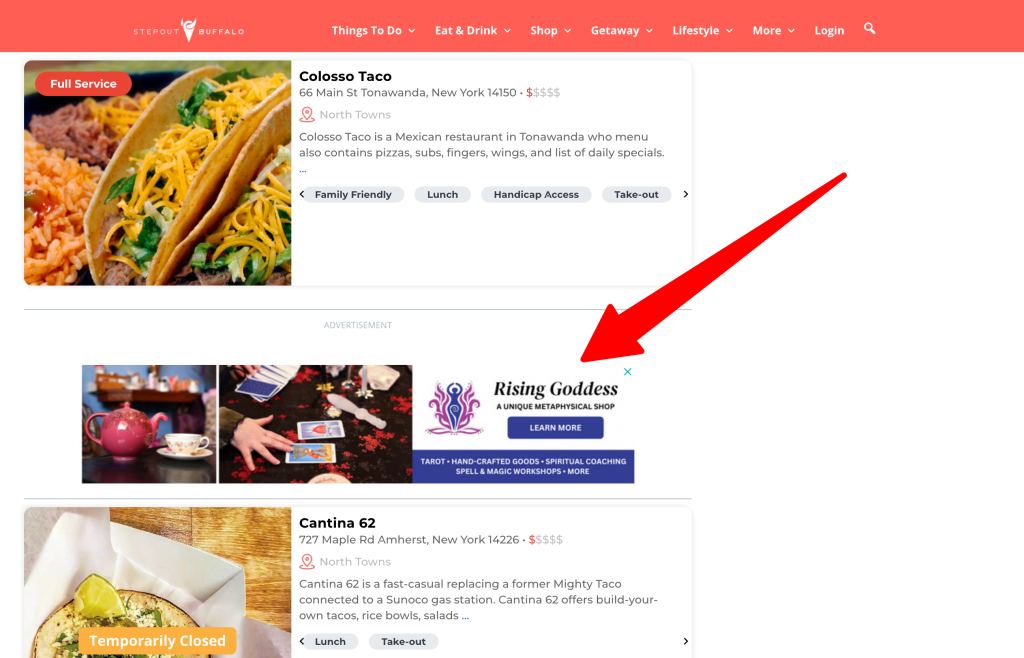 Mobile Digital Ads
Mobile Digital Ads appear in the same places as our Big Guy and In-Post Digital Ads on mobile devices. These ads are sized optimally for mobile at 300px x 250px.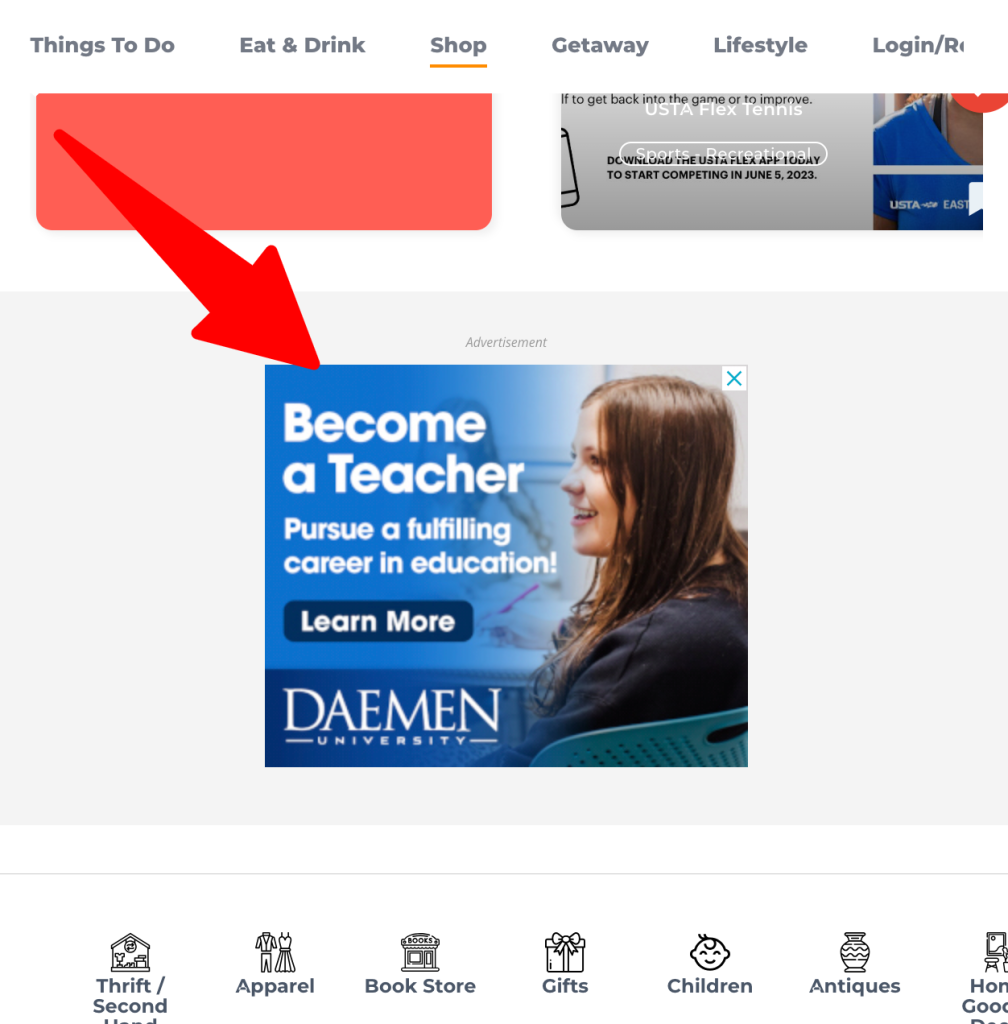 Digital Ads: Results & What To Expect
Step Out Buffalo Digital Ads come with guaranteed impressions. If your order includes 60,000 Digital Ads, then your ad is guaranteed to appear at least 60,000 times.
Click-through rates for Digital Ads average between 1%-2% (the percentage of clicks to impressions). For example: If you receive a 2% click-through rate on 10,000 Digital Ads impressions, you will have received 200 clicks to your landing page.
Note: Banner ads are automatically placed randomly across our website, they are not fixed position ads. If you visit Step Out Buffalo and do not see your ad that does not mean it's not running.
Digital Ads: Fulfillment
Free design of your Digital Ads is included with all orders and advertising packages. Once you've spoken to your campaign coordinator, our designer will create your Digital Ads and once created we will send them back to you for approval. Clients may also submit pre-designed Digital Ads if preferred. Digital Ads may be sent over in .jpeg, .png, or .gif format (for dynamic ads).