Updated: Jul 1
If you run a nonprofit organization, spreading the word can be challenging at times.
But if you want more people to know about who you are and what you do, marketing needs to be on your to-do list. Increasing your nonprofit's visibility and getting more people interested and involved in your cause is something we at Step Out Buffalo are pros at. We work with nonprofit organizations all over WNY to help put their message and their mission in front of our readers and followers – and we'd love to work with you!
Here are few simple ways to get your nonprofit noticed on Step Out Buffalo:
1. Create a free business listing
Getting your nonprofit organization listed on Step Out Buffalo is super easy and completely free! Head over to our website and login or register. Next, fill out this Business/Organization Form and we will approve your listing. That's it. Simple, right?
P.S. A listing is handy to have because they can link to your events and updates. Plus, these listings are good for SEO!

2. Submit free community updates
We want to know how your nonprofit organization is operating during the current COVID-19 crisis.
Our Community Update Board is a central location for local businesses to share these updates, which we then share with our readers and followers. If you're adjusting your operating procedures, offering new services, creating unique deals, or hosting virtual classes and experiences, submit your updates here so can share your updates. PSA: These are also free to submit!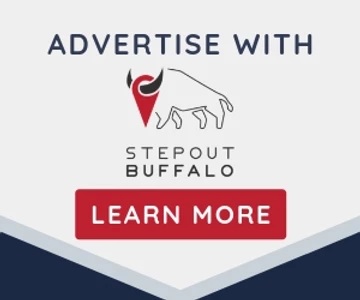 3. Advertise with us
Our readers are actively looking for things to do, places to go, and local organizations to support. If you have an event or campaign coming up (or if you just want to put your organization in front of a new audience), we can help!
Our readers and followers are made up of a highly targeted audience of Western New Yorkers who specifically seek out ways to support local. So whether you're looking for a marketing campaign to boost general awareness about your organization or you need help promoting a specific event, we got you.
Step Out Buffalo has a lot of experience promoting nonprofit organizations, and over the years we've worked with lots of local nonprofit organizations, including Hospice Buffalo, Gateway Longview, Buffalo Without Borders, Olmsted Parks, American Cancer Society, Kevin Guest House, She Started IT, Girls Education Collaborative, ECRC Fun Run, Mercy Flight, and Compeer.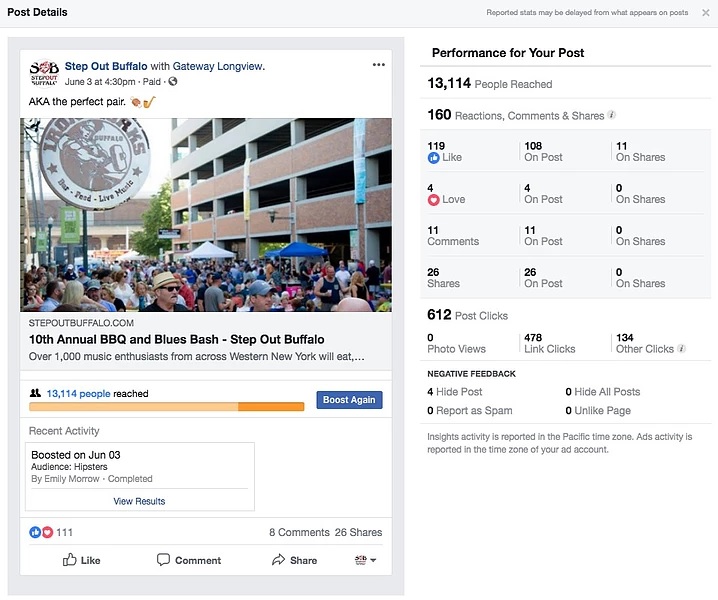 Take Gateway Longview for example. They needed help promoting their BBQ and Blues event, so they opted to get an advertising package with us. Here's a few highlights from their campaign:
Social Event Listing: 13,114 Reached, 160 Reactions, 612 Clicks
Best Things To Do Email: 33,389 Sent, 5,941 Opens, 363 Clicks
Event Listing: 5,179 Pageviews
Email Event Listing: 165 Clicks / 57 Clicks
Ultimately, teaming up with Step Out Buffalo helped Gateway Longview raise more awareness about their event, which meant they were able to raise more money for a really good cause.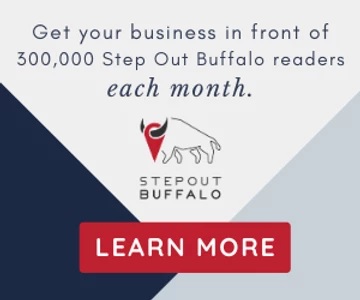 Let Step Out Buffalo help your organization spread the word!
If you run a nonprofit organization make sure to create a free business listing on our website and share your free community updates with us! These are both super easy, no-cost ways to help get your organization in front of hundreds of thousands of people – which means more potential visibility, event attendees, members, and donations for your cause.
And if you're looking for extra exposure, advertising with Step Out Buffalo is one of the most affordable and effective ways to get your message out there. Our advertising packages are created with small businesses and local organizations like yours in mind.
No matter how you'd like to put your nonprofit organization on Step Out Buffalo, we can help you get you noticed by the 400,000+ people who read and follow us.
Wanna know more? Let's chat!
______________________________________________________________________________________________________________________________
Want to know more about promoting your business on StepOutBuffalo.com?
At Step Out Buffalo, we help businesses promote themselves and their events on our website, email, and social media channels. Our team is comprised of experts who know exactly how to make your business or event stand out, and we'll put you in all the right places so you get noticed by all the right people. Hit us up if you'd like to learn more about our business and/or events-based promotions – there's a reason 94% of our readers go places they've seen on StepOutBuffalo.com