Who knew that a business that sells crazy flavors of popcorn in Buffalo would have fans in all 50 states?
What's Pop-In' Gourmet Popcorn is a local popcorn shop on the West Side that makes popcorn in almost every flavor imaginable…except for plain butter. They have all sorts of sweet and savory flavors made with ingredients ranging from rainbow sprinkles, lucky charms, and peanut butter cups to hot sauce, bacon, and local jerky.
What's Pop-In' was started by Stefan Coker and Dave Whelan, who met while working at Larkin Square's Filling Station.
Stefan was the executive chef at the time. He added black truffle popcorn as a side dish to the Filling Station's menu just for fun – and people loved it. The more he played with the concept, the more he realized he loved creating all the crazy, different flavors.
Photo via What's Pop-In' Gourmet Popcorn
Stefan and Dave joked around about starting up a corny – pun intended – quirky popcorn business together. And one day they made it actually happen.
Stefan and Dave opened up shop on West Ferry and Chenango in 2019. Despite everyone else's opinions, they wanted to have a physical presence in this neighborhood since it's the neighborhood Stefan grew up in.
What's Pop-In' has been continuing to grow even through the pandemic. And they're not just surviving – they're thriving.
Photo via What's Pop-In' Gourmet Popcorn
We talked to Stefan about what motivates him and his advice for other aspiring business owners. Here's what he had to say:
What's your marketing motto?
"Our marketing motto honestly is to work harder than everyone else. In my opinion in order to be successful you have to hit rock bottom first and really make true sacrifices."
How did you have to pivot your marketing plans throughout the pandemic?
"We made the adjustment through delivery and really pushed the product to all 50 states. Our customers have really showed us so much love and have helped us hit the whole country along with Iceland and Canada."
What's your strategy for creating content on social media?
"We post at least twice a day on social media and always interact with our customers. I see customers as family and I make sure we show them the utmost respect. Without them we would not exist!"
Where do you find motivation?
"I find motivation from my children. They are my everything and I want to leave a legacy for them especially with the way the world is now. I just want to be an amazing father and teach them the work ethic that is needed."
What advice would you give a local business that's just starting out?
"Never let anyone tell you you can't do something, especially when you're creating your own lane in business."
What's Pop-in' Gourmet Popcorn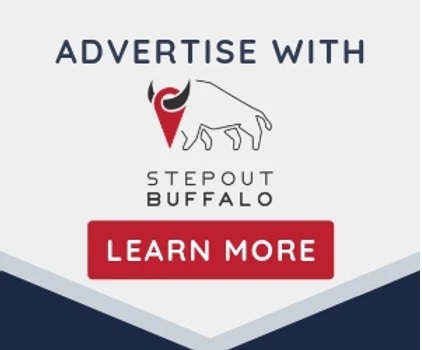 ____________________________________________________________________________________________________________
Want to know more about promoting your business on StepOutBuffalo.com?
At Step Out Buffalo, we help businesses promote themselves and their events on our website, email, and social media channels. Our team is comprised of experts who know exactly how to make your business or event stand out, and we'll put you in all the right places so you get noticed by all the right people. Hit us up if you'd like to learn more about our business and/or events-based promotions – there's a reason 94% of our readers go places they've seen on StepOutBuffalo.com