Delaney Wintermeyer and Brittany Provo are the owners of Queen City Canine // Follow Queen City Canine on Instagram & Facebook
When we recently did an

Instagram request

for our followers to nominate their favorite local businesses to be featured in our

Business Tips

series, Queen City Canine received dozens of nominations from loyal friends and customers.
One of the biggest reasons they were nominated? The above and beyond way they treat their canine customers. "Best doggie daycare in WNY! …They love and treat each pup as their own and make sure these pup have a fantastic day with their fur pals 💗💗", said one nomination.
Queen City Canine is a women-owned and led dog daycare facility here in Buffalo. Owners Delaney Wintermeyer and Brittany Provo started QCC in the midst of the Covid-19 pandemic, something that dramatically changed their initial business plans for the better. "We found the building [in the fall of 2019] and saw the potential for some fantastic outdoor space for the dogs in Buffalo's downtown core, which was major for us. We pulled the trigger, and started getting all our "behind the scenes" things moving."
"Within a few weeks of Covid, like so many businesses around our world, this dream opportunity seemed both uncertain and unpredictable. Construction was halted, everything stopped, and our opening date was pushed forward no less than 10 times. The first few felt like punches to the gut, but soon we knew that like everyone else, we needed to roll with the punches. Figure it out and PIVOT, and move forward. So we did."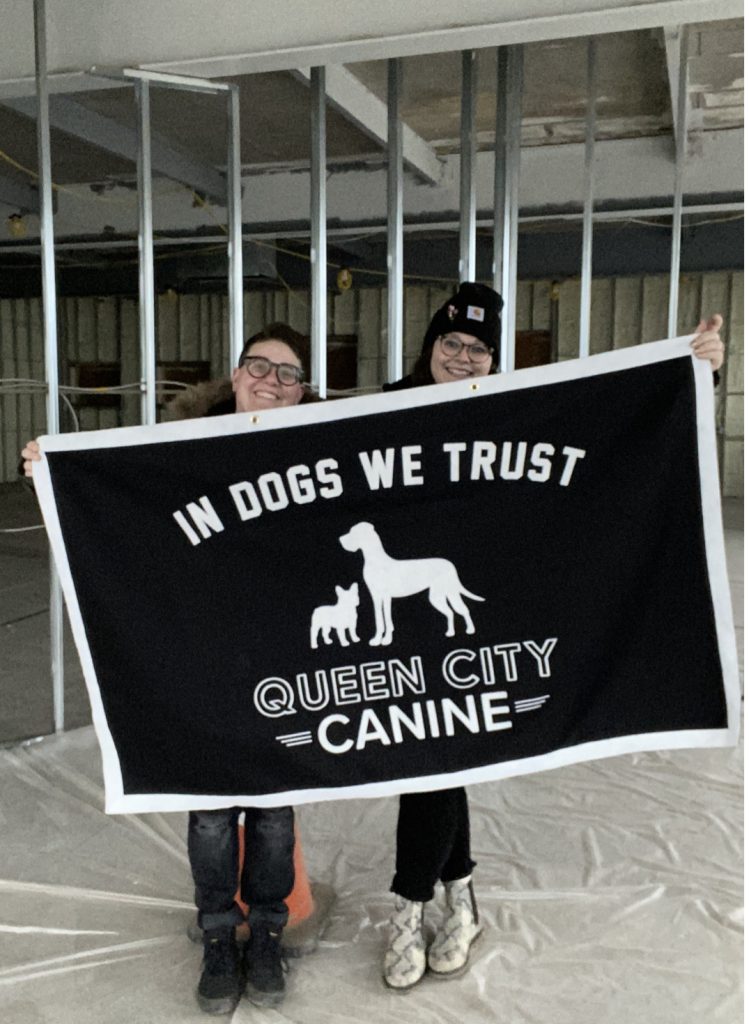 On April 19th, 2021 after 22 months of behind the scenes hustling, QCC finally opened its doors. "And we haven't looked back. Or we should say, we have looked back with fortitude and gratitude." The extra time between the anticipated opening and the actual opening allowed QCC to be able to realize how they wanted to provide the above and beyond care that was in their original business plan, just in ways they didn't expect. Co-owner Delaney became a certified Pet Food Nutritionist with a contemporary knowledge of dogs' microbiome, something that sets QCC apart from other dog daycare facilities. "For us, this pandemic gave us the gift of time – to be able to really hone in on what, and who, Queen City Canine needed to be. It gave us moments of love & laughter with our two Great Danes, Fred & Luigi, by our sides, who motivated us to dive further into dog nutrition and cognition courses in order to bring the best knowledge to them and Buffalo."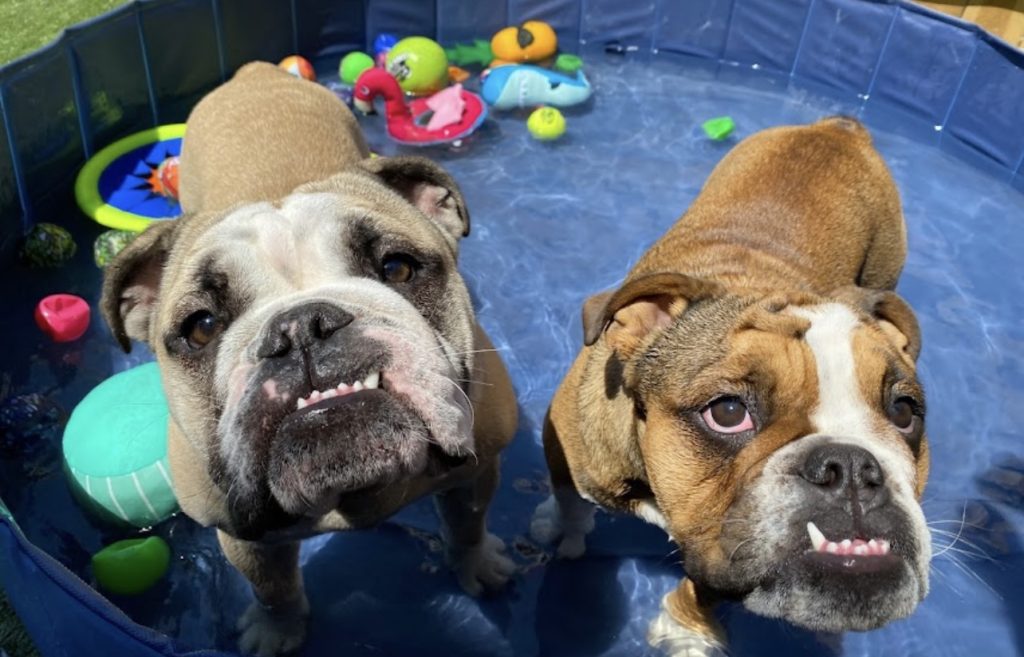 When about their favorite business milestone Delaney and Brittany say it was being featured by the official NBC Olympic and Olympics social media accounts. "We were sharing the excitement with the world of the return of the Summer Olympics in Beijing, [which] obviously meant that the dogs deserved a Summer Olympics in Buffalo! So we made it happen – the dogs competing in different events, medaling, and we even had local creator BSquareWoodwork make us podiums for the dogs to properly show off their hardware. Clients loved seeing their dogs compete for the Gold, so we knew with the upcoming Winter Olympics we had to make it happen again, and we did. Being creative, innovative, inspiring and fundamentally responsive – recognizing and rewarding these dogs for their wonderful companionship – became our adage!"
Soon after, coverage of QCC's "Club Athletes" gained national attention when NBC Olympics reached out to share their content on NBC's platform. Then a few days later the Olympics reached out to feature their content as well. "In less than a year, our vision and these incredible dogs were being recognized and celebrated! [That has been our favorite business milestone thus far]."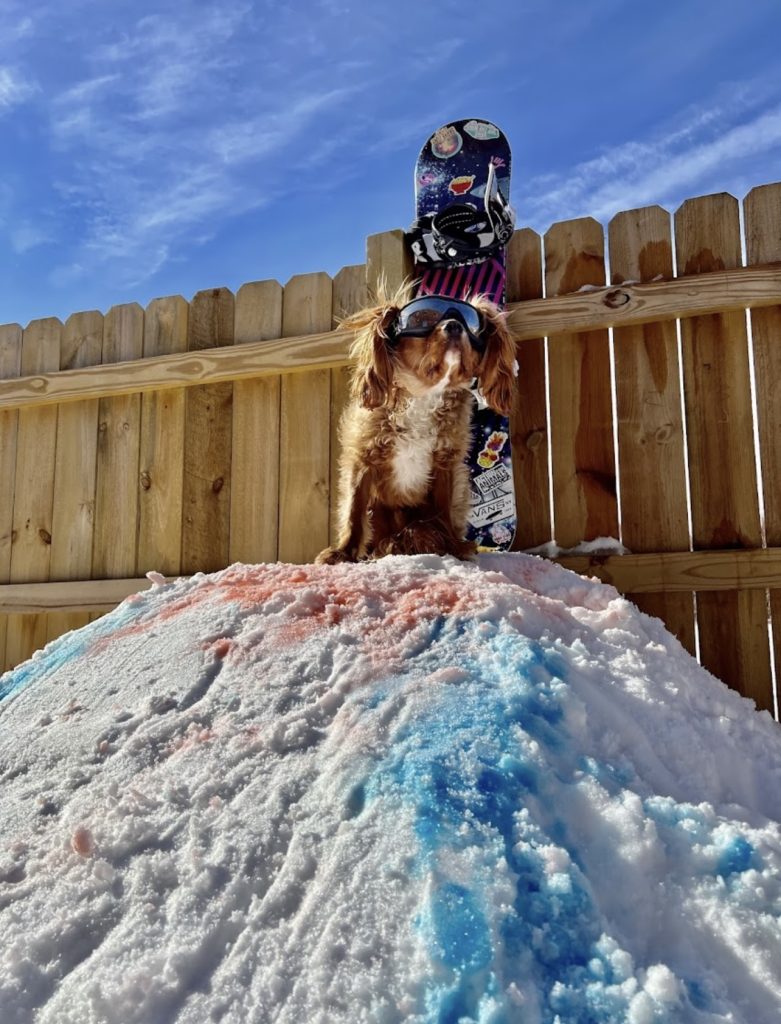 We asked Delaney and Brittany to share some of their biggest business tips for other local business owners and entrepreneurs that they've learned throughout their journey, here's what they had to say:
Business Tips from Delaney Wintermeyer & Brittany Provo:
---
1) What's the best business advice you've ever been given?
"The best business advice we've ever been given was by our Dads, who both were successful longstanding businessmen … always keep growing, believe in yourself, and don't forget to break the glass ceiling while you're at it."
2) What has been the most helpful tool for running your business?
"Our most helpful tools are our clients and our community! As two transplants to the Buffalo area, the City of Good neighbors has truly been fantastic to us. We were welcomed with open arms and feel so lucky to be included in this community – with neighbors like Hartman's Distilling, Resurgence Brewing Company, Jennifer Julia Salon, Central Rock Buffalo, Undergrounds, Loaded Lumber, crown bflo (to name a few) we are part of the local fabric of life here."
3) What's your strategy for creating content on social media?
"At the Club, creating content and growth is definitely a team effort. Our whole team, dogs included, is involved and critical in the planning and execution of our content! Who doesn't want to see dogs playing with their friends, giving back to their owners, or wearing sunglasses by the pool as they scroll?! We love to celebrate at the club, and we love to create memories for parents of their babes. Our instagram feed does a pretty great job at narrating the fun we have at the club!"
4) What's the most beneficial form of advertising in your opinion?
"The most beneficial form of advertising for us has been social media, specifically Instagram and TikTok. These platforms really have allowed us as a Brand, to create this high standard that we strive for. It has allowed us the space to communicate, express ourselves, and be a part of peoples' lives, and hopefully providing them something to smile about and share with others throughout the day. Also, our content is pretty fantastic."
5) What's one thing you can't live without?
"Dog kisses."
5) Give us a business tip – any tip!
"Set boundaries. Allow yourself time to breathe, process, and learn from what is happening around you. And most importantly, always give back. Give to your community and be an ongoing important part of your community. Love what you do, cause life is too short not to."