Updated: April 2023
Revenue-driven campaigns (aka telling people to come into your business) are straightforward and meant to drive sales…which doesn't always go over so well. People don't want to see flyers for your happy hour specials on the daily or be constantly told to come in and shop your sale.
We'll say it again, PEOPLE DON'T WANT TO SEE FLYERS.
On the flip side, building brand awareness by sharing organic content is just as important, if not more so. Having a stellar social media presence for your business is priceless – and essential – if you want to be successful in today's visually based, social media forward market.
These days if you don't have a good social media presence, you're more or less done for. Have you ever been excited about a restaurant then gone to their Insta or FB and it was either nonexistent or horribly done? Bet you ended up at a different restaurant. Good businesses brand their social media accounts through content that's organic, authentic, and fun. If your followers enjoy following you, chances are they relate to and trust you…and you've made a connection that's far more valuable.
CREATING A SOLID BRAND PRESENCE ON SOCIAL MEDIA: A HOW TO GUIDE
Tip #1: Stop selling
If your feed revolves around trying to convince your followers to spend money, chances are they won't follow you for long. Balance is key, and no one wants your pleas for their money shoved down their throat. The goal here is to promote your products without aaaactually promoting them by sharing organic photos of your products without pushy captions. PSA: DO *NOT* SHARE FLYERS OR STOCK PHOTOS! Just…don't. Ever.
Example: @remedyhouse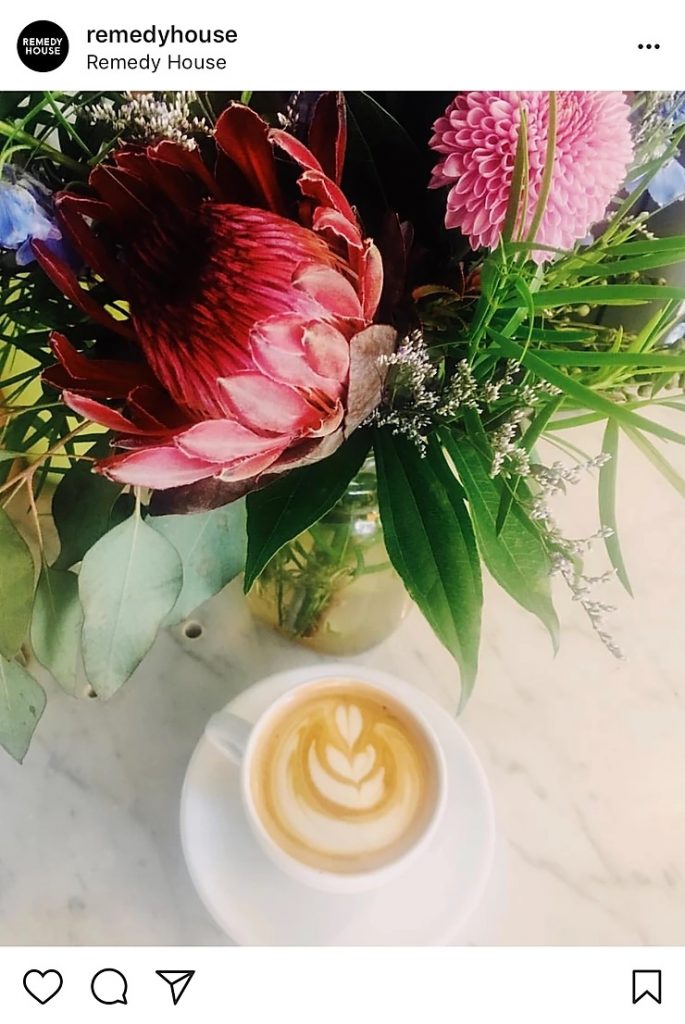 With visuals like these, this coffee shop doesn't need to tell followers to come in because their feed naturally creates I-want-to-go-to-there vibes. By shifting the focus away from products and towards experience, Remedy House creates a brand presence that's attractive, enticing, and not needy, all of which resonates positively with followers.
Tip #2: Get real.
Putting a face to your brand is *major*. When followers see the face(s) behind the biz, they develop connections with you as a person and a brand. Then sharing any type of message therefore becomes stronger because it's relatable and coming from you. When you let your personality shine, your followers will respond and want to engage with your business because they care more about it.
Example: @RevolutionBuff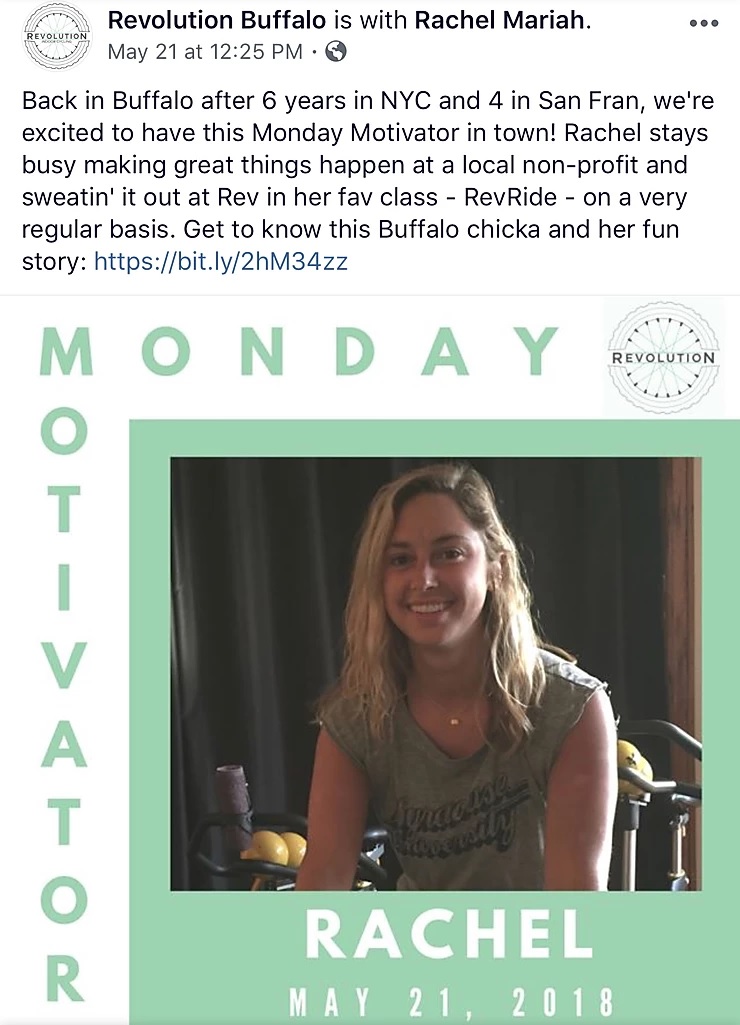 Rev's Facebook is full of faces. Seeing the real people behind the brand makes an impact, and the RevBlog gets personal in the best way possible. Thus when they share info on classes and events it's personal and engaging, too – which makes people want to attend even more.
Tip #3: Don't be boring
Social media is meant to be social…and when you're having fun your followers will take notice. By posting funny videos and funny captions you let people see that you're not just another lame, stuffy business account. Plus who doesn't want to have fun for work?
Example: @mundy_cakes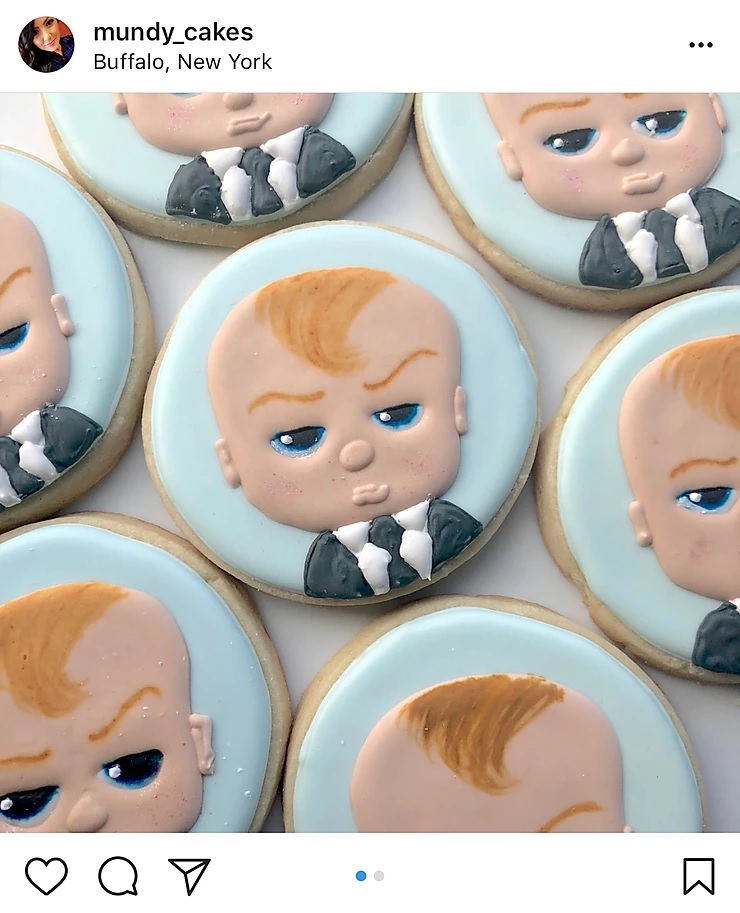 These sugary creations are beautiful, clever works of art, but what makes Mundy Cakes stand out is her personalized captions. This girl loves her job. Post after post, her cookies keep getting better and better…and it's all because of her captions (which can sometimes be NSFW). She never asks you to buy her cookies, but when it comes time to order some custom creations guess who you're gonna end up calling.
Tip #4: Stay current
If it's sunny and 80 outside, don't post about staying warm indoors. If it's Fourth of July, don't post about Halloween. These are extreme examples, but staying up-to-date on current events will guarantee seeing higher engagement rates since the stuff you're posting about is the stuff everyone wants to talk about.
Example: @researchanddesign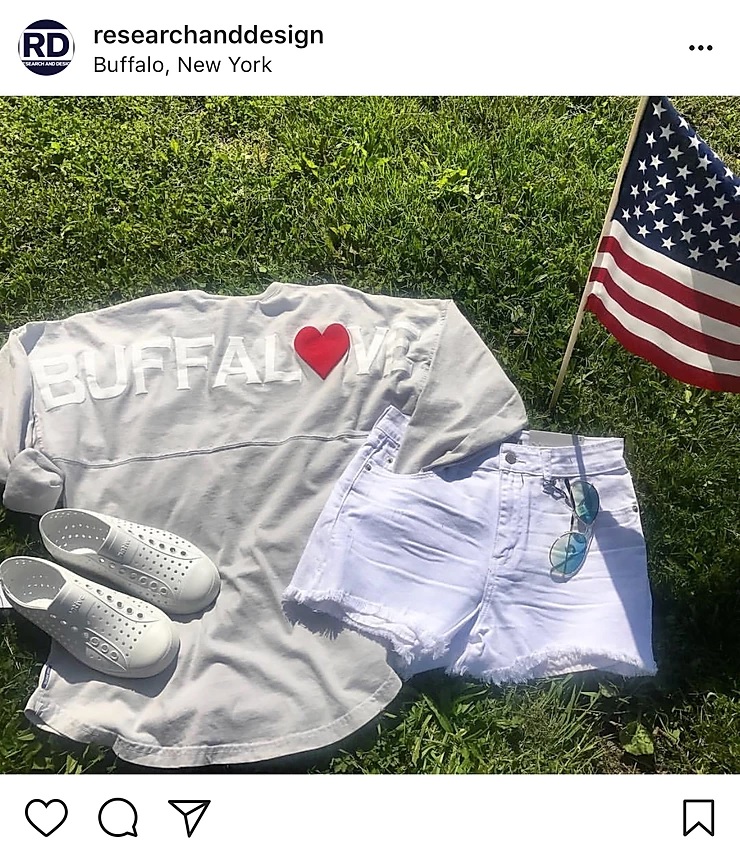 Research and Design's Facebook and Instagram feeds are on trend and on point. When it's sunny outside, they're posting cute outfit inspo that makes you wanna ditch work, throw on a cute outfit, and sit on a blanket in the grass. When a holiday is coming up, they've got an outfit ready and posted so you don't have to scramble at the very last second. I've actually gone – out of my way, mind you – to R&D for a super last minute holiday-themed outfit just because of an Instagram post. The best way to be top of mind is to be in line with what your followers want right now, and the best way to do that is to stay current.
Tip #5: Be playful
A sense of humor is appreciated in the social media world. Share a meme, add emojis, play with boomerangs. Post to your business accounts the way you would post to your own account (keeping in mind why the customer is following you), and take note of the posts from other people and businesses that you're liking. What kind of content are they posting? What do you like about it? If you're keeping your audience entertained, chances are you're doing it right.
Example: @whereslloyd_/@lloydtacofactory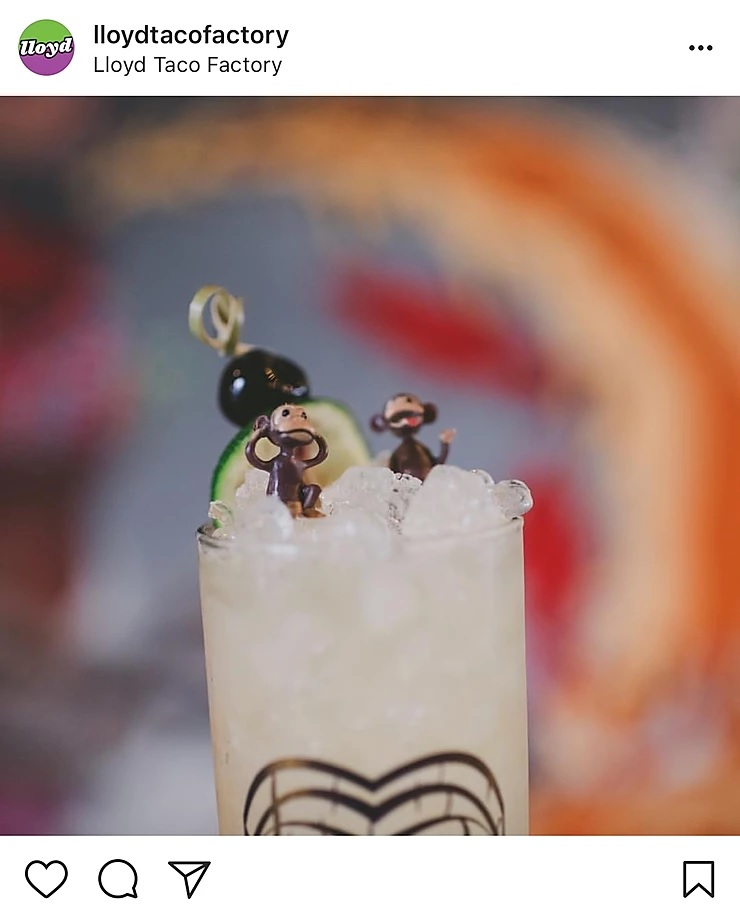 As far as the Twitterverse is concerned, Lloyd is king. As for the Instaworld, Lloyd Taco Factory also slays. Everything about their social presence is playful and these folks got jokes. Just following them makes you want to drink and eat with the people who run their accounts…and it doesn't hurt that their photos are always drool-worthy.
Tip #6: Build meaningful relationships
When people comment on your posts, send DMs, and ask questions – RESPOND! And don't just copy-and-paste the same responses over and over. Responding to your followers in a meaningful way creates a more personal connection. People like to know there are humans running their favorite accounts, and it takes 5 extra seconds to address them by name.
At Step Out Buffalo, we receive questions all the time about where to go for happy hours, what patios are dog friendly, who is doing yoga outdoors this weekend, etc. From time to time we'll even create content – and events – based on what our followers are DMing us about! Listen to your followers and it'll make you a better brand all around.
The takeaway
When it comes to your brand's social media accounts, the bare minimum doesn't cut it anymore. We are living in the age of social media and if you can't keep up – or surpass – the competition then followers are going to ditch you and move on to the next best thing. Be yourself, have fun, and post high quality content and you won't even need to tell people to stop by your business – they'll come on their own.
__________________________________________________________________________________________________________________________
Want to know more about promoting your business on StepOutBuffalo.com? Contact us!
At Step Out Buffalo, we help businesses promote themselves and their events on our website, email, and social media channels. Our team is comprised of experts who know exactly how to make your business or event stand out, and we'll put you in all the right places so you get noticed by all the right people. Hit us up if you'd like to learn more about our business and/or events-based promotions – there's a reason 94% of our readers go places they've seen on StepOutBuffalo.com