Updated: October 2021
Did you know Instagram users are spending more time on the app than ever before?
On average, app users spend 53 minutes per day on Instagram. Source: SimilarWeb.
With millions of people scrolling daily you have to make your minutes count. A captivating story on Instagram can seriously drive engagement…and that's seriously valuable *especially* for local businesses.
Of course, creating an interesting and effective story takes time. Thanks to our hours of Instagramming experience we've come to master a few tricks of the trade.
Here are 6 #ProTips for how to leverage Instagram Stories to get your audience's attention…and keep it
Create listicles, like @stepoutbuffalo
If you follow us, you know all about our love of listicles. Wtf is a listicle? "Listicles" are Stories that list things out. These work best for things like "5 stories you need to know", "7 best foods to eat off our menu", "6 new items we just got in our store", etc. These listicle Stories are more strategic than regular Stories because the point is to intrigue people enough that they swipe up to your website or come into your store. You have to give people enough information to peak their interest without giving away the whole Story (or else they won't take action). Step Out Buffalo utilizes this super well by combining just enough mystery + info with an aesthetically pleasing Story. Watch 'em for yourself on @stepoutbuffalo's Instagram Stories!
Why it Works:. These work well – if done right – because people love skimmable content: less words, great images, and links to more info. Think of how YOU view these Stories. You're probably not sitting there reading each novella that every account you follow is posting, so don't assume your followers will either. Keep in mind you need to have at least 10,000 followers to unlock this feature, but in the meantime you can always direct people to visit your profile, come in to your store, call to make a reservation, message you, etc.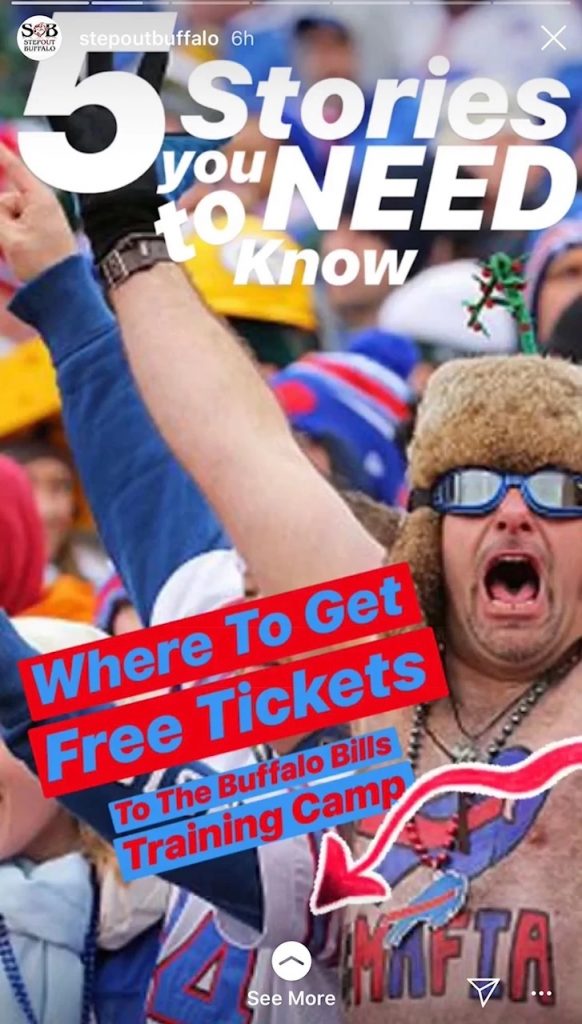 Do a Q&A, like @visitbuffaloniagara
When Instagram stories launched the Q&A feature, the Instaworld was forever changed. Wtf is the Q&A feature? Basically Instagram added an easy way for people to send questions (or comments!) to followers via their Stories. Now when you go into Stickers (take/upload a photo/video for your Story, swipe up from the bottom) just tap the QUESTIONS sticker and you can ask your followers a question or invite them to ask you questions. The former is a great way to learn more about your most engaged followers, and the latter is a great way for your followers to get to know more about you!
Why it Works: People love engaging with businesses, and the new Q&A feature is an easy, non-invasive, inviting way for followers to do just that. This interactive avenue for engagement gives your followers a voice, makes them feel valued, and gives them a deeper connection to you and your brand.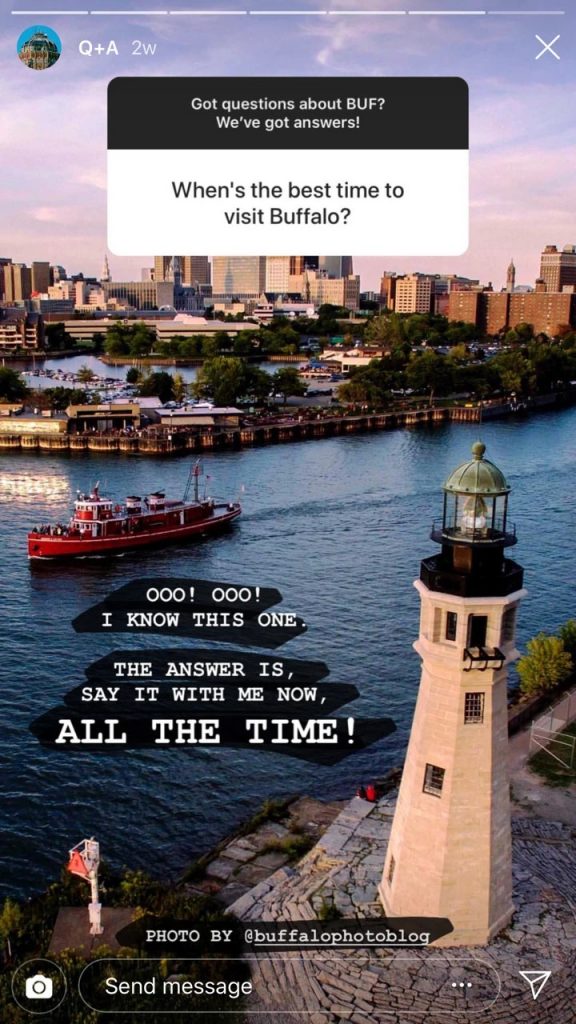 Create step-by-step tutorials, like @lloydtacofactory
Your followers are interested in your business (duh), so it makes sense that they also want to see the behind-the-scenes action of your creative process! Behind-the-scenes creative process stuff can mean different things to different people, and tutorials are easy to follow. You're not just rambling into the abyss, there are *steps* and people can understand how whatever you're showing them gets from Point A to Point B. For example, Lloyd Taco Factory recently introduced a new series of how-to cocktail videos where they show their follows step by step how to make each week's featured cocktail.
Why it Works: Not only do people love getting a peak behind the curtain, but when you give them an exciting peak it makes them happy, excited, and ready to pay you a visit. And! When that peak is given in tutorial format it's super easy to digest. In Lloyd's case, they're showing their followers 1) that each week they have a different featured cocktail, 2) that each cocktail takes a lot of TLC to concoct, and 3) that each cocktail looks delicious *and* it ~oh yeah~ it's currently cheaper than normal. Yes/yes/yes please.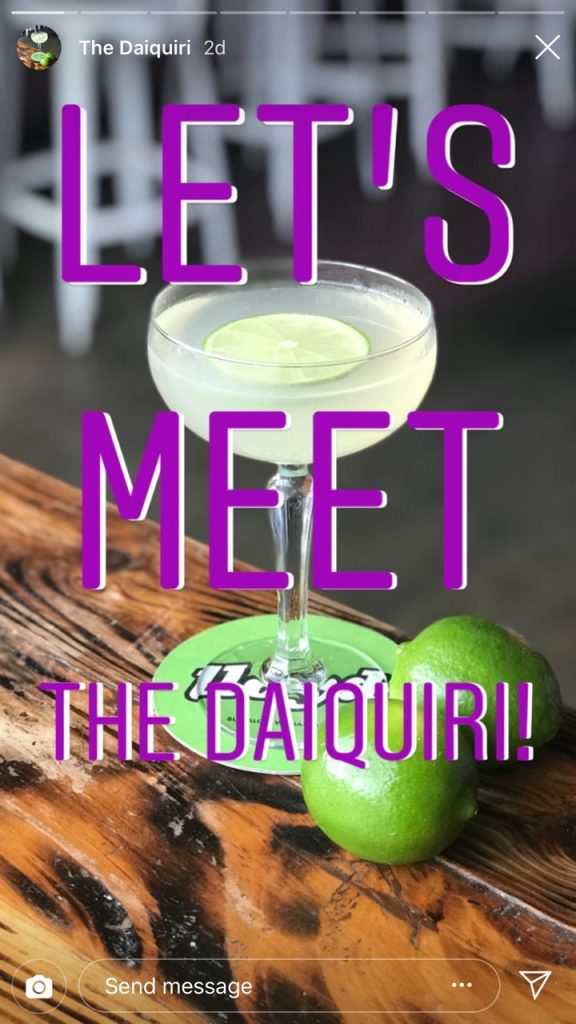 Announce new arrivals, like @villagedesigns
New stuff is exciting! And sharing this excitement on your story is both authentic and fun to watch. Your followers want to be the first to know when you have a new menu, new stock, new plans, etc – so tell them when and where it's all happening. Village Designs is MVP when it comes to keeping followers up with their new arrivals. Not only does this give them great content to post, it also creates an action – coming into the store or heading to their online shop.
Why it Works: Sharing those first looks on your Instagram Story gets followers interested and excited, and a well-done Story will even motivate them to show up at your door ready to purchase. Goals: achieved. Keep this tip in mind for new food/drink menu arrivals, too!
Give shoutouts to followers, like @nourishthriveglow
Followers love when you repost their content on your story, and Instagram's latest re-sharing feature even tags them for you. Wtf is a repost? Basically, when a follower tags your business in any way, you re-share it. This can be done by screenshotting and uploading yourself or through one of the many "repost" apps that automatically does it for you. Pay attention to your followers who tag you on their own Stories, in their posts, your business's geolocation tag, and your hashtag (if you have one), and if you like what they post highlight it on your Story! Nourish Thrive Glow is a shoutout superstar, always screenshotting and reposting her followers Stories on her own business Story whenever she's tagged.
Why it Works: People love recognition, especially on public recognition on social media. A quick repost and personal response when people interact with you and show you off to their followers will not only earn you major brownie points with followers, but it will also encourage more people to post about you aka free advertising. #WinWin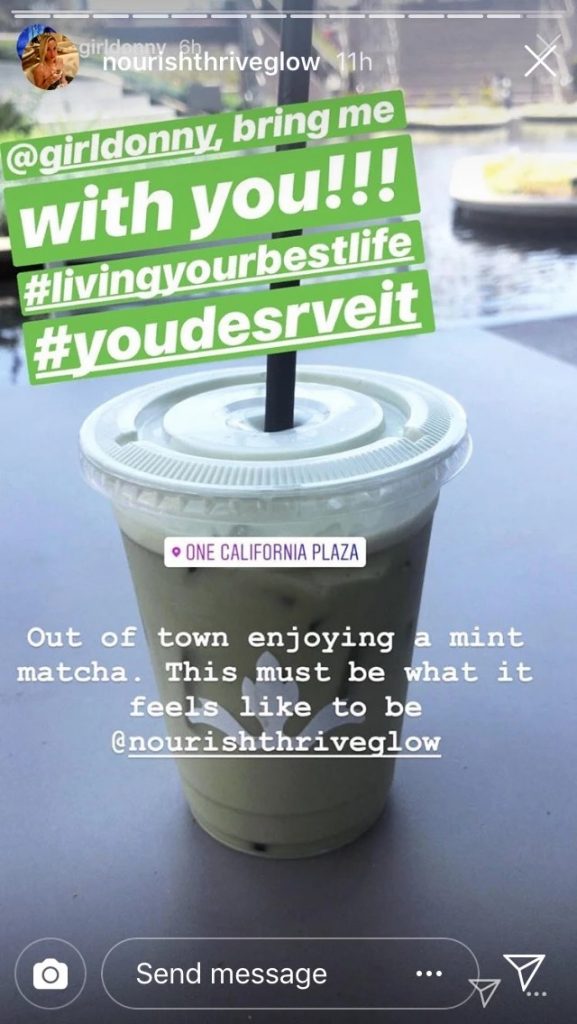 Welcome outside takeovers, like @creativemorningsbuf
We love us a takeover. We literally do them all the time with other local businesses – click here to ask us how! This strategy is super smart. Wtf is a takeover? Takeovers are exactly what they sound like – allowing another business or person to takeover your account. This means handing them they keys for the day (aka your login info) and letting them tell your followers a Story from their perspective. Whether they have full creative freedom on your Story or there's a set of guidelines you ask them to follow is completely up to you, but keep in mind the quality of the Story will ultimately reflect – good or bad – on both businesses. Execution is key of course, and we give props to our friends at Creative Mornings for being another local company who's doing it right.
Why it Works: Cross-promotion is beneficial to everyone…when it's done *right*. Identify people and/or companies you're interested in teaming up with and reach out to them about your ideas. This kind of social partnership exposes both parties to new audiences and gives each business exciting new content for their followers, which is something that's always welcome.
Bonus Tip: Add to Highlights on Instagram
If you're thinking this is a lot of time to devote to content that disappears in 24 hours, take advantage of highlights on Insta. Your favorite stories can stay front and center for followers for as long as you want them to. We recommend creating icons to organize your content. Peeps love a clean, easy-to-navigate design.
_______________________________________________________________________________________________________________________________
Want to know more about promoting your business on StepOutBuffalo.com? Contact us!
At Step Out Buffalo, we help businesses promote themselves and their events on our website, email, and social media channels. Our team is comprised of experts who know exactly how to make your business or event stand out, and we'll put you in all the right places so you get noticed by all the right people. Hit us up if you'd like to learn more about our business and/or events-based promotions – there's a reason 94% of our readers go places they've seen on StepOutBuffalo.com