Updated: Dec 20, 2019
As a business your goal is to get people to try or experience what you're selling. At least, that's what we're assuming here. One of the most fun – and engaging – ways to do this is through ~giveaways~.
Giveaways are a hugely successful way to promote your product/service/event/business for a few reasons. First is the fact that people love free stuff meaning giving people a chance to win free stuff will probably create a strong, favorable connection between consumers and your brand. Second, someone will end up experiencing whatever it is you're giving away and odds are they're probably going to talk about it…maybe even on social media to hundreds of their friends and family. Did we mention those friends and family are super likely to take recommendations from people they know?
We've hosted many a giveaway on StepOutBuffalo.com in our day for ourselves and for clients. Some go better than others, and there's a reason for that. There are actually several reasons, which we've taken the liberty of explaining below. To give this bad boy a little context, we're including examples from a recent giveaway we hosted in collaboration with local ice cream brand Perry's Ice Cream.
As you keep reading, keep in mind that the objective of your giveaway is threefold: 1. get some serious engagement on social media, 2. awareness for your brand, product, service, or campaign, and 3. increase your fan base in the long term.
Here are our 7 Pro Tips for running a successful Facebook giveaway:
1. The bigger the prize, the more successful the giveaway
We aren't talking about an all expenses paid trip to Jamaica here, but if you're going to give away a gift card, go big or go home. The difference between a $50 gift card and a $100 gift card isn't much to you, but to the people entering your giveaway it's huge and will absolutely be worth it for you in the end.
What to do: Take this opportunity to get them in the door, give them the best experience possible, and watch them leave bright eyed and bushy tailed, telling everyone they meet about you. #giveawaygoalz
What not to do: Give away just enough that it gets them in the door and they have to end up spending more money to actually get anything out of it. Boooo!
It's not all about the money though. Going the extra mile can apply to reducing other forms of friction for your customers too. Maybe you ship the prize to your customer or give away a gift card that has no expiration date on it. Take the time to stop and think, would this prize impress me? If not, up the ante.
Example: The prize for our recent Perry's giveaway was 4 cartons of their winter ice cream flavors, delivered to the winner's doorstep. It worked well because Perry's made the effort to remove the friction for their customers by offering to ship the ice cream anywhere in the US. They know that going to the store is A. Not super fun in the snow if you live in WNY, and B. Not even possible for out-of-town fans.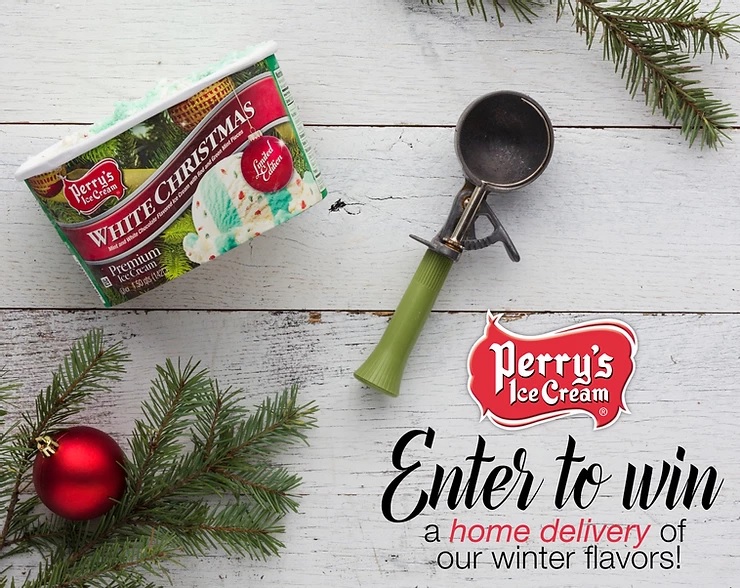 2. Your giveaway image needs to be on point
First things first – the image you use ABSOLUTELY needs to represent the product/service you're giving away. Second, it needs to grab people's attention, and third, it needs to be appealing to the eye. You don't want to look at a tiny (anything smaller than 700 x 450 px is tiny), grainy, blurry image do you? Neither will your customers. And they definitely won't be interested in sharing it with their friends.
Example: The giveaway image that Perry's used was clear, crisp, and free of distractions. It was bright, there was contrast, it was really, really, ridiculously good looking, it had a clear message. We are visual people. We live in a visual world. With so many distractions – ESPECIALLY on the Internet – you need to stand out and be visually appealing to grab people's attention. Sorry not sorry.
PS. Some text on your image is fine – what Perry's did was explanatory, tasteful, and on brand – but please don't make it look like a flyer. Facebook doesn't like a lot of text on an image, which means the more text you use, the less organic reach you'll get from the reach gods.
3. Timing. Is. Everything.
Make sure that whatever you are giving away fits into a bigger picture. Whether you're a candy company giving away a box full of the flavor of the month, or a Hotel giving away a Valentine's Day Package, people are more likely to act – on anything – when they can see where it fits into their own lives. Plus, that whole contextually relevant trick will seriously help with people's willingness to share, share, share.
Example: Perry's prize was both seasonally and culturally relevant – they gave away their limited edition winter flavors in the middle of December and titled the campaign "Give the Gift of Perry's for the holidays" during the peak of holiday season. Spoiler alert: people ate it up. In fact it's possible some people shared the photo just because they wanted to share the photo, not even because they wanted the prize. That's how much the whole thing fit into the bigger social media picture. Play holidays/seasons/pop culture to your advantage.
4. Keep the Requirements Simple
This one is very, very important. Why? Because majority of people get it wrong despite the fact that it's real easy to do. When it comes to the requirements for your followers to enter your giveaway, keep. it. simple. Think of how YOU use the Internet. You don't want to jump through hoops. So what makes you think other people, who you're trying to get to like your brand, do? We recommend sticking to one or two requirements for entering to win.
Remember:
The more you ask people to do, the less likely they are to do it.
The smaller your prize, the less you should ask people to do.
Example: Anytime we run a giveaway, and in the case of Perry's, we always keep it to one platform. Never, I repeat never, ask your followers to take action on more than one platform. For example, if you're hosting a giveaway on Facebook, don't make them "like" your page and then also go follow you on Instagram. This time around we required people to "like" Perry's Facebook Page and share the giveaway image. Boom and boom, both done on the same platform as the contest. If you have people going from Facebook to email to Instagram to your best friend's uncle's house in order to enter, imagine that you'll lose 50% of people at each new step. Don't be *THAT* person, ok?
5. Make sure whatever you require promotes virality
This one is also very, very important. Okay, they all are. The point of your giveaway is to get as many people as possible to enter, right? So make sure your actions match up with your goals. By asking people to either 1. share your post, or 2. tag two or three friends in the comment section, you're promoting engagement which will cause the post to go viral across Facebook on some level. News of your giveaway will start to spread without you having to lift another finger.
6. Lift another finger – additional promotion goes a long way
Make the most out of your giveaway – you're already going to great lengths to make this thing happen, and you're giving away a sweet prize (see bullet #1), so a little investment can and will go along way here. Boost your post, run ads about the giveaway, collaborate with local influencers to spread the word – the world is your oyster.
Example: On top of us sharing the Perry's contest on our Facebook and Perry's sharing that post to their followers, Perry's ~also~ did further promotions of the contest through additional Step Out Buffalo channels. They dedicated a Partner Tip Email Blast to the contest, an Instagram and Twitter Social Share, a Homepage Banner, and On-site ads. These additional advertising items accomplished the following: 1. reaching even MORE people. Duh. 2. reminding people who may have seen the contest but didn't engage the first time 3. further strengthening the good brand image that the contest promotes.
7. Tweak
The most important piece of our marketing puzzle is tweaking. The need for experimentation, trial and error, and sometimes complete and utter failure is the key to finding success. So don't just listen to us, listen to the market.Let your followers tell you what's working and what's not, and then adapt to capitalize on it!
Example: This isn't Perry's Ice Cream's first rodeo. During past giveaways they noticed that offering to ship the product to the winner's doorstep made a big difference in the results of the campaign as opposed to the winner getting free cartoons of ice cream at the grocery store. Who woulda thunk it!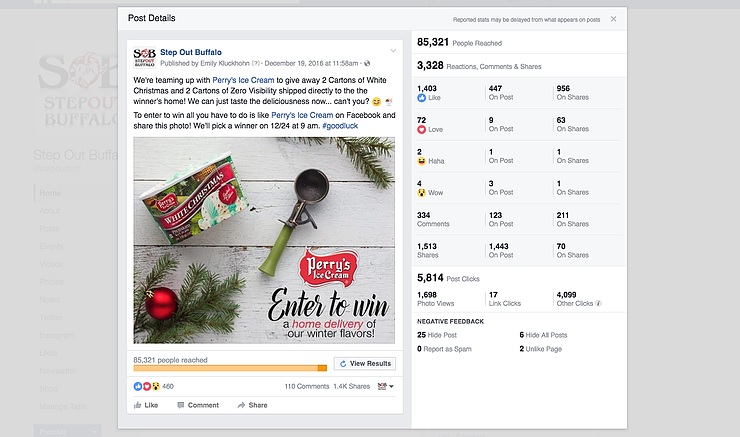 The End Result:
By the end of the contest, the Perry's giveaway post we shared on Step Out Buffalo's Facebook page reached 85,321 people on Facebook alone and had 1,513 shares, 110 comments, and 460 reactions – which means a total of 11,513 people entered to win. Comments on the post were positive and reinforced people's good opinions of the brand. The winner of the contest was excited about winning and had nothing but great things to say all around, and will likely go on to spread the good word about Perry's to all those who will listen. She'll be screaming for and about ice cream y'all.
While no one can guarantee results, we're willing to bet your giveaway can only benefit from these 7 tips. So give 'em a shot. Happy giving!
______________________________________________________________________________________________________________________________
Want to know more about promoting your business on StepOutBuffalo.com? Contact us!
At Step Out Buffalo, we help businesses promote themselves and their events on our website, email, and social media channels. Our team is comprised of experts who know exactly how to make your business or event stand out, and we'll put you in all the right places so you get noticed by all the right people. Hit us up if you'd like to learn more about our business and/or events-based promotions – there's a reason 94% of our readers go places they've seen on StepOutBuffalo.com