Updated: July 2022
Social media rules the marketing world right now. The challenge? Social media is always changing, especially Instagram.​
Instagram is always adding new features. As Instagram continues to grow in popularity, keeping up is becoming more and more important.
First and foremost, if you're not already posting Instagram Stories regularly… what are you waiting for? More than 500 million people around the world use Instagram Stories on a daily basis and it's a great way to increase your ROI. Need some inspo? These local businesses are consistently creating A+ Instagram stories and you can too.
As a business it's important to make sure you're keeping up with what your followers are using – and expecting from you – on Instagram. Instagram has so many great features, so when you're creating content use them to your advantage!
Here's the 8 Instagram features you should definitely be using right now:
1. Geo Tags
When you geotag a photo, you are pinning a geographic location to that image. For feed photos, this means whenever someone searches for photos taken in a specific location, your geotagged photo will show up. Pro-tip: If you have a brick-and-mortar business this is particularly helpful because it shows your followers exactly where to find you on a map!
Geotags are important in more than just feed photos – you can and *should* use geotags in Stories, too. When you tap the Stickers icon, nearby locations will automatically generate. You can choose a specific location like Artpark or a broad area like Lewiston, NY to appear in Stories happening in that same geographic area. Why is this important? This helps you get in front of new people who might not know about your business, and those people can turn into followers and then paying customers.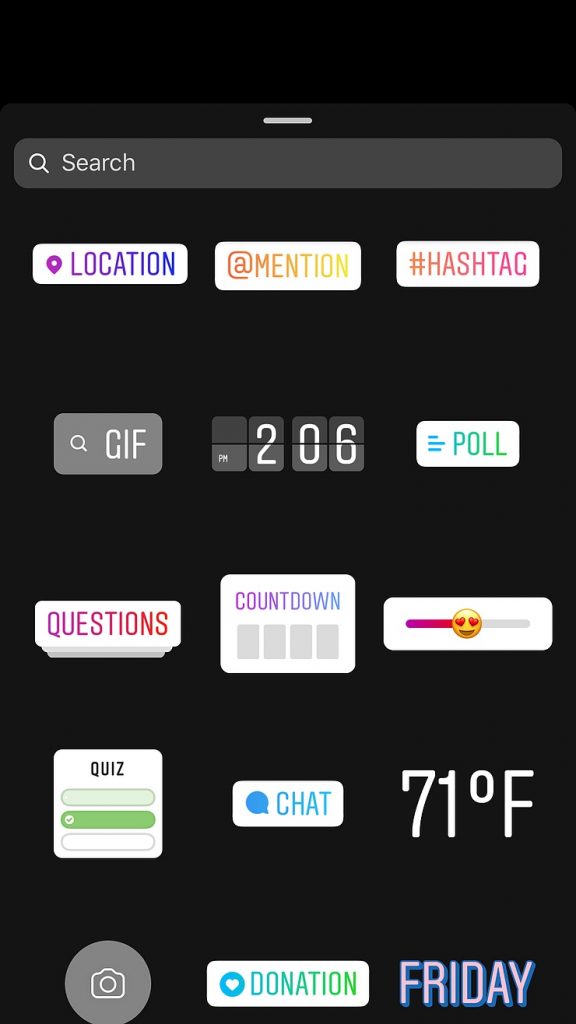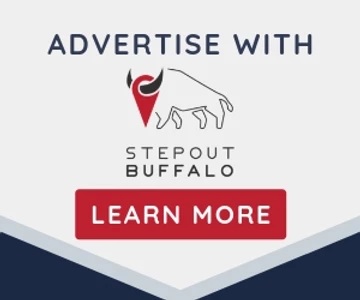 2. Mention Stickers
This one's super easy to implement. A Mention sticker lets you tag other personal or business Instagram accounts in your Story. The account(s) you tag will automatically be notified in their DMs aka you'll get their attention, plus it gives the tagged account the option to easily re-share your Story post to their Story. Why is this important? Because then you'll have your Story reshared on their account, reaching new potential customers who may not have known about you.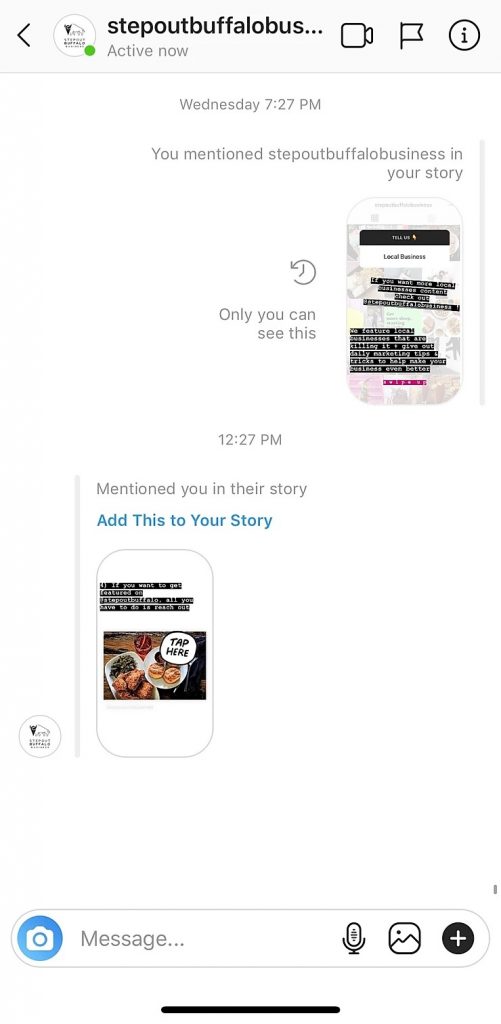 3. Question & Poll Stickers
Engagement is everything on Instagram (find out how to use it to your advantage here!). One of Instagram's most fun features are its Question and Poll Stickers, which encourage engagement by letting you ask questions or take polls in your Stories and allowing followers to ask and answer anonymously.
If you have a simple "yes or no" or "this or that" question, use the Poll sticker. For open-ended questions, use the Questions sticker. You can encourage followers to ask you questions, with an "ask us anything" post. Or you can pose your own questions, collect responses, and share them to your Story. Why is this important? It lets your followers feel 'heard' and connects them to you and your brand on a deeper level.
For example, we recently asked our followers about the guides they would like to see next on Step Out Buffalo. Not only did this give us valuable information, but it also let us engage with our followers in a fun, personal way. Pro-tip: This is just one of the many ways brands can provide value on social media!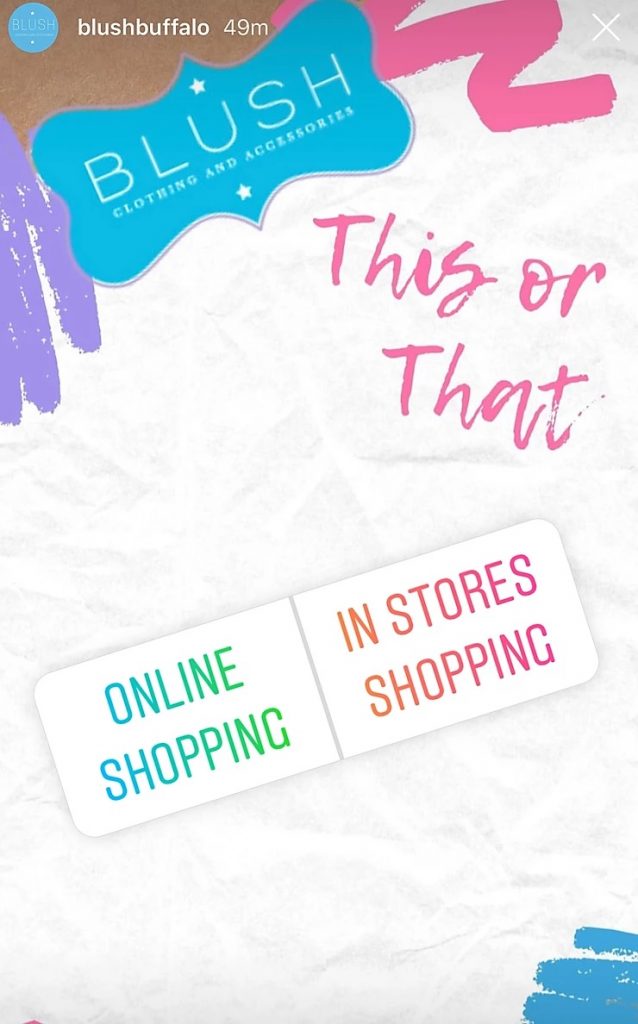 4. Share Feed Posts
Did you know you can share posts from your account to your Story? This is a great way to promote your own new feed posts and repurpose old posts as Story content. You can also share and promote content you love from other accounts if you want to share some inspo or let other accounts know you're thinking about/promoting them! Why is this important? 1) It helps you share your own posts that your followers may have missed, and 2) it gives you great content for when you want to share a Story but don't know what to say, or when you want to share how other people are posting about your business on their accounts.
How do you do it? Simply tap the paper airplane button below the feed post and you'll see the option to add the post to your story. P.S. You can add text, tags, gifs, and stickers to these posts too.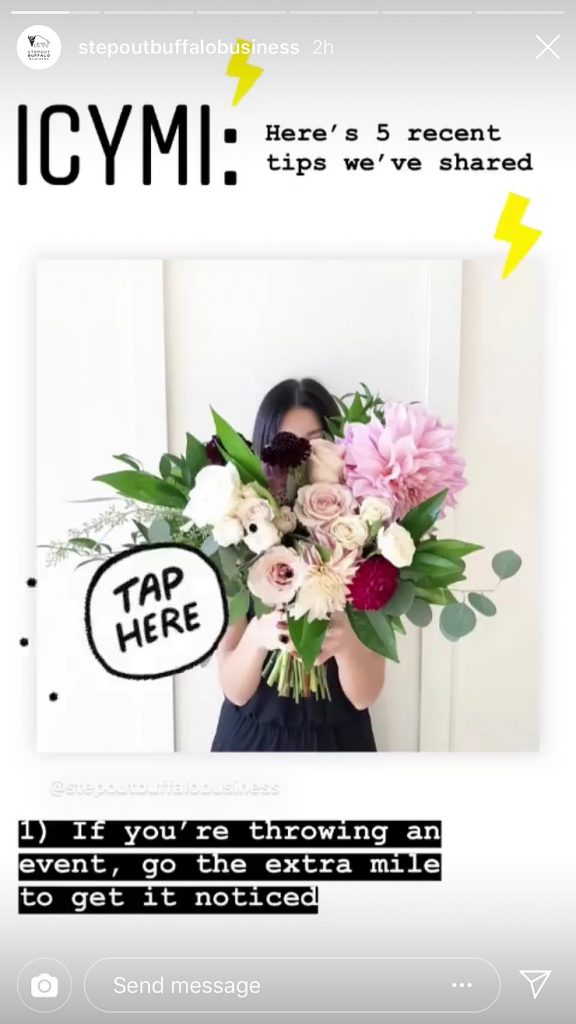 5. Shoppable Posts
Instagram may have started as a casual social platform, but it's become a full-scale sales channel for businesses. Shopping on Instagram is 100% trending right now, so if you sell physical products online start using this feature ASAP.
Creating shoppable posts may require a little more legwork, but it's worth it. This feature allows users to complete their entire shopping journey without ever leaving the Instagram app. You can also post photos of your products with direct tap-to-buy information of what it is and how much it costs. It's a serious game changer for e-commerce businesses across all industries, and Instagram users are using this feature like crazy. Why is this important? It's another easy way to use your Instagram to make money. Duh.
Here's how it works: Once you have your product catalog connected to your account, tagging products is as easy as tagging people in feed posts. There's also shoppable stickers for Instagram Stories, which works the same way as shopping posts except it's in your Story. BTW this feature is available to any business selling physical products, no minimum follower count required. If you're still a little lost here's a helpful how-to!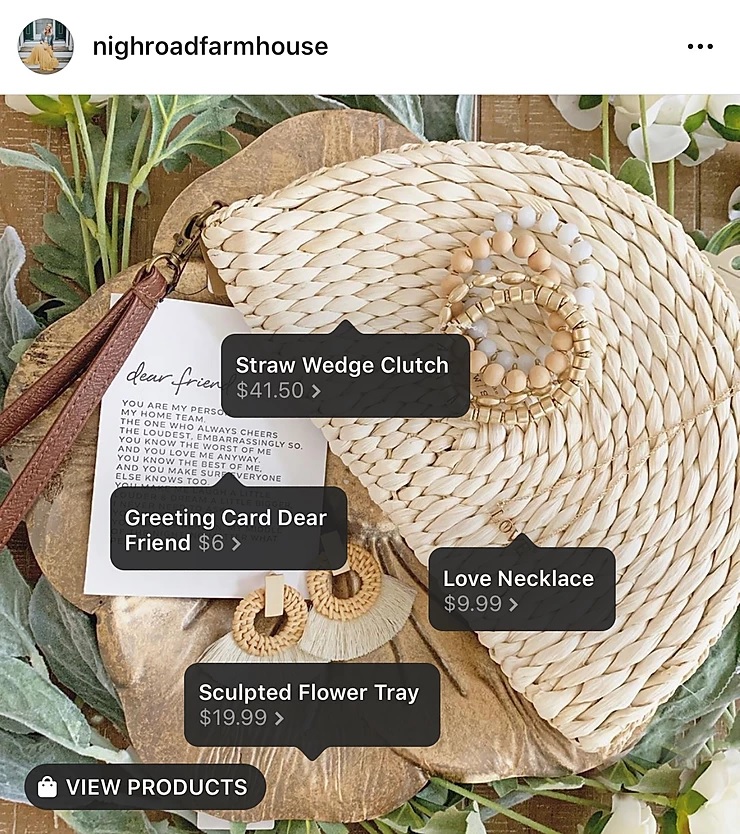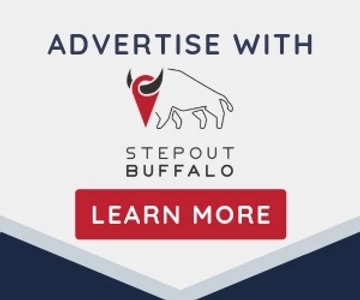 6. Story Highlights
Instagram Stories disappear in 24 hours…that's just how they work. Luckily thanks to Highlights, there's a way to help your Stories live on forever. With highlights you can create customized collections of Instagram Stories from your Archive that are displayed front and center on your profile. Simply choose which content topics you want users to see, go into your Story Archive, select which Story slides you'd like to highlight, and voila. You can easily switch your Highlights up whenever you want and organize them in categories, simply go into your Archives or your current Highlight reels and tap around. Here's a quick how-to!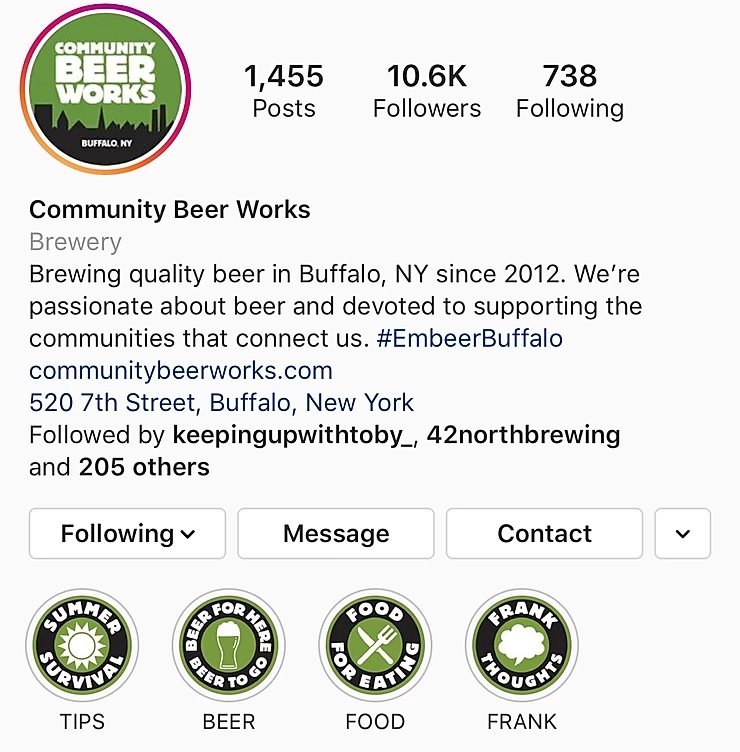 7. Story Links
Now that everyone has the ability to access this insanely valuable feature — you should 100% be using link stickers in your Stories. You can officially skip the "check the link in my bio" step and speed ahead to directly linking to URLs, letting users simply tap a button to get to the attached link. And yes, you can include multiple links in a single Story (each Story slide can have its own link!)
Why is this important? The Link Button feature in Stories is one less barrier to have to deal with when trying to get people to your website. The easier this is for your followers, the more likely they'll be able to do it. You can link to your website, product pages, or anything else you want – all of which increase your changes of driving traffic and making sales.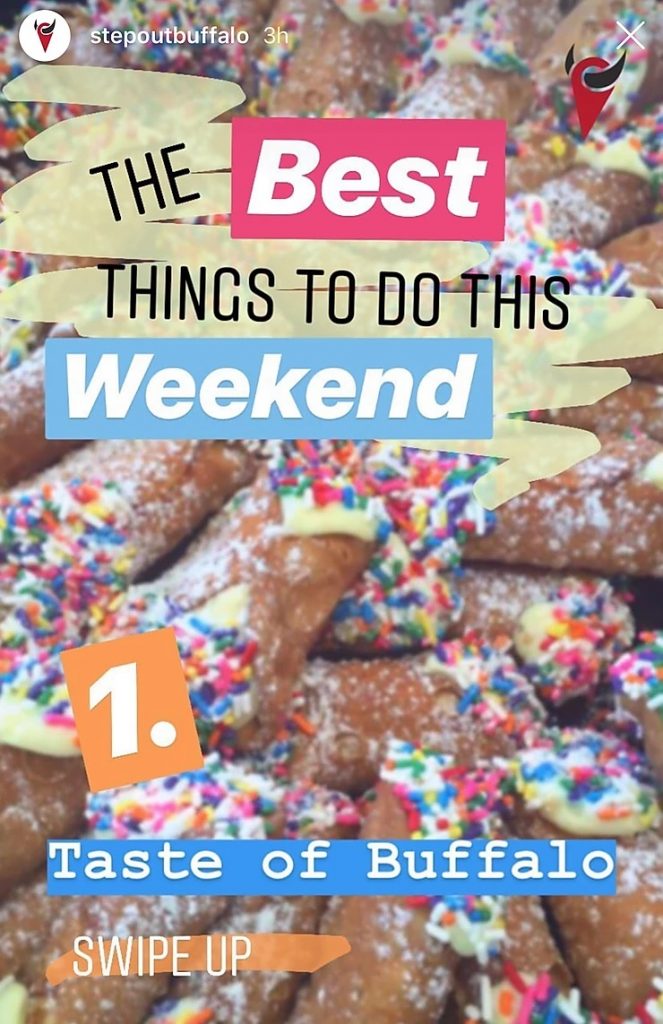 8. Insights
Instagram Insights are important for tracking what's working and what isn't. This feature is only available to business profiles, so first things first make sure your account is set up as a 'Business' account and not a personal one.
Once you hit 100+ followers, you'll be able to see how people are engaging with your account. You can track the number of profile clicks, website clicks, your reach, and your impressions for the week. You can also see things like audience demographics and the days and times when your followers are most active.
Why is this important? This can be super helpful as you plan ahead and create your content calendar, as well as in the future if you choose to do paid promotions. Plus when you look at what's working and what's not working, it lets you see what type of content your followers do and don't want to see, allowing you to make better, higher engagement-worthy content down the road.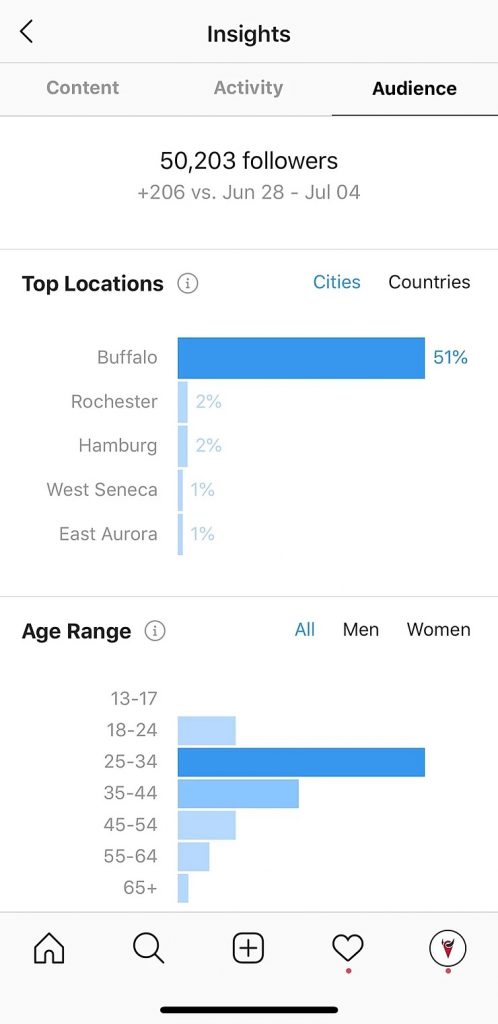 The Takeaway:
TLDR; there's more to Instagram than most people realize. Our advice? Stay up to date on the latest features and use them to boost your business.
Looking for more helpful content about social media? Check out our other articles here for free tips & tricks!
______________________________________________________________________________________________________________________________
Want to know more about promoting your business on StepOutBuffalo.com?
At Step Out Buffalo, we help businesses promote themselves and their events on our website, email, and social media channels. Our team is comprised of experts who know exactly how to make your business or event stand out, and we'll put you in all the right places so you get noticed by all the right people. Hit us up if you'd like to learn more about our business and/or events-based promotions – there's a reason 94% of our readers go places they've seen on StepOutBuffalo.com