Now more than ever, Instagram has become a great (and popular) tool for small businesses.
Later.com recently published an article that dives into the biggest Instagram trends and app releases from last year and makes predictions of which ones will continue to grow in this year. PS: If you don't know what Later.com is, check out this love letter we wrote explaining how we use it here at Step Out Buffalo!
Each of these trends and features are great ways to grow your presence on the app organically, as Instagram is weighing them more heavily on their algorithm (which means more exposure for you)! Another reason to make sure your business is using these? So you don't get left in the dust. As consumers evolve so does their desire to follow businesses that are in the here and now. Stay ahead of the curve to keep up with consumers and their needs and they'll be more likely to do business with you!
Without further ado, here are the Instagram trends & features that your business needs to be using right now:
1) Instagram E-Commerce Tools
Brands and creators have hopped on the wave of using Instagram Shop, Instagram's new ecommerce features that rolled out in 2020, to promote their business and products. Instagram is transforming from a social media app for people to share their personal pictures into an e-commerce platform for consumers to one-stop shop and businesses to promote and monetize content, which is great for small businesses as it creates a new revenue source.
Besides Instagram Shop, the app has had several e-commerce tools that businesses have progressively started using such as:
Shoppable posts
Stories stickers
Shopping from Creators
Instagram Checkout
Live Shopping
Later predicts "more features rolling out [soon] that'll turn Instagram into a one-stop shop for everything — from advertising and selling your products to connecting with your community", adding "[w]hat was once an app for sharing pretty photos is becoming a full-scale e-commerce platform for brands and creators to monetize their content. We don't think Instagram will slow down anytime soon." You love to see it.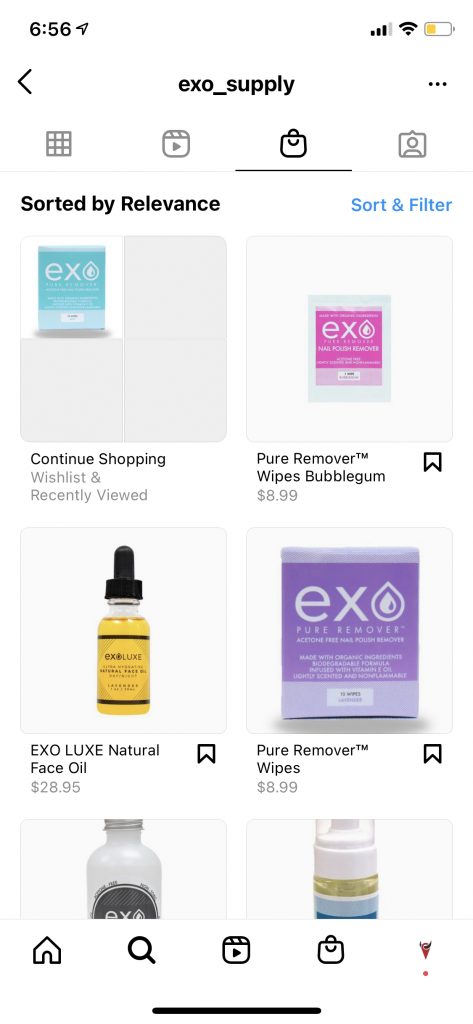 2) Short Form Video Content & Reels
Another new feature on Instagram is Instagram Reels! Inspired by the popular TikTok app, which blew up while people were stuck in quarantine, Reels is Instagram's way of getting in on the hot trend of short-form vertical video content. "With Instagram Reels, brands and creators can create educational content, showcase their products or services, and have fun in a creative way" says Later.
Businesses that jump into Instagram Reels will see an increase in your brand's reach – and maybe score some viral content! What are some ways your business can use Reels? According to Later, "With Instagram Reels, brands and creators can create educational content, showcase their products or services, and have fun in a creative way."
Check out the views on some Reels we've shared on Step Out Buffalo, which are on average 10-50x higher than views we saw with regular video posts and IGTV.
3) Instagram Carousel Posts and Memes
Shareable, saveable content a great great growth hack for Instagram as these types of content encourage users to interact with your posts in ways other than likes. One great way to increase your likelihood of getting saves and shares are carousel posts, or multiple slide-feed posts.
Carousel posts are exactly the kind of content that has been blowing up recently on Instagram, and it doesn't hurt that posting multiple images at the same time also increases the likelihood of reaching more people (Instagram shows these posts twice in people's feeds if they don't interact with them the first time!).
One idea for carousel posts: Education. "Creating educational carousel posts can increase engagement and reach as your community is likely to save them (and come back to them later), or share them with their own followers", says Later. Our tip: Education can be about anything! Educate followers on your services, new products, the benefits of ingredients you use, new menu items, and more.
4) Diversity and Inclusivity
Social activism from the general population and brands/businesses skyrocketed in 2020, and Later.com predicts this will carry on in the future. Brands, now more than ever before, are taking accountability and actively changing their ways towards a brighter, more inclusive future. "
According to Later, "Diversity and inclusion is an overdue conversation in social media marketing and we predict it'll be a priority for many brands [now] (and beyond). The goal should be to incorporate diversity and inclusion into all aspects of your business — from corporate HQ, to accessible social posts, to the influencers you collaborate with."
What can your business do? Look for ways you can increase your representation and accessibility in all ways. Make sure your content showcases the diversity of our City, add captions to your video content, be inclusive when it comes to working with influencers, start using alt text. Think of the ways your business can do better both internally and externally, and then make it happen!
5) Influencer Marketing
This one also isn't a "feature", but it's definitely a prominent part of Instagram! Later reports that "Influencer marketing is on track to become a $15 billion dollar industry by 2022, which means one thing: influencers are here to stay."
Considering Instagram's new e-commerce tools and their availability to both businesses and creators, Later predicts a lot more brand-influencer partnerships coming up. As traditional advertisement forms lessen (especially with Covid causing a decrease in traditional ad mediums), Influencers on social media have become an efficient, cheap, and overall great place to market your business directly to consumers.
Pro-tip: Consider working with nano influencers (aka influencers with less than 10k followers). They oftentimes have much more engaged followings, and they're more likely to want to work with small businesses who have smaller marketing budgets!
6) Authenticity in Captions and Posts
"Authenticity on Instagram has been a growing trend, and we predict it'll blossom even further [moving forward]." says Later. "This year saw more and more influencers use their platforms to share less curated and filtered content, and speak about topics such as loneliness and self-esteem."
People and businesses turned to social to openly talk about their struggles and their triumphs. It further cemented the move away from perfectly polished posts and made way for realism and topics that are less glamorous or comfortable to talk about. In WNY we saw a lot of businesses open up about their struggles with Covid, which created more community support and increased their relationships with consumers.
7) Instagram as a Microblogging Platform
When it comes to this trend, Later notes that "Fohr reported in 2019 that the average caption length has more than doubled since 2016" and that "many creators use Instagram as a place for longer content".
A few benefits of microblogging on your Instagram captions? "Not only does the long-form caption mean her community spends more time reading (and engaging with) her content, but it encourages them to leave comments and share their own stories", says Later. When people spend more time reading and engaging with your content, it triggers the Instagram algorithm to show your content to more people, as it interprets the increase in time spent and activity as interest (and therefore thinks that others will be interested, too!).
Besides long-form captions, the new Instagram Guides might be an indicator that this trend is worth jumping on. "It's still a new feature but if Instagram adds more features like "saves", there could be a strong use case for Guides becoming the go-to tool for educating your community, sharing recommendations, and using it as a mini-blog" Later says.
Long story short (see what we did there?): This seems to be just the beginning of microblogging through Instagram.
8) Virtual Brand Activations and Events
This trend was definitely born out of the Covid pandemic – or at least catapulted by it. As noted by Later, "2020 was the year of virtual events, virtual conferences, and our favorite — Instagram Lives."
With in-person events still on hold for the foreseeable future, Instagram Live has created a space for businesses and brand communities to come together no matter where they are, and even provides the opportunity to expand to people who have never heard of your business before. Another pro: Virtual events also cost significantly less, which can be helpful for small businesses with limited budgets.
There you have it! The 8 Instagram trends & features your business needs to be using *right now*. Check out the full article from Later here, and happy Instagramming!