Photo courtesy of PLAY/GROUND
PLAY/GROUND was created as a weekend-long series of events, featuring curated, site-specific installations by contemporary artists with a focus on the experimental, immersive, and ambitious.
The first event took place in 2018 as a weekend-long art experience at the former Medina, NY high school. Curated and planned by Resource:Art, 30+ artists were invited each year to create groundbreaking installations, performances, and experiences. These ticketed events were a huge success with rave reviews from the public and press, sold-out opening nights, and huge crowds through the weekend. The event was repeated in 2019 with an even higher rate of attendance.
During the COVID-19 pandemic in 2020, the team decided to bring the experience outdoors with installations of art projects at sites across Buffalo including the Burchfield Penney Art Center, the Hotel Henry, and at Larkinville that were free for everyone who attended. The 2021 event also featured public art installations on display within a 10-mile radius that connects downtown Buffalo with the Broadway-Fillmore neighborhood and at four main locations: Central Terminal, Broadway Market, Matt Urban Center, and Canalside.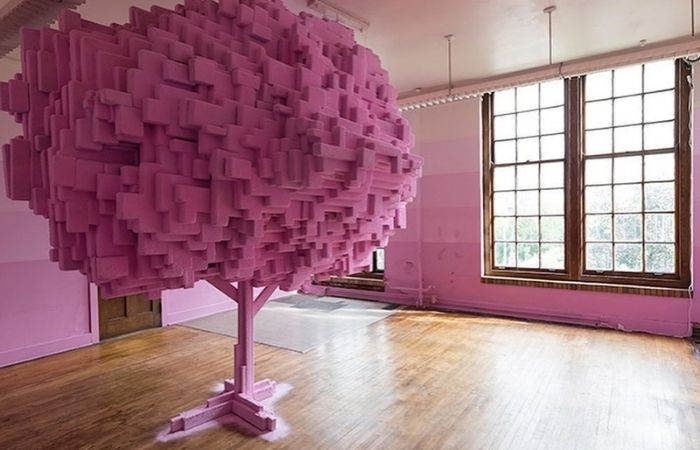 When PLAY/GROUND wanted to promote their 2021 event to a wider audience, they turned to Step Out Buffalo to help them achieve their goals. They purchased a Standard Event Package from our advertising options, which helped put their event in front of more than 35,000 people.
Q&A with PLAY/GROUND
What is the most important marketing tip you would give to someone just starting a business?
"Our attention spans were low before Covid trapped us inside. I think the amount of information coming at us in the virtual space just keeps increasing and getting more monotonous. If you can craft a great storyline for your event made predominantly with images and graphics I think you'll stand out. We're also big fans of consistency and countdowns. Reminding your followers of what is coming a week or two out using exciting imagery has worked really well for us."
What was your goal in working with Step Out Buffalo?
"Our arts community is super supportive but we really want to reach a broader audience through PLAY/GROUND and engage a younger audience too. We felt Step Out Buffalo could help us do that."
What did you like most in working with Step Out Buffalo?
"You guys are super creative in the way you share content. We were excited to be featured through your channels in a variety of ways."
Campaign Insights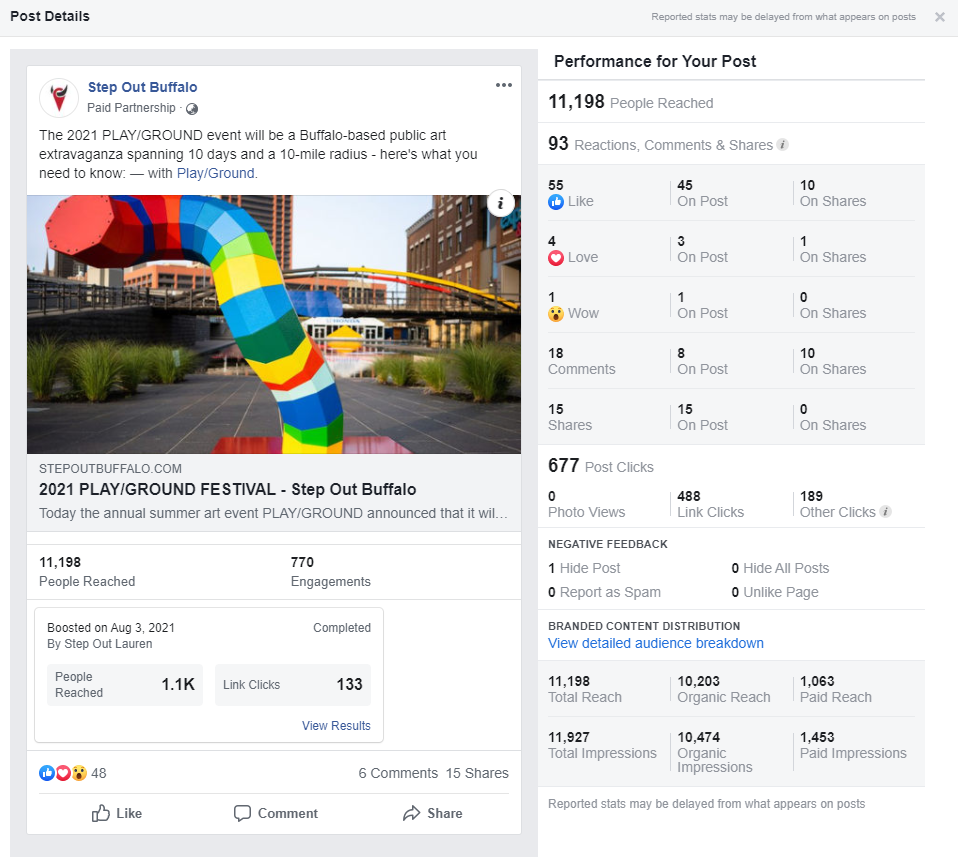 What They Got:
Standard Event Package| Includes an Email Event Listing, a spot in Step Out Buffalo's weekly Best Things To Do Email, a Sponsored Event Listing shared on Step Out Buffalo's website, and a Social Share of their event listing on Facebook and Twitter. This advertising package is ideal for selling tickets or boosting attendance to any exhibit, festival, event, fundraiser, or concert as it puts your event front and center to SOB readers who are actively looking for fun things to do in the Western New York area.

Reach & Clicks:
Email Event Listing:48,313 Sent, 9,362 Opens, 187 Clicks
Best Things To Do Email: 48,496 Sent, 10,050 Opens, 560 Clicks
Sponsored Listing: 3,930 Pageviews
Social Share: 11,198 Reached, 93 Reactions, 677 Clicks
PLAY/GROUND
Website: artplaygroundny.com
Instagram: @artplaygroundny
Facebook: facebook.com/artplaygroundny
---
Contact Us
Step Out Buffalo offers advertising options for local businesses throughout WNY. If you're looking for a creative and effective way to reach your target audience, let's chat. Contact us for more information on our advertising packages.