Buffalo Place is a business improvement organization that presents year-round special events.
This not-for-profit organization is dedicated to reviving the 24-block business improvement district that is Downtown Buffalo. Buffalo Place's goal is to encourage people to travel Downtown and to attract private and public investments.
If you're a long‐time Buffalonian, you remember Thursdays at the Square. In its absence, Buffalo Place was looking to carry on the tradition of T.A.T.S. and build an established event in Downtown Buffalo. The result was Thursday & Main, a free weekly outdoor happy hour and concert series located at Fountain Plaza complete with live music, local beers, and local eats in the summertime.
With the official kickoff approaching, Buffalo Place knew they needed a plan in place to spread the word, and they began working with Step Out Buffalo in June 2019.
Why Us?
According to Jackie Jonmaire, the Manager of Marketing at Buffalo Place, they decided to work with Step Out Buffalo for two reasons: our event marketing expertise and our large audience.
As a trusted resource for the best things to do in Buffalo, teaming up with us seemed like a natural fit. Plus, we've planned and hosted our fair share of successful events over the years including Buffalo Bloody Mary Fest, Whiskey Riot, Cork Head Wine Festival, and Makers & Shakers.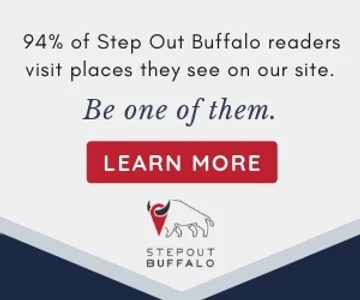 Campaign Deliverables
Buffalo Place purchased our Premium Event Package which is specifically designed for businesses looking to promote events in Western New York.
This package includes a Best of This Week event listing and Monthly roundup post on StepOutBuffalo.com as well listings on our social media accounts, in our email newsletter, and on the homepage of our website. It also includes 80,000 digital ads on our website, one On Our Radar article, one Partner Tip email, one High Brand email, one sponsored Instagram Story, and one Giveaway Hosting on our website and social media platforms.
Campaign Goals
Establish Thursday & Main as an after work destination
Fill a void between the old Thursday in the Square and Canalside concerts
Drive foot traffic to the event and raise awareness about the concert series
Campaign Data
Social Media Traffic
An active social media presence can help you stay top of mind with current and potential customers. On Facebook and Instagram, "People Reached" refers to how many people saw the post. On Facebook, "Post Engagements" refers to the number of people who liked, reacted, commented, shared, or clicked on the post. On Instagram" Profile Visits" refers to the number of people who visited the business's profile after seeing the post.
1) On Our Radar Post
On Our Radar articles help create an organic buzz. This type of sponsored content is a creative and engaging way to connect your business with our audience. These articles are published in the Sponsored section of our website and shared to our Facebook and Twitter accounts.
People Reached: 14,425
Post Engagements: Reactions, Comments & Shares: 157
Post Engagements: Post Clicks: 554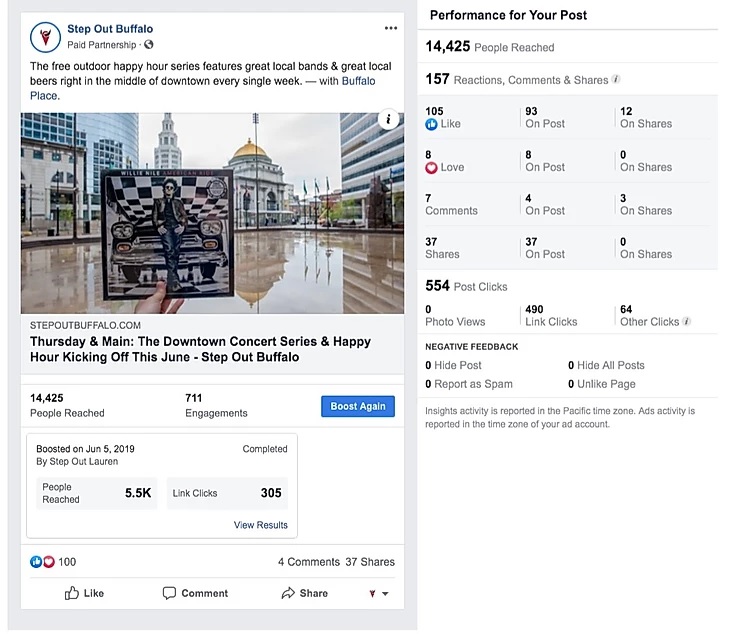 2) Facebook Giveaway
Hosting a Giveaway can increase reach, build relationships with consumers, boost brand awareness, promote your products, grow your following, and bring in extra revenue. Giveaways on Facebook require those who enter to provide their email address, which the business can use for their own email marketing efforts.
People Reached: 9,380
Post Engagements: Reactions, Comments & Shares: 54
Post Engagements: Post Clicks: 282
Email Entries: 100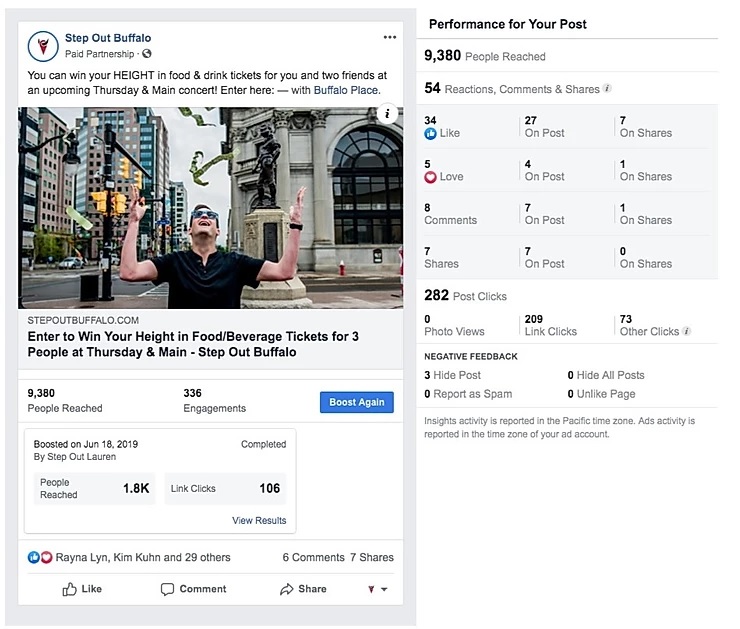 3) Instagram Giveaway
Giveaways on Instagram require those who enter to follow the business, which helps to increase the business's follower count on their own platform exponentially.
People Reached: 21,507
Profile Visits: 209
Website Clicks: 29
Calls: 28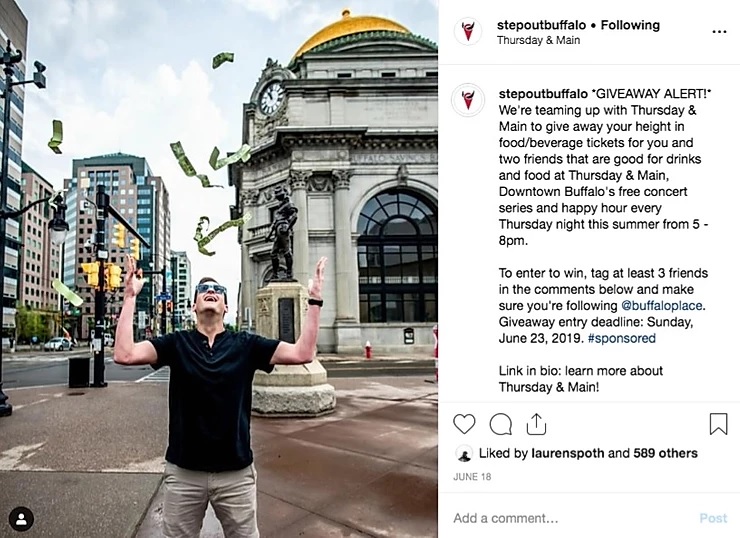 4) Live Facebook & Instagram Stories
Stories are all about in-the-moment, timely content since they disappear after 24 hours. They can include a combination of still and video content as well as interactive features. Stories increase general brand awareness and drive web traffic as the swipe up function is linked directly to the client's website.
Facebook
People Reached: 5,493
Reactions: 8
Clicks: 59
Instagram
Viewers: 4,259 (First Slide)
Interactions: 166 (Link Clicks, Shares, Profile Visits)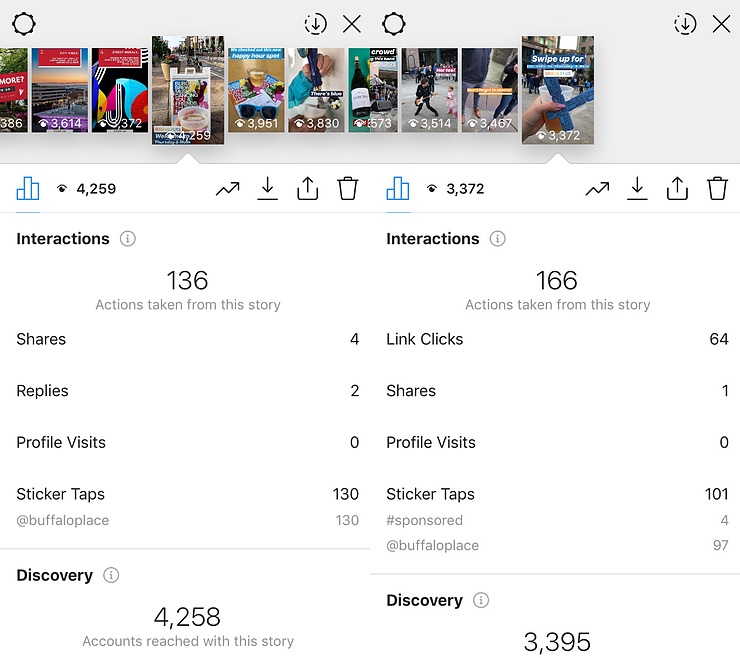 5) Email Newsletters
Partner Tips and High Brand Emails are sent to Step Out Buffalo's list of 50,000+ newsletter subscribers. With Partner Tips the subject and title of the email to the content and the ad presented in the email focuses on the client's topic of choice. High Brand Emails spotlight a client's brand.
Email opens refers to how many people opened the email and clicks refers to how many people clicked the link inside the email. Open and click rates measure subscriber engagement with email campaigns. Opens tells you how many times an email was opened by subscribers. Clicks tell you how many clicks to an external website were made.
High Brand Email
Partner Tip Email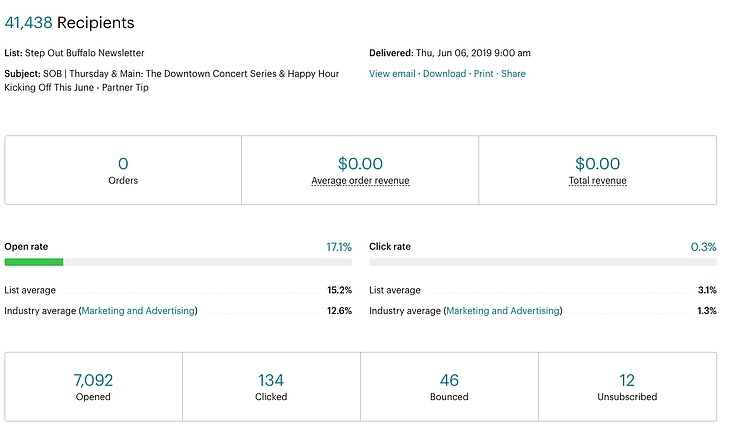 6) Sponsored Event Listing
Sponsored event listings help drive traffic to specific links. Page views are an important metric to pay attention to because they represent how many times a specific page is viewed. Throughout the course of their campaign, Buffalo Place published 10 event listings.
Total page views for these listings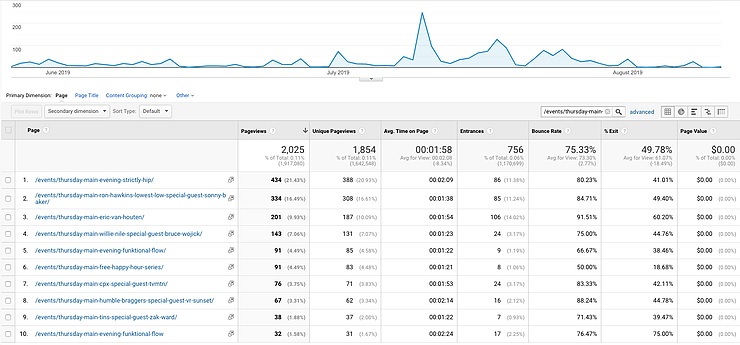 Client's Perspective
According to Jackie Jonmaire, Buffalo Place found each component of their marketing campaign with Step Out Buffalo to be effective in helping them reach their event attendance goals.
"Our account representative (Rick Fickhesen) is a priceless confidant, and his thoughtful placement and timing recommendations could not be more 'right on'. When our organization looks to make advertising investments, data-based decision making is the name of the game. Step Out Buffalo is our go-to, providing us with compelling data to make the best placement decisions for our events as well as a wealth of data-rich return on investment detail," said Jackie Jonmaire.
Step Out Buffalo's main target demographic is Buffalovers who love attending events and supporting local businesses, which is the exact people Buffalo Place was looking to reach, so teaming up with us just made sense.
Getting people to follow you in the first place and become interested in your events can be challenging. With a larger following, Buffalo Place is now able to spread the word about their future events to more people.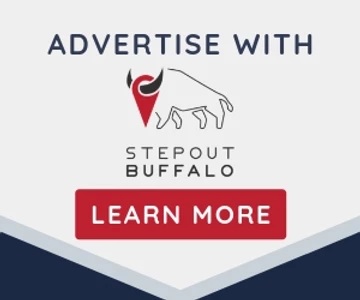 Contact Us
Step Out Buffalo offers advertising options for local businesses throughout WNY. If you're looking for a creative and effective way to reach your target audience, let's chat. Contact us for more information on our advertising packages.
______________________________________________________________________________________________________________________________
Want to know more about promoting your business on StepOutBuffalo.com?
At Step Out Buffalo, we help businesses promote themselves and their events on our website, email, and social media channels. Our team is comprised of experts who know exactly how to make your business or event stand out, and we'll put you in all the right places so you get noticed by all the right people. Hit us up if you'd like to learn more about our business and/or events-based promotions – there's a reason 94% of our readers go places they've seen on StepOutBuffalo.com