Dobutsu is a casual American Pacific restaurant located in Downtown Buffalo.
Dobutsu's desire to educate customers on their restaurant's offerings beyond seafood prompted them to begin working with Step Out Buffalo in November 2018.
According to Connie Roberts, the owner of Dobutsu, they decided to advertise with Step Out Buffalo for two reasons: affordability and number of followers. Dobutsu immediately saw a 600% increase in traffic to their Restaurant Listing following the launch of their first 6-month marketing campaign with Step Out Buffalo.
Campaign Deliverables
Dobutsu purchased our Shop Local Pro package, one of our packages that are specifically designed for local businesses in Western New York.
This package includes a Featured Restaurant Listing on StepOutBuffalo.com, one High Brand Takeover, 100,000 digital ads on our website, one On Our Radar article, one Partner Tip email, one sponsored Instagram Story, one Homepage Takeover, and one Giveaway Hosting on our website and social media platforms.
Campaign Goals
Increase customer base and drive traffic to social media and website
Create awareness of their location and proximity to downtown
Educate customers on offerings beyond seafood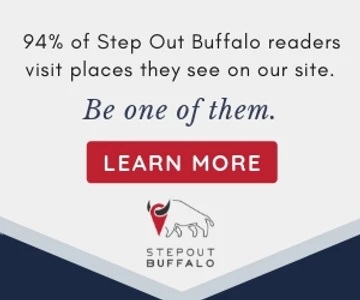 Campaign Data
Restaurant Listing Pageviews
Prior to the campaign Dobutsu's Restaurant Listing pageviews averaged 5 a day, with a peak of 10 views per day. When their Step Out Buffalo campaign began in November 2018, Dobutsu's pageviews gradually started to increase. By January 2019 their pageviews had increased to an average of 35 views, with a peak of 50 pageviews per day – a 600% increase in web traffic.
Pageviews spiked again when the Giveaway was posted in February 2019. Pageviews continue to stay above the average from before the campaign started.

Social Media Traffic
An active social media presence can help you stay top of mind with current and potential customers. People "Reached" refers to how many people saw the post on Facebook, while "Post Engagements" refers to the number of people who liked, reacted, commented, shared, or clicked on the post.
1) On Our Radar Posts
On Our Radar articles help create an organic buzz. This type of sponsored content is a creative and engaging way to connect your business with our audience.
Published January 2019
People Reached: 14,367
Post Engagements: Reactions, Comments & Shares: 193
Post Engagements: Post Clicks: 1,538
2) Facebook Giveaway
Hosting a Giveaway can increase reach, build relationships with consumers, boost brand awareness, promote your products, grow your following, and bring in extra revenue. Giveaways on Facebook require those who enter to provide their email address, which the business can use for their own email marketing efforts.
Published February 2019
People Reached: 8,421
Post Engagements: Reactions, Comments & Shares: 61
Post Engagements: Post Clicks: 321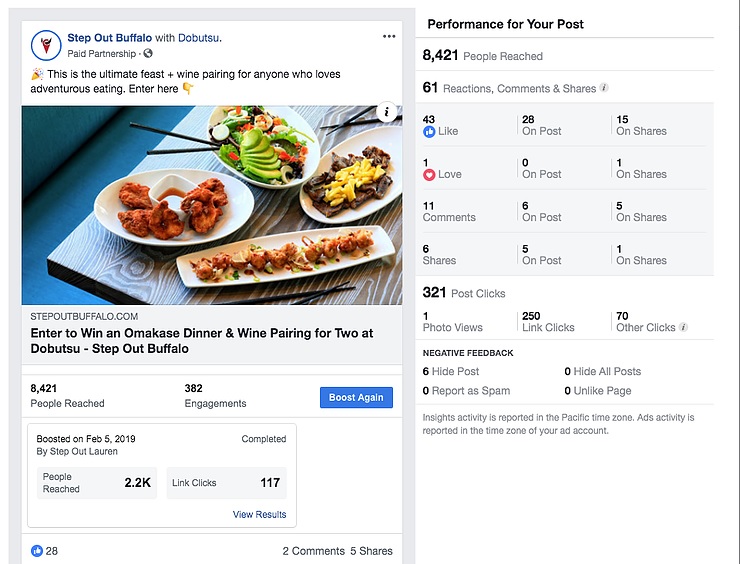 3) Instagram Giveaway
In addition to posting the Giveaway on Facebook, Giveaways are also shared on Instagram. Giveaways on Instagram require those who enter to follow the business, which helps to increase the business's follower count on their own platform exponentially.
Published February 2019
People Reached: 18,365
Post Engagements: Reactions, Comments & Shares: 885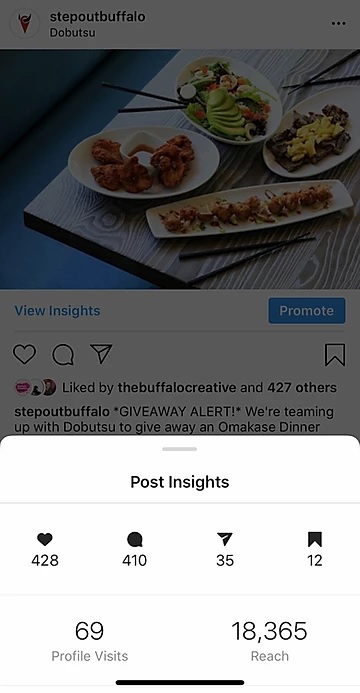 Client's Perspective
Short-Term Results
"Any time you posted something, we saw higher hits on our website. We also saw an increase in reservations within a week or two," said Connie Roberts.
Dobutsu immediately saw an increase in website traffic and social media engagement. This translated into more foot traffic for the restaurant.
Long-Term Impact
"Once you get them to follow you and continue to engage with you, they come in later after the advertising is over," said Connie Roberts.
Getting people to follow you in the first place is a huge obstacle. With an increased following, Dobutsu was able to reach more people and continue to keep them engaged even after the campaign ended.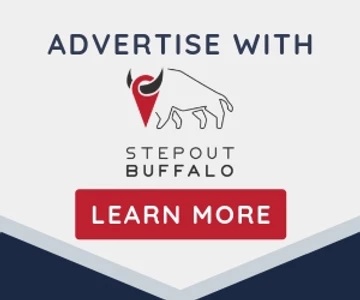 Contact Us
Step Out Buffalo offers advertising options for local businesses throughout WNY. If you're looking for a creative and effective way to reach your target audience, let's chat. Contact us for more information on our advertising packages.
______________________________________________________________________________________________________________________________
Want to know more about promoting your business on StepOutBuffalo.com?
At Step Out Buffalo, we help businesses promote themselves and their events on our website, email, and social media channels. Our team is comprised of experts who know exactly how to make your business or event stand out, and we'll put you in all the right places so you get noticed by all the right people. Hit us up if you'd like to learn more about our business and/or events-based promotions – there's a reason 94% of our readers go places they've seen on StepOutBuffalo.com