Opening in the fall of 2020, the Hartrich Château is a wedding and event venue located in Corfu – just outside Batavia and a little north of Darien Lake.
Owners Jeff Hartrich and Tia Reding-Hartrich were looking to increase the visibility and brand recognition of their newly minted hospitality venue, and they naturally turned to Step Out Buffalo.
Their first Instagram post was shared on August 27, 2020, and when they started working with Step Out Buffalo their account was hovering around 300 followers. Two months later they're boasting well over 1,200. The secret? A well thought-out and well rounded advertising plan that utilizing Step Out's various channels and organic voice to reach the right audience.
"Before we even had our business, I looked to Step Out Buffalo for the inside scoop on what's going on in Western New York; you know, all the cool events in Buffalo and cool new businesses," she recently told us. "I was technically a user of Step Out Buffalo, so it seemed like a perfect place to go to when starting a new business."
The Hartrich Chateau is a Charles Burchfield painting come to life: swaths of watercolor countryside reaching up to touch wispy halos of light blue sky. While soft-focus Instagram shots should allow the natural beauty of the estate to sell itself, Reding-Hartrich said starting with a strong marketing campaign was an essential part of their startup strategy. She added that a particular point of focus was gaining a strong social media following.
"If people don't know you exist, how well are you going to do?" she said, nodding to the cold realities of social media power in 2020. "So (Step Out) seemed like the perfect avenue to get exposure and let people know what we are offering."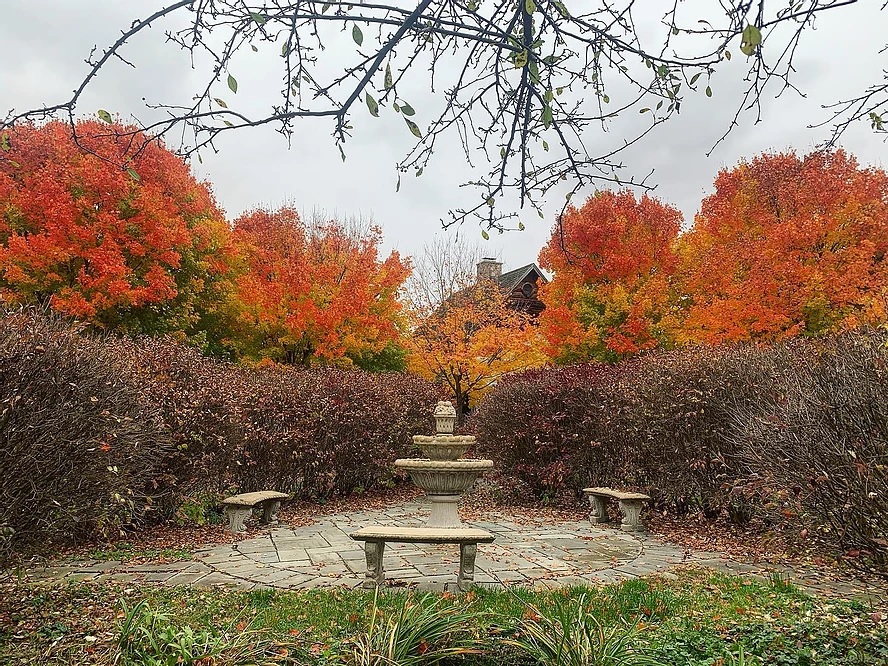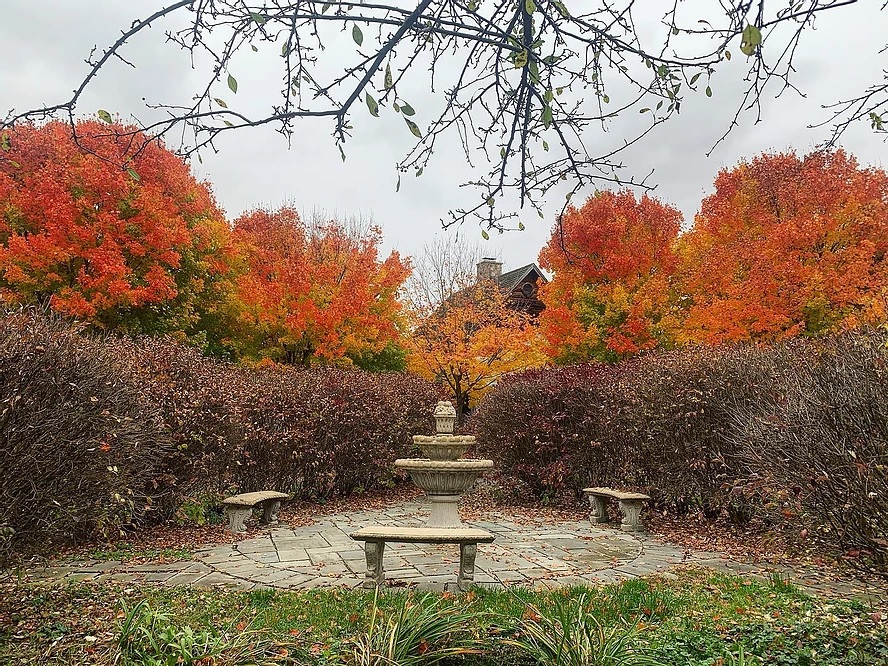 Photo courtesy of Hartrich Château
Campaign Deliverables
What ultimately became a winning campaign was achieved through our Instagram package, which includes email marketing, the hosting of a promotional giveaway, and live social media stories.
Campaign Goals
Promote new business
Provide a remote/virtual tour
Grow social media following
Showcase various amenities
Campaign Data
The raw metrics of the campaign included:
Email event listing – nearly 53k sent, nearly 7k opens and 58 clicks
Wednesday email – nearly 53k sent, 8k opens and 244 clicks
Social media posts – more than 6k reached, 21 reactions and 203 clicks
Giveaway hosting – nearly 13k reached, 180 reactions, 529 clicks, nearly 777 Instagram Likes
Live Instagram story – 528 Likes, 7 Comments
Live Facebook story – more than 13k reached, 84 reactions and 1,110 clicks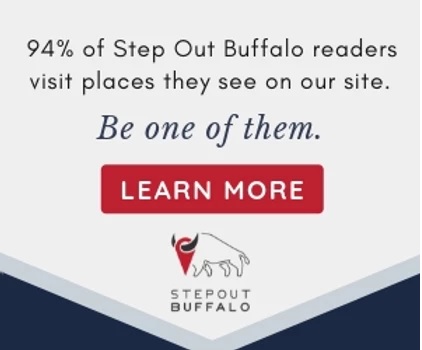 Here's How the Campaign Went for Hartrich Chateau
Given the current COVID-19 pandemic and its ramifications, one of the main goals of the campaign was to provide a chance to see the estate in a safe manner, and Reding-Hartrich said that was made possible through the live stories on Instagram and Facebook.
The campaign also achieved the goal of amassing a much bigger following on social media, and Instagram in particular.
"(The results) really validated the idea that having a big following and getting your name out on social media is not pointless," she said. "It certainly leads to good outcomes for a business. So, I guess the campaign just confirmed what I had suspected."
Like so many others that have advertised through Step Out Buffalo, Reding-Hartrich said the working and on-going relationship with Step Out Buffalo was a major positive to come out of the campaign.
"You could tell that they really had the business' best interest in mind during all of our interactions. And it's really great that they keep you in mind for any kind of additional promos they may have in the future. So even after the package we purchased was done, they didn't just write us off and they're happy to promote us further."
Here's a more in-depth breakdown of how items in the campaign performed:
Social Media Traffic
An active social media presence can help you stay top of mind with current and potential customers. On Facebook and Instagram, "People Reached" refers to how many people saw the post. On Facebook, "Post Engagements" refers to the number of people who liked, reacted, commented, shared, or clicked on the post. On Instagram "Profile Visits" refers to the number of people who visited the business's profile after seeing the post.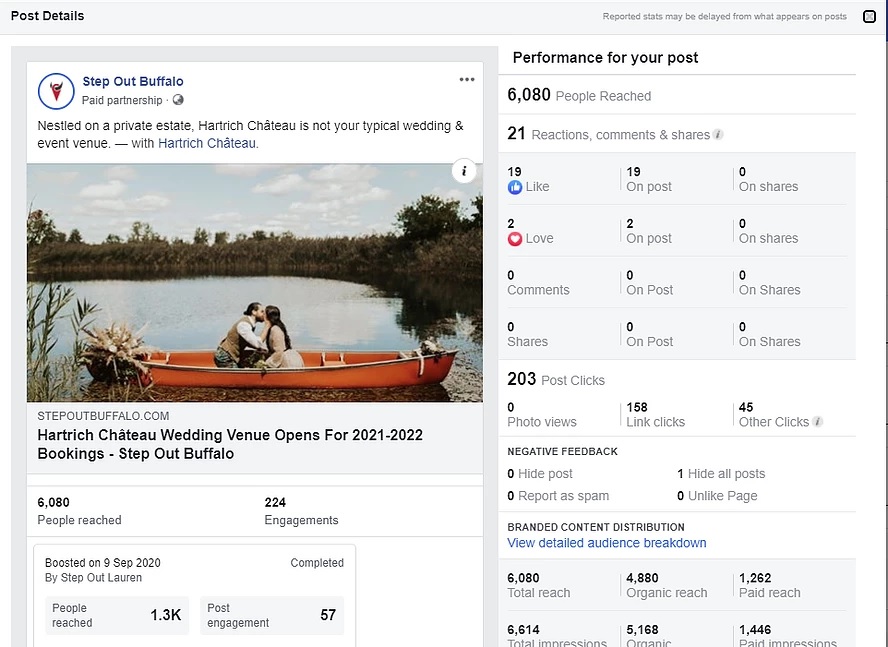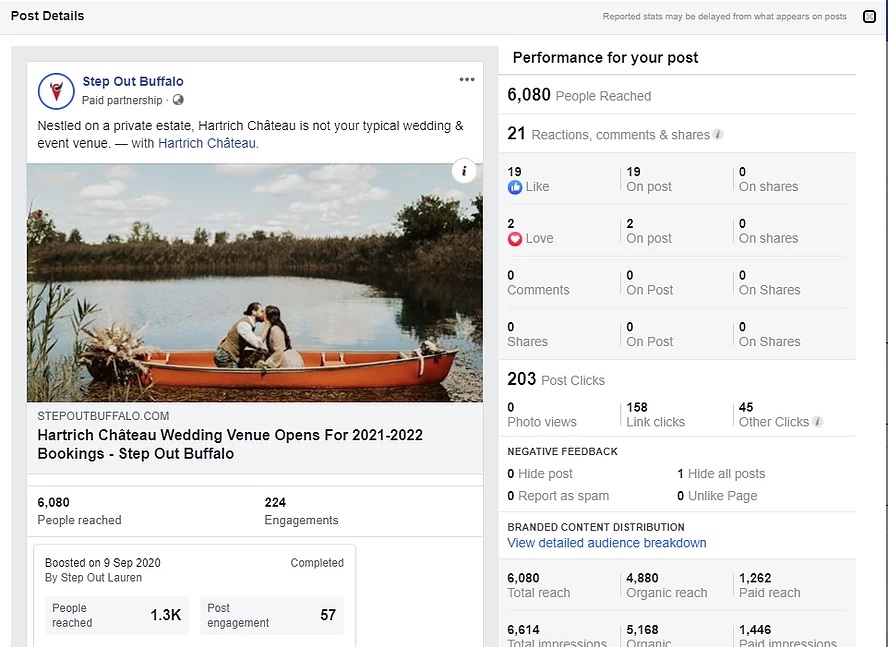 1) On Our Radar: Spotlight Post
On Our Radar & Spotlight articles help create an organic buzz. This type of sponsored content is a creative and engaging way to connect your business with our audience. These articles are published in the Sponsored section of our website and shared to our Facebook and Twitter accounts.
Combined totals for On Our Radar | Spotlights
People Reached: 6,080
Post Engagements – Clicks: 203
Post Engagements – Reactions, Comments & Shares: 21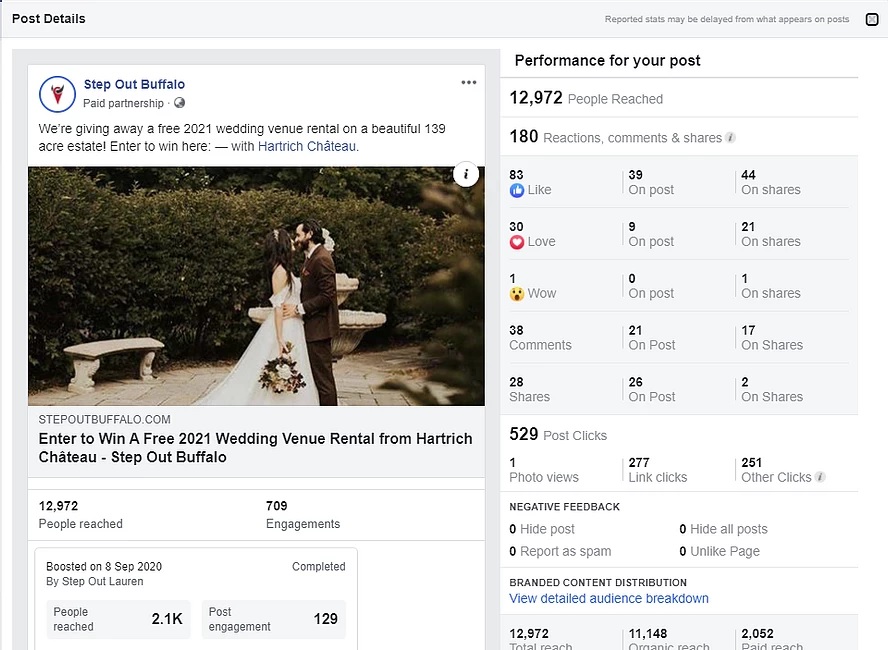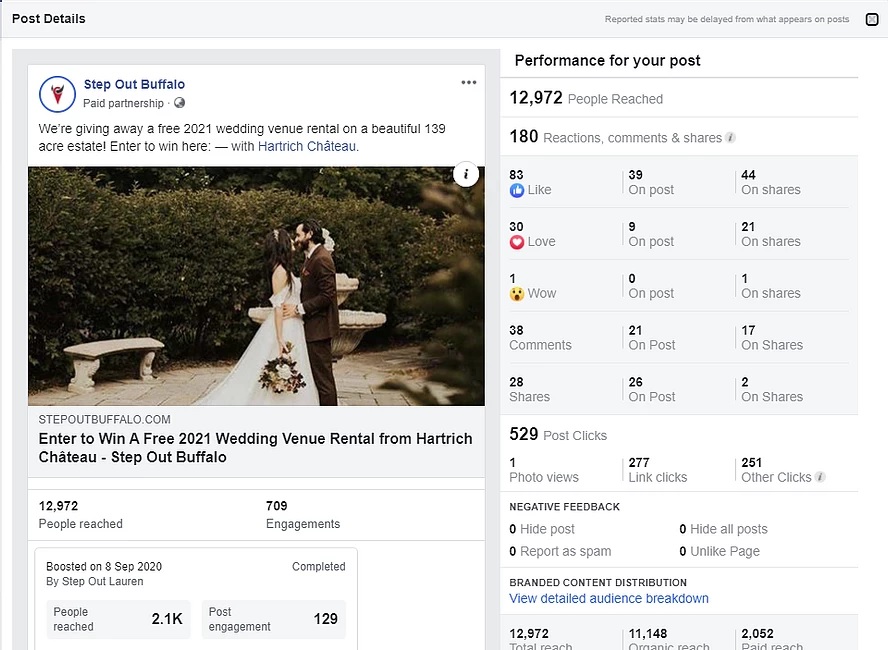 2) Facebook Giveaway
Hosting a Giveaway can increase reach, build relationships with consumers, boost brand awareness, promote your products, grow your following, and bring in extra revenue. Giveaways on Facebook require those who enter to provide their email address, which the business can use for their own email marketing efforts.
People Reached: 12,972
Post Engagements – Clicks: 529
Post Engagements – Reactions, Comments & Shares: 180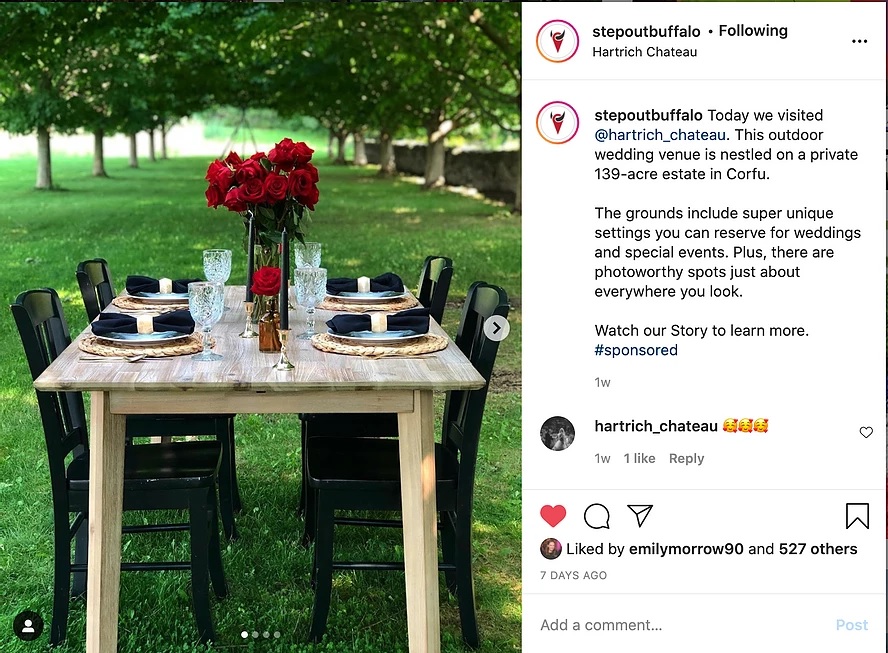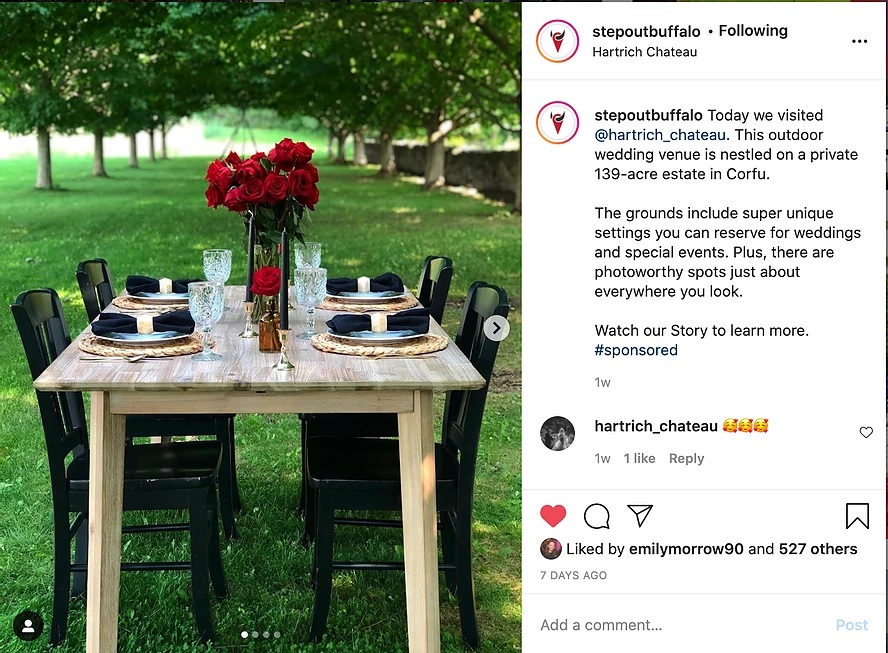 3) Live Social Media Stories
Stories are all about in-the-moment, timely content since they disappear after 24 hours. They can include a combination of still and video content as well as interactive features. Stories increase general brand awareness and drive web traffic as the swipe up function is linked directly to the client's website.
Instagram
Facebook
Viewers: 13,111
Clicks: 1,110
Reactions: 84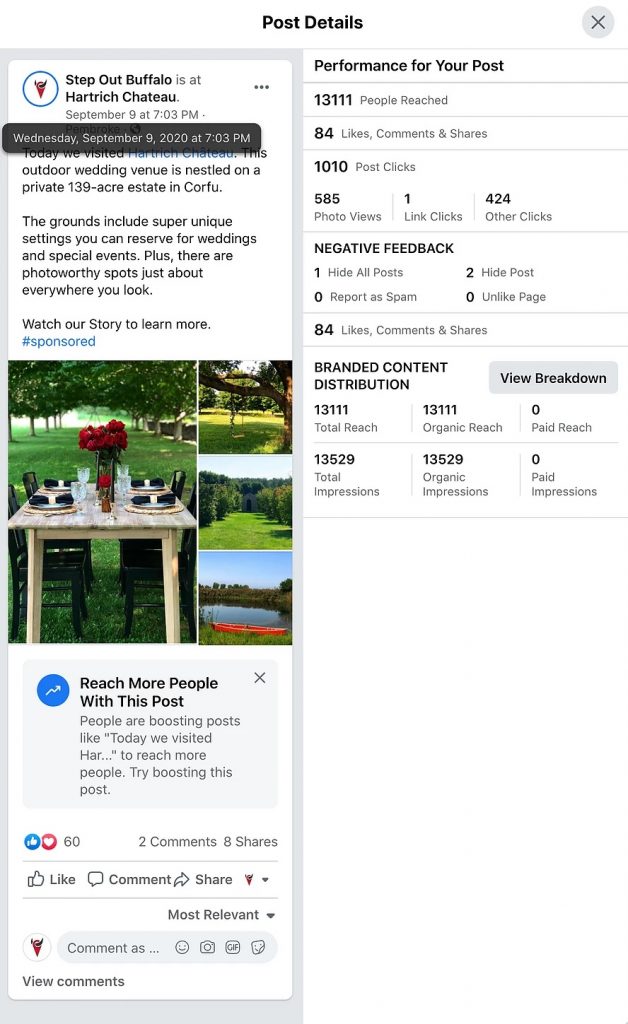 5) Email Newsletters
Partner Tips and High Brand Emails are sent to Step Out Buffalo's list of 50,000+ newsletter subscribers. With Partner Tips the subject and title of the email to the content and the ad presented in the email focuses on the client's topic of choice. High Brand Emails spotlight a client's brand.
Email opens refers to how many people opened the email and clicks refers to how many people clicked the link inside the email. Open and click rates measure subscriber engagement with email campaigns. Opens tells you how many times an email was opened by subscribers. Clicks tell you how many clicks to an external website were made.
Email Event Listing
High Brand Email
Contact Us
Step Out Buffalo offers advertising options for local businesses throughout WNY. If you're looking for a creative and effective way to reach your target audience, let's chat. Contact us for more information on our advertising packages.
___________________________________________________________________________________________________________________
Want to know more about promoting your business on StepOutBuffalo.com?
At Step Out Buffalo, we help businesses promote themselves and their events on our website, email, and social media channels. Our team is comprised of experts who know exactly how to make your business or event stand out, and we'll put you in all the right places so you get noticed by all the right people. Hit us up if you'd like to learn more about our business and/or events-based promotions – there's a reason 94% of our readers go places they've seen on StepOutBuffalo.com