Because of COVID-19, there hasn't been as much opportunity to step out and enjoy Buffalo. Like most companies, Step Out Buffalo pivoted to more of a "stay in" mentality and that different approach played a part in a recent advertising partnership with The Grid, a new apartment and mixed-use complex next to the Buffalo Niagara Medical Campus.
The main campus infrastructure is largely built out and the facilities on the campus have mostly been made operational by member institutions. Now, the campus is expected to shift away from being purely functional, as residential and recreational developments begin rolling out. The campus is expected to become not just a hive of treatment, research and innovation, but also of socialization.
Located within walking distance of the campus, The Grid is one development expected to play a big part in the area's next phase. Its modern living amenities, including collaborative workspaces, electric vehicle charging stations and a VR gaming area, are well-suited for many of the young professionals currently being drawn to the medical campus.
Campaign Description:
The main priority was increasing The Grid's overall exposure on Instagram. Their demographic are medical students and professionals that attend the nearby medical campus, and social media was the best place to get in front of them.
"Being a new brand, we wanted to create brand awareness within the community, and we thought Step Out Buffalo was the best for that," property manager Joelisa Lozada recently told us. "We did create a lot of brand awareness and that brought us leases, so that was awesome!
"At that moment, we couldn't do offline marketing for our target market, and Step Out was the best for addressing that. Young professionals and Millennials are the target market for Step Out as well. We knew a lot of young people follow Step Out so that was the best way to create brand awareness."
Analytics KPIs
Total Cost Per Click: $0.60
Total Reach: 150,000
Total Social Growth: 27% (700 to 900+)
Campaign Data:
Banner Ads
Big Guy and In Post on-site banner ads displayed at the top of native content on our website. Specs: Desktop – 1050 x 225, 700 x 150, Mobile – 300 x 250
Impressions: 66,249
Clicks: 65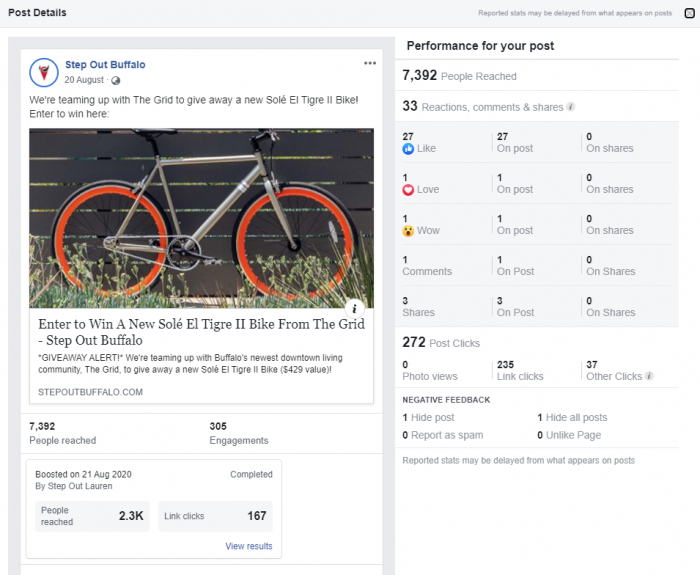 Giveaways
Published on the StepOutBuffalo.com homepage and Step Out Buffalo's Instagram account and then shared on Facebook. Readers can enter with their email address or by following the advertiser on Instagram and tagging friends in the comments. All email entries are opted in subscribers and passed to the advertiser to be added to their email list. Step Out Buffalo will select the winner and provide their contact information to the advertiser after the giveaway. Prize must equal a $100 value or more. The advertiser is responsible for providing the prize.
Email Entries: 283
Instagram Follower Increase: 197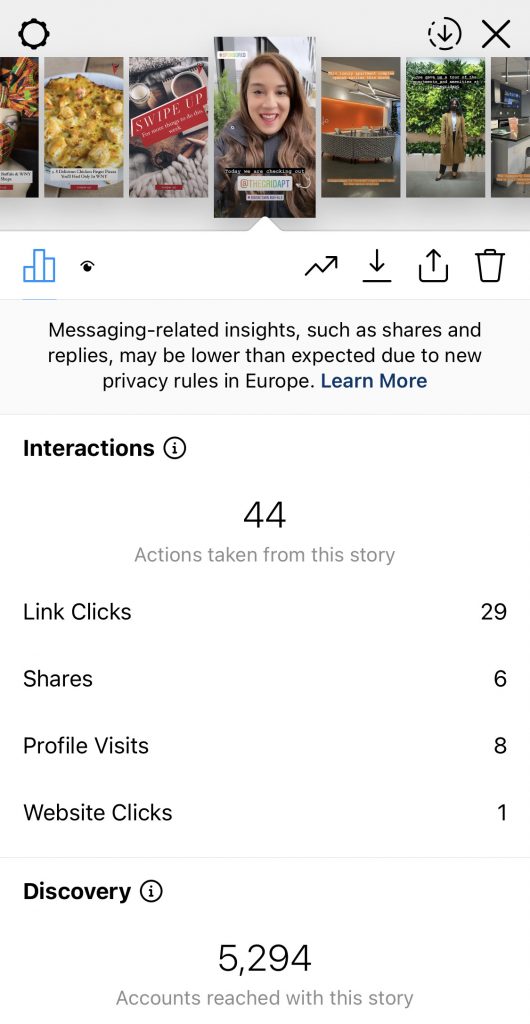 Live Story
A social media story on Step Out Buffalo's Instagram and Facebook completed by a Step Out team member on-site. Includes a photo posted to our Instagram and Facebook feeds about your business/takeover and 10-15 live slides. Visits by a SOB team member to capture content will be 45 minutes to an hour.
New Instagram Follower Count: 810+
Views on First Slide: 5,739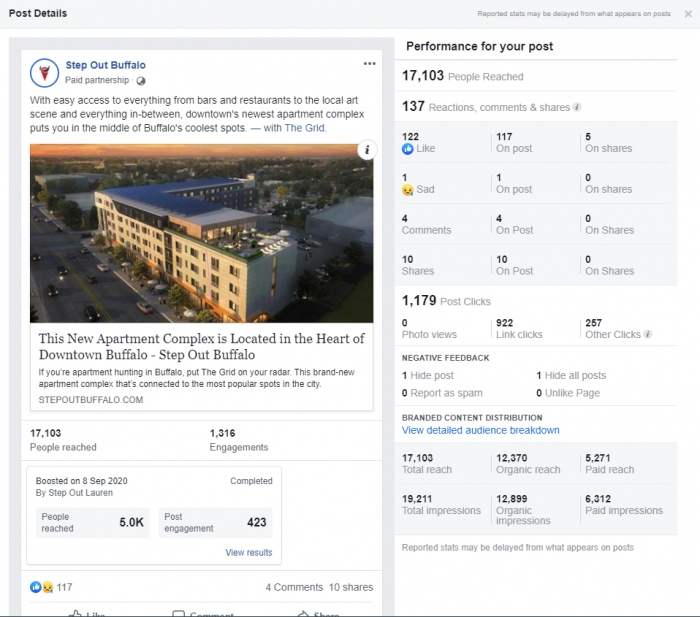 Spotlights
A sponsored post about your business that gets published on our StepOutBuffalo.com homepage, email newsletter, and Facebook. This is a creative and engaging way to connect with our audience and create "organic buzz". Spotlights should be allocated towards one message (new menu, event, class, announcement) and is limited to 300 words and up to 3 images. This item includes a $25 Facebook Boost.
Social Reach (Total): 29,252
Email Clicks (Total): 1,070
Client's Perspective:
Lozada said the working relationship with Step Out and our advertising account manager Michael Morgante was extremely fruitful. She recommended that others looking to advertise take this same route.
"It was amazing to work with Michael," she said. "Everything was well explained so there were no surprises on anything."
And for any businesses – or apartment complexes – looking to advertise: "Definitely go with Step Out Buffalo. I know we were the pioneers as far as advertising apartments with them, and now they are carrying a really great program. So, I would encourage everyone in this industry to do it because it did work out, and it was fantastic."
Contact us!
Step Out Buffalo offers advertising options for local businesses throughout WNY. If you're looking for a creative and effective way to reach your target audience, let's chat. Contact us for more information on our advertising packages.