As we've mentioned before, if you want to get people to go to your event, you have to let them know it's happening.
Sending a great press release and creating a marketing budget are immensely important first steps. Once those are completed, you need to figure out who your target audience is and what event directories your target audience is using.
If your event is food, drink, or fun-based and/or your audience is primarily 22-55 year olds, Step Out Buffalo is a great place to list your events. StepOutBuffalo.com has earned a reputation as the ultimate source for what's going on in Buffalo. So naturally, creating an event listing on our website is a total game changer if you want to get your event in front of people looking for places to go and things to do. And the best part? Step Out event listings are free!
First things first:
If readers have never heard of your business or your event, let's change that ASAP. The process to add your event to our free listings is super duper easy – just follow this link and complete our free event submission form.
Here's a list of #protips to help your listings stand out:
Start with the basics aka date, time, place, and location. Be sure to add the actual address. The easier your event is to locate the better.
Write a detailed (and fun) event description! This is your chance to get people interested and let them know exactly why your event is a must-attend. The goal here? Create FOMO.
If you are selling tickets, include the link. Duh! But really, the more convenient you make it for people to buy tickets, the more likely it is that they'll actually buy them.
Include links to your website and social media accounts. If readers want to learn more about your business, you want it to be as easy as possible.
Always attach at least one great photo. Choose wisely – photo can make or break an event listing! High-quality photos sell events. In other words: avoid text-heavy photos aka no flyers (or photos with any text on them tbh), do not include blurry images, always choose high resolution, always choose large horizontal images, and always choose images that will make people stop and think "damn that event looks fun".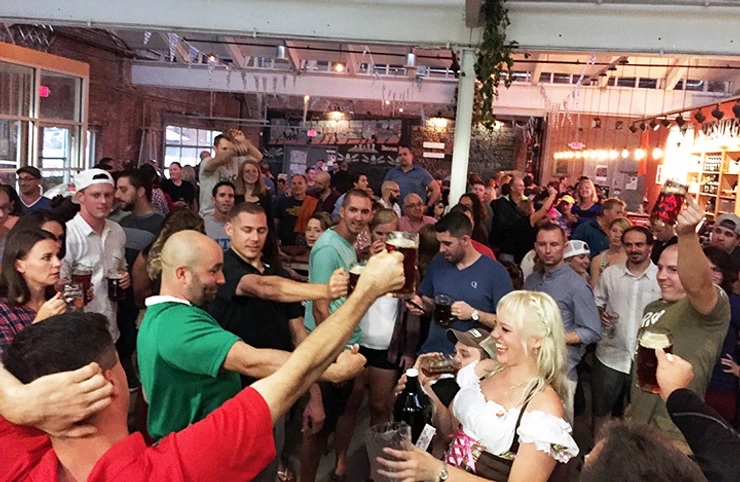 Resurgence Brewing Company's Oktoberfest / Step Out Buffalo event listing
The judge a book by its cover saying applies for event listings, too.
When people land on a page full of listings, they are scrolling through and waiting to see if something stands out. There are thousands of event listings on StepOutBuffalo.com and every event-directory for that matter, so standing out is HUGE.
Let's look at these A+ event listings on Step Out and take notes on what makes them so great:
Simple imagery is effective when you want to grab people's attention, especially in a crowded space. Bonus: these listings *also* use smart event-photo association. AKA, if your event involves drinking, there better be a pint glass in the pic. If you're hosting a party, show people having a good time. If you're hosting a taco-event, show some tacos.
Hire a professional photographer to take some photos at your event and you'll have promotional content for years to come. And if it's a first-time event don't sweat it – use photos of the venue, the participants, the subject (aka tacos or beer).
Buffalo Beer Week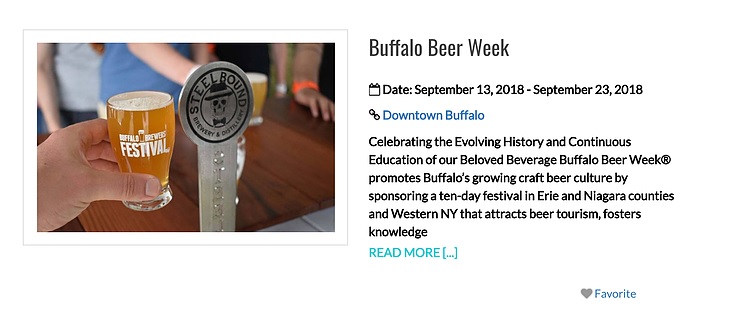 Step Out Buffalo's Game Day Bar Crawl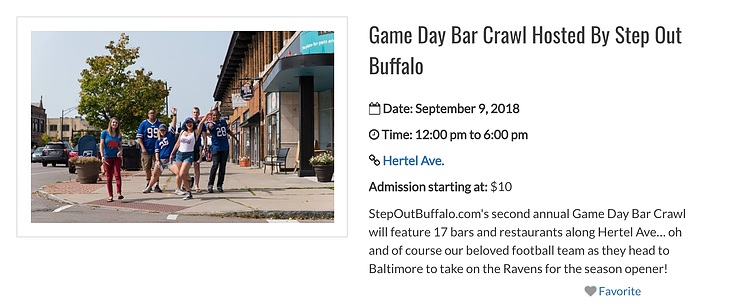 After Party for the Parks

More pro-tips:
People will click "read more" only if they're interested. Creative yet concise descriptions are best, so make those first words count! IE: Game Day Bar Crawl
Remember, anyone can submit an event. Which means your event will be surrounded by other events that are both similar and different. What makes yours special? Why should someone choose your event over the next? What would catch *your* as a consumer if you were scrolling, trying to find something to do? Try to make your event sound exciting, fun, and worth attending. Think of buzzwords that will catch people's eye and make them give your event the click it deserves.
Another thing to keep in mind: you're not only trying to catch the eye of potential attendees – you're trying to get the attention of the editors too. This is another reason why standing out is so important – when you take the time to create a super awesome listing, the right people will notice. And when an event listing has an amazing photo, uses the right descriptive words, and has all the info one could ever need…editors are more likely to read these, get excited, and highlight them in all the right places(email blasts, Facebook, Twitter, etc.)
Moral of the Story
It's important to think of YOURSELF as a consumer. When YOU'RE looking for events – what do you look for? Do event listings with small, text-heavy images catch your eye or do the ones with the big, bright photos of people having fun? Do event listings with formal descriptions get your excited or do the ones that sound like you're talking to your friends? Are you more likely to go to an event that has one vague sentence and no real information or the one whose listing has a full list of participants, food & drink specials, times for live performances, etc?
It's easy (and tempting) to be lazy when uploading event listings, but doing so only makes your event look bad, your business look like a hot mess, and will turn most people away from attending. When your event listing is poorly made, people will assume your event is poorly run – and that's no bueno.
Want to add a free event listing?
Click here to get started!
__________________________________________________________________________________________________________________________
Want to know more about promoting your business on StepOutBuffalo.com? Contact us!
At Step Out Buffalo, we help businesses promote themselves and their events on our website, email, and social media channels. Our team is comprised of experts who know exactly how to make your business or event stand out, and we'll put you in all the right places so you get noticed by all the right people. Hit us up if you'd like to learn more about our business and/or events-based promotions – there's a reason 94% of our readers go places they've seen on StepOutBuffalo.com