This post was written by Christian Martinez, CERTIFIED FINANCIAL PLANNER™, Advisor Associate of Sandhill Investment Management
In 2017 there was a period when clients were calling nearly on a daily basis asking whether they should invest in Bitcoin.
At that point in time, the Internet and the mainstream media were lighting up as the price of Bitcoin had run up from approximately $1,000 to about $20,000 per coin at the end of that year. This activity was driven by short term traders looking to make a quick return. Cryptocurrency was still a mystery to most people and conventional wisdom was to avoid the heavy speculation within the crypto environment.
Looking back, this guidance appeared to be correct because Bitcoin fell from its highs and settled around $3,000 per coin by the end of 2018. Today, we are in a different crypto landscape as several thought-leaders, including Elon Musk, have given legitimacy to Bitcoin. Musk's company, Tesla, for example, converted almost 8% of its cash reserves ($1.5 billion) into Bitcoin and now accepts it as payment for their vehicles.
Adding to the momentum of Bitcoin's recent rise, there has been a wave of institutional investors converting some or all of their gold allocations to Bitcoin. This has led to several hedge fund managers to call Bitcoin "digital gold," as they think it could have a similar effect as it relates to gold's inflation-protection and store-of-value.

Bitcoin & Inflation

The U.S. Federal Reserve has substantially increased the amount of dollars in circulation to help get us through the last two recessions (2008 and the 2020 COVID-19 recession). The national debt is near an all-time high as a percentage of Gross Domestic Product (a common measure of financial strength), and there is no sign of slowing down. When the Fed prints money and there is too much supply within an economy, a natural result is inflation, leading to decreased purchasing power with each dollar. The Fed will likely need to hike interest rates as a result. This means that even more cash will be needed to finance the debt from the U.S. Treasury which is currently about $7 trillion and growing. This is obviously a problem which can be compared to taking out a home equity loan to pay the mortgage. If this situation persists, it is possible that the U.S. dollar will lose value over time and may lose its status as the reserve currency of the world. This creates the potential opportunity for Bitcoin as a reserve currency because the other options (Euro, Yuan, Yen) are highly unlikely to take the place of the dollar.

National Digital Dollars
Countries as large as China and as small as the Bahamas already have national cryptocurrencies in development as the world prepares for an increasingly cashless society. Rather than being a tradable asset with high levels of volatility and limited use cases, the central bank digital currency would be used just like dollars and be accepted everywhere as payment. It would also be fully regulated by the governments, unlike Bitcoin and other existing cryptocurrencies. The Fed has yet to announce a U.S. digital currency, but it has teamed up with MIT to research its potential.
With 86% of the world's central banks exploring digital currencies, this would be hugely disruptive to the global financial system. Not only would payments between parties become faster; instantaneous even (think COVID stimulus payments to citizens), but it would give people without access to the banking system a chance to get involved. The biggest beneficiaries would be people at the poverty line in the U.S. and in developing countries, making the financial system worldwide more equitable. The entities with the most to lose if this happens are the financial institutions in traditional banking and fintech, both of which could lose users that choose to deposit their money into central bank accounts.
Surely, it will be interesting to see how all of this plays out. All signs point to cash going the way of the dodo.
The Downside
The Oracle of Omaha, Warren Buffett, says that Bitcoin does not have any real value because it doesn't produce anything. He has a well-known preference for stocks of companies whose value comes from producing things and he doesn't see cryptocurrencies in that light.
Many experts believe that Bitcoin is a hedge against inflation, but it is impossible to know that with certainty at this juncture. Bitcoin has only been around for about 12 years and has not seen any major inflation in that period, so time will tell.
Since its inception, Bitcoin has seen wild swings in price volatility leading skeptics to believe that it could never be viewed as a real currency.
The cryptocurrency environment is changing every day. The adoption of it by Tesla, PayPal, Square, and several hedge funds and financial institutions show that it could be evolving into a real asset class and cannot be ignored. We will surely see a paradigm shift if Amazon or Walmart start to accept Bitcoin.
If you have any investment related questions or would like to discuss in greater detail, please schedule a time to speak with Christian Martinez of Sandhill Investment Management using the link here.
This material has been prepared for general informational purposes only and is not intended to provide — and should not be relied on for — investment, tax, legal or accounting advice for the reader. You should consult your own tax, legal and accounting advisors before engaging in any transaction. The information that has been discussed has been obtained from sources believed to be accurate; however, Sandhill Investment Management makes no guarantee as to the accuracy or completeness of the information.
---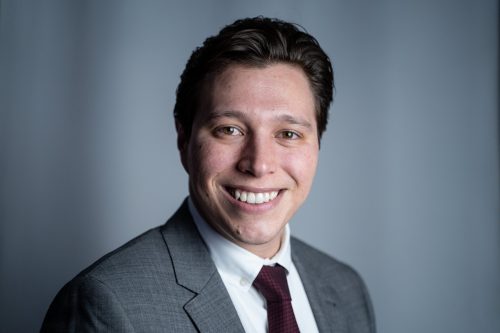 This post was written by Christian Martinez, CERTIFIED FINANCIAL PLANNER™, Advisor Associate of Sandhill Investment Management, a Buffalo-based investment management firm. Since Sandhill's inception in 2004, our passion for research has been our defining strength. By taking a thoughtful, thematic approach to the investment process, we are able to identify opportunities that offer the greatest combination of value and quality. Our deep commitment to our clients is at the forefront of everything we do. We understand that everyone's situation is unique, and our range of investment products is carefully designed to ensure we are able to align expectations with execution.
Christian is a CERTIFIED FINANCIAL PLANNER™ and has been with Sandhill for over two years. He is passionate about creating a one-of-a-kind experience for his clients. Christian serves as a member of the Convergence Council at the Albright-Knox Art Gallery and sits on the Alumni Board of Governors at Canisius High School. He lives in the Elmwood Village with his wife, Leigh.