This post was shared with with us via Forge Buffalo
Over the past few years, Buffalo's startup community has really started to take shape. Entrepreneurs from near and far are choosing Buffalo as the place to launch and grow their companies. Financial resources from venture capital firms, nonprofit organizations, education, and government have emerged as backers of this entrepreneurial movement. Networking events and mentorship opportunities can be found nearly every day of the week.
So where should you turn if you're looking to get involved? There are lots of organizations in our community that stand ready to help startups. Here are a few you need to make sure you check out!
43North
43North invests $5 million each year in high-growth startups that relocate a portion of their operations to Buffalo for at least one year. Beyond the investment, portfolio companies receive mentorship; hiring, marketing, and fundraising support; free workspace in Seneca One Tower; and the opportunity to operate tax-free through STARTUP-NY. In addition to their annual startup competition, 43North hosts and supports a variety of community events, along with initiatives like Forge Buffalo. Learn more about 43North here.
Be in Buffalo
An initiative launched by Invest Buffalo Niagara, Be in Buffalo focuses on attracting and retaining talent in the region. Wondering what it's like to live here? Be in Buffalo has resources like a cost of living calculator and a relocation guide to discover all the region has to offer. They also have a job board to help you find great opportunities with local startups and established corporations. See why there's never been a better time to "Be in Buffalo" here.
Techstars Buffalo
Techstars, an accelerator program with chapters around the world, launched a Buffalo chapter in early 2019. Their focus is on making connections and providing resources to anyone that wants to get involved in the WNY startup community – as a result, they've established a local Slack channel with more than 1,100 members and host weekly events to bring people together. You can join the WNY Startup Community Slack here.
Launch NY
Launch NY is a nonprofit venture development organization that provides mentorship and funding to startups located in the 27 westernmost counties of New York. They are the most active seed fund in the state, investing $25,000-100,000 in startups to help them scale. Launch NY also has its own Investor Network, where those interested in taking a more active role can invest as little as $10,000 to get started. Learn more about Launch NY here.
TechBuffalo
TechBuffalo is a nonprofit organization focused on developing 5,000 new tech professionals in Western New York. Funded through New York State, TechBuffalo is partnering with local colleges and universities to build internship and apprenticeship programs that will connect students to our growing tech scene. They're focused on talent attraction to the area as well as helping the community access computer programming curriculum to develop new skills. Learn more about TechBuffalo here.
Western New York Venture Association
The Western New York Venture Association (WNYVA) has built a network of angel investors, called the Buffalo Angels, to support early-stage companies in our area. WNYVA was established in 1989 as a means of promoting interaction between startups seeking funding and potential investors. Their forums consist of pitches from 2 or 3 local startups, Q&A from investors, and valuable networking between members of the startup community. Learn more about WNYVA here.
There are tons of organizations and resources to help you get involved in Buffalo's startup scene in your own way – and there are likely many more to come as the community continues to grow! Stay up-to-date about new career opportunities and ways to get involved by joining the Forge Buffalo community.
---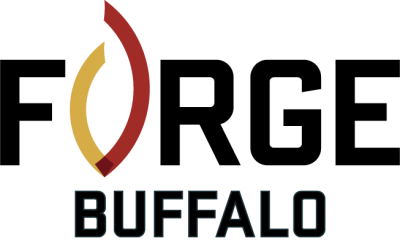 This post was shared with us by Forge Buffalo. Forge Buffalo is a hub of new opportunities in a vibrant community of fresh thinkers, doers, and movers. Looking for jobs in tech or startup? We've got 'em. Networking opportunities? You bet. A robust pipeline of talented pros to staff your business? Absolutely.
Forge ahead in the City of Good Neighbors with your new network of startup friends at Forge Buffalo.