About Us: Who We Are
Step Out Buffalo (StepOutBuffalo.com) is the ultimate guide to dining, entertainment and things to do in Buffalo and Western New York.
We're locals. We're eaters, drinkers, doers, movers and shakers. We're curious, adventurous, upbeat, helpful, and don't take ourselves too seriously. We love our city and work hard to support, promote, and tell the world how awesome it is to live, work, and play in the greater Buffalo area.
We're all digital, super social, and more visual than any other local publication. Ever heard the saying "A picture's worth a thousand words?" Yeah, we're all over that.
We also plan our own events and festivals, because Buffalonians love to party and frankly, we had to get in on that.
Our Readers
Our readers are Buffalovers who are actively a part of our city's renaissance. They are interested in trying new things, knowing about the latest local dining and entertainment trends, seeking out unique experiences, and supporting local businesses.
Our followers come to us in search of things to do, places to eat and drink, and businesses to check out knowing they will find solid recommendations for the best Buffalo has to offer.
Our audience seeks recommendations through various channels including our website, Facebook, Instagram, Twitter, Snapchat, and our email newsletter specifically to find things to do and places to go, knowing they will get unparalleled ideas about how to best enjoy Buffalo, Western New York, and the Niagara Frontier.
What Makes Us Different?
Throughout the evolution of Step Out Buffalo, we've worked hard to build a brand that people come to as a trusted resource. We've established ourselves as the go-to destination before the destination—the ultimate guide for anything worth doing, seeing, dining or enjoying.
Simply put, we go where our readers are. We are early adopters who have made it our mission to stay relevant in this social world.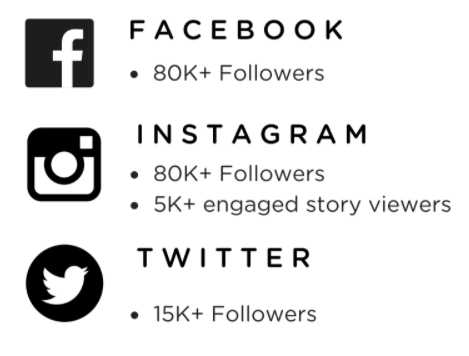 Our email marketing goes beyond spammy advertising. We combine organic editorial content with native advertising to create different types of successful email blasts multiple times a week – our readers love it just as much as our clients do.
Brands We Work With
Step Out Buffalo has worked with all different types of brands from entertainment and events, to restaurants and bars, to retail and gyms, to home services and non-profits – and everything in between. If you have a business you want to promote to our loyal, local readers, we'd love to work with you!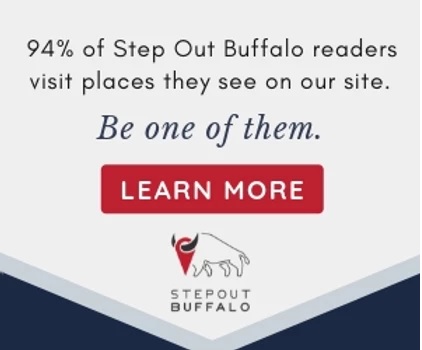 Event Packages: For Event Organizers

Position your event in front of thousands of Western New Yorkers searching for fun things to do and the best events to go to this week, weekend, and month. It's that simple.
Event packages start as low as $600 and include promotions such as social and email event listing, sponsored event listing, SOB spotlight, and email upgrades.
Shop Local Packages: For Editorial-Fit Businesses
If you're looking for the best ways to promote your editorial-fit business with promotions through Instagram and Facebook, written posts, or email takeovers. Not sure what "editorial-fit" means? Contact us today and we can tell you everything you need to know!
Created with retailers, restaurants, fitness studios, and local businesses who want to reach a hyper targeted audience in Western New York in mind, these packages start at $500 per month and include a giveaway hosting, live social media story, Step Out Buffalo spotlights, and deals.
Businesses looking to reach more people can also upgrade their promotions to our Premium Shop Local Packages which include further promotions on Instagram, SOB Spotlights, and Email newsletters.
Partner Packages: For Service Based Businesses
Become a partner and splatter your brand's message across our digital platform or at the multiple festivals we host throughout the year. Your company will play an integral role in ensuring Buffalonians can find the the best things happening in WNY.
Two different packages start at $200/ month. The Digital Package includes giveaway hostings, featured business listings, SOB deals and more. The Events Sponsorship packages include shoutout on Facebook events, sponsor mention on all events advertising and more.
For an even better deal, combine the digital and events packages together for $375/ month – your business will definitely be noticed by the 20,000+ annual attendees at Step Out Buffalo events.
Individual Rates and Specs
Want to create something custom? We have a-la carte options starting at $80. Choose from an array of items in our packages, from digital ad options to email newsletter placements to social media posts to even simpler, more individualized packages.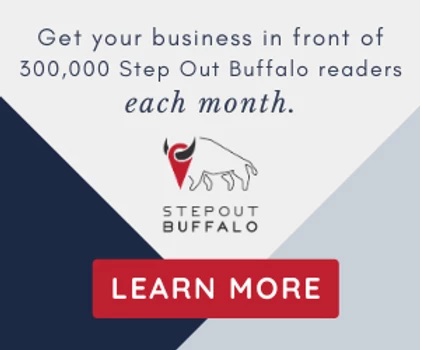 Contact Us
Step Out Buffalo offers advertising options for local businesses throughout WNY. If you're looking for a creative and effective way to reach your target audience, let's chat! Contact us for more information on our advertising packages.
____________________________________________________________________________________________________________
Want to know more about promoting your business on StepOutBuffalo.com?
At Step Out Buffalo, we help businesses promote themselves and their events on our website, email, and social media channels. Our team is comprised of experts who know exactly how to make your business or event stand out, and we'll put you in all the right places so you get noticed by all the right people. Hit us up if you'd like to learn more about our business and/or events-based promotions – there's a reason 94% of our readers go places they've seen on StepOutBuffalo.com