Updated: October 2021
Let's talk about giveaways
Who doesn't love a giveaway? Winning great prizes for minimal work sounds like a dream, and if you're looking to grow your Instagram following or email list – giveaways are a great way to do just that.
Instagram is an engagement powerhouse.
People love to double tap so much so that Instagram officially has the highest engagement rates across all social media platforms – by far. Engagement rates for brands are 4x higher on Instagram compared to Facebook, which is the difference between 192 million and 45 million interactions every single week. The stats don't lie, check 'em out on Socialbakers. The moral of the story? Instagram is a must for your marketing plan.
But building a real following on Insta can be challenging, so you need to be strategic. Thanks to Instagram's recent algorithm change (+ in our 'gramming experience), Instagram giveaways can be super effective.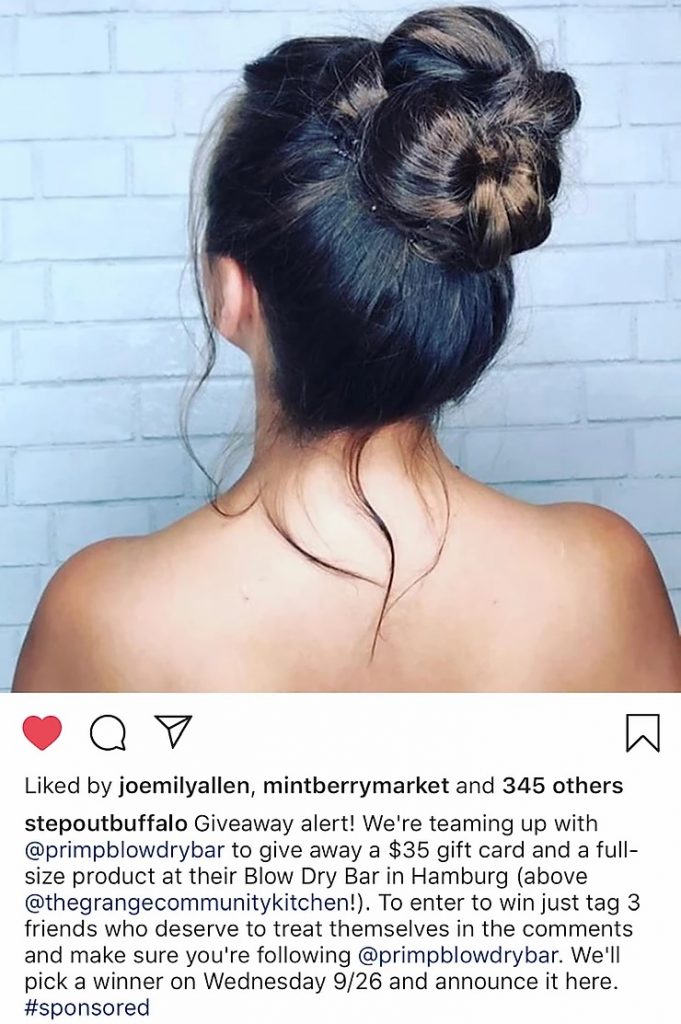 What is an Instagram giveaway?
If you use Instagram, you've most likely seen an Instagram giveaway. Using a normal photo or video post, and account will prompt followers to like a photo, tag friends, follow specific accounts, comment, share a post, or a combination of these requirements in order to win a prize. The goal, of course, is to boost engagement, garner brand awareness, and gain followers. FYI: Here's Instagram's official giveaway rules.
Why do Instagram giveaways work?
Let's break it down:
The more eyes on your brand, the better. Every single day more than 500 million users scroll on Instagram. Now, that's an audience. Trust us, you want in on this.
People love to win. People love free stuff. People love to win free stuff. When you choose the prize, choose a prize people will want to win. This doesn't mean you have to give away your most expensive products or VIP experiences, but make it worth people's while. The logic here is simple, but oh so important.
Giveaways play well with the new Instagram algorithm, because now Instagram rewards posts with high engagement rates. Aka if your post starts getting lots of likes and comments, your current and future posts will show up more often and pop up higher on your followers' feeds.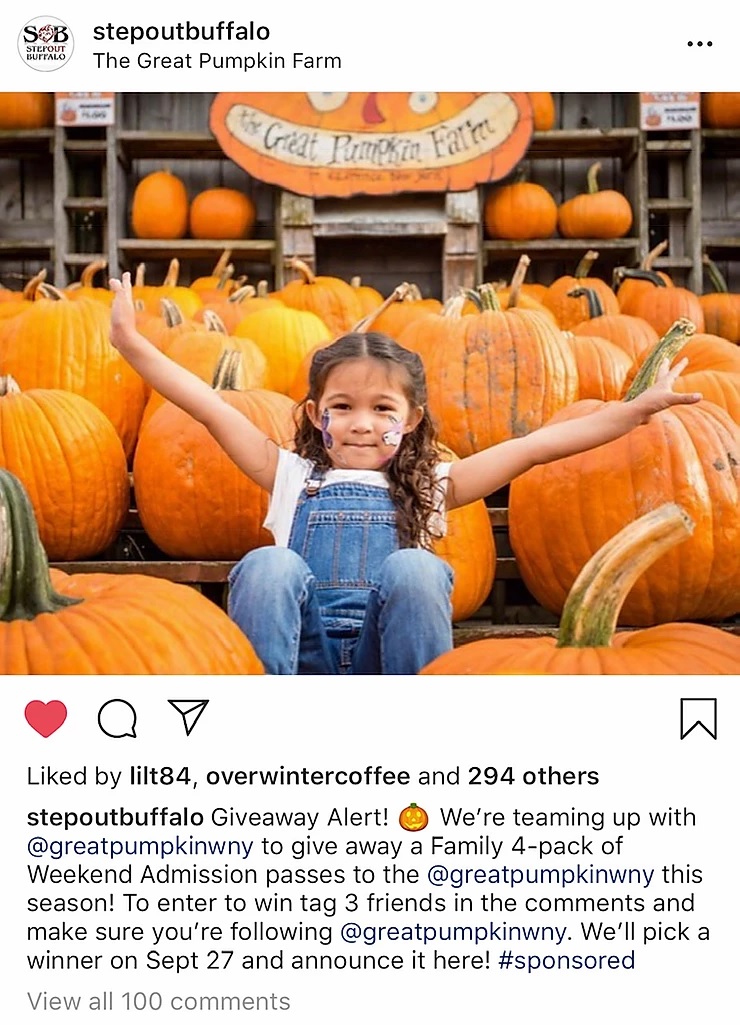 Teaming up for Instagram giveaways is a really good idea
Giveaways can be good. Giveaways can be great. And giveaways can be game changers. If you've ever noticed, influencers and companies with hundreds of thousands of followers usually work together on Instagram giveaways. Why? Because tapping into another/large Instagram account's audience is insanely valuable.
It's always best to team up with giveaway gurus, and not to brag but we pride ourselves on knowing what we're doing when it comes to social media. Step Out Buffalo offers giveaways as part of our advertising offerings. When we post a giveaway, hundreds of people will start liking, commenting, and looking at your brand. We know all the tricks of the trade and how to use the right lingo while sharing images people love to double tap. So if you want more Instagram followers, teaming up with us is a p good idea 😉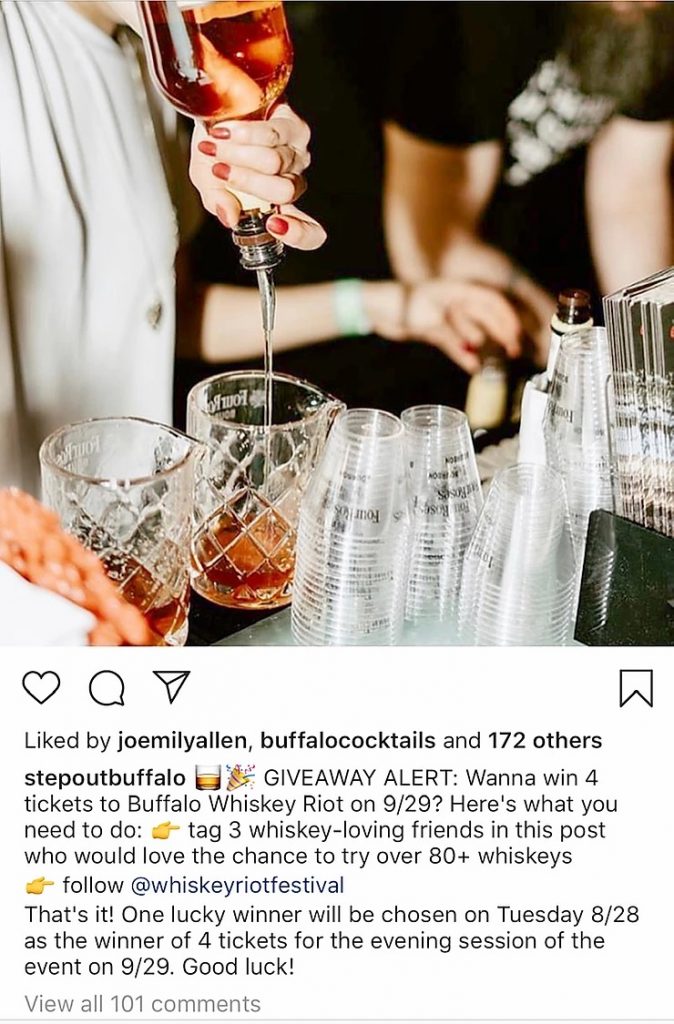 What about email giveaways?
As we've discussed before, overlooking email is a mistake, and yet many businesses still do. Change this ASAP. An email marketing campaign might just be the marketing strategy you need in your life. But that's a whole other story. If you're interested in exploring the world of email marketing, start by reading our beginner's guide.
If email marketing is already on your radar, allow us to explain the perks of email giveaways. Collecting email addresses can seem impossible – but that's where giveaways come in. Again, people love free stuff. Give the people what they want.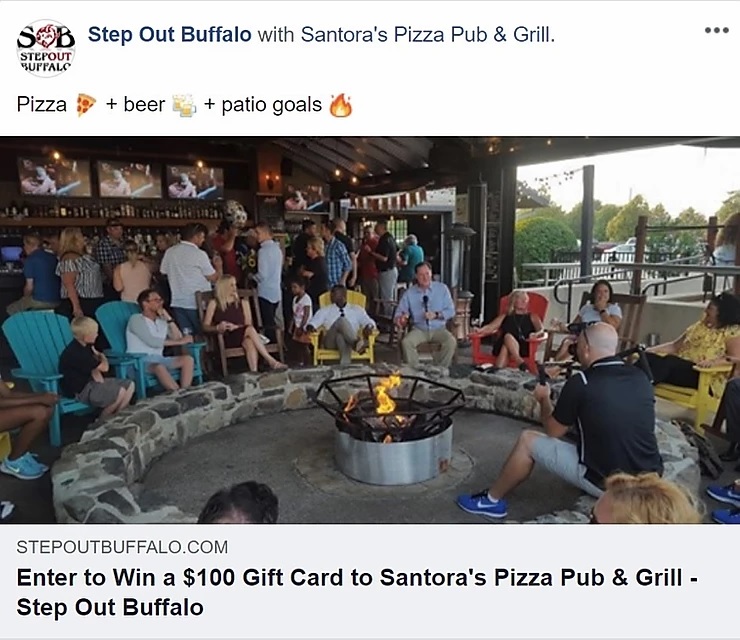 How to make it happen
If you're using Mailchimp, create a list and then copy the form code (here's an easy guide from Mailchimp on how to do that). From there, either share that form link or embed the form on your website as a new page, then share the link on your Facebook page. Make sure you include on your form or web page that by entering the contest, they're granting your business permission to send them emails!(!!) Also make it sound more pleasant and beneficial for them than that. When you're ready to post on Facebook, make the caption AND rules short, sweet, and easy, then boost the post to reach more people.
Although Instagram is top dog for engagement, link sharing isn't the platform's strong suit. Unless you have the ability to swipe up in your Instagram Story, no one is going to go to your link in bio to enter. People need the path of least resistance, they're just on social media to chill out, not jump through hoops.
+++ Just like Instagram giveaways, it's always better to team up with an expert. And, just like with Instagram giveaways, Step Out Buffalo also offers email-based giveaways to our client. They're actually part of the same package! If you want more emails on your mail list, we got you. If you want to spread the word about an event with a ticket giveaway, hit us up. We know all about the ins and outs of MailChimp, and we handle the setup, so you don't have to.
Moral of the Story
Are giveaways really worth it? The short answer: absolutely. Sure you're giving away something for free and the return is not immediate. However, the return in the connections you're gaining are much more valuable. View giveaways as an investment in your business. This marketing strategy is working for local businesses in Buffalo and beyond, and it can work for your business too.
Interested yet? Send us a message and we will tell you everything else you need to know about email and Instagram giveaways.
_______________________________________________________________________________________________________________________
Want to know more about promoting your business on StepOutBuffalo.com? Contact us!
At Step Out Buffalo, we help businesses promote themselves and their events on our website, email, and social media channels. Our team is comprised of experts who know exactly how to make your business or event stand out, and we'll put you in all the right places so you get noticed by all the right people. Hit us up if you'd like to learn more about our business and/or events-based promotions – there's a reason 94% of our readers go places they've seen on StepOutBuffalo.com