Updated: July 2022
More than 400 million people use Instagram Stories every day according to Instagram Business.
Talk about an audience. So it only makes sense that more and more businesses around the world are using the app's popularity to their advantage, specifically the ad feature. And guess what? You can, too!
Instagram Story Ads are something you absolutely need to wrap your head around if you want to keep up with the best brands in the world. Creating ads for them is pretty easy, but creating good ads takes a bit more work, which is why we created this super handy guide for you.
Let's start with the basics:
What is an Instagram Story?
Basically, Snapchat on Insta. Instagram Stories appear in a separate row at the top of your Instagram app. Look for the circles with a multi-colored border. When you tap on a profile photo circle, the Story automatically opens up and starts playing full-screen. Stories can include a combination of photos and videos, but unlike posts they vanish after 24 hours and do not appear on your profile grid.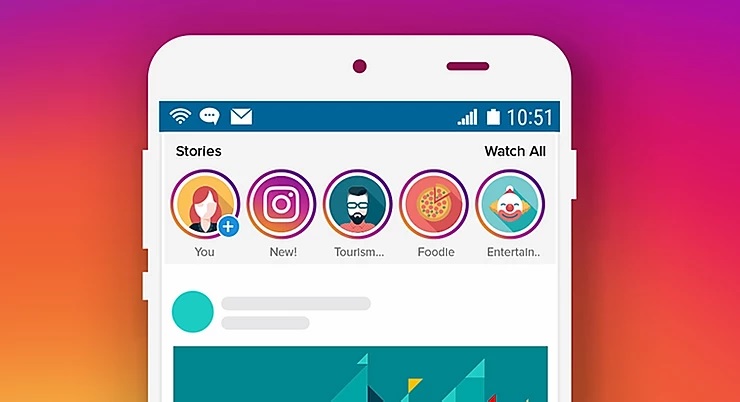 What are Instagram Story Ads? How do they work?
Instagram Story Ads exist within Instagram Stories. The major difference? This is paid content. Hence the "ad" distinction. Another major difference is you control the ad's duration and it can be longer than 24 hours.
Instagram Story Ads appear between unpaid user content. For example, your story lineup could feature your best friend's Story followed by a Story ad from a local brewery followed by your brother's personal Insta Story. The flow from unpaid to paid to unpaid content is seamless, so it feels more organic and less sales-y.
FYI: We recommend creating your Insta Story ad ON Instagram, saving it, then uploading it to Ads Manager. It will turn out much more organic than any other alternative! Keep reading – we'll get there.
Creating Your Instagram Story Ad
Step 1: Connect Your Instagram & Facebook Accounts
If you already have an Instagram account for your business, you're doing it right. Now is your Instagram account connected to your Facebook ad account? If so, skip ahead. If not, you can connect via Facebook Business Manager or through your Facebook page.
Step 2: Choose an Objective
Every ad campaign needs a goal. Answer this: What do you want people to do after they see your ad? This will help you choose your marketing objective on Ads Manager.
You have 7 options
Reach
Brand Awareness
Traffic
App Installs
Lead Generation
Video Views
Conversions
Different ad objectives work better for different marketing goals. If you want to boost website clicks, choose Traffic. If you are looking for more followers, think Reach. If you are trying to collect customer information, choose Leads.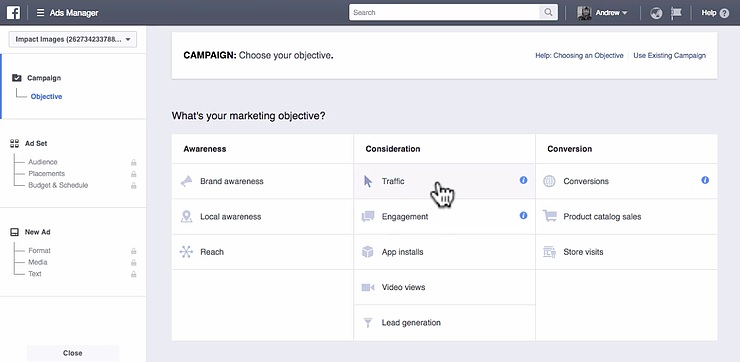 Step 3: Define Your Audience
Start with the basics. Where do they live? How old are they? Are you targeting men, women, or both? The next steps are a little more complicated, but remember – finding the right target audience for your brand and your ad involves some trial and error. You can't succeed if you don't try!
Detail Targeting: This feature helps you include or exclude people based on demographics, behaviors, and interests. You can get seriously specific here. Say you're a brewery planning a couple's pairing dinner, you can target married couples who like beer and RSVP to upcoming events.
Connections: Another route is creating an audience based on your current connections. You can include or exclude people who like your Facebook page, people who use your app, or people who respond to your events. You can also promote to friends of people who like your page or general populations, depending on who you're looking to reach.
Custom Audiences: Custom audiences come in handy if you already have some data to work with. You can create an audience from a customer file aka your newsletter subscribers, leads, and app users.You can also create an audience based on the people who already visit your website or engage with your content on Facebook.
P.S. You can create a brand new audience with every ad, or queue up a saved audience that performed well in the past. Don't be afraid to test lots of different audiences and see which ones give you the highest ROI.
Step 4: Place Your Ad on Instagram Stories
The next section defaults to Automatic Placements. Switch this to Edit Placements, and select Instagram Stories in the dropdown. You can choose to show your ad in other places, but for this guide we are focused strictly on stories.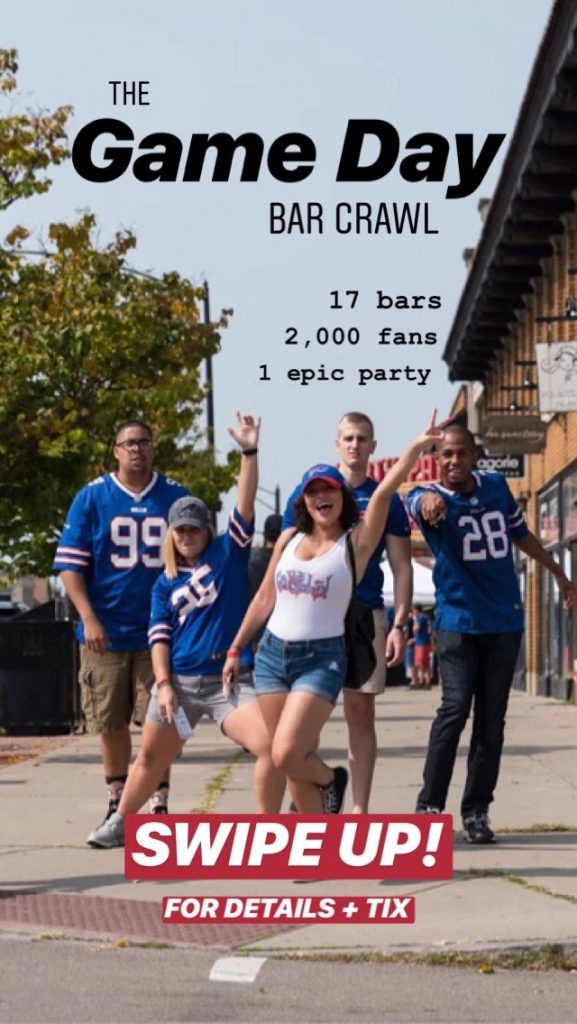 Step Out Buffalo's Game Day Bar Crawl Insta Story ad
Step 5: Set Your Ad Budget & Duration
How much you want to spend is completely up to you. If this is your first ad, start with a low-budget. Once you get the hang of how it works and start seeing results, you can increase. You'll also be able to choose a start and end date for your ad here. Again, start small.
Step 6: Make Adjustments as Needed
Before you hit continue, take a look at the right sidebar. This shows your ad's potential reach and estimated daily results. If this doesn't match your campaign goals, try adjusting your audience, placements, budget, and duration. Thankfully Ads Manager gives suggestions to make everyone's lives easier, so pay attention to these. When you're satisfied move on to the next step.
Step 7: Create Your Ad
If you're thinking to yourself… wait how do I create the actual ad. Don't worry, we're finally there.
In our Insta-storying experience we have learned organic > everything. We recommend making the story on your Instagram app, saving the slides, then uploading them to your computer to create an ad that's more organic aka free of tap-for-caption and weird cropping. If you're looking for Insta Story inspo, scroll through Instagram Success Stories and re-read our 6 Tips for Creating Instagram & Snapchat Stories People *Actually* Want to Watch article.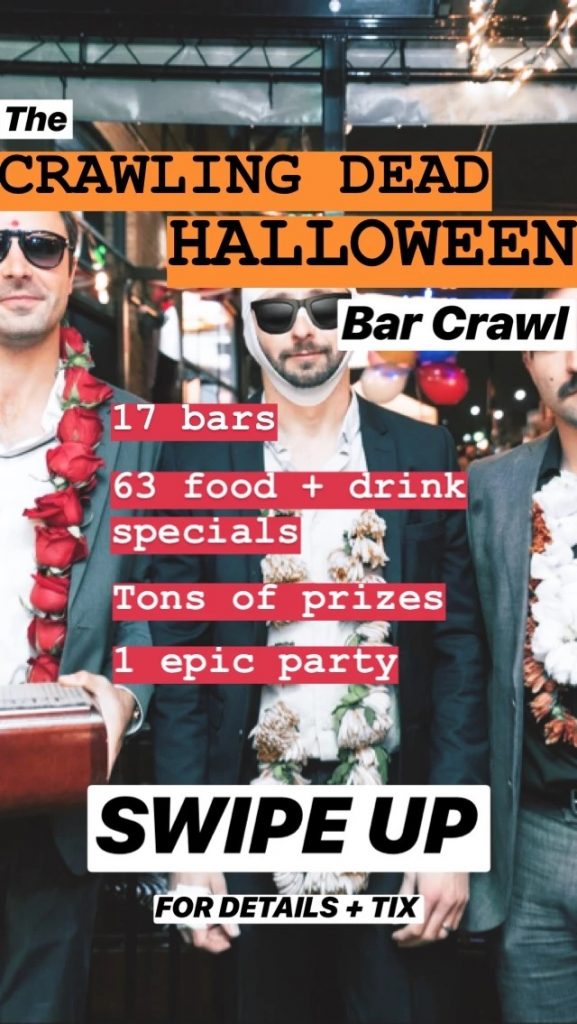 Step Out Buffalo's Crawling Dead Bar Crawl Insta Story ad
Step 8: Choose Your Ad Format & Upload
What's your vision for your ad? A carousel with multiple images or videos, a single image, or a single video? Pick one, and upload your image(s) and/or video(s). Choose carefully aka read the recommended specs. The right size and ratio make all the difference. Also avoid overlaid text on images at all costs. We recommend adding your text right onto the photo(s) you create on Instagram for the Story. This is the most organic, not-ugly way to say what you need to say…aka it is the most likely to not have people skip over it.
Step 9: Add Text, URLs, and Buttons
If you absolutely need to (or you just don't feel like taking our advice), add your caption in the text box on Ads Manager and watch it instantly appear in the ad preview to your right. Next choose a call to action aka a button like call now, book now, shop now, learn more, etc. With all of these options you can link to your homepage, online shop, or anywhere else. FYI- linking is best practice for conversion purposes.
Step 10: Publish Your Ad
Click confirm. Congrats, you did it! Well almost. Instagram needs to approve your ad. This typically takes 24 hours or less, so get yourself a beverage while you wait. You deserve it. Typically, it's a relatively quick process unless there's an issue. If there is, Instagram will tell you why so you can make the necessary adjustments.
The takeaway
Just do it.
Full-screen immersive advertisement of the Instagram Story variety is working for brands nationally and locally. Like, really really well. If you have any extra advertising dollars to spend, follow this guide and see what happens. You'll never know until you try~
____________________________________________________________________________________________________________________________
Want to know more about promoting your business on StepOutBuffalo.com? Contact us!
At Step Out Buffalo, we help businesses promote themselves and their events on our website, email, and social media channels. Our team is comprised of experts who know exactly how to make your business or event stand out, and we'll put you in all the right places so you get noticed by all the right people. Hit us up if you'd like to learn more about our business and/or events-based promotions – there's a reason 94% of our readers go places they've seen on StepOutBuffalo.com