Introducing Step Out Buffalo Deals!
We recently launched the all new Step Out Buffalo Deals section on our website, a place where the WNY community can go to find out all the great deals, happy hours, specials, and everything in between that local businesses are offerings.
Why are SOB Deals great for businesses?
Short answer: They're a great way to drive traffic to your physical location and/or website and thus, drive your profits.
People are always looking for the best deals, and people that are actively looking for something are the ones who are going to spend money on it. SOB Deals are a single resource where people can go to find the best offerings from both their favorite businesses and ones they haven't discovered yet – so putting your business on it is a great way to stay top of mind with loyal customers and get in front of new ones.
How Can You Submit A Deal For Free?
SOB Deals are a great way to get new customers by offering an actionable deal for our readers to take advantage off! Simply create an account on Step Out Buffalo and start submitting your deals. Once your deal is approved you'll be notified when it goes live, and that means it's officially on the Step out Buffalo website!
Once you submit a deal, it will be up on our website for 30 days at which point they will expire. We encourage you to make your deal something you already offer (and will be offering for at least the next 30 days) to ensure expired offers won't be found by SOB Readers. Check out our deals page for some examples.
Pro-tips!
As with everything in life, make sure you're putting your best foot forward on your Deal listings. You want to share helpful, relevant information about your business and what you're offering to make sure people take action on it.
Here's a couple pro-tips:
A SOB Deal should be a special you are currently offering. It can be a coupon, percentage off discount, bogo special, or numerous other specials like a happy hour. The better the deal the better the response!
A Deal needs to be an actual deal and include some type of savings to customers. A simple "we're open for business" will not be published.
Ready to put your business out there?
Click here to submit a SOB Deal, and contact us to learn more and see how your business can work with Step Out Buffalo here!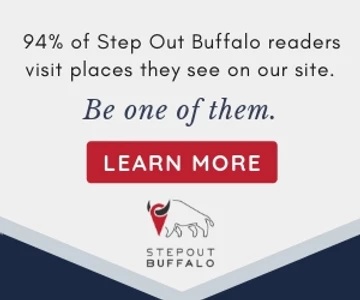 Contact Us
Step Out Buffalo offers advertising options for local businesses throughout WNY. If you're looking for a creative and effective way to reach your target audience, let's chat. Contact us for more information on our advertising packages.
______________________________________________________________________________________________________________________________
Want to know more about promoting your business on StepOutBuffalo.com?
At Step Out Buffalo, we help businesses promote themselves and their events on our website, email, and social media channels. Our team is comprised of experts who know exactly how to make your business or event stand out, and we'll put you in all the right places so you get noticed by all the right people. Hit us up if you'd like to learn more about our business and/or events-based promotions – there's a reason 94% of our readers go places they've seen on StepOutBuffalo.com