The best quick approach to getting covered by the media can pretty much be summed up in three simple steps.
And when I say "pitching media companies", please don't let that scare you off – this is for any and everyone with something to share whether you have a PR team or are a one man/woman show, your pitch is truly welcome.
1. Send the info
First and foremost, send the info. I'm still shocked at how much info is posted to social media and exciting things happening at businesses that marketing and business people don't think to share directly with the media. Sure, not everything will get picked up, but the goal of sharing this info is more than just getting that one single talking point covered. For example, at Step Out Buffalo, we read press releases and often file them away for a later date when we can pull together a guide on the subject or we use that knowledge when answering a recommendation request through social media. Whether it's covered in the traditional sense or not, having people who work in media know about your business, product, service, whatever it may be, can seriously benefit you in the long run.
2. Send the right info
Second, send the right info for the person/company you are pitching to. Sadly, one pitch fits all doesn't really work here. You may have to adapt your press release or media alert based on who you're sending it to. It's as simple as understanding the person / media company you are pitching to and their audience and alerting them of the talking points of your story that make the most sense for them to cover. Don't make them dig through your press release to find out why they should care. Have a new product that fits with their editorial categories? Is there a charitable aspect? What makes sense for them to cover?
3. Do the work for them
Third, do the work for them. Figure out what kind of effort would go into covering your story, and get a few steps ahead by sending what's needed right off the bat. This includes photos with photo credit, talking points specifically relevant for their audience, and the answers to common questions often used to tell a story, including:
Describe your business
History behind your business and the owners
What sets your business/product/service apart from competitors
What makes you different
What do you offer
What can people expect when they visit
Upcoming news or "scoop" the publication can share with their audience
Hours
Address
Website and social media links
Contact Info so they can reach you with any further questions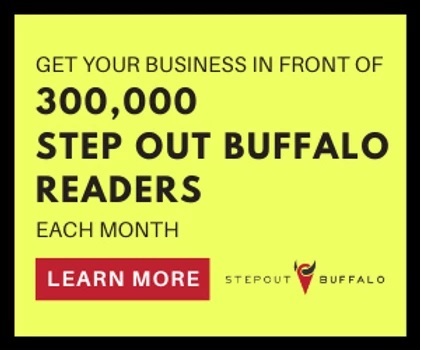 ___________________________________________________________________________________________________________________
Want to know more about promoting your business on StepOutBuffalo.com?
At Step Out Buffalo, we help businesses promote themselves and their events on our website, email, and social media channels. Our team is comprised of experts who know exactly how to make your business or event stand out, and we'll put you in all the right places so you get noticed by all the right people. Hit us up if you'd like to learn more about our business and/or events-based promotions – there's a reason 94% of our readers go places they've seen on StepOutBuffalo.com