This post was written by Chad Vosseller, President and owner of Ace Flag & Visual Promotions and Ace Interiors
In Buffalo and cities across the nation, artistic signage on buildings is becoming increasingly popular. These eye-catching works of art, commercial signage, and large-format advertising are an attractive way for businesses to capture attention and to enhance their neighborhood's atmosphere.
Building art and signage often pops up quickly leaving some wondering how it came to be. Did they hire a mural artist? Was it painted on? In some cases, yes. But there is another scenario many are unaware of as it is fairly new to the market. Vinyl murals (also known as a textured wall wrap) is an excellent option for covering large areas and making a big impact.
How it works
The product melts to the surface of the wall or building at 1,000 degrees Fahrenheit and can be installed in a matter of hours. Vinyl gives the illusion of a painted sign, which would likely take longer to complete.
Upsides of Printed Building Signage
Why would a business owner select a vinyl application over a traditional painting for their sign? Consider these 5 important factors when making your decision, including quicker application, cost effectiveness, and removability (making it ideal for renters/lessors).
1. Possibilities
2. Planning & Permits
3. Process & Materials
4. Longevity
5. Prep & Installation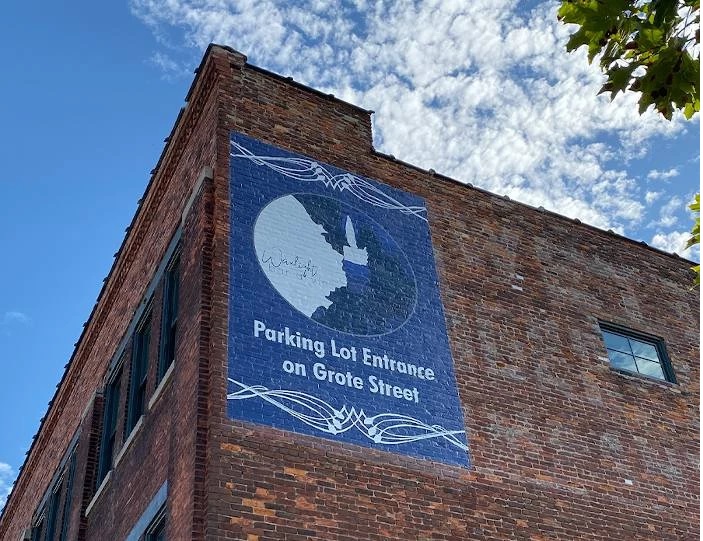 Brick Mural Vinyl Signage for Waxlight Bar à Vin in Buffalo, NY
Possibilities
One of the amazing aspects of a vinyl sign is the wide range of usage. It can be used as a modern day billboard (without the hefty monthly fee), prominent and unique business signage, or indoor art displays (attractive to locals and visitors alike for those coveted Instagram posts).
Since the graphic artwork is digitally produced, it opens up the possibilities for business owners and artists. This type of application can be executed quickly and easily and produce big impact. Artwork can be produced by a graphic designer or our in-house team at Ace Flag, produced with our advanced technology printers, and brought to life by our professional installers.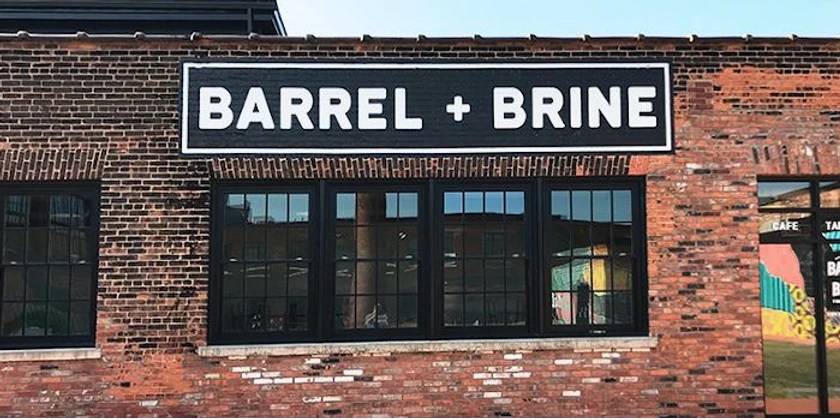 Brick Mural Vinyl Signage for Barrel + Brine in Buffalo, NY
Planning & Permits
We start with a consultation and concept phase. Think of your building's brick wall or textured surface (such as concrete) as a blank canvas with endless possibilities. It can be utilized for brand awareness, business signage, advertising, creative art, to promote a cause, be inspirational, and more. Clients can submit their own art for Ace Flag to print and install or our in-house design team can execute your vision. If you work with our designers, you can expect to see proofs to ensure you're completely satisfied. Before we begin the physical execution, we create Photoshop mockups of what the art will look like on your actual building so you can rest assured the outcome is exactly what you want.
Some locations may require a permit. Don't worry, Ace Flag is experienced in this and will handle the paperwork for you. If necessary, the cost is typically around a couple hundred dollars. Permitting varies by county and area so there aren't definitive guidelines to outline here. In most of Buffalo, this type of signage is considered supplementation signage and is allowed as long as it doesn't take up more than 50% of the wall or does not exceed 300 square feet. Historical districts may require committee approval.
Pro Tip: If you're comparing vendors and a company doesn't address permitting, it's a good indicator that aren't doing their due diligence. If you don't have a permit in an area where it's required, you can be fined every day until the mural is taken down.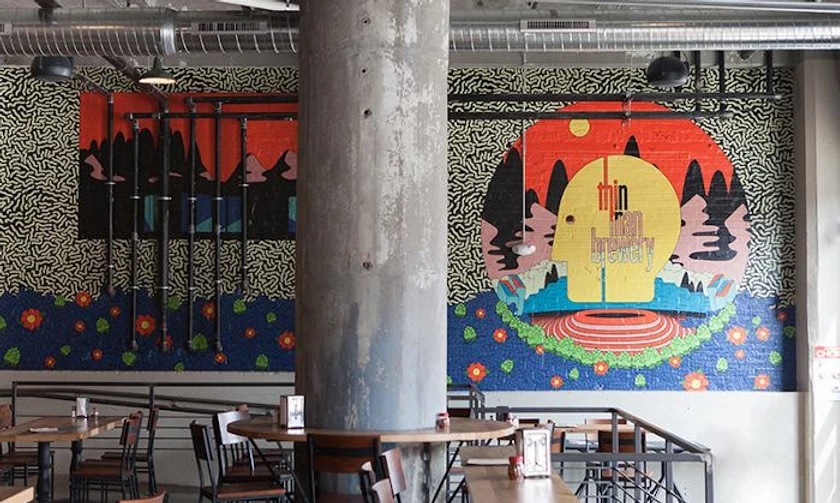 Interior Brick Wall – Business Signage – Thin Man Brewery, Buffalo NY
Process & Materials
We firmly believe in utilizing only top-quality materials. That's why Ace Flags uses 3M film for our vinyl graphics. We've compared it to others and have found it produces the best printed graphics, last the longest, and has superior adhesive qualities. Their PVC-free vinyl is also eco-friendly.
Pro Tip: Be sure to ask a potential vendor what type of film they use and why. If they can't provide a solid answer, they may be cutting costs and corners that could result in inferior results.
The film is then printed and laminated. Finishing options are a matter or personal preference and can be matte, luster, or gloss. Lamination quality is very important since that is what will be protecting the ink (color) from UV rays and weather. The most important part of the process is the installation itself, which is why we have seasoned professionals with extensive experience. The art is printed in panels around 50" and put up in sections. The last thing you want is for there to be a gap or seam showing in your mural and it easily be spotted as a vinyl application gone wrong.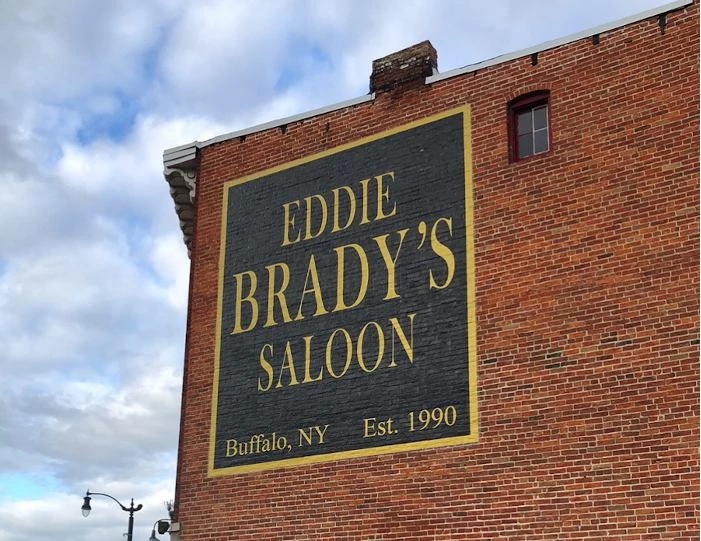 Brick Mural Vinyl Signage for Eddie Brady's Saloon in Buffalo, NY
Longevity
The most frequent (and difficult to answer) is how long the printed brick wall sign will last. To be conservative, it should have a lifespan of 4-5 years. The harsh Buffalo conditions could cause the application to degrade sooner but that's why we use premium materials to ensure long-lasting results. Just as a painted mural may fade over time, this is also a slow process. You may see color fading, corners pop up a little, or some cracking. Factors that affect longevity include: how much sun it's exposed to, inclement weather, and whether it was properly installed.
Pro Tip: If a company doesn't do a site review to observe the unique characteristics of your wall and its settings, they are likely overlooking critical information. Ace Flag always does an on-site inspection first to see what sealing or preparation may be needed to achieve the best results.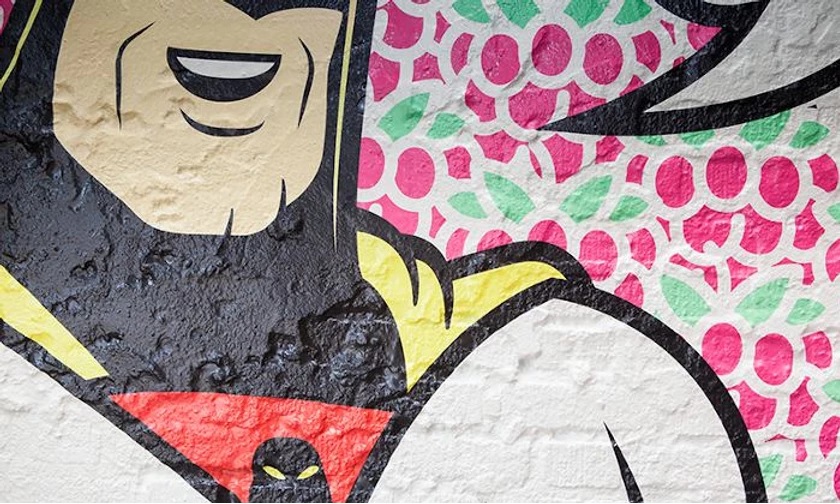 Close up of vinyl install to show texture
Prep & Installation
The biggest external threats to a vinyl sign are the sun (UV rays) and water. If too much moisture gets behind the vinyl, especially if it freezes, your artwork could fail prematurely. In Buffalo this is obviously a very real concern, which is why we address issues like this before they arise. In some cases, we may recommend that the brick be sealed before we install the vinyl. This small step is well worth it in the long-run and doesn't extend the turn-time because we use a quick-dry sealant that can be applied on the very same day.
Painted brick is typically a good base surface that requires little prep. Old brick and grout may require a sealant. They have a tendency to be "dusty" so we want to create a substrate for the application to properly adhere to. Have you ever tried to apply a sticker to something with crumbs on it? It doesn't stick as well as to a clean surface and the same concept applies there.
Pro Tip: For surfaces with extreme textures or extra deep grout lines, a small test area should be utilized to see how the application performs.
After our professional installer meticulously lays down the film, every inch of the graphic must be heated and rolled at 1,000 degrees. This labor intensive process is critical for it to withstand harsh weather and also give it the desired painted look. Not to be overlooked is properly sealing the edges. This prevents moisture from getting behind the print and causing it to prematurely crack or edges to peal. Stucco and weathered concrete can be difficult finishes to work with but if imperfections arise, patching is an option.
Vinyl signage is one of the most impressive and engaging products to come out of the print industry in some time. It offers so many unique capabilities for advertising and art display that previously didn't exist. With its temporary application and being a cost effective alternative, you can expect this medium to quickly be on the rise.
Interested in visually transforming your building's exterior and making an impact with your brand? Contact Ace Flag to discuss your project.
This post was written by Chad Vosseller, President and owner of Ace Flag & Visual Promotions and Ace Interiors. A full service print, design and installation firm that is locally owned and operated. Ace specializes in design, graphics, signs, wraps, flagpoles, flags and even custom wallpaper. They do wholesale business to business as well as residential work. Ace has been doing business in Buffalo NY, for over 80 years. Check out their social media accounts or website to see more of their work.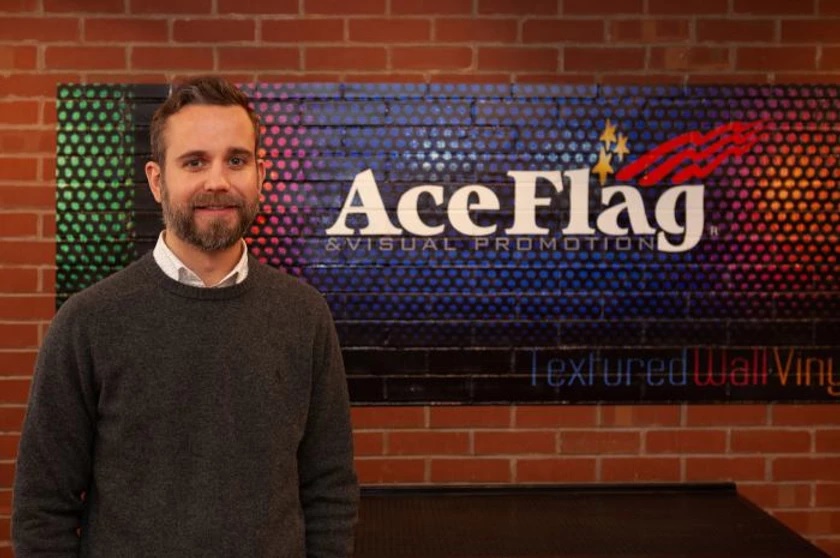 ___________________________________________________________________________________________________________________
Want to know more about promoting your business on StepOutBuffalo.com?
At Step Out Buffalo, we help businesses promote themselves and their events on our website, email, and social media channels. Our team is comprised of experts who know exactly how to make your business or event stand out, and we'll put you in all the right places so you get noticed by all the right people. Hit us up if you'd like to learn more about our business and/or events-based promotions – there's a reason 94% of our readers go places they've seen on StepOutBuffalo.com