Updated: 2022
Event marketing (aka having your brand at events) is a valuable content strategy
Face-to-face engagement is powerful for brands…even in today's digital age. If you want to introduce people to your brand, develop relationships with consumers, and have people remember you – you're in the right place.
Let's break down why this is so important and how it can directly benefit your business:
Raises Brand Awareness
What is brand awareness? This is one of those marketing terms people hear all the time but don't fully understand. A brand is much more than your name and logo, it's your personality and identity. Tough love here, but if people have never heard of your brand – even if it's amazing – they aren't going to buy your stuff.
This is where brand awareness comes in. Brand awareness refers to the extent to which a brand is recognized by potential customers. Brand awareness feeds sales aka $$ in your bank account.
Event marketing raises brand awareness. How? By putting your event literally in front of people, you're forcing them to see you and wonder who you are. Then you shake hands, kiss babies, and tell people all about your biz. If people like what you do, sales will happen then and there at the event, later at your store, or online.
BONUS TIP: Putting your brand in front of a highly targeted audience is an effective way to drive sales.
What qualifies as a highly targeted audience? Well, if you work in the beverage industry, explore sponsorships at beverage-related events. For example, Tommyrotter Distillery is the Official Vodka of the Buffalo Bloody Mary Fest. Every single Bloody Mary is made with Tommyrotter vodka aka every single vodka-drinking ticket holder is tasting Tommyrotter. Tommyrotter also comes to each event with a tasting table and offers free tastes of their product to attendees Who doesn't love free booze amiright? When consumers taste a brand and have a positive experience, they'll remember it next time they visit a liquor store, attend another event, or shop for a gift.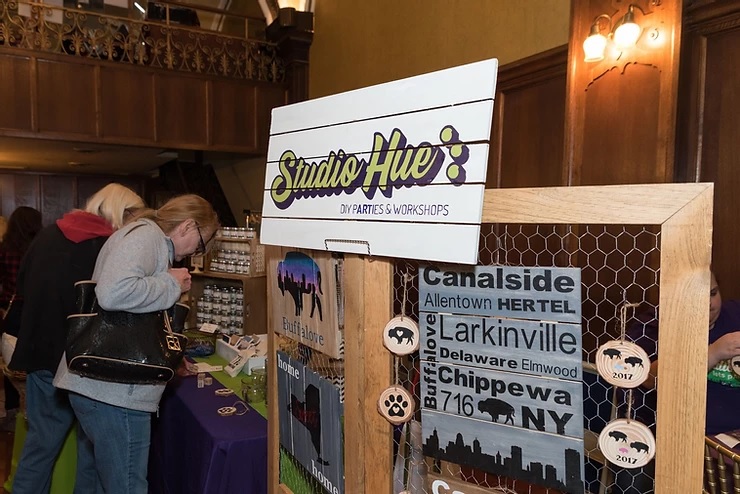 Studio Hue's booth at Step Out Buffalo's Makers + Shakers: Boozy Artisan Market
Establishes Meaningful Connections
Face-to-face communication builds loyalty. But in a digital-first world, forming meaningful connections IRL can be super challenging. Enter events. Generally speaking, people who attend events want to speak to other humans…which means this type of environment is your perfect chance to introduce yourself and your brand.
For example, Makers + Shakers: Boozy Artisan Market draws a crowd that is ready to shop and drink. As one of the featured brands, you get a chance to tell attendees about who your business is, what you do, and why you do it. Plus, this opportunity allows the attendees to put a face to a name, a personality to a business. Smile, be honest, and be happy! When you prioritize genuine connections over transactions, you build brand loyalty.
The next time attendees are in need of whatever it is that your business sells – they'll think of the friendly local brand they met at a Step Out Buffalo event (that's you). Even if they personally don't love your product but know someone who might, they're more likely to remember and recommend it when they have a personal connection to look back on.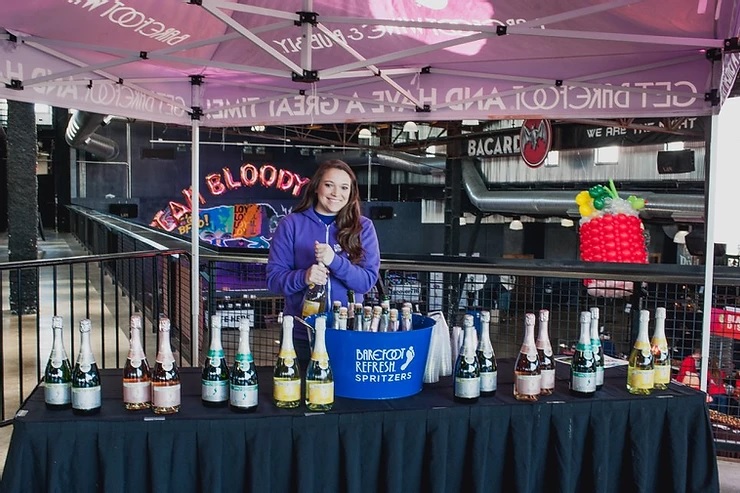 Barefoot Wine's VIP Tent at Step Out Buffalo's Buffalo Bloody Mary Fest
Creates Positive Memories aka Positive Brand Associations
Finding events that are perfect for your business can be tough, but once you find an organizer who does events well and targets a specific audience that you want to get in front of – jump on that stat.
In 2018 Barefoot Wines signed on as the Official VIP Sponsor of the Step Out Buffalo Buffalo Bloody Mary Fest. Here's why this is smart: The people attending this type of event enjoy boozy beverages. But, some of them want an option besides Bloody Marys. Crazy we know, but it's true.
The VIP Wine Bar was a huge success because it was the exact audience they wanted to reach (25-44 year olds) and that audience was extremely excited for free wine. After the event is over, Barefoot Wines is not only on their radar but literally on the tip of their tongues. The positive brand association aka Barefoot giving them lots of free wine to drink naturally makes people reach for a bottle of Barefoot Wine next time they're at the store. Barefoot Wine is a generous brand with friendly staff and they had a good experience with them in person, which is more than they can say for any other brand on the shelf. The value of brand recognition is everything, and even though sponsorships come at a cost when done right it's marketing dollars well spent.
Moral of the Story
Add Event Marketing to your marketing plan. Start by defining your target audience and identifying events where you can connect with them IRL. FYI- event marketing is an effective strategy for all businesses so long as you align yourself with the appropriate events. How do you know if an event is a good fit? Ask them! Shoot them an email, tell them what your goals as a business are, and ask how sponsoring their event will help you reach your goals.
At Step Out Buffalo, we team up with businesses for our events all the time. Once we understand your brand's goals we can help you accomplish them via event marketing, advertising, or both! Hit us up if you're interested in sponsorship opportunities. Trust us, event marketing works. Just ask our event sponsors!
___________________________________________________________________________________________________________________________
Want to know more about promoting your business on StepOutBuffalo.com? Contact us!
At Step Out Buffalo, we help businesses promote themselves and their events on our website, email, and social media channels. Our team is comprised of experts who know exactly how to make your business or event stand out, and we'll put you in all the right places so you get noticed by all the right people. Hit us up if you'd like to learn more about our business and/or events-based promotions – there's a reason 94% of our readers go places they've seen on StepOutBuffalo.com