In our Spotlight series, we examine how the businesses we work with excel in marketing themselves in different areas. We explain what they are doing well, why it is working for them, and how you can do the same for your business!
Meet Buffalo Distilling Company
In the early 2010s, Frank Weber, Andy Wegrzyn and Eric Kempisty started distilling craft spirits out of a barn in Bennington, NY. In the decade (and one-half a pandemic) since they distilled their first batch, the trio's Buffalo Distilling Company is still going strong and is widely known for both its lively Larkinville location, as well as its One Foot Cock brand of liquors.
So, why would Buffalo Distilling Company make a product line called One Foot Cock instead of a "Buffalo Distilling" product line?
It all comes down to a bit of naivety and a bit of adaptability. Buffalo Distilling had been a liquor company 100 years ago, but that company went out of business and the trademark was available, so Weber and his partners jumped on it. What seemed like a marketing coup at the time quickly turned into a nightmare when the company started receiving letters from the legal department of a Kentucky distillery you may know: Buffalo Trace.
With product names like "Buffalo Vodka" or "Buffalo Bourbon" legally off the table, Buffalo Distilling had to adapt and a one-footed rooster statue in the original Bennington barn became the inspiration for One Foot Cock. Given the obvious double-entendre, the One Foot Cock brand also spills out all kinds of NSFW dad jokes. The underlying message being: These guys don't take themselves too seriously.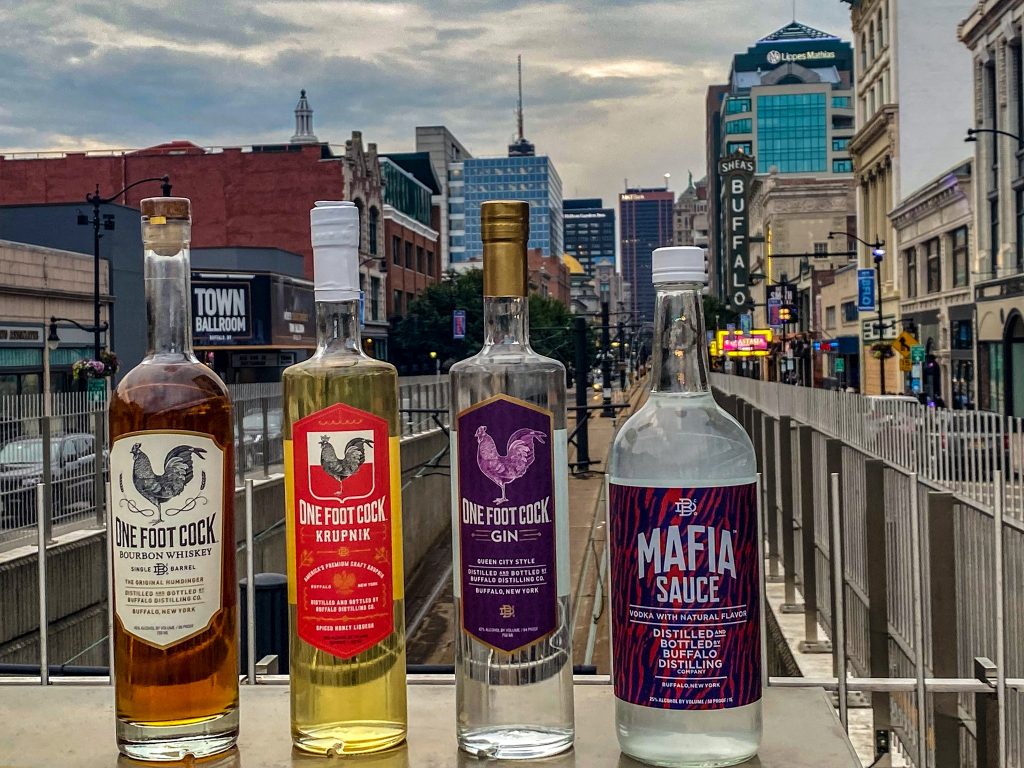 What They Do Well
With adaptability being central to the brand, Buffalo Distilling has been especially good at staying on its toes. This was vital when COVID hit.
Seeing a massive need for hand sanitizer, the company was uniquely positioned to do something.
"We had ethanol that was slated to become vodka," Weber recalls. "The situation became pretty surreal: We saw this immediate shortage. There was no hand sanitizer available and everybody wanted it. So, we got the ingredients list. Then, we got the federal and state approval to make it."
Next, in the midst of a global pandemic, company owners watched as the Bills made a historic playoff run. Supporters across Western New York suddenly caught Bills fever, especially the hardcore Bills Mafia contingent.
"It seems like there was such a crazy energy in the city," Weber says. "I live in Allentown and I went to the corner of Elmwood and Allen after one of the games. Traffic was just stopped, and people were partying in the streets. I was like, 'Man it would be cool to capture this in a bottle.'"
Playing off the flavors of sports drinks like Gatorade, Mafia Sauce was born. 
Why It Matters
The adaptability behind Mafia Sauce in particular is quite ingenious. While some people have associated the cinnamon-flavored Fireball with hard-partying Bills Mafia, Weber says his distillery was able to make inroads, and capture a bit of that market segment with Mafia Sauce.
Anyone who knows Bills Mafia, knows charity is at the heart of their story. In keeping with that spirit: For every bottle sold this season, Buffalo Distillery will donate $1 to former-Bill Brian Moorman's P.U.N.T Foundation, which is dedicated to battling cancer in children.
"So for Bills fans, instead of partying with Fireball at the tailgate, let's do it with something local, that represents the Mafia and also gives back," Weber says.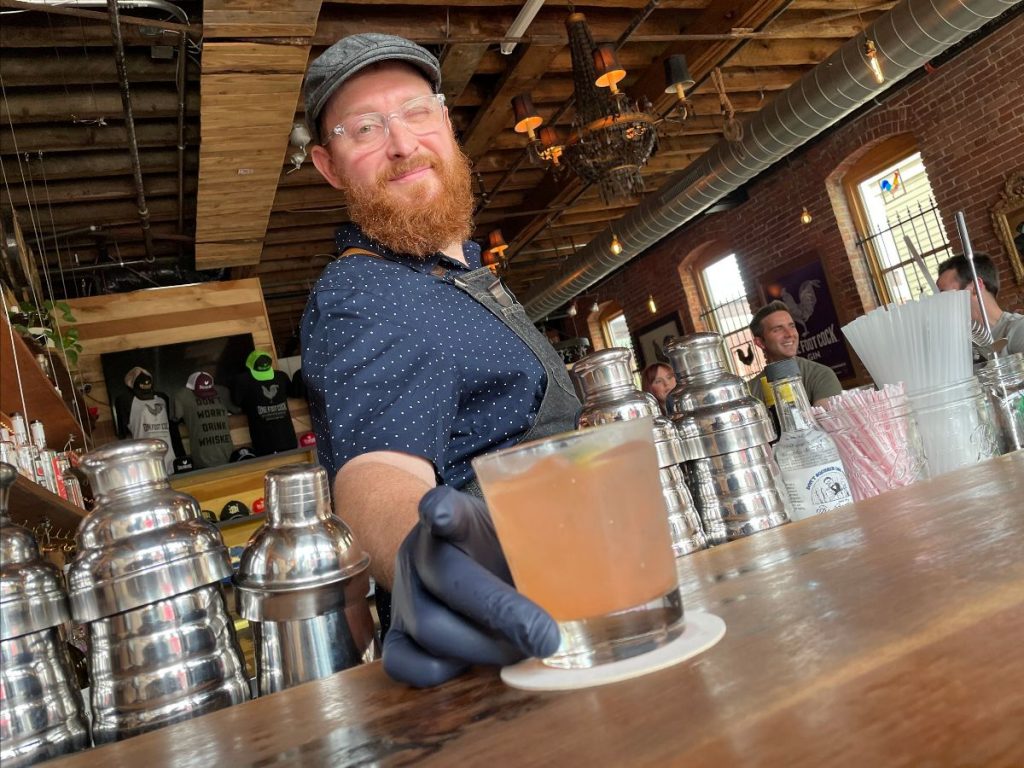 How Step Out Buffalo Helps
While Buffalo Distilling has been great when it comes to adapting to current events, Weber says his business hasn't been great at marketing in general. For one thing, it probably wasn't a great idea to clash brands with Buffalo Trace.
"It's funny: We kind of did it backward," he says. "Most companies have their marketing plan established before they start their business, and we were just kind of consumed with the product; distilling and trying to figure that whole thing out."
Weber says the reach and influence of Step Out Buffalo has made it a no-brainer when it comes to digital marketing.
"Step Out Buffalo is a good source for people who want to see what's going on," he says. "They do a good job of putting information all in one place."
Partnership Results
Short-term Goals
In a recent campaign, Buffalo Distilling partnered with Step Out to promote its products and stage a giveaway. Weber says the campaign was developed through a strong working relationship and it resulted in a treasure trove of analytics. 
Long-term Goals
On top of receiving more business and a wealth of data, Weber says he took away a few lessons.
"We're still learning," Weber says. "The three owners, myself and my two business partners, aren't really digital marketing guys. I always like to say we're three hillbillies that started out in a barn. With respect to marketing, I've learned it's all about content: pictures of people engaging with whatever you're trying to promote with smiling faces."
"I definitely think content is key," he adds.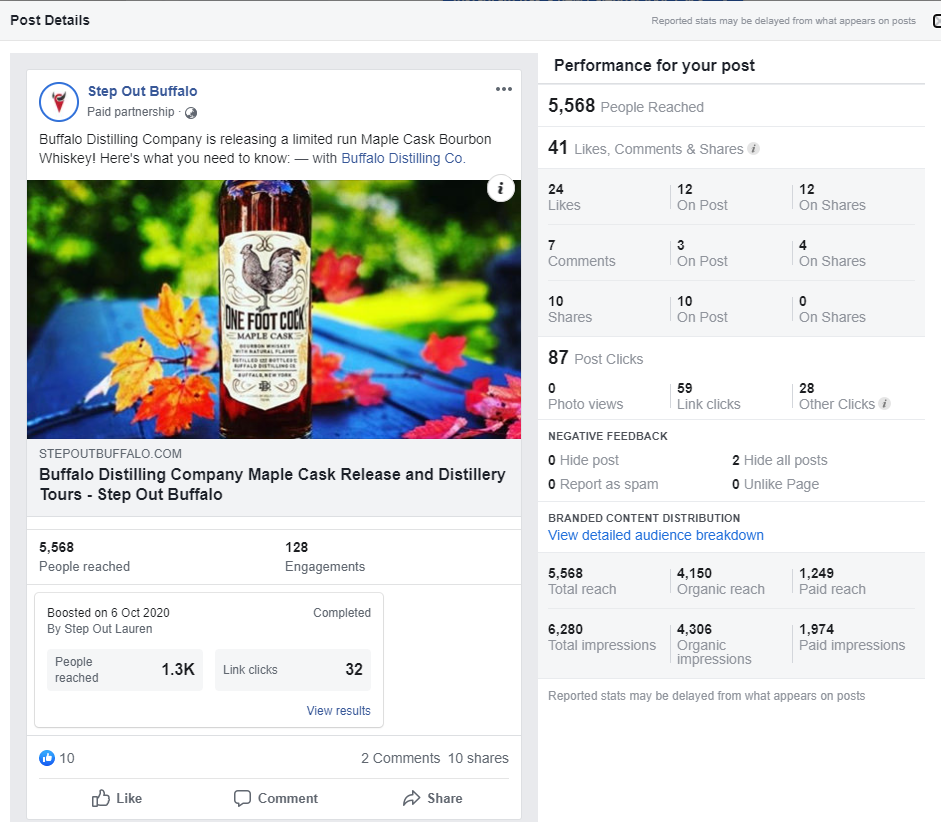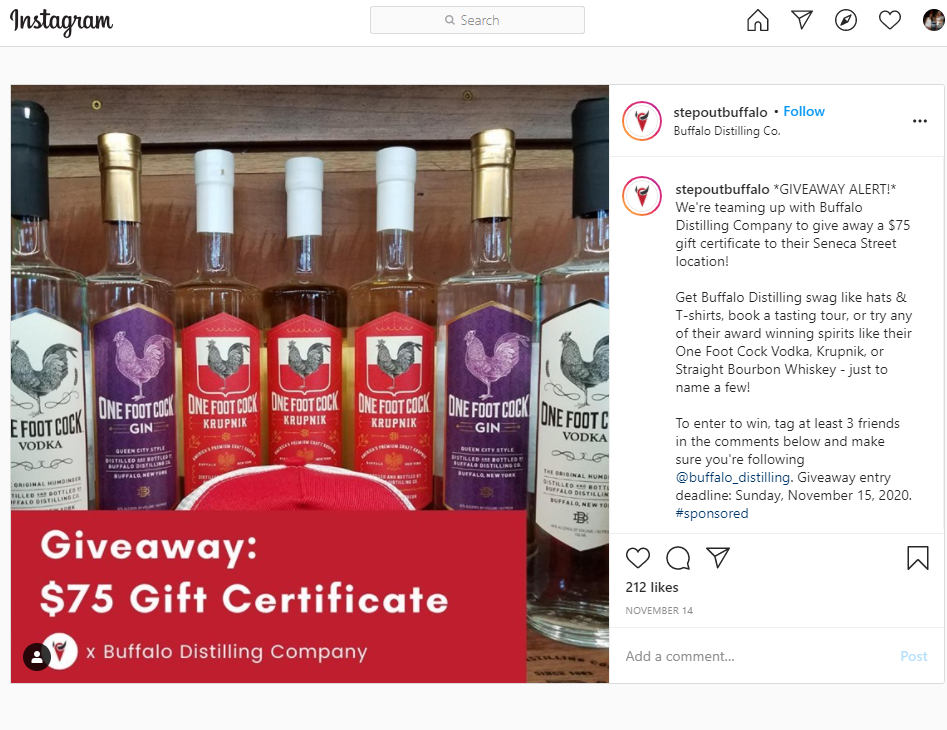 Tips for Other Business Owners
If your company is thinking about partnering with Step Out Buffalo, Weber says he learned having one or more attractive events is a great starting point.
"It's important to have events that are promotable," he suggests. "Because there's always so much going on, especially in the summer. Having an event that is unique, worthwhile and shareable is important."
---
Contact Us
Step Out Buffalo offers advertising options for local businesses throughout WNY. If you're looking for a creative and effective way to reach your target audience, let's chat. Contact us for more information on our advertising packages.