Photo courtesy of Medaille College
Medaille College traces its roots to 1875, when the Sisters of St. Joseph (SSJ) founded an institute for the preparation of teachers. In 1937, the SSJ received a charter from New York State to grant baccalaureate degrees in education to women in religious orders, and the institute was named Mount Saint Joseph Teachers' College.
In 1968, the Sisters of St. Joseph, led by Alice Huber, SSJ, Ph.D., initiated a change in the charter that would create a co-educational college. New York State issued the charter and Medaille College was born. Granted by the Board of Regents, this charter established the College as an independent institution governed by a self-perpetuating Board of Trustees.
Medaille experienced significant growth in the 1970s and student enrollment has risen steadily ever since. During the 1980s and 1990s, the College strengthened programs and services for a growing and diverse student body.
In 1991, the College implemented a residence program, attracting students from across New York State and Southern Ontario.Three years later, the Kevin I. Sullivan Campus Center opened, offering students a setting for dining, recreational and co-curricular activities. With the Trbovich Alumni Tower welcoming all visitors, the Sullivan Center serves as home of the Medaille Mavericks; our men's and women's National Collegiate Athletic Association (NCAA) Division III sports programs. In 2010, Medaille initiated its online program, which continues to grow with new degree options.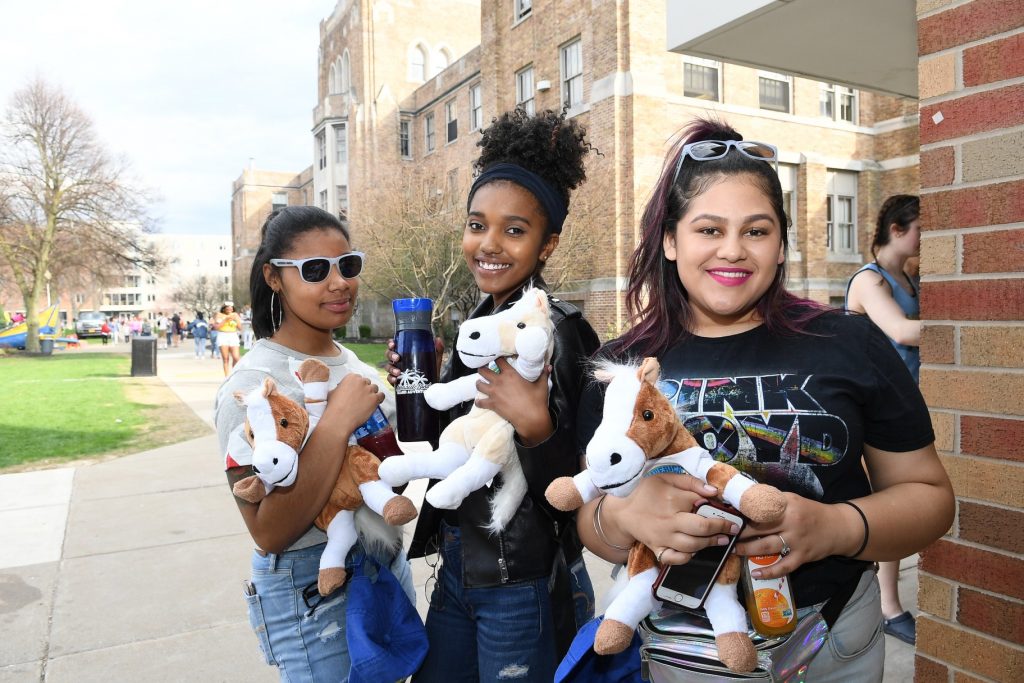 When Medaille College wanted to put their school in front of a wider and younger audience, they turned to Step Out Buffalo to help them achieve their goals. They purchased a Flex Package from our advertising options, which helped put their school and programming in front of more than 275,000 people.
Q&A with Medaille College's Director of Undergraduate Admissions, Brooke Urban
What was your goal in working with Step Out Buffalo?
"We wanted to be able to increase the communities awareness of Medaille College! Step Out Buffalo shares everything that is happening in Buffalo from shops, to events, to new ways to get involved in the community! As Buffalo's College, Medaille College provides a personalized learning experience to its diverse student body of both traditional undergraduate and post-traditional graduate students. Medaille students engage in a high-impact, experiential educational process that prepares them for the workplace. With campuses in Buffalo and Rochester, Medaille also offers one of the most robust online programs in Western New York. We believed our Mission and Vision aligned with Step Out Buffalo and we couldn't think of a more perfect partner to share our brand."
What did you like most in working with Step Out Buffalo?
"Working with Step Out Buffalo has been awesome! They took time to get to know us as a College first. SOB wanted to understand who are students were, what we had to offer from programs to athletics and then helped guide us on our journey to share this information to the Buffalo community. SOB understands what the community is looking for, so they have a unique skill set to help Medaille College on our journey to provide personalized education to a diverse student body!"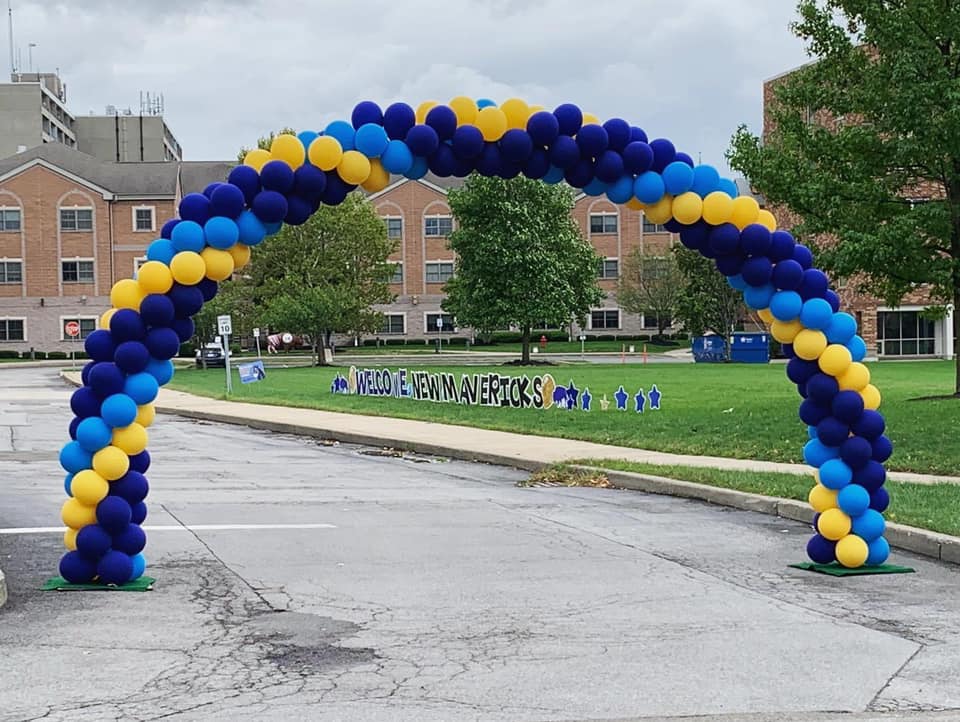 Campaign Insights
What They Got:
Flex Package | Our Flex Plan is designed to give you the freedom to adjust your advertising efforts however needed to ensure the right message gets to the right people, at the right time.
How it works: Your business commits to a year-long campaign and a set budget with Step Out Buffalo prior to your campaign. Each quarter you will consult with your account manager to select the items that work best with whatever marketing campaign you'd like to promote in the upcoming quarter. Our Flex Plan also offers businesses access to discounted rates on all our products at 20% off.
This advertising package is ideal for any business looking for a more robust marketing presence and the ability to create customized quarterly promotions that put them front and center to SOB readers who are actively looking for ways to support local in the Western New York area.
Promotional Items Selected:
150k Banner Ads
Homepage Takeover (x2)
Email Takeover
Sponsored Event Listings
Reach & Clicks:
Total Reached: 277,791
Total Clicks: 318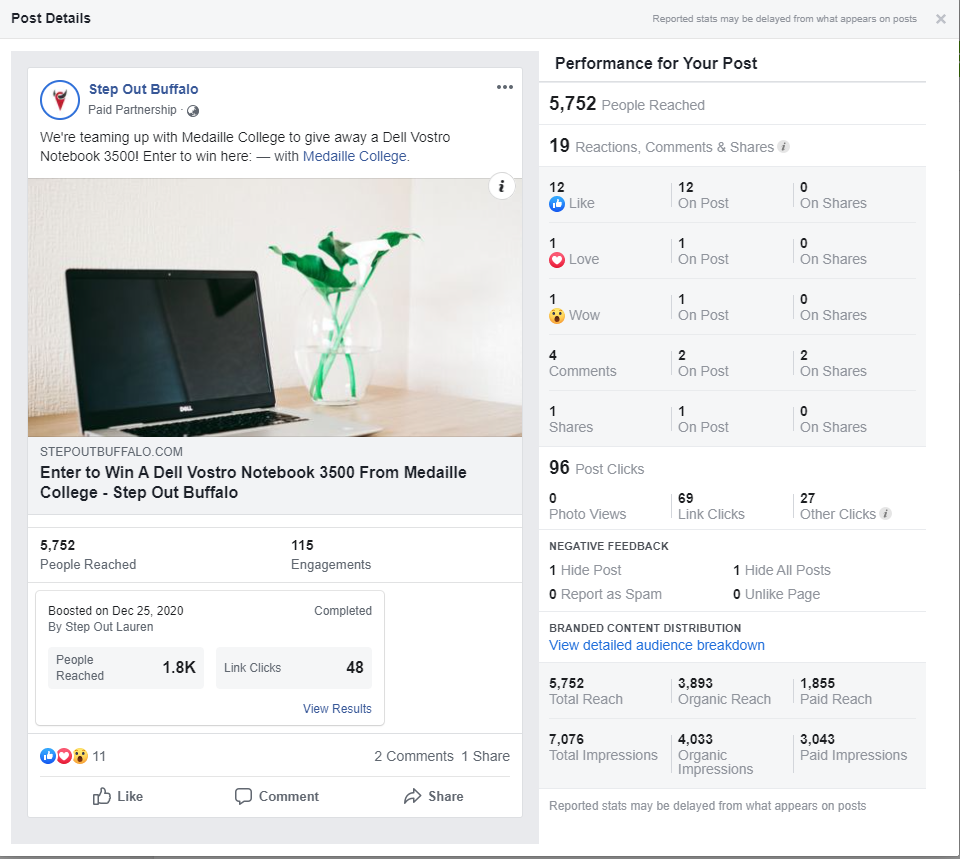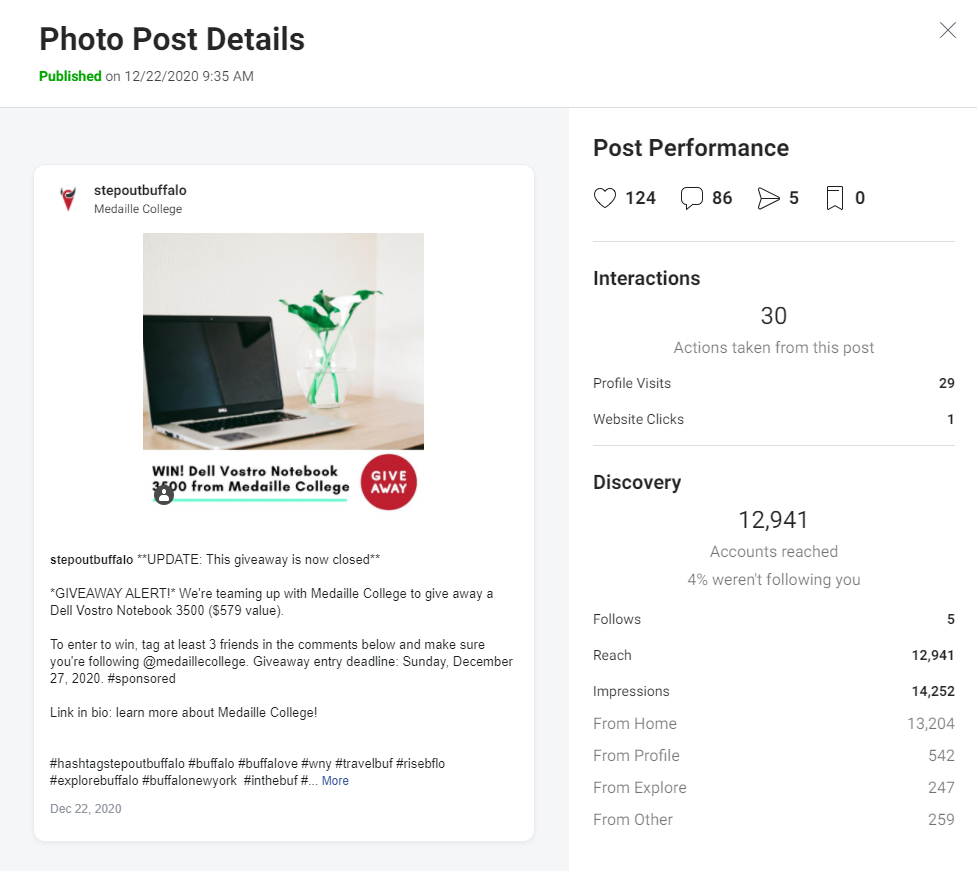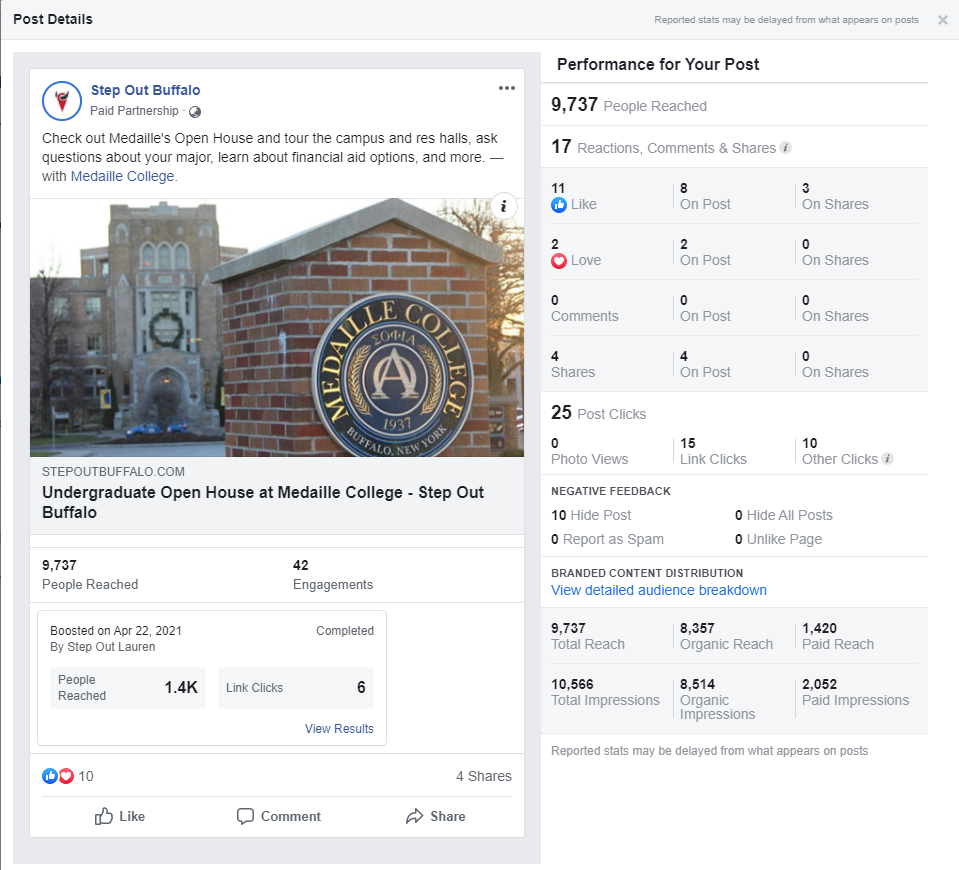 Medaille College
Website: medaille.edu
Instagram: @medaillecollege
Facebook: facebook.com/medaillecollege
---
Contact Us
Step Out Buffalo offers advertising options for local businesses throughout WNY. If you're looking for a creative and effective way to reach your target audience, let's chat. Contact us for more information on our advertising packages.