Last year, the emergence of COVID-19 caused almost every business to make changes to the way they do business, and this year, many businesses are changing again as the pandemic threat decreases and evolves.
Fresh Floral was and is one of those companies being forced to roll with the punches being thrown by COVID-19 and the shop looked to Step Out Buffalo when trying to maintain connections with both existing customers and potential customers.
Campaign description:
The main priority was raising awareness around the new McKinley Mall location. Another priority was informing people about the company's new COVID-relevant products and services. Their demographic dovetails neatly with those that follow Step Out Buffalo on social media.
The Fresh Floral advertising campaign happened in July 2020, but according to owner Casie Sweeney, she's still seeing long-term positive results from it in May 2021.
"We still get people coming in saying they saw us on Step Out Buffalo," she says. "So, I think because of our association with the website – people wanted to come check us out."
At the time of the campaign, Fresh Floral had recently moved into the McKinley Mall in Blasdell, and in addition to promoting that – the company also had to let people know about all the COVID-related modifications that had been made to the business model.
"Before the pandemic, we had a huge Grand Opening party scheduled and that got cancelled," Sweeney said. "But we started doing curbside pickup, private shopping hours and a gift box division of our company that really took off."
Analytics KPIs
Total Cost Per Click $0.85
Total Reach 191,276
Total Social Growth 30.1%
Campaign Data
Banner Ads
Big Guy and In Post on-site banner ads displayed at the top of native content on our websiteSpecs: Desktop – 1050 x 225, 700 x 150, Mobile – 300 x 250
Impressions: 178,079
Clicks: 199
Giveaway
Published on the StepOutBuffalo.com homepage and Step Out Buffalo's Instagram account and then shared on Facebook. Readers can enter with their email address or by following the advertiser on Instagram and tagging friends in the comments. All email entries are opted in subscribers and passed to the advertiser to be added to their email list. Step Out Buffalo will select the winner and provide their contact information to the advertiser after the giveaway. Prize must equal a $100 value or more. The advertiser is responsible for providing the prize.
Email Entries: 128
Instagram Follower Increase: 229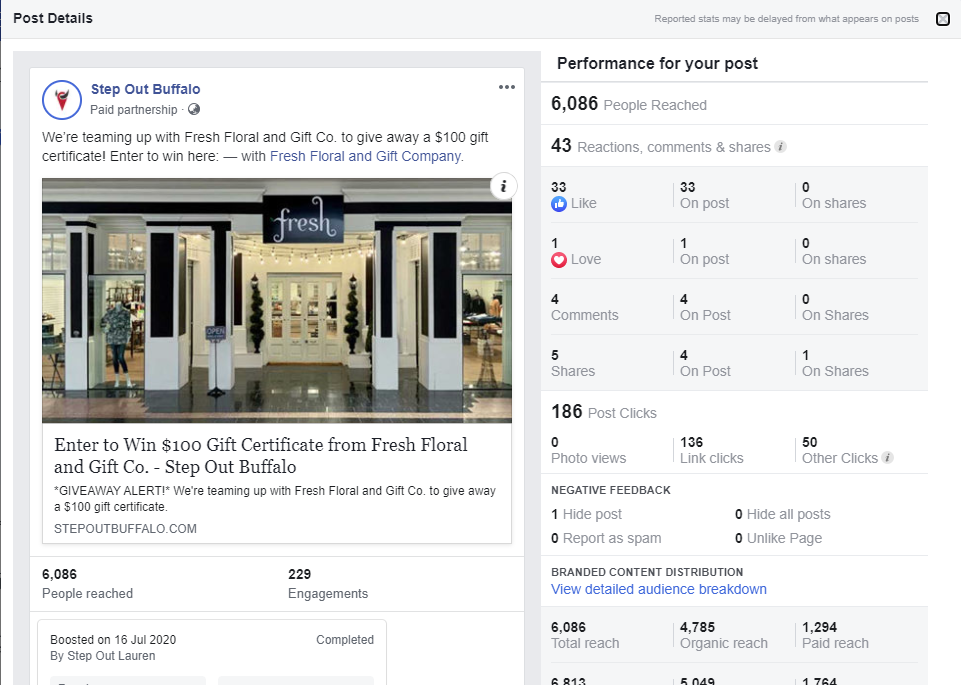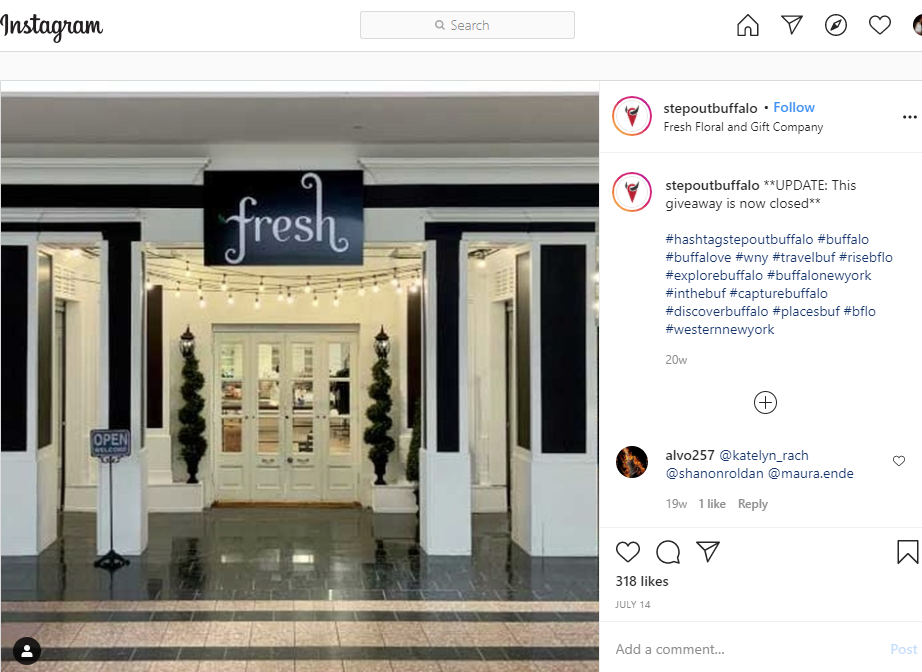 Of all the aspects of the campaign, Sweeney said the Instagram Reel was probably the most successful.
"That was the best response out of anything that we did, and we got quite a few new followers from that Reel," she noted.
Instagram Story & Reel
A social media story on Step Out Buffalo's Instagram and Facebook completed by a Step Out team member on-site. Includes a photo posted to our Instagram and Facebook feeds about your business/takeover and 10-15 live slides. Visits by a SOB team member to capture content will be 45 minutes to an hour.
New Instagram Follower Count – 989
Views on First Slide – 5,2824
Views on Reel (Instagram) – 21.7k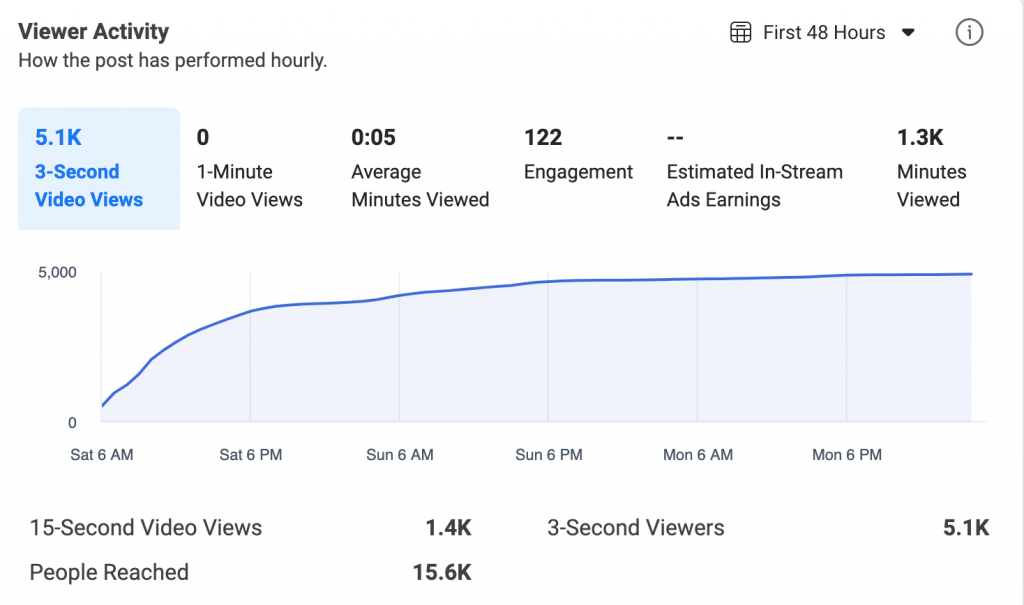 Spotlight Article
A sponsored post about your business that gets published on our StepOutBuffalo.com homepage, email newsletter, and Facebook. This is a creative and engaging way to connect with our audience and create "organic buzz". Spotlights should be allocated towards one message (new menu, event, class, announcement) and is limited to 300 words and up to 3 images. This item includes a $25 Facebook Boost.
Social Reach (Total): 13,197
Social Clicks: 1,263
Email Clicks (Total): 427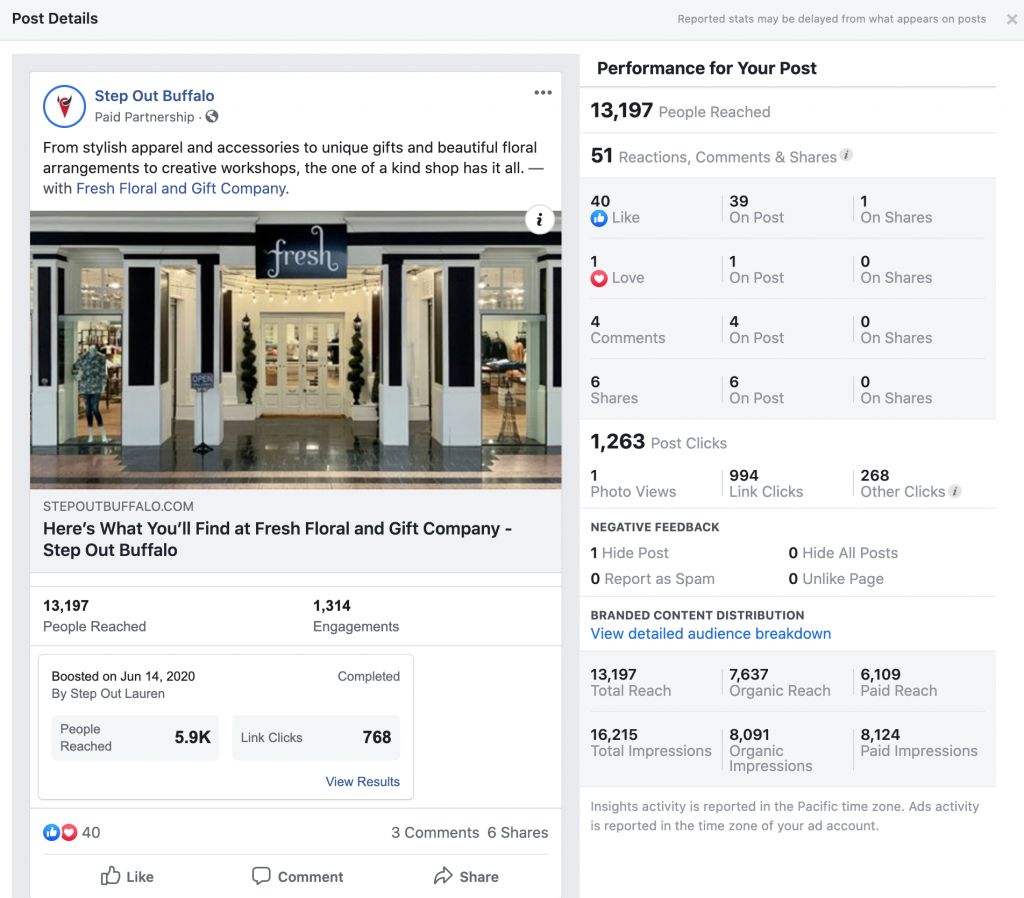 Given the challenges of the pandemic and the new location, Fresh Floral was able to thrive and the ad campaign with Step Out Buffalo was a one aspect of the company's efforts that fed into that success.
"I definitely would say it's worth advertising through Step Out Buffalo," Sweeney said. "It's difficult right now to get your name out and about. Hooking up with a company like Step Out Buffalo is a good way to do that, as long as the business fits. Lots of restaurants, gift shops and unique companies seem to fit with Step Out Buffalo so for many businesses, it's the way to go."