Sativa Remedy was officially started by Nhi Kha and John Frazier in 2018, but the ideas and concepts of an education-based hemp and cannabis business were sparked in 2017.
"When hemp CBD first became widely available in the US, we saw a huge lack of consumer education and access to high-quality affordable plant medicine. So when we started Sativa Remedy, this was the problem we wanted to address and solve! We decided to go on the search – vetted and testing different brands and manufacturers of hemp CBD products. From there, we purchased a 6ft table and started hitting up as many local vendor shows as possible to reach and educate folks in our community about the therapeutic benefits of hemp CBD."
According to Nhi, the stigma around hemp and cannabis didn't make launching their business easy at first, but they've found success by being highly informative and rooting their business in education and guidance.
"During this time, my dad was also battling stage 4 cancer and we saw the positive impact hemp and cannabis had on his quality of life. This really inspired and motivated us to continue our work even when the pandemic hit."

In 2019, Sativa Remedy opened their first brick-and-mortar retail store and have continued to grow and expand their selection of products. According to Nhi, they "recognized that, with plant medicine, there is no 'one-size fits all'", so they've curated a selection of hemp cannabinoid products that can "accommodate everyone's unique and individual needs".
"Most importantly, we are there to provide the education and guidance to support clients as they're finding their remedy. We truly believe that high-quality, safe, potent plant medicine shouldn't cost an arm and a leg, but should be accessible to all."
Due to the pandemic, Sativa Remedy was shut down for multiple months, but successfully pivoted and survived because they had their online store and social media platform.
"When we reopened in July 2020, we saw an increased interest in hemp cannabinoid products. I think many folks were struggling during this time and now looking for natural alternatives to remedy their ailments!"
Sativa Remedy began working with Step Out Buffalo in 2019 to promote their business through Step Out Buffalo Advertising. We recently talked to co-founder Nhi Kha about Sativa Remedy's promotional campaign with Step Out Buffalo and her marketing strategy, keep reading below to learn more about Sativa Remedy and their campaign.
Q&A with Sativa Remedy Co-founder Nhi Kha
What is the most important marketing tip you would give to someone just starting a business?
"The best marketing advice we've gotten is the power of storytelling and building connections. Retail, both online and in-person, is more than just a sale transaction. It is about building authentic connections and showing up for your clients – I think this is important in both the retail and service space! As a piece of advice, I think in 2021, if you don't have an online platform you should really consider it. The internet is here to stay and I think having an online presence helps to build brand recognition and trust for the client. Using an online presence, even if it's just an IG profile, to find your community and create meaningful connections will really help. We were blessed during the pandemic to have an online retail and social media presence – it really helped us stay connected to our clients and community during those difficult times!"
What was your goal in working with Step Out Buffalo?
"Our goal was simple – connect with more people in our community! As a hemp and cannabis business, we are prohibited from running ads on any social media platform. This made it difficult to grow and reach potential clients. We had been following SOB online via IG & FB for the longest time and knew SOB had built a platform centered around the Western New York community. We wanted to tap into this community and reach out to more people who might not even know the benefits of hemp cannabinoid products and could use our expertise and guidance."
What did you like most in working with Step Out Buffalo?
"Working with SOB has helped us get creative with our content! We really enjoyed working with them on unique Spotlight pieces and highlighting our curated line of hemp and CBD products! We also love learning social media tips and tricks from Lauren on the SOB Business IG page. Those weekly tips are so valuable and easy to implement. In short, I think working with SOB has helped us increase our online presence while staying engaged and connected with our community!"
Campaign Insights
What They Got:
Step Out Buffalo Instagram Bundle | Includes a Giveaway Hosting and Social Media Story on Step Out Buffalo at a discounted rate. This bundle is geared at creating buzz around your business on social media as well as growing the advertisers Instagram following and email list.

Reach:
29,722 Facebook Total
8,366 Email Opens
31,400 Video Views across Facebook, Instagram, and Reels
Clicks:
Growth:
177 Instagram Followers
53 Emails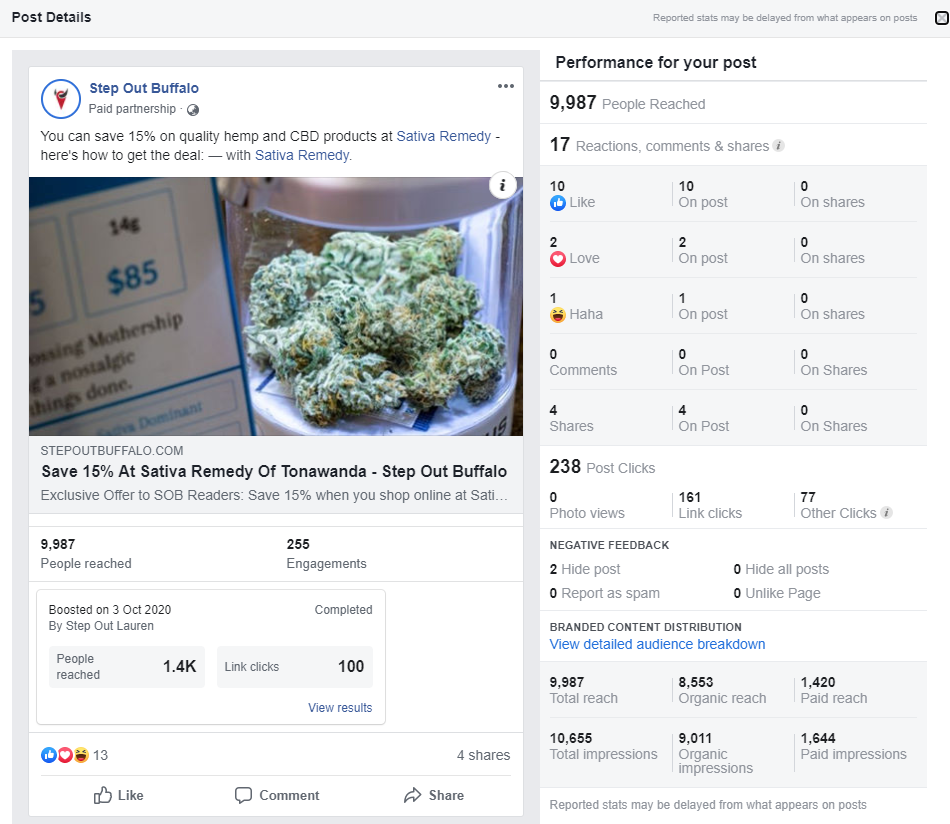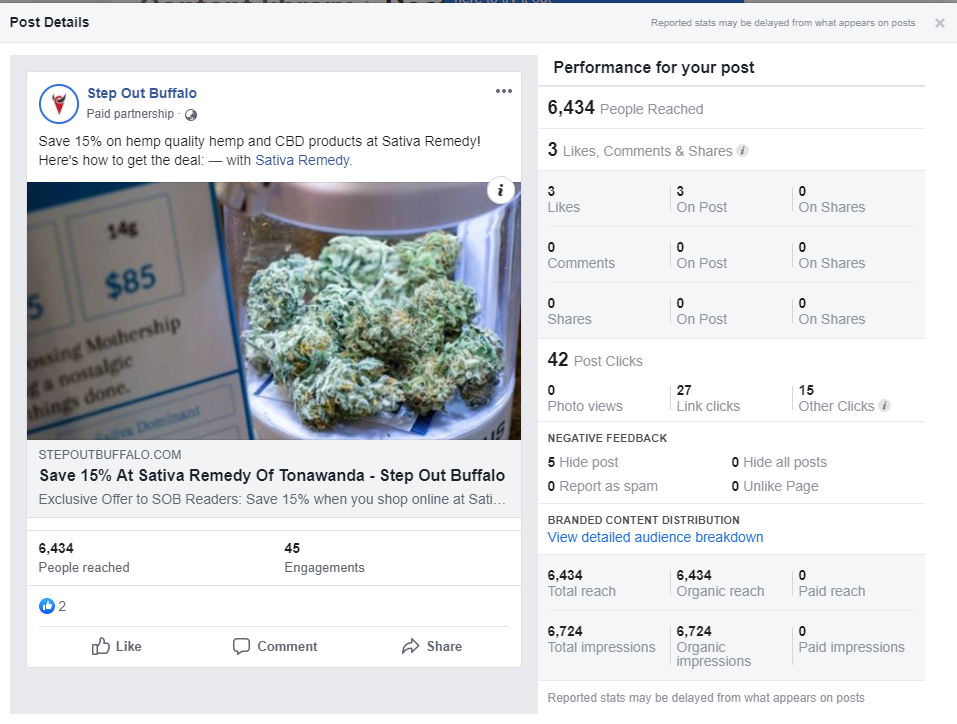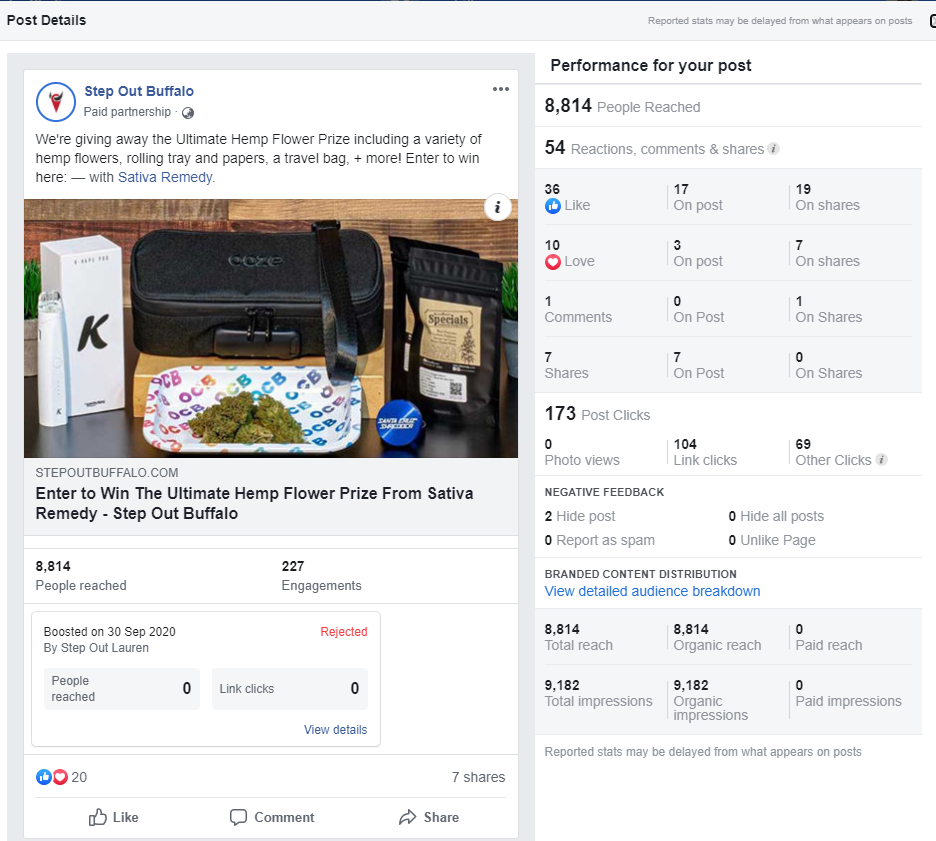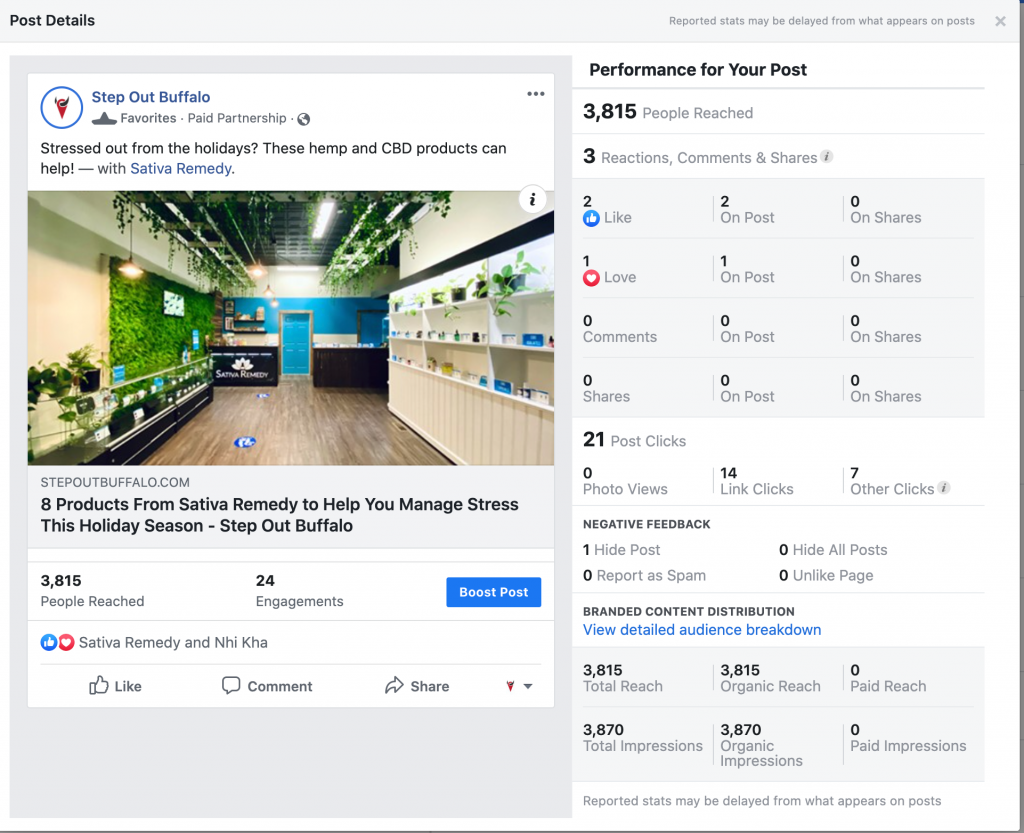 Sativa Remedy's Step Out Buffalo Social Media Story Reel

Sativa Remedy
Website: sativaremedy.com
Instagram: @sativaremedy
Facebook: facebook.com/buffalo.sativaremedy
---
Contact Us
Step Out Buffalo offers advertising options for local businesses throughout WNY. If you're looking for a creative and effective way to reach your target audience, let's chat. Contact us for more information on our advertising packages.