Updated April 2023
Right now, fashion, clothing, and apparel brands face more online competition than ever.
There are a lot of reasons for that are driving more online sales than in-person sales. And as if the market wasn't saturated enough in general, the convenience of shopping through big-name retailers like Amazon and Target has only made it harder for local businesses to attract customers. 
Knowing all of this as a local boutique owner, or even just a small business owner in general right now, you can't help but feel like the odds are stacked against you. So many local businesses have been in survival mode since Covid, leaning into their creativity to repackage and market what they already have and find new ways to drive sales during these unprecedented times.
There is good news, though. If you're a boutique, apparel, or clothing company local to Buffalo or Western New York, our advertising team at Step Out Buffalo can help:
Grow your audience on social media
Increase your business's overall reach
Drive quality traffic to your online shop
How do we do that?
When you partner with Step Out Buffalo, we'll work strategically to get you in front of our incredibly engaged audience— an audience that loves Buffalo and supporting local businesses just as much as we do. Because our readers turn to us for the 411 on where to eat, where to drink, and in this case, where to shop in Buffalo, the local shops we partner with generally see an increase in both social media followers and website traffic right away.
But don't just take it from us. Read on for a look at how teaming up with Step Out Buffalo benefited these two local businesses and their online shops – and how our team can recreate a similar campaign for your business: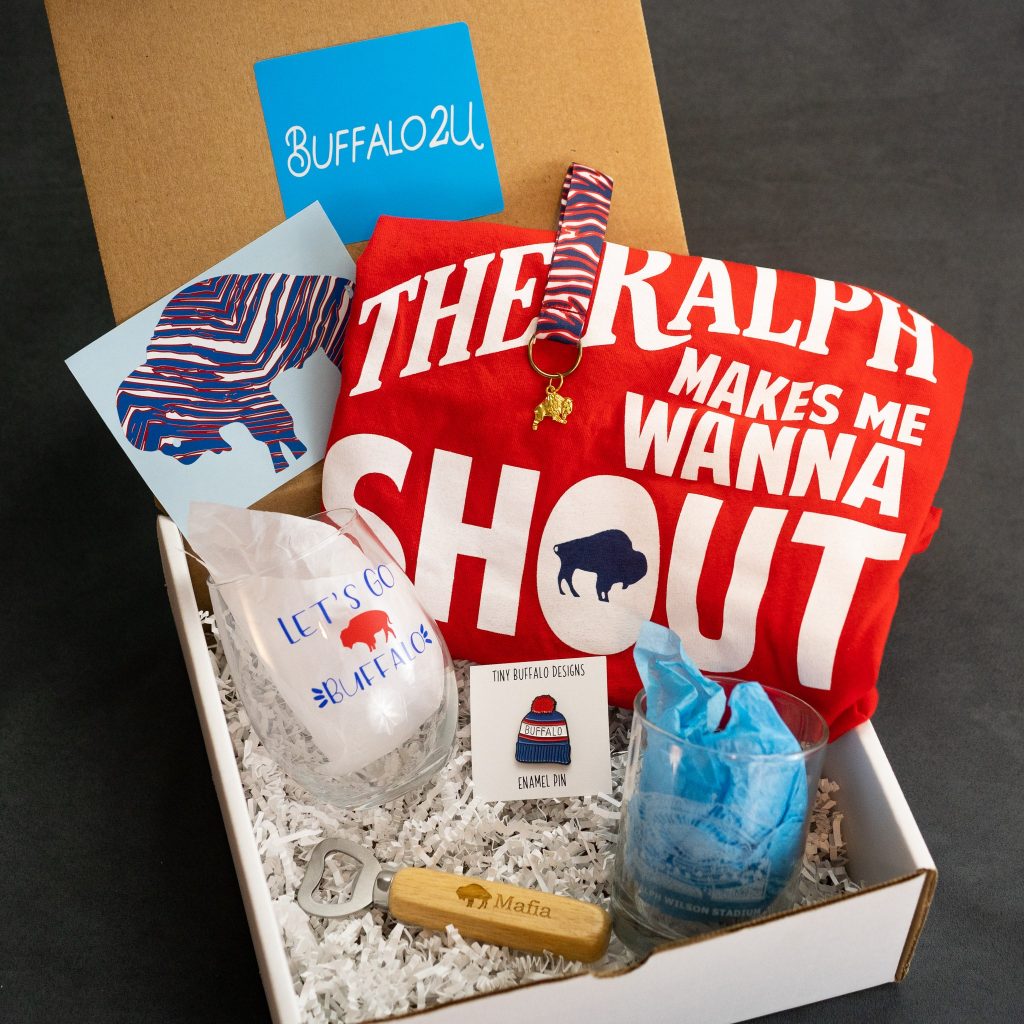 Buffalo2U
Buffalo 2U is a build-your-own-gift-box company that's all about spreading the Buffalove. They offer curated gift boxes with fun products from Western New York businesses, artisans, and restaurants that customers can send to any Buffalonian near or far.
Buffalo2U + Step Out Buffalo
Buffalo2U decided to partner with Step Out Buffalo in October 2020 and throughout the following holiday season. We worked to create buzz around their newly launched online shop, general brand awareness, and grow their local audience through the following strategies:
Facebook ads pushed out to our 82,000+ followers
Giveaway hosting on our Instagram page, pushed out to our 68,000+ followers
A dedicated SOB Creative article on our website
Sponsored email blast pushed out to our 50,000+ subscribers
The time of year lined up perfectly with Buffalo2U's campaign in particular. We were able to give away a fun, one-of-a-kind "His and Hers" Buffalo Football box filled with awesome Bills swag in the fall, and in early December, we focused on promoting their online shop as a whole, framing it as a great holiday gift option and a way to support local businesses.
The Results
After all was said and done, Buffalo2U's campaign achieved:
A 230% increase in Instagram followers
38,000+ people reached in total from Facebook paid ads alone
3,000+ engagements across all social media posts
4,000+ link clicks from Step Out Buffalo's paid ads & Spotlight Email
Additional pageviews & link clicks from users browsing our website organically
The campaign ended up being so successful because we were able to implement a healthy mix of different kinds of marketing efforts across a number of channels like Instagram, Facebook, and email to reap the best possible benefits combined. (It also didn't hurt that the Bills were really making it happen this season, but that's beside the point.)
All of our marketing packages here at Step Out Buffalo focus on developing creative strategies that resonate with your unique audience— or the ideal audience you hope to reach— and looking back, it's safe to say that Buffalo2U's campaign did just that.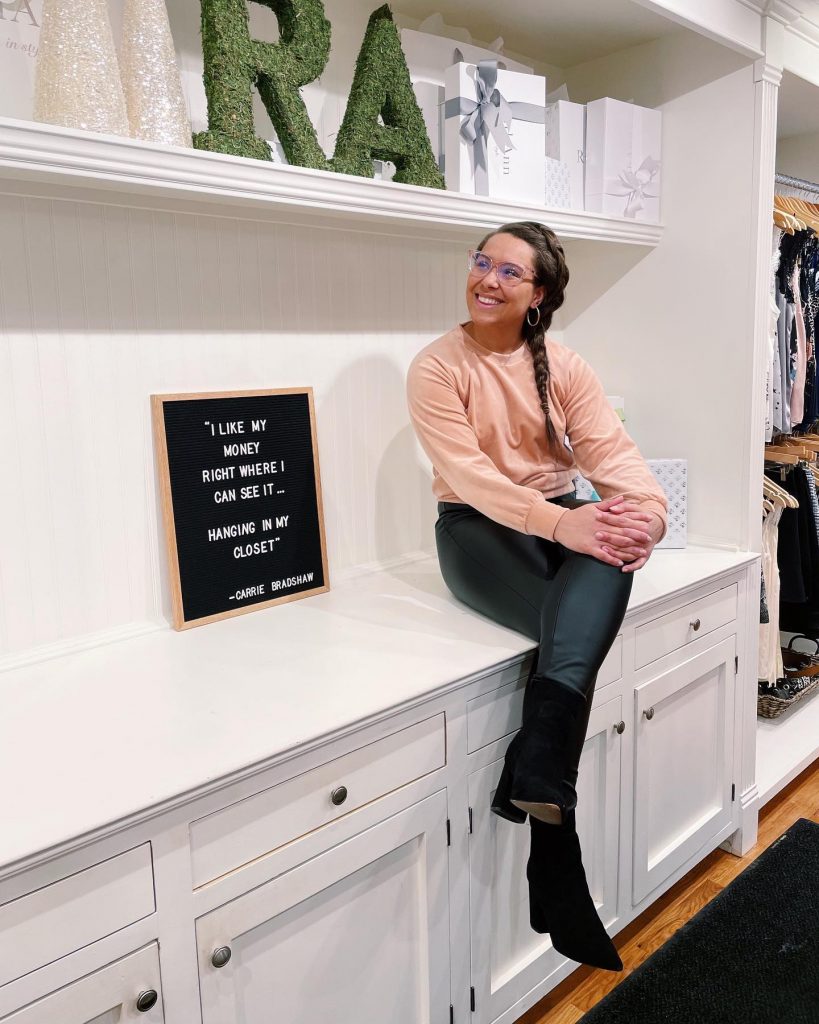 RuthAnn Boutique
Located on Main Street in Williamsville, RuthAnn Boutique sells upscale women's apparel for all generations with their own unique twist. In their brick and mortar store, RuthAnn's goal is to make every customer feel welcome and special by focusing on building relationships and providing fun, personalized shopping experiences.
RuthAnn Boutique + Step Out Buffalo
When COVID turned the world upside down in early 2020, in-person events quickly became more difficult (read: temporarily impossible) to put together, leading RuthAnn to focus on fostering these connections virtually for the time being.
After launching their online store, the boutique partnered with Step Out Buffalo on a marketing campaign that included the following:
The Results
Pivoting your business at any point in time is tough, let alone during a global pandemic— but it ultimately paid off for RuthAnn Boutique. Their campaign with Step Out Buffalo achieved:
12,000+ people reached through Facebook paid ads
300+ link clicks from Step Out Buffalo's paid ads & Spotlight Email
Exposure to a broader audience of over 68,000+ through the Live Instagram Story hosted on Step Out Buffalo's Instagram page
Looking at the success of RuthAnn Boutique's campaign, the importance of figuring out what platform customers are spending the majority of their time and meeting them where they are becomes super apparent. Instead of trying a little bit of everything and seeing what sticks, our team at Step Out Buffalo was able to help RuthAnn get laser-focused with their efforts.
"We've advertised with so many different people, whether it be Channel 2 commercials or Buffalo Spree, just a ton of different outlets," Cheyenne Freely told us after the campaign. "And by far, we've seen the most engagement, the most actual expanding of our customer base was from Step Out Buffalo."
For more details about RuthAnn Boutique's campaign with Step Out Buffalo and a testimonial from the boutique's social media and marketing coordinator, be sure to read the full case study.
Let's Help Your Online Store Reach New Heights This Year
Whether you're working on launching an ecommerce shop in 2021 or already have one ready to go, our team at Step Out Buffalo is here to help. Reach out to us to learn more about our marketing and advertising packages designed specifically for Western New York businesses.