Photo courtesy of Waterman's Greenhouse
Waterman's Greenhouse is a local greenhouse here in WNY that sells annuals, perennials, hanging baskets, mulch, landscape materials, planters, and more – and the business has seen several evolutions over time.
It started 40 years ago with just Greg and Donna Waterman running the family business, a dairy farm in East Concord. When Greg was diagnosed with hip cancer in 1989, he was no longer able to care for the animals like he previously could and sadly was forced to sell his cows.
The next evolution came in 1991 when Greg and Donna started Waterman's Greenhouse as a small vegetable stand with a few flowering baskets. Fast-forward to today and Waterman's Greenhouse has matured into a multi-generational business with their son Ethan Waterman now running it. The Greenhouse currently boasts a 32,000 sq. ft space with annuals, perennials, houseplants, shrubs, trees, and bulk products – much larger than the vegetable stand from the early 90's.
From April to October customers can stop in and browse Waterman's abundance of diverse and highly valued products in their garden center.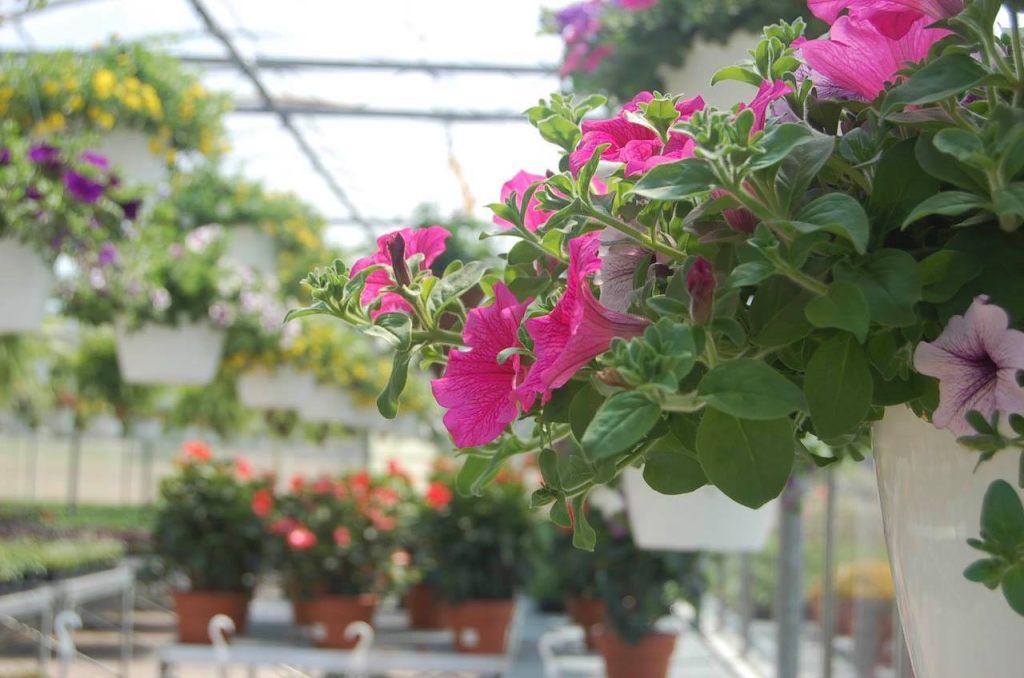 When Waterman's Greenhouse wanted to put their business in front of a new audience, they turned to Step Out Buffalo to help them achieve their goals. They purchased a Shop Local Package from our advertising options, which helped them increase their foot-traffic with an entirely new, younger demographic as well as attracting people from Northtowns.
Q&A with Waterman's Greenhouse Communications Manager, Alexis Heim
---
What is the most important marketing tip you would give to someone just starting a business?
"Marketing can be in many forms. From advertising with a reliable source like Step Out Buffalo, to selling your product. Both are invaluable, as both are needed. Keeping an open mind for advertising is important. Joining Step Out Buffalo, was a big leap for Ethan Waterman and it required him to take a step outside of his comfort zone when it came to "non-traditional" advertising. Greg Waterman says, having staff that knows your product inside and out is extremely important as is selling quality product. If you don't care for your customer, someone else will."
What was your goal in working with Step Out Buffalo?
"We wanted to reach a broader customer base. We are in the Southtowns and really wanted to reach more customers in the north towns and show them that we are worth the scenic drive."
What did you like most in working with Step Out Buffalo?
"Working with Michael Morgante is always effortless. He streamlines each step, is always available for questions or concerns, and is very fluent with every aspect of our campaign. Advertising with Step Out Buffalo is so easy and effective!"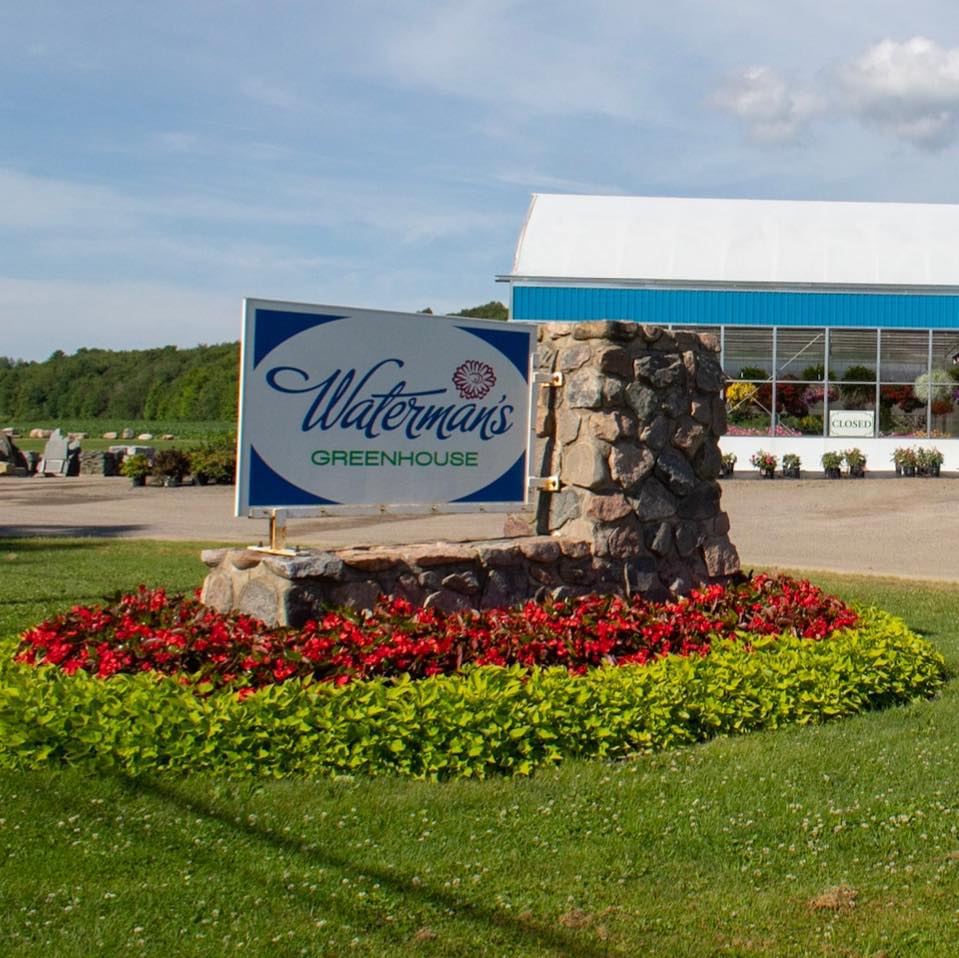 Campaign Insights
---
What They Got:
Step Out Buffalo Shop Local Package| Step Out Buffalo Shop Local Packages are discounted advertising bundles comprising of our most popular promotional items at a discounted price.
Here's How It Works:
Our Shop Local packages Includes constant visibility on the Step Out Buffalo website through a featured business listing that will appear in your relevant category. For example if you have a restaurant your listing will appear in our Food & Drink section of the website.
Then throughout the campaign we will publish bigger, more creative promotions throughout our different marketing channels such as the website, SOB email newsletter, our Facebook page and on our Instagram and Tik Tok.
Items are delivered over a six month period or the schedule can be customized to accommodate seasonal businesses or different campaign objectives. The goal is to put your brand in front of our readers in creative, engaging through multiple touch points across the campaign.
Waterman's Greenhouse's Campaign Included:
Premium Event Listing
Premium Deal Listings
Live Social Story & Instagram Reel
Featured Business Listing
Email Promotions
Clicks & Reach:
2,708 Total Clicks
$0.89 CPC
38,741 Email Opens
29,143 Reached On Facebook
23,891 Reached On Instagram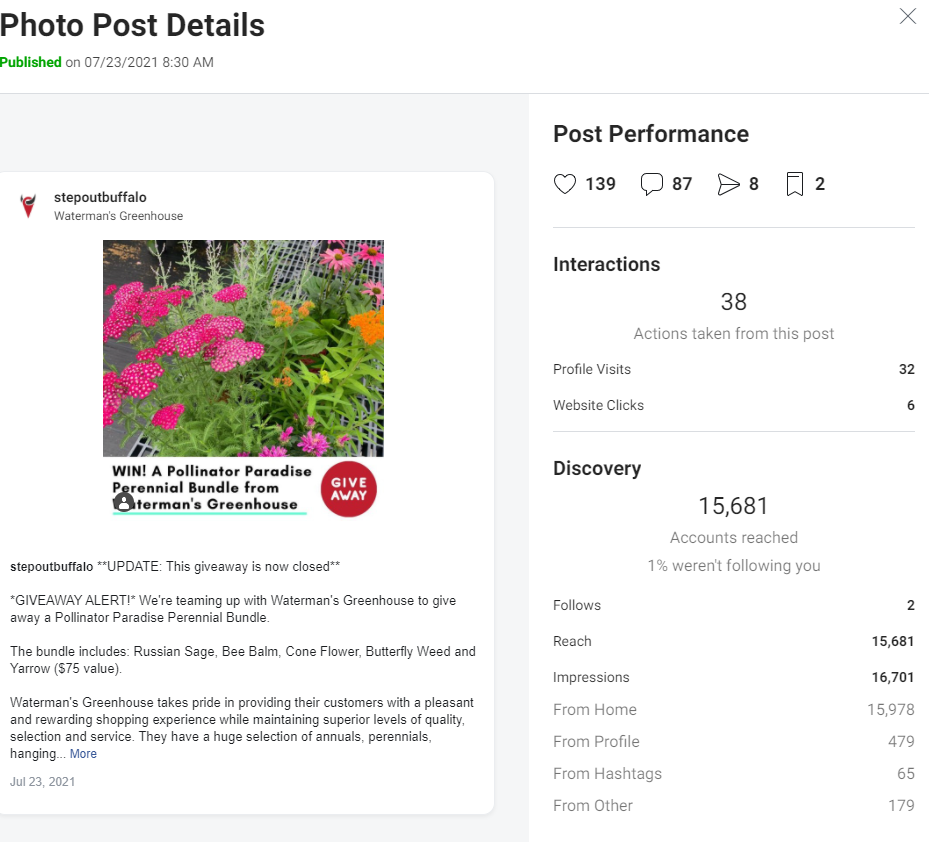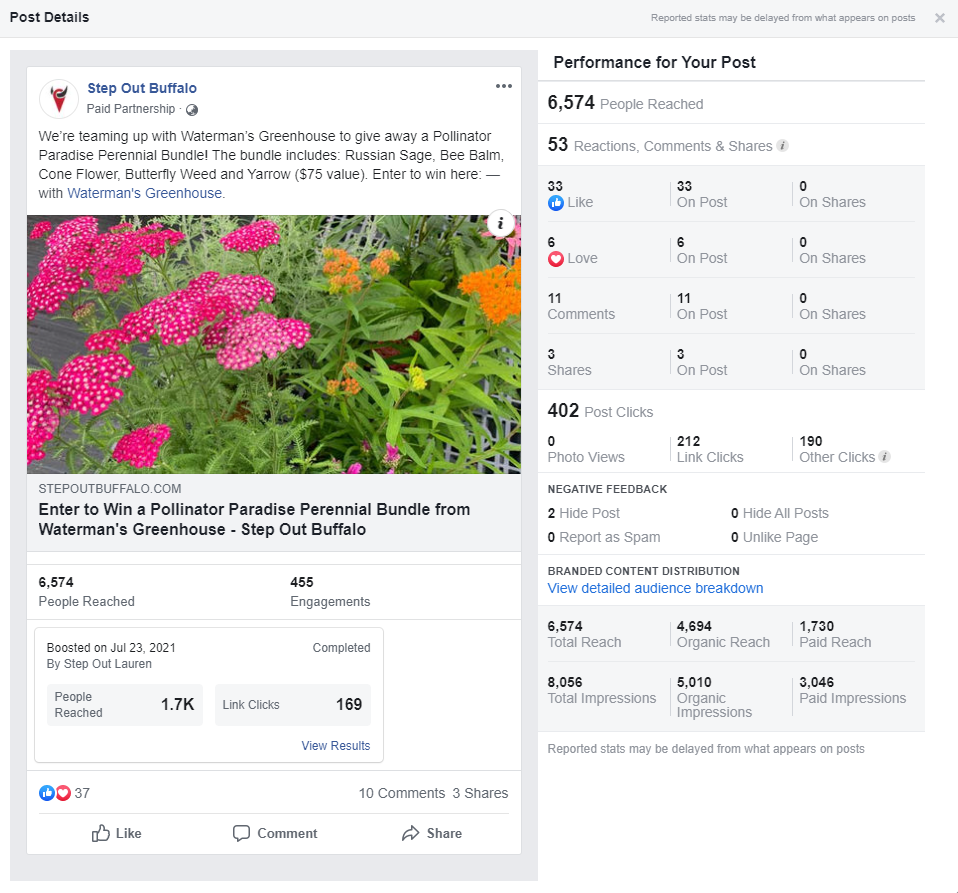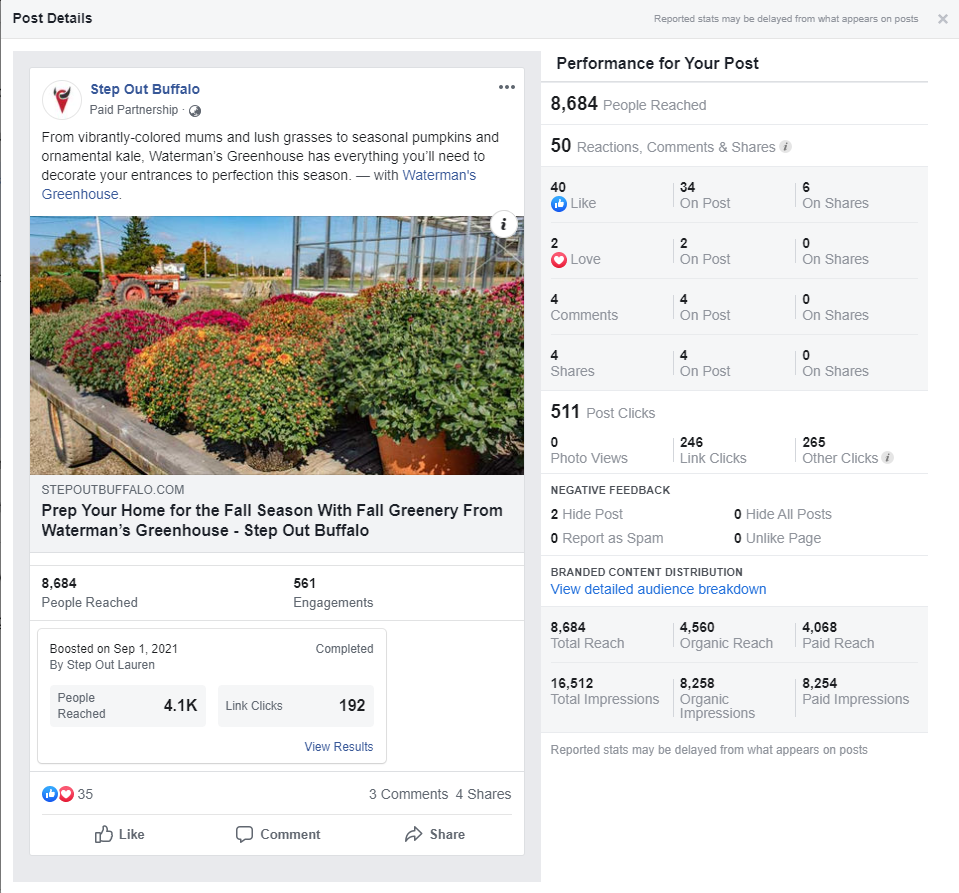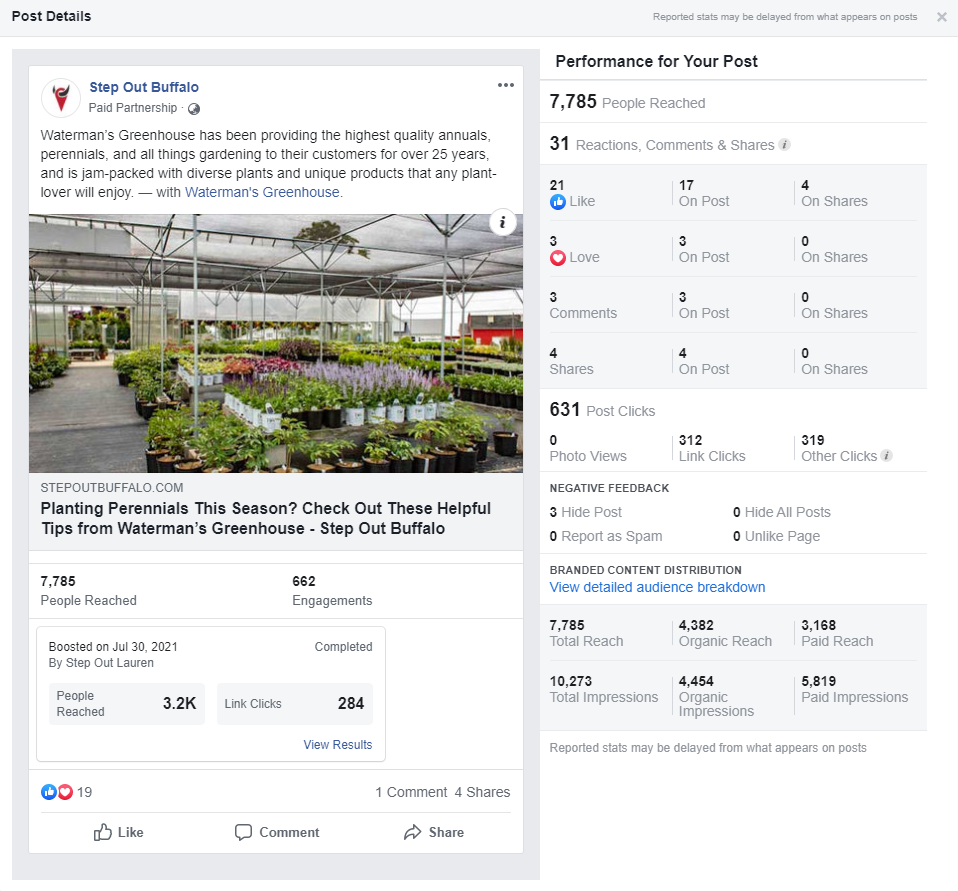 Waterman's Greenhouse's Step Out Buffalo Social Media Story Reel
Waterman's Greenhouse
---
Website: www.watermansgreenhouse.com
Instagram: @watermansgreenhouse
Facebook: facebook.com/watermansgreenhouse
Contact Us
---
Step Out Buffalo offers advertising options for local businesses throughout WNY. If you're looking for a creative and effective way to reach your target audience, let's chat. Contact us for more information on our advertising packages.