Owned and operated by the same family across five different generations, Becker Farms is a 340-acre working farm, open-air market, event space, hospitality operation, local tourist attraction and Western New York icon.
Becker Farms obliges guests in simple, rural pleasures: picking berries while romping through farmlands, vibrant produce, steaming-fresh baked goods, farm-to-table meals, handcrafted wines and off-the-grid lodgings.
Just a short drive from downtown Buffalo, the pastoral experiences at Becker Farms have become more appealing in the wake of the COVID pandemic, and management recently made the decision to package their on-premises modern cabins and hospitality services in the form of 'Social Distance Retreats' – all-inclusive overnight experiences that guests could soak up while safely maintaining a small social bubble
With the summer and fall seasons quickly approaching, Becker Farms wanted to let people know about all they had to offer this year amidst the COVID , and they began working with Step Out Buffalo in May 2020
The Decision to Switch Gears
The farm has a long history of local advertising and Amanda Vizcarra, director of hospitality, said a highly successful previous Step Out Buffalo campaign convinced her the retreats could be advertised as a standalone campaign through Step Out.
"We chose to return to Step Out Buffalo because we had run a similar program in the fall of (2019) that we saw a really good response to," she said. "The first time that we actually considered using Step Out Buffalo was last fall, and we did it in conjunction with our regularly scheduled marketing budget, which included a mix of TV and print ads. We did see a really good spike in business, so this year we tried (Step Out Buffalo advertising) as a standalone campaign and it was abundantly clear that the investment was definitely worth it."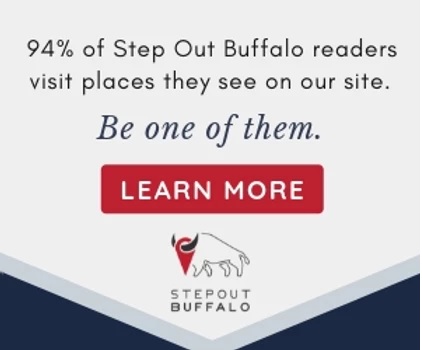 Campaign Deliverables
What ultimately became a winning campaign was achieved through our Shop Local package, which includes the hosting of a giveaway contest, a live social media story, a featured business listing, 60,000 banner ads, two business spotlight features and featured deals.
Campaign Goals
Promote their social distance cabins
Showcase all of the safety measures they were taking through COVID
Increase foot traffic and sales
Campaign Data
The raw metrics of the campaign included:
More than 200,000 people reached, nearly 21,000 engagements, more than 1,600 reactions/comments/shares and 19,000 clicks for the featured Facebook posts
Over 26,000 people reached, 247 reactions/comments/shares and more than 1,900 clicks for the giveaway contest
More than 2,000 comments (contest entries) on Instagram
Over 7,000 views of the live stories on Facebook and Instagram
Here's How The Campaign Went For Becker Farms:
Vizcarra said once again, working with Step Out Buffalo to promote Becker Farms allowed them to reap all kinds of benefits.
"Certainly, in terms of the efforts we put toward advertising our cabins; the advertising paid for itself right away," she said. "It was definitely worth it. In addition to that, we were able to get more followers and friends on Facebook and Instagram. The residual effect of that can be realized every time we turn to use our own social media."
Photo via Becker Farms
When asked why she thought the campaign was a runaway success, Vizcarra immediately cited the working relationship.
"I think that the approach of Step Out is very much more like a partnership than an advertising spend," she mused, "which is different from the relationships that I've had before with marketing firms. (Step Out) is very creative in how they present ideas. They softball-up ideas for us to work off each other. They have a ton of experience in what works and what doesn't."
In particular, Vizcarra acknowledged the brilliant work of Richard Fickhesen, our director of sales: "He guided me and said, 'Okay, we should do this giveaway. Think about what you've got that might be appealing as a giveaway, and here are some other things we did with clients that worked really well.'
"So, he really kind of made it easy for me to navigate what might work in regard to our business specifically. I think that's important: My hand was being held through the process for the first time was really nice."
On top of the hefty return on investment and a rewarding partnership, the Becker Farms hospitality director said she also felt the campaign on a more personal level.
"Just being out and around in Buffalo, people are telling me, 'Oh, I see you guys everywhere,' and this year more than ever," Vizcarra said. "This is the only marketing effort that we put any money towards, and to hear that is really awesome!
"Because before we were spending a ton of money on TV ads, radio ads and print ads. I don't think I heard as much of that word on the street as I am now, and I've had one form of media and it's Step Out Buffalo."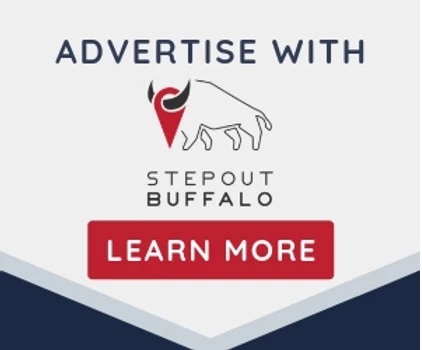 Here's a more in-depth breakdown of how items in the campaign performed:
Social Media Traffic
An active social media presence can help you stay top of mind with current and potential customers. On Facebook and Instagram, "People Reached" refers to how many people saw the post. On Facebook, "Post Engagements" refers to the number of people who liked, reacted, commented, shared, or clicked on the post. On Instagram" Profile Visits" refers to the number of people who visited the business's profile after seeing the post.
1) On Our Radar: Spotlight Post
On Our Radar & Spotlight articles help create an organic buzz. This type of sponsored content is a creative and engaging way to connect your business with our audience. These articles are published in the Sponsored section of our website and shared to our Facebook and Twitter accounts.
Combined totals for On Our Radar: Spotlights
People Reached: 23,922
Post Engagements: Reactions, Comments & Shares: 178
Post Engagements: Post Clicks: 1,250
Stats from one of two Becker Farms' On Our Radar: Spotlights
2) Facebook Giveaway
Hosting a Giveaway can increase reach, build relationships with consumers, boost brand awareness, promote your products, grow your following, and bring in extra revenue. Giveaways on Facebook require those who enter to provide their email address, which the business can use for their own email marketing efforts.
People Reached: 26,070
Post Engagements: Reactions, Comments & Shares: 247
Post Engagements: Post Clicks: 1,927
Email Entries: 917
3) Instagram Giveaway
Giveaways on Instagram require those who enter to follow the business, which helps to increase the business's follower count on their own platform exponentially.
People Reached: 33,591
Impressions: 40,744
Profile Visits: 294
Website Clicks: 37
4) Live Instagram Stories
Stories are all about in-the-moment, timely content since they disappear after 24 hours. They can include a combination of still and video content as well as interactive features. Stories increase general brand awareness and drive web traffic as the swipe up function is linked directly to the client's website.
Instagram
Viewers: 7,437 (First Slide)
Interactions: 2,038 (Link Clicks, Shares, Profile Visits)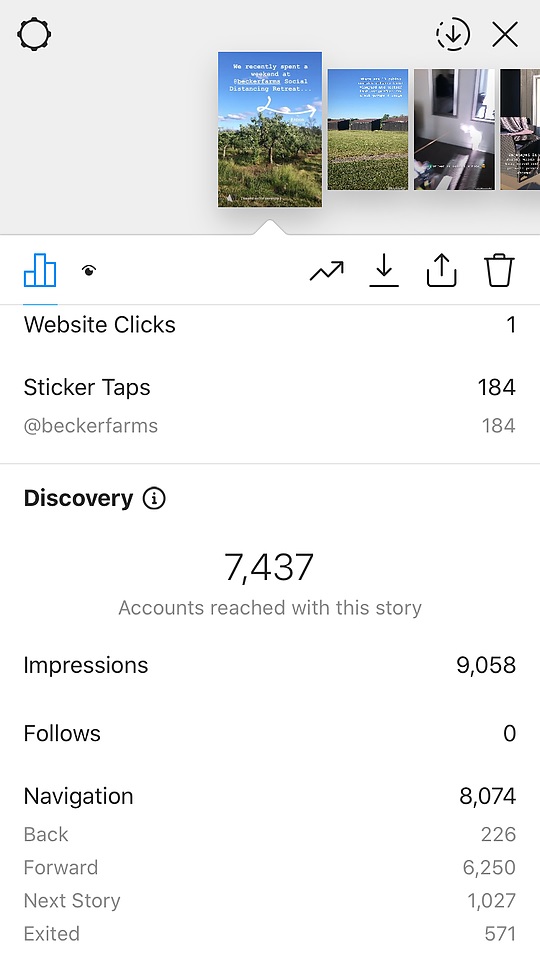 5) Email Newsletters
Partner Tips and High Brand Emails are sent to Step Out Buffalo's list of 50,000+ newsletter subscribers. With Partner Tips the subject and title of the email to the content and the ad presented in the email focuses on the client's topic of choice. High Brand Emails spotlight a client's brand.
Email opens refers to how many people opened the email and clicks refers to how many people clicked the link inside the email. Open and click rates measure subscriber engagement with email campaigns. Opens tells you how many times an email was opened by subscribers. Clicks tell you how many clicks to an external website were made.
High Brand Email
Partner Tip Email
6) Sponsored Events & Community Update Listing
Sponsored events community update listings help drive traffic to specific links. Page views are an important metric to pay attention to because they represent how many times a specific page is viewed. Throughout the course of their campaign thus far, Becker Farms has had published 3 events & community update listings.
Total page views for these listings
27,195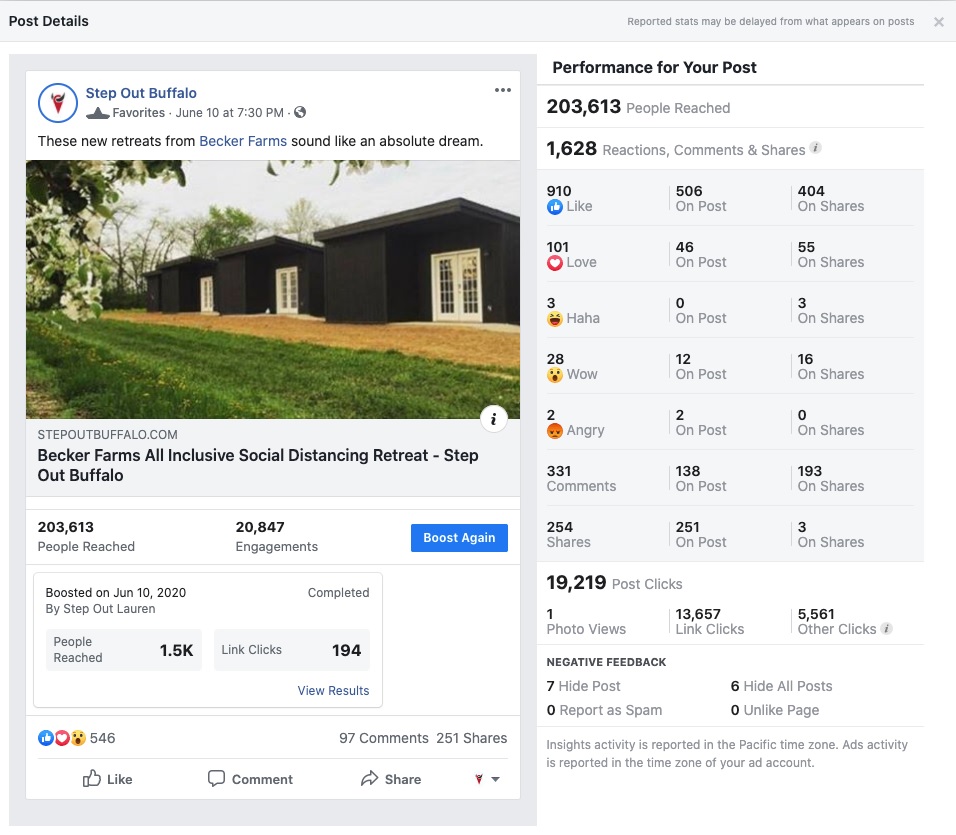 Facebook results from one of 3 event & community update listings for Becker Farms
Contact Us
Step Out Buffalo offers advertising options for local businesses throughout WNY. If you're looking for a creative and effective way to reach your target audience, let's chat. Contact us for more information on our advertising packages.
____________________________________________________________________________________________________________
Want to know more about promoting your business on StepOutBuffalo.com?
At Step Out Buffalo, we help businesses promote themselves and their events on our website, email, and social media channels. Our team is comprised of experts who know exactly how to make your business or event stand out, and we'll put you in all the right places so you get noticed by all the right people. Hit us up if you'd like to learn more about our business and/or events-based promotions – there's a reason 94% of our readers go places they've seen on StepOutBuffalo.com